TRACK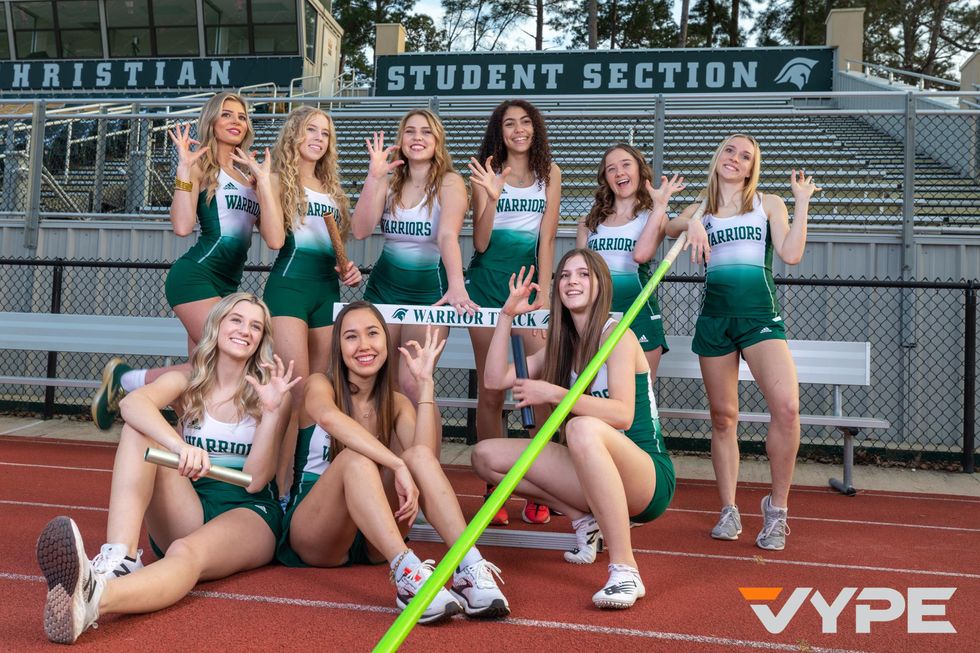 BOTH TWCA BOYS AND GIRLS TRACK TEAMS HAD STELLAR SEASONS FULL OF CHAMPIONSHIPS, NEW CAREER MARKS AND MUCH MORE.

Let's start with the boys team. The group won both the TAPPS 5A District and Regional Championship and took home third overall at the TAPPS State Meet in May.
Just like from the fall, the record-smashing Ben Shearer did his thing. He won the TAPPS 5A State Championship in the 800-meter run, 1600-meter run and 3200-meter run. In the 800, he set a new school record and in the final two races, he set a new all-time TAPPS State record. He also ran at the time the 10th-fastest mile (4:08.58) in the nation at the Texas Distance Festival in March (4:08.58) and the No. 3 two-mile time (8:48.90) in March in South Carolina.
Other top state results included Evan Sanni-Thomas, setting a new school record in the 400-meter dash and Colby Gorman taking fourth in the shot put.
For the season, new school records were set in the 4x100 and 4x400-meter relays, in the long jump by Austin Benigni, shot put by Gorman and in the high jump by Jack Cole.
On the girls' side, the team also brought home the TAPPS 5A District and Regional Championships and then finished fourth as a team at state.
The 4x400-meter relay won the state championship, which included Mia Torres, Lindsay Worthington, Maddie Steed and Zoe Calimani, and also set a new school record.
Catherine Berger took silver in the shot put, Sarah Chappelle took bronze in the 100-meter hurdles and Megan Hanigan took bronze in the pole vault.
SOFTBALL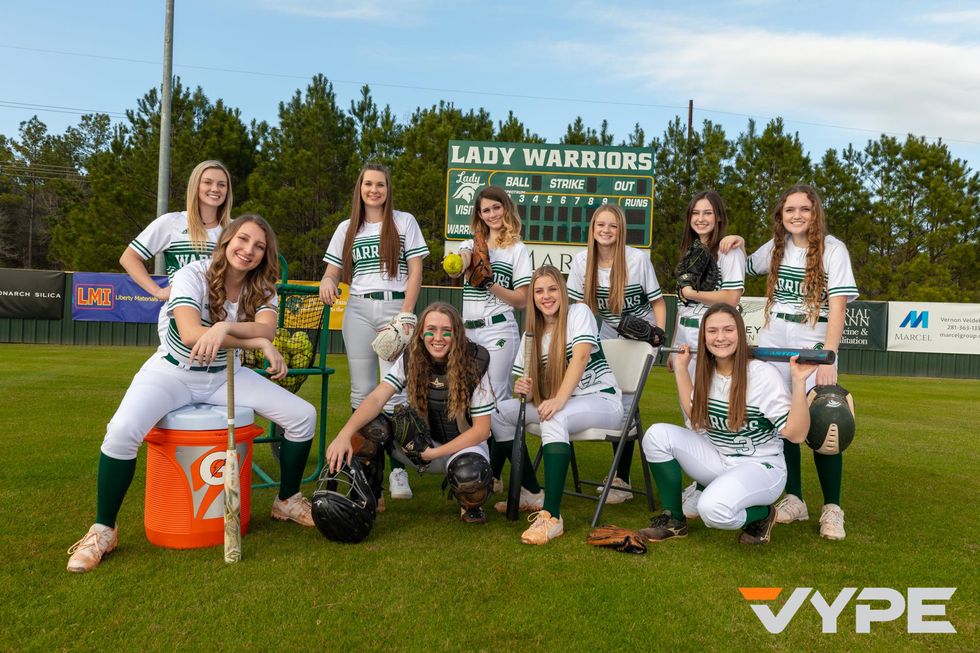 THE WARRIOR SOFTBALL TEAM HAD A NICE YEAR, GOING 10-5 OVERALL AND 7-5 IN DISTRICT PLAY, WHICH GAVE THEM THIRD PLACE AND A PLAYOFF BERTH.

TWCA was led by first-team, all-district picks Mackenzie Morris, McKenna Meadors and Ashley Darilek. Second teamers included Mattie Hopkins, Gracie Graham, Aubrey Hollas, and Katie Wise.
The lone honorable-mention pick went to Kaitlyn McGrath.
TENNIS
MCKENNA MEADORS ADMIRES HER PARENTS, BRADD AND TRISH. SHE LOOKS UP TO THEM. ADORES THEM.
So, when The Woodlands Christian Academy senior discovered that both of her parents played sports in college at Hannibal-LaGrange University in Missouri, she knew she wanted to as well.
"Growing up, it wasn't an expectation, but it was something that I wanted," Meadors said. "I wanted to be like them."
Like parents, like daughter.
Meadors, a two-sport standout for the Warriors, signed February 1 to play softball at Hill College. She is a right-handed pitcher who also plays first and third base.
"It's so cool to me, because it was real important that I played in college," said Meadors, who also played basketball for the Warriors and was even offered to play both sports in college.
Through the softball season's first 12 games, Meadors hit .512 with 22 RBIs and four home runs for the Warriors with 22 runs scored and a .533 on-base percentage. In the circle, she had a 2.41 ERA with 59 strikes to 21 walks and 13 earned runs in 61 innings.
After the 2020 high school softball season was canceled because of the pandemic, Meadors is grateful to be playing her senior year. "It was a seize-the-moment type of thing," she said. "I'm very blessed for the opportunities that God has provided me with, with us being able to play our season.
It really is a blessing and I know God has big plans for my life. Us getting to play this year was a part of that, because I've been able to grow more with my friends and my walk of faith as well."
Playing and going to school at TWCA has aided that purpose, spiritually and athletically.
"It's definitely a lot more freedom that's put on us as students," Meadors said. "I feel like they trust us a lot more. I've definitely grown in my walk with God. That's been a huge part. I feel with it being a smaller school, I've been able to focus more on myself with my coaches, opposed to the 60 or 70 girls that would try to play one sport at a public school. I've been able to hone my skills more."
Meadors used to never see a correlation between athletics and faith. But her time at TWCA showed her that they are more a team than not.
"Whenever you're at a public school, it's not as common to see people living out their Christian lifestyle," Meadors said. "So, whenever you come here, and it's like the norm for everyone, always praying and having a Bible class that focuses on improving in our walk with God … from a sports level, it had always been separate to me. But through coming to this school, I have combined Christianity and sports and I try and use that."