Courtesy Waco Tribune
MIDLOTHIAN - For all the good that Springtown was able to mount against Waco La Vega in the 4A Division I state semifinal, it was all undone by costly penalties.
On the game's first offensive play of the game, it fumbled on its own three yard line and was picked up by La Vega's Demarrquese Hayes for a score.
So not only did it give up score after getting the opening kickoff, that meant La Vega would get the ball back to start the second half.
Fast forward to the second quarter and Springtown starting to make things interesting. It had already cut the La Vega lead down from 14-0 to 14-7 and were in La Vega territory and looking to draw even. Quarterback Camden Chesney throws a pass to the left and hits La Vega's Jordan Rodgers right in the chest and he runs it back 77-yards to make things 21-7.
Jordan Rogers with a big interception and takes it to the house for @lvpirates to make the score 21-7 @lvpirates lead with 8:52 in the first half. What a play!!!!!!! @AdamFromGP @Parker_Turley52 pic.twitter.com/8kYh1ZHUNq
— Friday Night Glory (@FridayNghtGlory) December 14, 2019
From that moment on, the game was never in doubt as it was just a sign of things to come for Springtown. While the defense did its part to stifle the La Vega (14-1) offense, Springtown (13-2) could not stop shooting itself in the foot with turnovers - six of them to be exact (3 fumbles and 3 interceptions).
Rogers would finish with two of La Vega's three INTs on the night.
For a team that had just two in four playoff games, Friday's game will probably be look as an outlier.
Springtown's 13 wins is the most in school history and its venture into the state semis is the deepest it has gone since 1995. For La Vega, it makes its second straight appearance in the state finals, where it will meet the winner of Lampasas and Carthage at 11 a.m. Friday, December 20.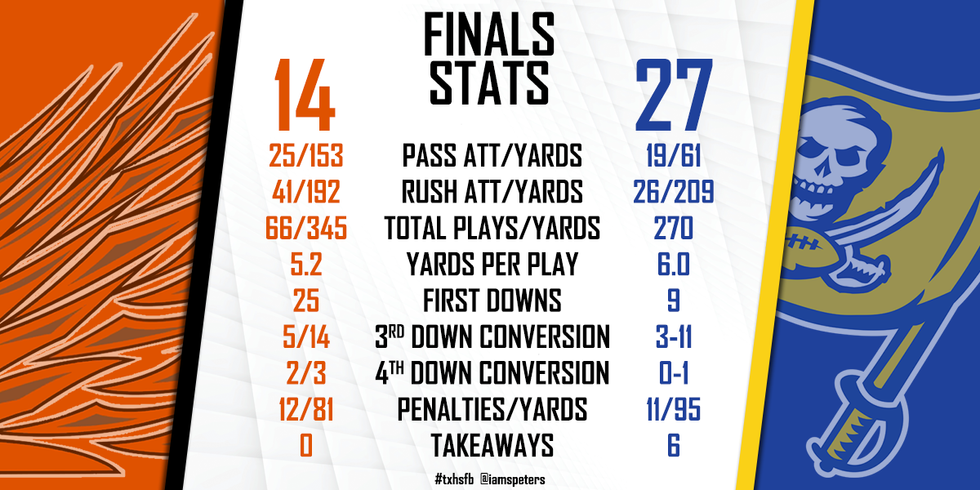 With the early signing day a week away, it's time to release VYPE version 2.0 of our Hot 100 for 2020.
With so many talents in Houston, it's a challenge to put together such a list. It's so hard to decipher who will develop at the next level, who has peaked out, who made the right choice and who will be in transfer portal in a year.
This list tries to combine all of those unknowns. For instance, Katy's Jordan Patrick may be one of the Tigers greatest playmakers in school history, so how is he No. 87 on this list, while Tomball's (No. 6) Demond Demas, (No. 13) Shadow Creek's Xavian Alford and (No. 36) FB Bush LB Kenneth Phillips didn't even play their senior year.
We reached out to several of the uncommitted players, who have updated us on their favorites.
How about this? UTSA has six of the Top 100 verbally committed. Now, they are without a coach as Frank Wilson was let go. So many variables in this recruiting game, but take a look as we can "agree to disagree."
...
THE VYPE HOT 100 for 2020
No. 1 Zach Evans, North Shore, RB, Uncommitted
Early grad ready for Saturdays
No. 2 Dwight McGlothern, Klein Oak, DB, Uncommitted (Favors LSU, OU, Az State, Baylor, Va Tech)
Has emerged as H-Town's top two-way player
No. 3 Alec Bryant, Shadow Creek, DE, Uncommitted
Coveted edge rusher
No. 4 Chidozie Nwankwo, Foster, DT, Houston
Ed Oliver-clone
No. 5 Devon Achane, FB Marshall, Athlete, Texas A&M
The Flash
No. 6 Demond Demas, Tomball, WR, Texas A&M
Great athlete but didn't never saw him play against major competition
No. 7 Josh White, Cy Creek, LB, LSU
Area's top LB
No. 8 Chad Lindberg, Clear Creek, OL, Georgia
Should translate to SEC
No. 9 Joshua Eaton, MacArthur, DB, Uncommitted (Favors LSU, OU, Bama, Oregon)
Rangy and raw. Has big college upside
No. 10 Sofian Massoud, Cy Lakes, QB, Houston
Best player no one ever saw. New York transfer
No. 11 Vernon Broughton, Cy Ridge, DE, Texas
Great frame. Future Longhorn star?
No. 12 Damieon George, North Shore, OL, Alabama
Giant OL. Could dominate in SEC. He's North Shore tough-enough
No. 13 Xavion Alford, Shadow Creek, DB, Texas
Missed senior season to injury
No. 14 Troy Omeire, FB Austin, WR, Texas
Big WR with college-ready body
No. 15 Taye McWilliams, Lamar Consolidated, Athlete, Baylor
Under-rated stud on offense
No. 16 Parker Washington, Travis, WR, Penn State
Size an issue. Skill and heart aren't
No. 17 Malik Hornsby, FB Marshall, QB, Uncommitted
Talented. Not sure where he fits in on field
No. 18 Frank Brown, Sterling, RB, Uncommitted
Great versatile RB. Can run and catch
No. 19 Bryson Washington, CE King, DB, Oklahoma
Long DB could help Sooners immediately
No. 20 Corey Flagg, North Shore, LB, Miami
Tackling machine. Must play MLB due to size
GALLERY BY BRADLEY COLLIER
No. 21 Smart Chibuzo, Hightower, OL, Texas A&M
Big kid, needs to push people around
No. 22 Josh Bankhead, College Park, OL, Texas A&M
Great guard, pass-blocker and run-blocker
No. 23 Ronald Triplette, Shadow Creek, DT, Kansas State
Under-rated DE and picked perfect spot to play
No. 24 Robert Wooten, Stafford, DE, Uncommitted (Favors SMU, Wisconsin, Virginia Tech)
Could be a star in college. Big upside. Great size, athleticism
No. 25 Cedric Melton, Klein Cain, OL, Arizona
Came on as a senior. Played tremendous in historic season
No. 26 Jeremiah Harris, Shadow Creek, LB, Kansas State
Can run sideline to sideline
No. 27 Akinola Ogunbiyi, Kempner, OL, Texas A&M
Another Fort Bend big body OL
No. 28 John Gentry, North Shore, RB, Utah
Sleeper alert. Can run and catch
No. 29 Avery Helm, FB Marshall, DB, Florida
Long corner. Needs size, strength and to stay healthy
No. 30 Paula Vaipulu, Channelview, DT, Georgia Tech
Brains and braun
No. 31 Bayne Tryon, Cy-Fair, TE, Tulsa
Good college choice. Can catch and solid blocker
No. 32 Casey Collier, Barbers Hill, OL, USC
Huge OL. Raw athlete. Super nice kid
No. 33 Larry Moore, FB Marshall, OL, Texas Tech
Pretty athletic for his size
No. 34 Joseph Wilson, North Shore, DB, Kansas State
Can lock down and tackle
No. 35 Seth Jones, Shadow Creek, WR, Baylor
Game-changer for Creek Boys
No. 36 Kenneth Phillips III, FB Bush, LB, Texas A&M
Missed much of season with leg injury
No. 37 Dylan Robinson, Atascocita, WR, Houston
Led amazing corps of WRs for Eagles
No. 38 Nick Booker-Brown, Westfield, DT, Boise State
Nasty and great motor on the inside
No. 39 Will Garner, Klein, DE, Baylor
Solid pick up. Must pick it up if gonna play for Bears
No. 40 Denzel Blackwell, Strake Jesuit, DB, Boston College
Texas kid in northeast. Could be a fit
No. 41 Drake Dabney, Cy Ranch, TE, Arizona
Sumlin use a TE? Could move inside
No. 42 Jessie Evans, CE King, DE, Uncommitted
Great off the edge
No. 43 DJ Warnell, Dickinson, DB, Uncommitted
Athletic corner with size
No. 44 Calib Perez, Dawson, OL, Duke
Will fit nice in the ACC
No. 45 Christian Hood, Hightower, LB, Duke
Will fit nice in ACC. Pretty physical
No. 46 Upton Stout, North Shore, DB, Uncommitted
Has played a ton of meaningful snaps. A tad undersized
No. 47 Clinton Anokwuru, Bush, DE, Uncommitted (Favors Va Tech, Texas Tech, Colo State, Wyoming, SMU)
Will be a beast in college
No. 48 Kendal Taylor, Westfield, RB, Uncommitted (Favors SMU)
Game-breaking, change-of-pace back
No. 49 Jalen Paxton, Manvel, WR, Tulsa
Has emerged as star during senior year
No. 50 Jason Brooks, Dobie, OL, Vanderbilt
Run, run, run-blocker
No. 51 Warren Robinson, FB Marshall, LB, Uncommitted (Favors Colorado, UTSA, SFA)
Flies around the football
No. 52 Braedon Nutter, Tomball Memorial, DT, Rice
Good, dependable inside guy
No. 53 Clarence Dalton, Galveston Ball, RB, Uncommitted
Big back with speed and slash
No. 54 Faybian Marks, George Ranch, DB, Uncommitted (Favors Baylor, Kansas State, Kansas)
Great football bloodline
No. 55 Dakota White, Katy, OL, Louisiana Tech
Will come in polished for Tech
No. 56 Dan Dishman, Clear Falls, TE, UTSA
This dude makes PLAYS
No. 57 Bryan Massey, Katy, DB, UTSA
Great tackler, good in back end of defense
No. 58 Zion Childress, New Caney, Athlete, UTSA
Lit up scoreboards in Northeast side
No. 59 Logan Kyle, Tomball Memorial, WR, Vanderbilt
Over 1,300 yards as senior; doing something right
No. 60 Tiago Sumbo, Seven Lakes, DT, Undecided
Good run-stopper, good size
No. 61 Willie Eldridge, Cy Ranch, RB, UTEP
Versatile back who can catch
No. 62 Malachai Jones, Westfield, WR, Tulsa
Dependable as they come, good after catch
No. 63 Ben Renfro, Magnolia, DB, Utah
Utah's Scanley knows talent
No. 64 Bryson Stewart, Ridge Point, DT, Uncommitted (Favors Wyoming, SMU, New Mex St)
Dominated Fort Bend ISD on line of scrimmage
No. 65 Derek Bowman, Magnolia, OL, Houston
Big OL, can move a little bit too
No. 66 JD Head, Pearland, QB, Louisiana Tech
Threw it around the Rig for two years, has experience
No. 67 Ryan Frank, Magnolia West, DB, Texas Tech
'Stangs have had some sleepers in college
No. 68 Kade Bond, Magnolia, OL, North Texas
Another solid Bulldog OL
No. 69 Marcus Smith, Stafford, OL, SMU
Interior lineman, has size will get stronger
No. 70 Brandon Brown, Morton Ranch, DT, Tulane
A leverage guy in the trenches
No. 71 Malik Johnson, The Woodlands, Athlete, Kansas
Speed return man, can run the sweep too
No. 72 Ryan Stubblefield, Foster, QB, Uncommitted
Good high school QB, does it translate
No. 73 Matthew Roberts, North Shore, LB, Uncommitted
Kansas move-in; little brother a beast on OL too
No. 74 Kendal Septs, FB Austin, OL, Houston
Will develop in college
No. 75 Christian Lee, Friendswood, TE, North Texas
Will put on weight to be a legit college TE, good hands
No. 76 Loronzo Thompson, Clear Brook, WR, North Texas
UNT needs athletes; he's one
No. 77 Kobie Campbell, Hightower, Athlete, Rice
Small but speedy. Good with ball in hands
No. 78 Dominique Ratcliff, Conroe, DT, UL-L
Cajuns go a sleeper
No. 79 Elijah Champaigne, Tomball Memorial, DT, Tulane
Good size in middle
No. 80 Jayden Goodwin, Cy Falls, DB, UTEP
Athletic bloodline, good feet
No. 81 Cameron Peters, Stafford, QB, UTSA
Big QB, more of a pro-style guy
No. 82 Darius Edmonds, Atascocita, TE, Louisiana Tech
Sleeper coming out of Eagles' nest
No. 83 Reggie Brown, Legacy, TE, Tulane
A bit of an unknown, but has size and pedigree
No. 84 Devin Gunter, Ridge Point, Athlete, Rice
First-team corner at big, successful high schoo
No. 85 Ricky Johnson, Cy Falls, DB, UTEP
Helped lead Eagles to successful season in back end
No. 86 Je'Vaun Dabon, Cy Ridge, DB, Uncommitted (Favors Houston, Southern Miss, Texas State)
Can cover and run
No. 87 Jordan Patrick, Katy, WR (Preferred WO at Texas State)
One of greatest playmakers in Katy history
No. 88 Jett Duncan, The Woodlands, OL, North Texas
Will be solid for Mean Green. Coachable, good size
No. 89 Asyrus Simon, Atascocita, DE, UTSA
Son of Aggie LB, can play on the edge at that level
No. 90 Leke Asenuga, FB Bush, OL, Uncommitted
Likely a center at next level
No. 91 RJ Smith, Tompkins, RB, Uncommitted (Favors Temple, FIU, Air Force)
Amazing high school RB
No. 92 Trey Phillippi, Montgomery, OL, Rice
Big ole' country guy'
No. 93 Will Jones, Atascocita, OL, Uncommitted
Another solid big man from Eagles
No. 94 Eric Rodriguez, Travis, QB, Uncommitted
Great HS career; great football IQ
No. 95 Payton Tally, Cy-Fair, DB, Princeton
Smart kid in the backfield
No. 96 Michael Pheonix, Conroe, WR, Uncommitted
Outstanding career, someone needs to pick him up
No. 97 Warren Shankle, Shadow Creek, LB, Uncommitted
Heat-seeking missile
No. 98 Darryl Harris, Dickinson, WR, Uncommitted
WR can win 50-50 balls

No. 99 Caleb Fox, The Woodlands, DT, Uncommitted
Anchor on the line
No. 100 Montrell Bolton, Klein Oak, QB, Uncommitted
Under-recruited QB