ARLINGTON - Oh how different things work out from Week 2 to the state finals.
In the first matchup, Sterling City erased a 14-point second half deficit and won a close game, 44-40, over May. In the rematch, a shootout looked to be brewing until Sterling City (15-0) put the clamps down to run away with a 68-22, mercy rule victory en route to its first-ever state championship.
Cross Knittel, the game's offensive MVP, was electric for Sterling City, accounting for 311 total yards and five of his team's touchdowns.
The route wasn't without some challenges early on, though. May scored on its first play from scrimmage, a 67-yard run by Kaden Halk, to take an 8-0 lead.
Sterling City responded in two plays to tie the game and then forced a turnover on downs - the first of three in the first half - that resulted in another Sterling City score.
May countered, but from that point on, it was all Sterling City. Sterling City scored late in the first quarter to take the lead again and then proceeded to outscore may 40-8 in the second quarter.
The Sterling City defense forced a fumble at the goalline, intercepted a pass and forced two more turnover on downs all while scoring on all of its possessions.
The game was finished as Sterling City hit the 45-point mercy rule as it scored on the first play of the second half.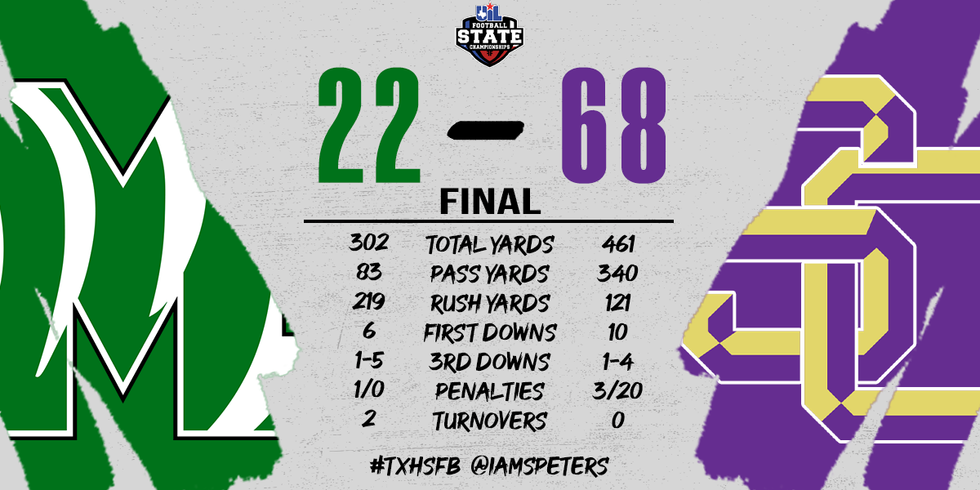 The morning started out cold, wet, and eventually very windy, but that is not how the day ended! the 2A and 4A divisions were met with drizzle and brutal winds, while only a short time later, the 6A divisions got the blistering sun and a nearly 80 degree temperature. Neither are considered "perfect" conditions to run in, but that's what it takes to be the best- you have to be able to compete no matter what the circumstances are.
The UIL State Cross Country season came to end today, with 2A, 4A and 6A all competing one last time for the 2020 year. The results were exciting, and the competition was fierce. Vype Media was there to get all the great action!
Here are the individual girls Champions results:
2A: Kyla Kane (11) - Wellington High School with a time of 12:08- 2 mile
4A: Adele Clarke (11)- Celina High School with a time of 11:31- 2 mile
6A: Brynn Brown (12) - Denton Guyer with a time of 16:25- 5K
Brown actually broke the state record that was last beaten in 2018. The time to beat was 16:38 and Brown beat it by 13 seconds!
Boys Champion Individual Results from day 2:
2A: Henry Fierro (12) - Poolville High School with a time of 15:57- 5K

4A: Judson Greer (12) - Melissa High School with a time of 14:51- 5K
6A: Luke Lambert (12)- Wylie High School with a time of 16:25- 5K
Greer took a commanding lead through the entire 4A race, ultimately earning himself his 3rd State Championship title! You can find Greer with the University of North Carolina team next fall!
All of the racers left it out all on the course today, and it was an exciting day for Cross Country!