There are so many great athletes in Clear Creek ISD. VYPE highlights five athletes from CCISD in this edition of The Stars of Clear Creek ISD powered by Texas Citizens Bank.
Mia Johnson, Clear Falls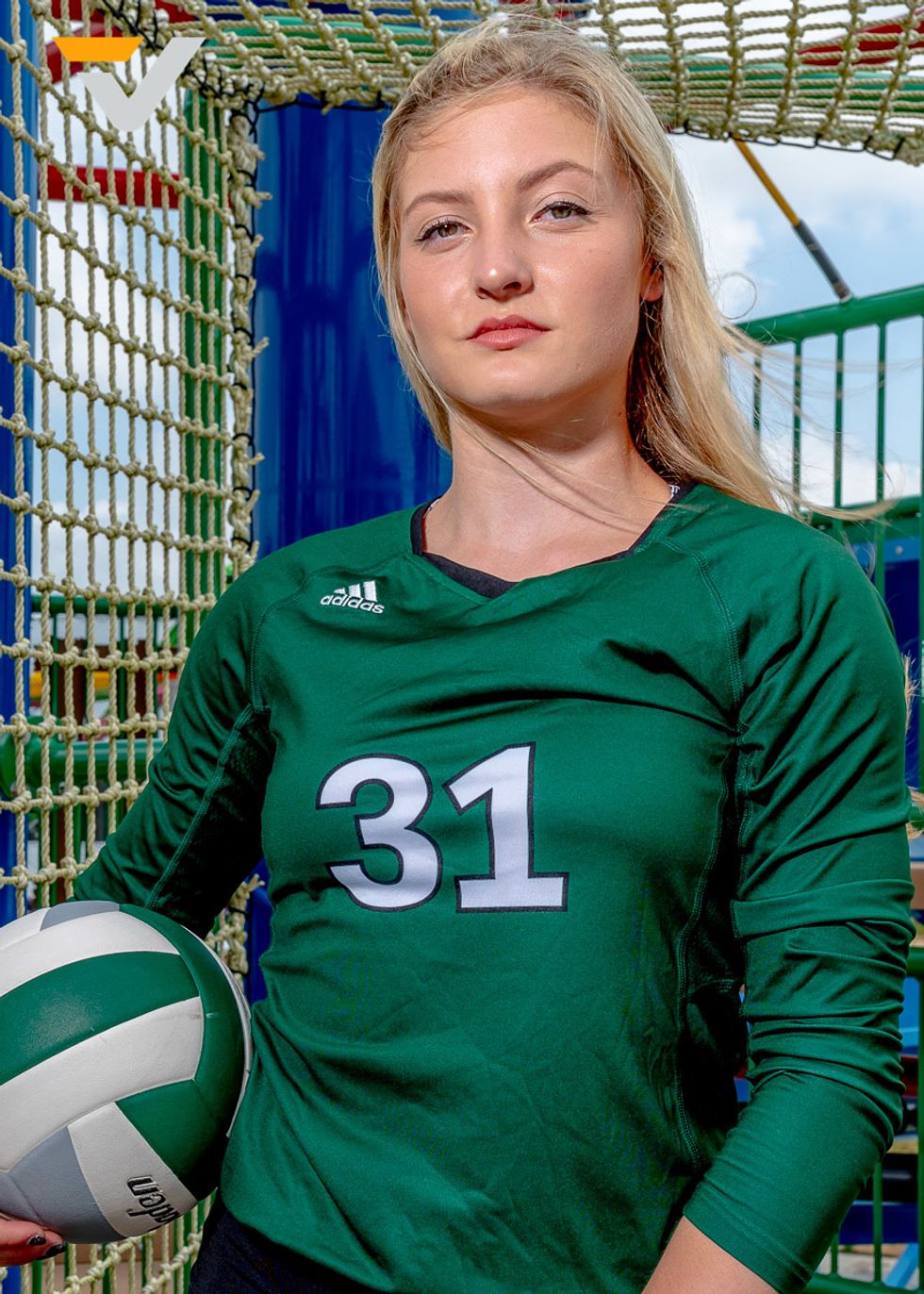 Clear Falls' Mia Johnson is one of the most lethal outside hitters in the city of Houston. The senior and her squad have high expectations entering 2020 after a solid season a year ago. Johnson is committed to the University of Hawaii.
Shyia Richardson, Clear Springs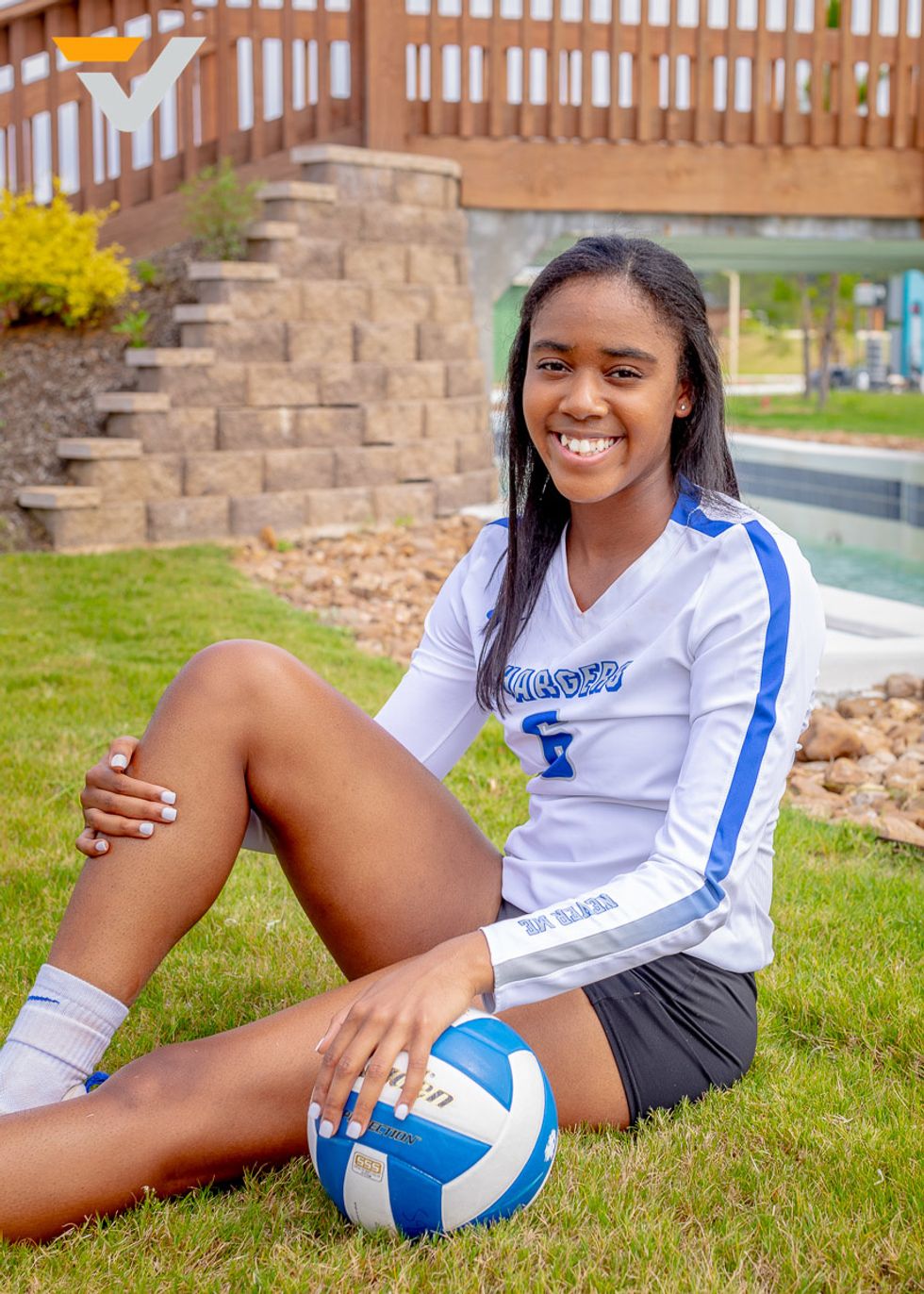 She's back… Clear Springs' Shyia Richardson returns to the huddle after a junior season that saw her earn District 24-6A co-District Offensive Player of the Year honors for her outside hitting prowess. She is committed to the University of San Francisco.
Jeremiah Crum, Clear Creek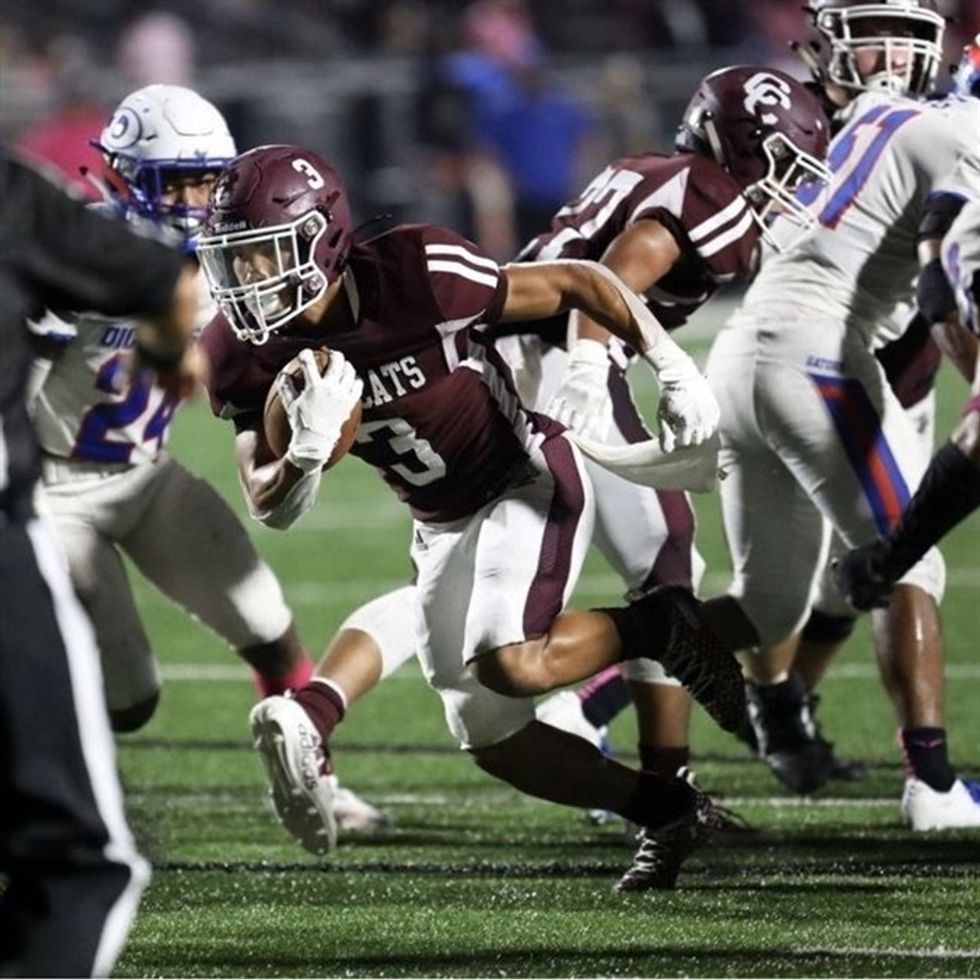 Clear Creek's Jeremiah Crum went off as a sophomore last season, helping lead the Wildcats back to postseason for the first time since 2015. Crum carried the load on the ground for Clear Creek and earned co-District Newcomer of the Year honors. What will he do for an encore?
Jackson Carter, Clear Lake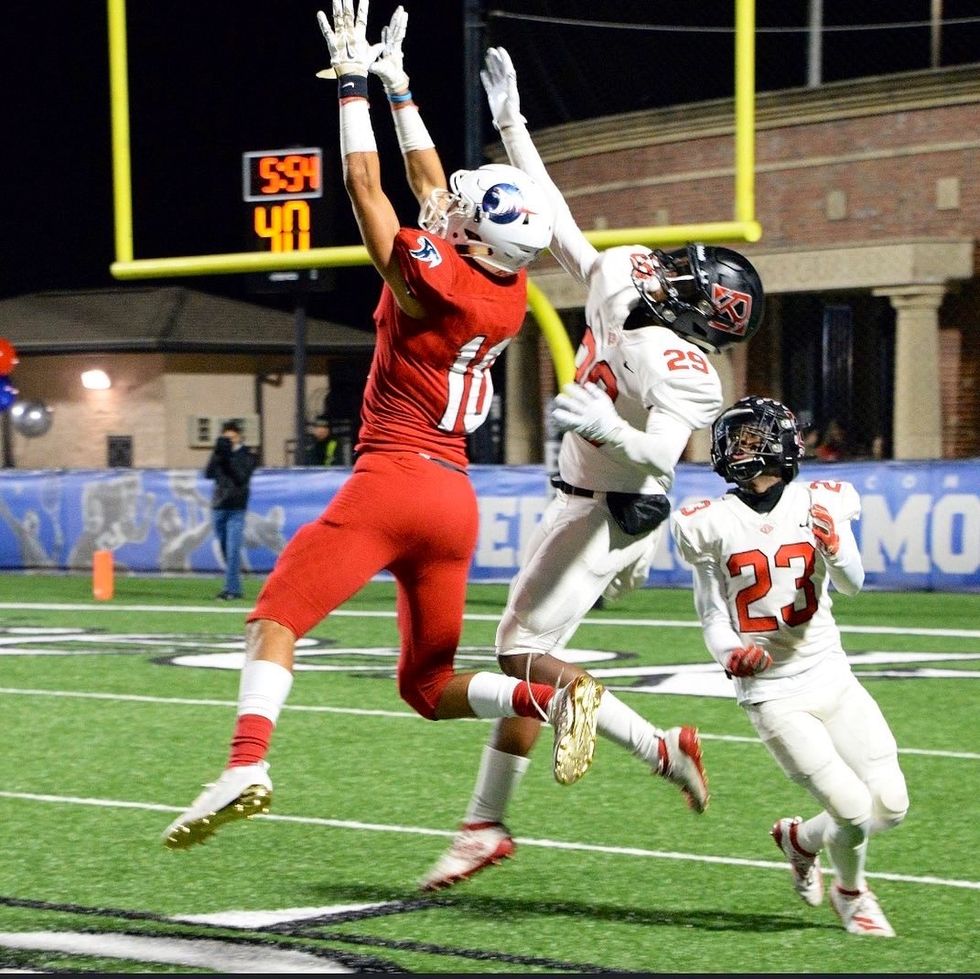 Clear Lake's Jackson Carter will be the go-to guy on the outside for the Falcons' passing game. Carter enters his senior season with hopes of reaching the postseason after a tough year in 2019. He is also a talent on the mens' volleyball circuit.
Kenedi Miller, Clear Brook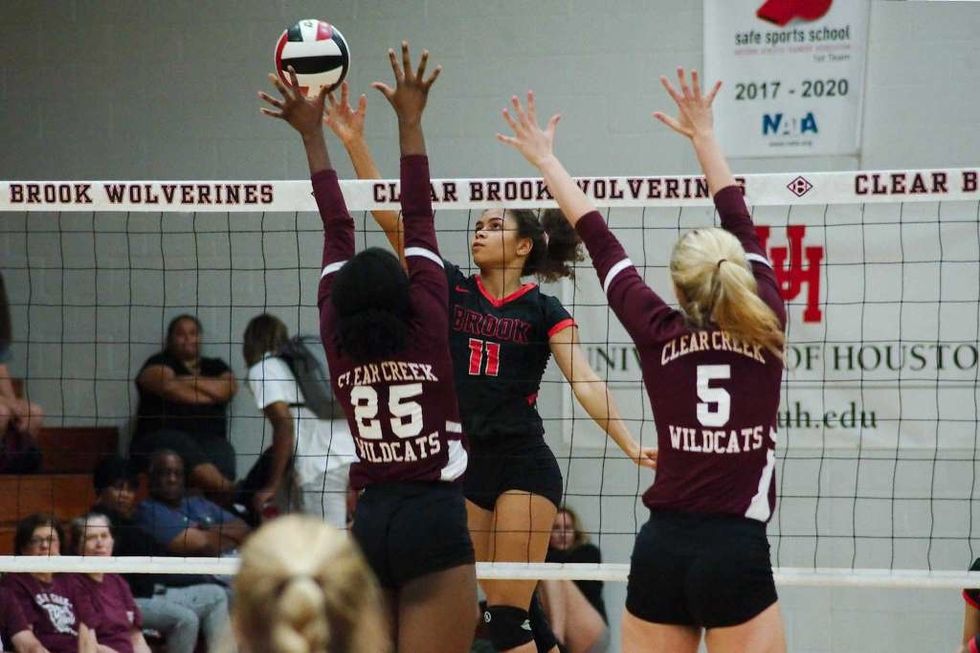 Clear Brook had a magical season a year ago, winning district and advancing three rounds in the postseason for the first time in a decade. Gone are District MVP Kailin Newsome and Defensive MVP Tori Gehret to graduation, leaving Kenedi Miller and her class to carry the baton. Miller was a first-team, all-district outside hitter selection a year ago.
Texas Citizens Bank is a Houston community bank dedicated to concierge banking for owner-managed businesses. Learn how Texas Citizens Bank can help you grow your business at TexasCitizensBank.com.
VYPE's next grouping falls just under the radar as it relates to statewide rankings in our Dark Horses category, but don' t be surprised if any of these squads punch their ticket to the state tournament .
Some are bluebloods like Cy-Fair, Memorial and Oak Ridge, while teams like Shadow Creek and Clear Springs are the up - and - comers. Regardless, these 10 programs have a legit shot at state and could play spoiler to the favorites.
Barbers Hill Eagles
(Reached Class 5A Regional Quarterfinals)

In her first year as a head coach, Kristin Goodman led her Barbers Hill Eagles to an 11-1 district record and the District 21-5A crown. Goodman came over to the eastside after being the lead assistant at Friendswood. The Eagles got off to a slow start in a competitive tournament season, but started to peak in the regular season. The competitive scheduling paid off as Barbers Hill reached the third round before falling to Friendswood. So, what will she do for an encore in year two? Gone are the highly-decorated Jessica Hardin and Macy Sumrall to graduation but back is all-state setter Trinity Hennigan, who had 1,179 assists. She has some firepower to set for in Faith Guidry (130 kills), Sarah Lankford (151 kills) and Kylee Kejonen (171 kills). Having those kinds of numbers coming back, the big three outsides make the nest tremendously balanced.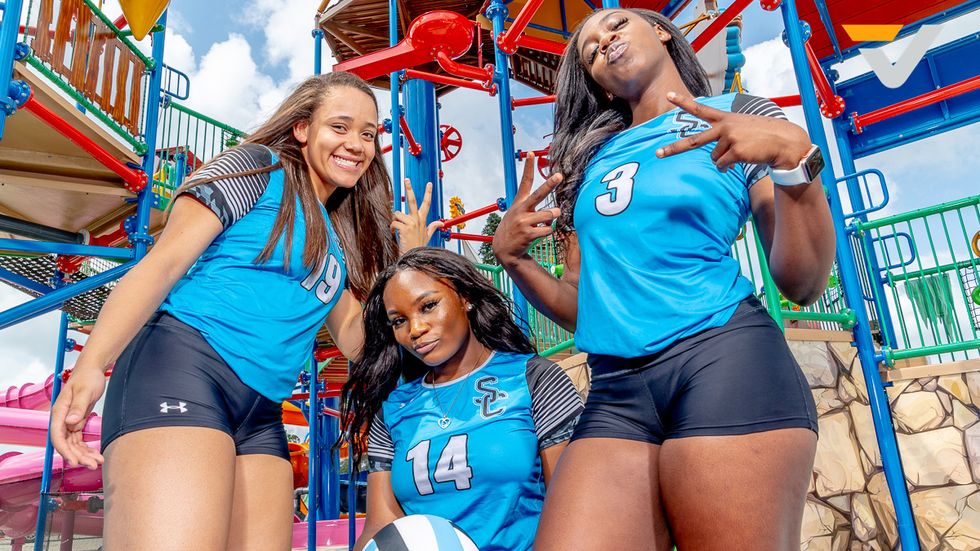 Halle Sanders, Amber Johnson and Alexis Williams, Shadow Creek
Shadow Creek Sharks
(Reached Class 5A Area Round)
Since its opening, Shadow Creek has reached the postseason every year. In fact, the Sharks have won a playoff game each season. More history could be made in 2019 as Shadow Creek returns some serious firepower. Back is District 24-5A Newcomer of the Year Alexis Williams, who had 364 kills, 441 assists and 317 digs a year ago and plays all the way around. The Chicago State-commit can play defense as well as set. Also, back is all-district, first-teamer Halle Sanders (282 kills, 240 digs), who is another lethal Shark that is tremendously versatile on defense and on the edge. Amber Johnson (235 kills, 281 digs) is another first-team, all-district selection back in the fold for coach Whitney Daniel. Arianne Renaud (182 kills) will also be a significant contributor. Shadow Creek fell in the second round to Friendswood after finishing third in district play behind Foster and Manvel. District positioning will be key to the Sharks' playoff progression. They also need to have another ball-handler emerge.
Cy-Fair Bobcats
(Reached Class 6A Area Round)
Cy-Fair cruised through District 17-6A, going 15-1 for another title under the direction of legendary coach Donna Benotti, who earned her 700th career win as a head coach last season. Benotti is happy to welcome back District Hitter of the Year Bekah Portalatin, who is just a junior. She will be one of the city's and state's most lethal offensive weapons. Complementing Portalatin will be first-teamer Lauryn Bourne, who can crush the ball. Second-teamer Faith Jones will also help juice up the offense. In the middle are Sophie Scott and youngster Audura Sogsbean, who will both be better after a varsity and summer club season under their belts. Kara Spice returns as a first-team, all-district libero to anchor the defense. Finding a setter to step in for Elyse Buras will be key to the Bobcats' success.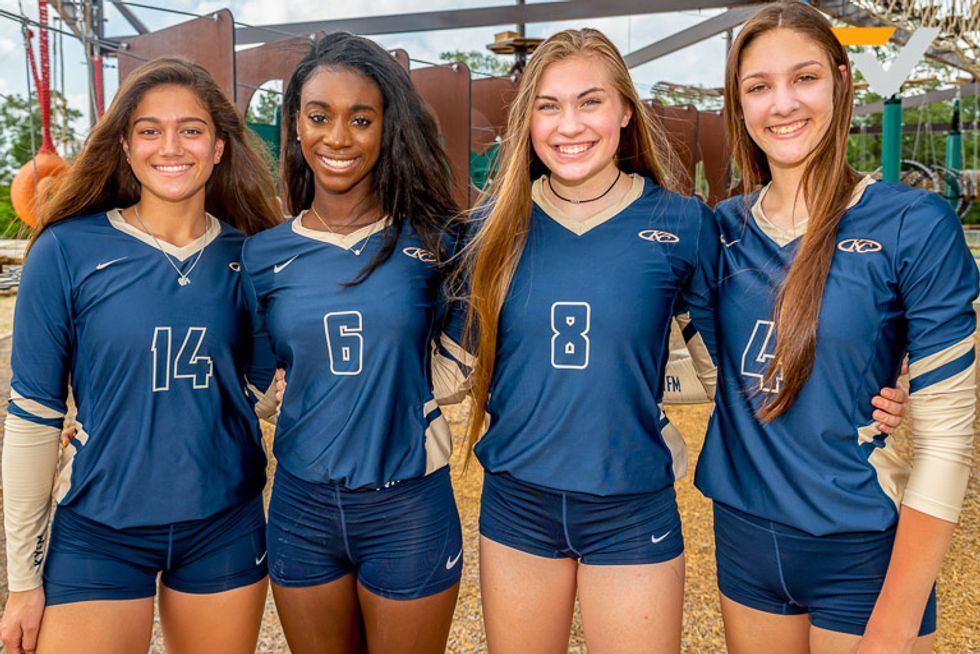 Emma McWhorter, Mekaila Aupiu, Sarah Rogers and Erin Wyatt, Klein Collins
Klein Collins Tigers
(Reached Class 6A Regioanl Quarterfinals)
The Klein Collins Tigers made school history in 2018, advancing to the Regional Quarters before bowing out to The Woodlands. With realignment last year, the Tigers were tossed into one of the toughest districts in the state joining the likes of The Woodlands, Oak Ridge and College Park. Klein Collins scratched out a fourth-place finish in the district, before going on their historic run. Amanda McMeans leaves the program in great shape as Kingwood Park (Class 5A State Champs) assistant Kasey Price takes over at Klein Collins. The cupboard is certainly not bare, and leading the den for Price will be Emma McWhorter in the middle. The second-teamer has committed to Louisiana-Lafayette. She is joined up front by second-teamer Sarah Rogers. Running the offense is Mekaila Aupiu, who has grown into the setter position. The heavyhanded Erin Wyatt (Georgia State-commit) will lead the hitting attack for the Tigers. With a year of playing together last season, the experience should result in a higher district finish.
<p> <strong>Oak Ridge War Eagles <br> (Reached Class 6A Regional Quarterfinals)</strong><br> <br> The Oak Ridge War Eagles have some things working against them. The north Houston program graduated four all-state players and the opening of new super school Grand Oaks in Conroe ISD is drastically changing the enrollment. No sweat, right? The team that reached back-to-back state tourneys in 2015 and 2016 returns some serious talent and a big-time coach. Rachel Croley enters her second season at the helm after going 39-10 in year one. Croley was the top assistant at super-power The Woodlands in years past and has always been attached to a state-ranked team. Returning to the fold are middles Savanna Meyer (Western Colorado State-commit), a second-team, alldistrict selection, and New Mexico-commit Emma Smith. The quarterback is Piper Boydstun at setter, while Katie Mullen adds firepower on the outside. Abby Fowler (USAV Beach Nationals Qualifier) will lead the defense. While Oak Ridge plays in a brutal district with The Woodlands, Klein, Klein Collins and College Park, expect the Eagles to soar into the postseason. </p><p class="shortcode-media shortcode-media-rebelmouse-image"> <img type="lazy-image" data-runner-src="https://assets.rebelmouse.io/eyJhbGciOiJIUzI1NiIsInR5cCI6IkpXVCJ9.eyJpbWFnZSI6Imh0dHBzOi8vYXNzZXRzLnJibC5tcy8yMDU0NDQyMC9vcmlnaW4uanBnIiwiZXhwaXJlc19hdCI6MTYxODcxMjk5MX0.FYDoGGLwPGzwS24zUEV2rEm3gefl-cEX3e-_W-N7o_Q/img.jpg?width=980" id="2fee1" class="rm-shortcode" data-rm-shortcode-id="a289edf674e085ca6e1f477b315dcc67" data-rm-shortcode-name="rebelmouse-image"> <small class="image-media media-caption" placeholder="Add Photo Caption...">Shyia Richardson and Avery Reynolds, Clear Springs</small> </p><p> <strong>Clear Springs Chargers <br> </strong><strong>(Reached Class 6A Area Round)</strong> </p><p> The Clear Springs Chargers rolled through District 24-6A undefeated and reached the Regional Quarters. Despite the setback to George Ranch in last year's postseason, the Chargers are back under the direction of coach Shannon McClellen. Entering her eighth year as head coach, McClellen returns a loaded stable of seven all-district athletes. It starts with Shyia Richardson (483 kills), who was the co-Offensive Player of the Year in 2018. Joining her will be first-teamers Mary Alper, Haley Moses and Alana Dawson. Avery Reynolds (Louisiana-Monroe-commit), Erin Rogers and Tori Gehret earned second-team nods. Reynolds (635 assists) runs the offense as the setter, while Dawson and Rogers add hitting support on the edge. Alper anchors the middle. According to McClellen, the team's keys to success includes their "experience, team chemistry and work ethic." With this loaded lineup, the Chargers will return to the postseason for the fourth consecutive year with aspirations of a deep regional run. <br> </p><p> <br> <strong>Manvel Mavericks <br> (Reached Class 5A Area Round) </strong><br> <br> The Manvel Mavericks look to build on their second-place finish, going 14-2, in District 24-5A and their second-round exit in the postseason (Barbers Hill) a year ago as three game-changers return to the locker room. Coach Susan Kennedy and her squad could make school history if they can reach the Regional Finals. Manvel was a step away in 2017 and 2016, bowing out in the semis. Back on the court for the Mavs will be Morgan Smith, who dominated up front and was named the District Blocker MVP. Cecilia Harness enters her senior season with a ton of experience. Harness is the key to Manvel's success as the District's Setter MVP. On the outside is the powerful Aryn Johnson, who was a first-teamer in 2018. Defense will also be integral to Manvel's dream season and Taylor Doan will be responsible for flying around the court digging balls. Foster will be a factor in district play, but Manvel could steal the headlines in Class 5A come November. </p><p class="shortcode-media shortcode-media-rebelmouse-image"> <img type="lazy-image" data-runner-src="https://assets.rebelmouse.io/eyJhbGciOiJIUzI1NiIsInR5cCI6IkpXVCJ9.eyJpbWFnZSI6Imh0dHBzOi8vYXNzZXRzLnJibC5tcy8yMDU0NDQwOC9vcmlnaW4uanBnIiwiZXhwaXJlc19hdCI6MTYwODEyMzk0Nn0.a7FZhvmSEONCL7X3J-qNphvP8JgNF76NSVUzIl9FEpo/img.jpg?width=980" id="15677" class="rm-shortcode" data-rm-shortcode-id="6c043cc86140e017c9862c348357a94a" data-rm-shortcode-name="rebelmouse-image"> <small class="image-media media-caption" placeholder="Add Photo Caption...">Lyla Taylor, Logan LeRoux and Brooke Duncan, Memorial</small> </p><p> <strong>Memorial Mustangs <br> </strong><strong>(Reached Class 6A Area Round)</strong> </p><p> After 38 years in coaching, Memorial coach Beth Gammill will not be patrolling the sideline in 2019. Gammill retired after an illustrious career. Stepping in will be Kaddie Platt, which is a huge get for Spring Branch ISD. Platt was the University of Houston volleyball head coach for six seasons and built Houston Baptist University (HBU) for 17 years. Platt has to replace superstar Sanaa' Dotson, who is off to Oklahoma, but she has some pieces returning. Lyla Traylor is the top returning kill artist, followed by Brooke Duncan. Logan LeRoux is the quarterback at setter and had over 550 assists a year ago. The 'Stangs went 14-2, finishing second in District 17-6A. The season came to a screeching halt in the second round as Class 6A State Runner-Up Ridge Point blanked the Mustangs. With Platt and her college coaching pedigree at the helm, the sky could be the limit in 2019. </p><p> <br> <strong>Cypress Ranch Mustangs <br> (Reached Class 6A Area Round) <br> <br> </strong>The Ranch is changing hands. Football coach Gene Johnson, the school's only head coach, departed for Waller during the offseason. Volleyball coach Candice Fuchs has also said goodbye to Cypress Ranch. Chrissy Woodward takes over a Mustangs' squad that won district last season; reached the second round of the postseason and has been to the playoffs eight-straight years. Not a bad gig, right? Cypress Ranch also returns some solid, young pieces to a team that should challenge for another District 14-6A crown. While Sabrina Sustala, Peyton Debello and Michelle Klein left tremendous legacies at the Ranch, the baton will be passed to another talented group. Junior outside Maddy Villareal returns after a first-team, all-district selection. Junior Ava Martinolli gives Ranch another power-hitter with credentials. The explosive outside was a second-teamer a year ago and has another year of experience. Distributing the ball will be junior setter Kailey Friedrich, while senior Seerdyn James will also play a larger role in the offense this season. </p><p class="shortcode-media shortcode-media-rebelmouse-image"> <img type="lazy-image" data-runner-src="https://assets.rebelmouse.io/eyJhbGciOiJIUzI1NiIsInR5cCI6IkpXVCJ9.eyJpbWFnZSI6Imh0dHBzOi8vYXNzZXRzLnJibC5tcy8yMDU0NDM4OS9vcmlnaW4uanBnIiwiZXhwaXJlc19hdCI6MTY1NDIzMDUwNH0.1MfAEjHsixQjq3WXLmJQZJa8ZaR_pLOvrDJ3OB_dtQE/img.jpg?width=980" id="5d515" class="rm-shortcode" data-rm-shortcode-id="01da46fc9aa57e64a1b4e5a9e6426a4f" data-rm-shortcode-name="rebelmouse-image"> <small class="image-media media-caption" placeholder="Add Photo Caption...">Annie Antar, Kierstyn McFall and Devan Taylor, Klein</small> </p><p> <strong>Klein Bearkats <br> </strong><strong>(Reached 6A Regional Semifinals)</strong> </p><p> It was yet another solid season for the Bearkats. For the second-straight year, Klein reached the Regional Semifinals in the Region II-6A playoffs. A 3-1 loss to Prosper ended Klein's hopes of reaching its first Regional Final since 2002. In the playoffs, Klein beat the likes of Cypress Ranch and Oak Ridge to get to the fourth round, which is good experience for some of its younger players coming back. Klein will have to replace the talents of Nena Mbonu (436 kills) and Baylee Laskoskie (331 kills), who both graduated. Annie Antar returns as the top all-around player after registering 571 assists, 288 kills and 49 aces a year ago. Defensively, Kierstyn McFall comes back after a freshman season where she led the team in blocks with 55. Also, back on defense is Clemson-commit Devan Taylor. Last season, Taylor led the team in digs with 688. The Bearkats will have to get some other stars to step up, especially on the offensive side of the ball if they want to get back to the Regional Semifinals for a third-straight season. </p><script type="text/javascript">if (!window.AdButler){(function(){var s = document.createElement("script"); s.async = true; s.type = "text/javascript";s.src = 'https://servedbyadbutler.com/app.js';var n = document.getElementsByTagName("script")[0]; n.parentNode.insertBefore(s, n);}());}</script><div class="plc371964"></div><script type="text/javascript">var AdButler = AdButler || {}; AdButler.ads = AdButler.ads || []; var abkw = window.abkw || ''; var plc371964 = window.plc371964 || 0; (function(){ var divs = document.querySelectorAll(".plc371964:not([id])"); var div = divs[divs.length-1]; div.id = "placement_371964_"+plc371964; AdButler.ads.push({handler: function(opt){ AdButler.register(176729, 371964, [300,250], 'placement_371964_'+opt.place, opt); }, opt: { place: plc371964++, keywords: abkw, domain: 'servedbyadbutler.com', click:'CLICK_MACRO_PLACEHOLDER' }}); })(); </script>