Another day, another ranking! Tuesday we covered Austin's Baseball rankings. Today we stay in the State Capitol to go over the Softball Rankings!
Each week VYPE's own Joshua Waclawczyk and Scott Terrell will bring you their rankings of the top Baseball and Softball programs in the area broken up into 5A-6A, 1A-4A, and Private Schools. Will you agree with our rankings? Most assuredly not. After all, these are just our opinions and we are sure there are much smarter people out there that may have better rankings. So if you have your own thoughts on these rankings let us know on Twitter (@vypeatx) and Instagram (@vype_atx)
Let's get to the rankings!
VYPE AUSTIN 5A-6A TOP 10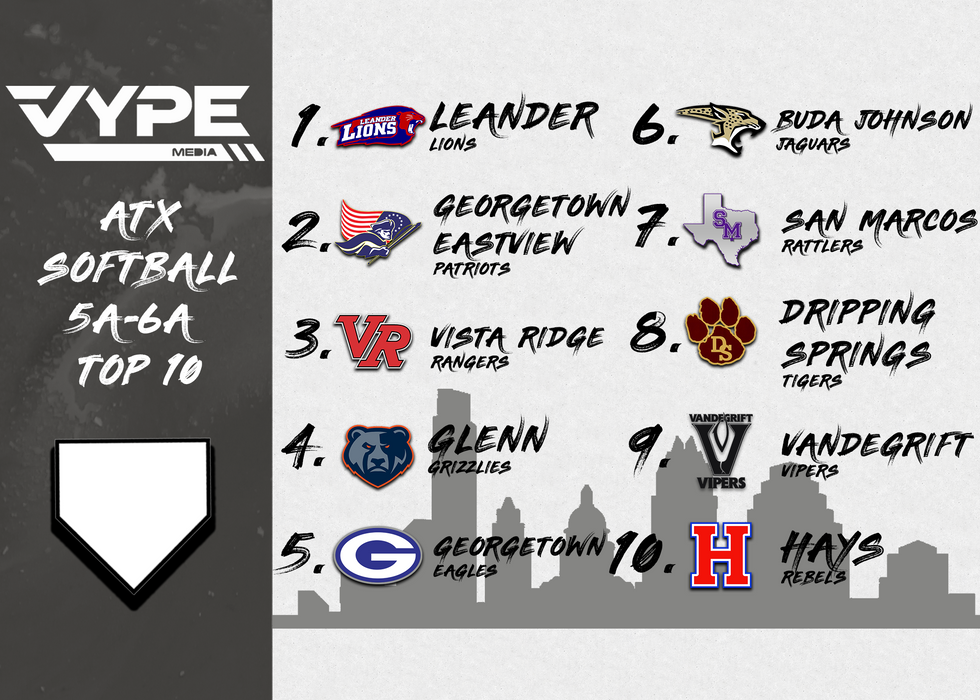 Leander comes in at our top spot in this weeks rankings and it's easy to see why. With a 20-0 record they have been arguably the best team in the state to start the season. Oh ya they are also ranked No. 2 in the country. Their next opponent though? Number 2 ranked East View. The outcome of that game could shake up the rankings.
Looking at the other teams, one team to keep on eye on this season is Buda Johnson. While ranking #6 is impressive, the fact that they are there in their first varsity season is just as impressive.
VYPE AUSTIN 1A-4A TOP 10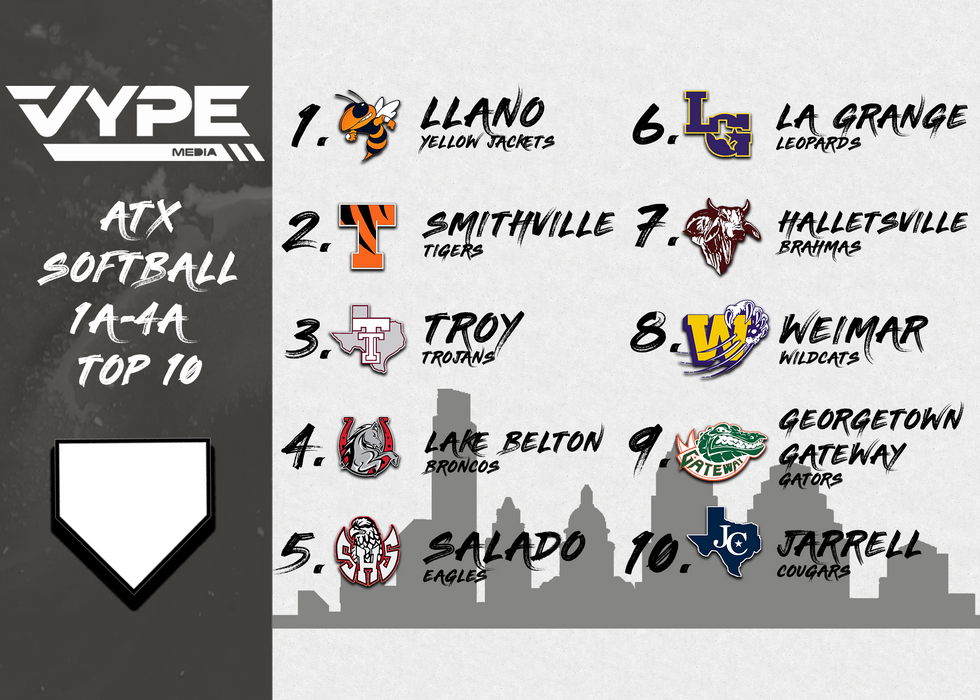 Sitting at the top of our 1A-4A rankings is undefeated Llano. Currently sitting at 17-0, we would not be surprised to see this spot locked in for the rest of the season for Llano.
After them though 2-4 is up for grabs. Smithville, Troy and Lake Belton have all had good starts to their season and we feel there may be some musical chairs happening with the 2-4 spot.
VYPE AUSTIN PRIVATE SCHOOL TOP 5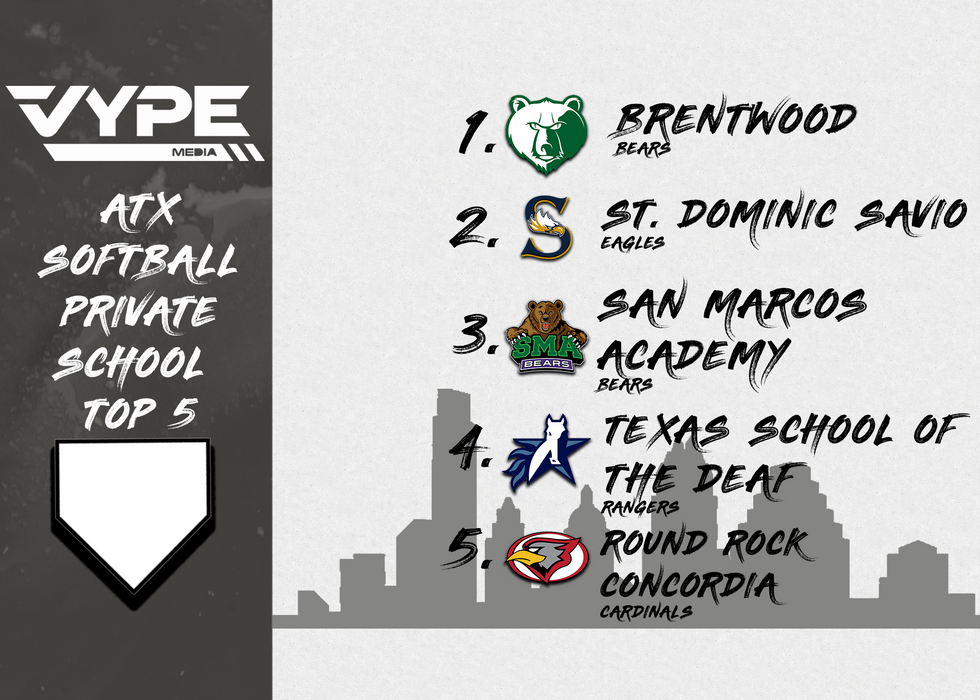 Brentwood Christian takes the top spot in our Austin Softball Private School Rankings and with good reason. Of the other 4 schools on the list Brentwood has beaten 3 of them so far. The lone exception? San Marcos Academy, who they will play next week.
For all the ways you love to play, Academy Sports and Outdoors makes easier than ever to gear up and have fun out there! Get free shipping on your favorite brands at academy.com or get free curbside or in-store pick-up at your Academy store. Gear up this Spring at Academy Sports and Outdoors.
It's been a hectic, but successful 2019-2020 high school athletic year. While we have a break in the action, let's highlight the top VYPE Austin area athletes from the fall sports season (football, volleyball and cross country).

No. 1: 2020 TCU commit Grayson Schirpik's dominance during the 2019 volleyball season included 640 kills, 619 digs, 61 aces and 22 blocks and helped guide Leander Rouse to the 2019 UIL 5A Region III Semifinal.
No. 2: Junior quarterback Ace Whitehead recorded 4,982 yards and 75 touchdowns in Lampasas football's run to the UIL 4A Division I state semifinal.
No. 3 Senior quarterback Cooper McCollum had 4,405 yards and 63 touchdowns in Wimberley's run to the UIL 4A Division II state title game.
No. 4: Senior Anthony Monte repped Austin Vandegrift at the UIL 6A boys cross country state meet and marched to a runner-up finish at the end of the season event.
No. 5: Senior Brynlee Hollas' 648 kills, 536 digs, 70 aces and 46 blocks led Schulenburg volleyball to the UIL 3A Region IV Semifinal.
No. 6: Senior Risa Olson recorded 683 kills, 387 digs, 120 aces and 47 blocks in Austin Waldorf School's volleyball run to the 2019 TAPPS 2A state championship match.
No. 7: 2020 Oregon commit Annie Stadthaus had 598 kills, 151 blocks, 118 digs and 48 aces in Austin Vandegrift volleyball's trek to the 2019 UIL 6A Region II Quarterfinal.
No. 8: Senior Edwin Zamudio's win at the UIL 3A boys cross country state meet paved the way to Luling's seventh place team finish.
No. 9: Junior Jaci McGregor's victory at the UIL 4A girls cross country state meet helped Salado earn a 10th place team finish.
No. 10: Round Rock Westwood junior RJ Martinez recorded 4,253 yards and 42 touchdowns during the 2019 high school football regular season, including a 10-touchdown and 790-yard performance in the finale.
For more sports coverage, follow Thomas (@Texan8thGen) and VYPE (@VYPEATX) on Twitter.
Looking to get more involved? Check out ShopVYPE for fresh gear that supports local schools and the VYPE U Ambassador Program. To sign up for the VYPE U Program, apply at VYPEU.com.