HOUSTON – It is a moment that Second Baptist School mens basketball Coach Kevin Mouton couldn't compare to anything he's accomplished in his more than 30 years of coaching.

Sitting back in his chair in his office, photos of family sitting on his desk, pictures of former players he had recruiting while coaching at the college level in one corner; Mouton got emotional talking about the day before this past Thanksgiving.
The morning of November 27, at 6 a.m., Mouton walked up to the gong inside the halls of MD Anderson. He had just finished his 51st-straight day of radiation.
Mouton had completed the biggest victory of his career – beating cancer.
And he, with his wife Jacquie by his side, took the mallet and together they rang the gong with smiles from ear to ear.
"It was huge. My family was there," Mouton said as his eyes began to well up and took a second to collect himself. "It was a good day. I rang it at 6 in the morning. I had [Second Baptist AD Mike Walker] there, teachers from Second Baptist, friends.
"The people at MD Anderson were like 'So, what do you do?' … I said I'm just a coach."
Elijah Mouton, Kevin's son, added: "It was one of the happier days I've had in a while. It was one of the happiest days of my life. So much stress got released with him ringing the bell. It brought so much relief to all of us."

Mouton is in the midst of his ninth season coaching basketball at Second Baptist School. In 2018, he guided the program to a state championship.
Of his nine years of coaching, the past two have been the most trying on a personal level.
In August 2018, during the first week of school his wife Jacquie, had to undergo a liver transplant surgery. Kevin stayed home with her for the next five months as she recovered.
Fast forward a year to August 16, this time it was Kevin. After going in for what he thought was just a normal sinus issue, Kevin was told by doctors he had tumors behind his sinus cavity.
They were cancerous.
"It was a bombshell," Kevin said. "When you hear 'you have cancer' you go, excuse me? You're not thinking that, I was thinking I had a sinus infection. It really took me a couple of days to compartmentalize where we go from here."
The next step was to start chemotherapy.
Kevin went through nine weeks of chemotherapy, paired with the 51 days of radiation, the combination started taking a toll on him.
Before he started chemotherapy, Kevin weighed 215 pounds, on the day of our interview the coach had dropped 47 pounds to 179.
Throughout the process, Mouton had his family supporting him, and his Second Baptist School family stepped up big by giving him rides to chemo and radiation treatments and even cooking meals.
"This school, this church, the people I work with are amazing," Kevin said. "They will do anything for a fellow worker or anybody off the street. I thank God and my family thanks God for us being able to be a part of this school and this church. They're always checking on me. They just take care of what needs to be taken care of – be it food or ride to the doctor."
Since November 23, Kevin has been on the road to recovery, which is going well. He is starting to swallow, drink water and eat food normally again.
On this Monday afternoon, Kevin walked into the secondary gym at Second Baptist School. Wearing blue jeans and a navy-blue sweater, the coach stood on the sideline.
He watched as third-year assistant Coach Curtis Scipio led the practice. Scipio has been doing this and coaching games for a few weeks while Kevin went through the hardest parts of his chemo and radiation.
"I was brutally honest, 'Guys, this is what's going on with me, this is the medication and the things I'm going through," Kevin said. "I may be here or not here. Coach [Curtis] Scipio is a rockstar. He understands what's going on and he understood when it got to a point I wouldn't be here for a few weeks. I said to myself 'I can't keep coming in here and coaching'. I told them I'm going to let Scipio coach. It worked."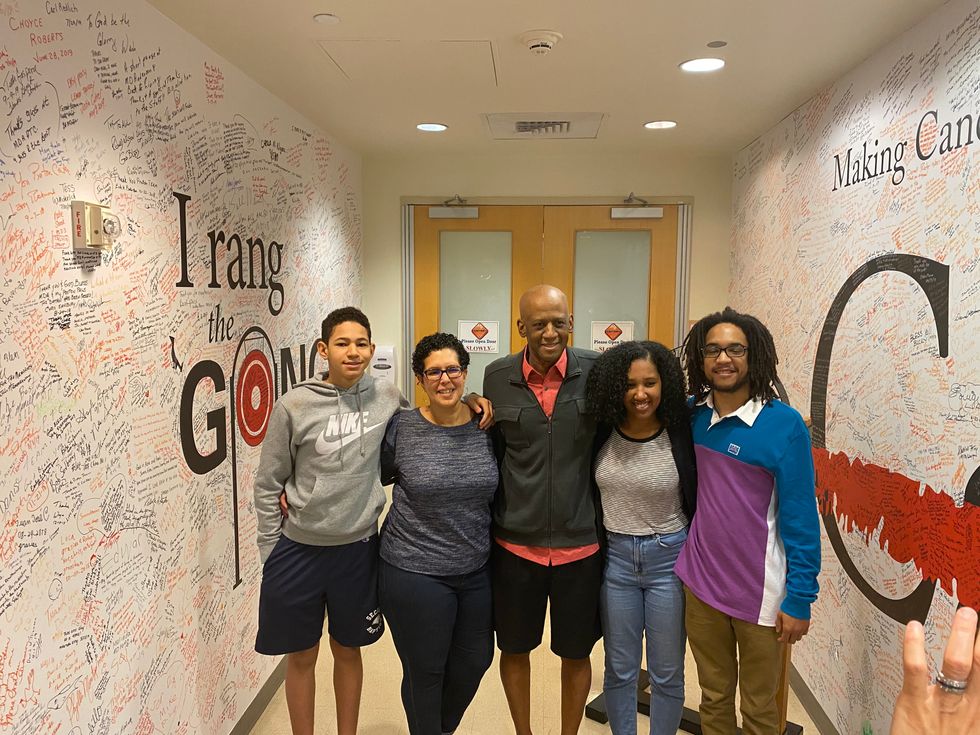 In his time away from the program, Kevin handed the reigns over to Scipio. A gesture the assistant coach felt honored to be in.

"The basketball part has been the simplest part of it," Scipio said. "The toughest part was, not only is coach a good friend, he's also a mentor to me. I'm his assistant coach but I don't consider myself an assistant, we really work together. Not having one of your closest friends and mentors here takes a toll on you."
Before the practice on this Monday afternoon, Mouton addressed the team.
With everyone standing around him at center court, he gave them the update. He was doing well, he would be coming back to work soon but when he came back to practice and games it would still be Scipio's show.
He earned that right to finish this season as the acting head coach.
"Coach Scipio has done such a great job," Kevin said. "If this was a month in and I'm back, it'd be different but there are only a few games left and he's done an excellent job. He's got these guys competing at a good level. I'll sit on the bench."
Standing on the other side of the gym, Scipio and Mouton could be seen talking. Laughing. Pointing at different things on the court.
This interaction on the sideline, having his coach and mentor back by his side, is really all Scipio wanted.
"The only thing I wanted for Christmas was for our coach to be back with our program, hanging out, having fun, cracking jokes and coaching basketball with us," Scipio said.
Kevin's happy to be back with his kids at a school that is more than a job.
"I tell those kids how much I love them all the time," he said.
nasa.gov
One of the greatest accomplishments in human history took place 50 years ago as we celebrate the inception of the Apollo program and the first time anyone set foot on the moon. We pay tribute to the teams it took to get us there, the program that was started seven years before that planned it all, the men and women that were involved, and above all else the mentality that the accomplishment instilled in every single American. The famous speech made by the late John F. Kennedy, delivered in Rice Stadium on the 12th of September in 1962, made waves for the rebirth of the great American pioneer mentality of reaching a frontier and conquering audacious goals. "But why, some say, the moon? Why choose this as our goal?", JFK remarked, "Why does Rice play Texas?", he uttered.
The present track record between such a massive school and a smaller competitor would be one that you would expect; only reinforcing the head scratching question that JFK uttered decades ago in Rice's coliseum. The answer to these questions couldn't be simpler, yet so profound:
"We choose to go to the moon. We choose to go to the moon in this decade and do the other things, not because they are easy, but because they are hard, because that goal will serve to organize and measure the best of our energies and skills, because that challenge is one that we are willing to accept, one we are unwilling to postpone, and one which we intend to win, and the others, too."
For tickets to Rice vs Texas on September 14th at 7PM inside NRG Stadium, visit RiceOwls.com/NRG