Getty Images
Finalists have been named and voting has been underway for roughly two weeks. On January 30 at 11 pm the winner of the 2020 Landry Awards will be named during the Special Landry Awards Presentation Show on CBS 11. So, what is the Landry Award and who are the players nominated?
The Landry Award, named after the Dallas Cowboy's first head coach Tom Landry, was created by CBS 11 and TXA 21 in partnership with the Greater Dallas/Fort Worth Fellowship of Christian Athletes' Character and Leadership Initiative in 2010. The award recognizes the top high school football player of any position in North Texas who demonstrates leadership both on and off the field. The athlete must possess positive character and leadership attributes. The winner is chosen y a voting panel of former coaches and players, members of the media, and local leaders. There is also an online vote that counts for one vote in the panel ballot.
CBS 11 has named the finalists, so let's take a deeper dive into who they are: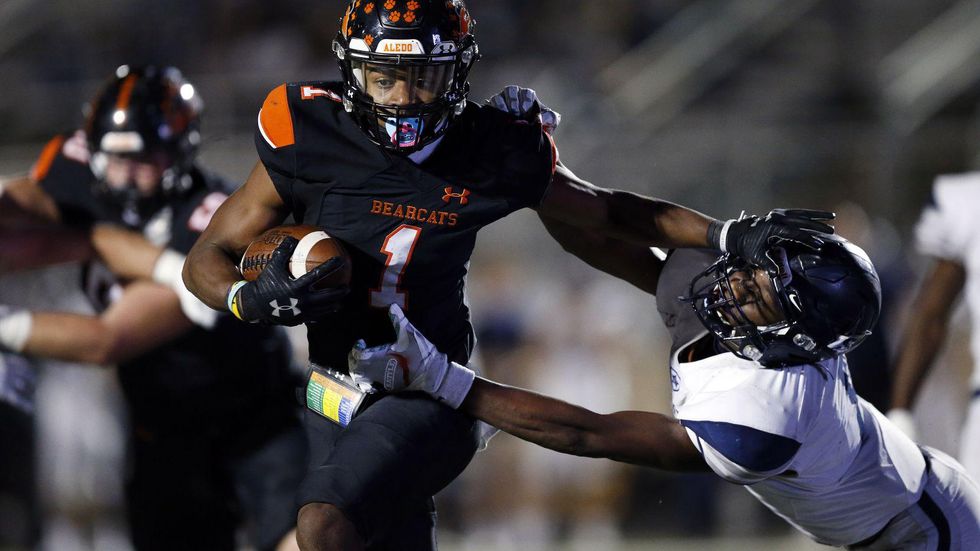 Tom Fox (Dallas Morning News)
JoJo Earle, WR, Aledo High School
An Alabama signee, Earle has been quite the force on the Aledo football team. The star wide receiver has helped lead Aledo to three consecutive state titles (2018, 2019, 2020). As a four-star prospect, Earle is ranked as the No. 11 Class of 2021 recruit in the state of Texas.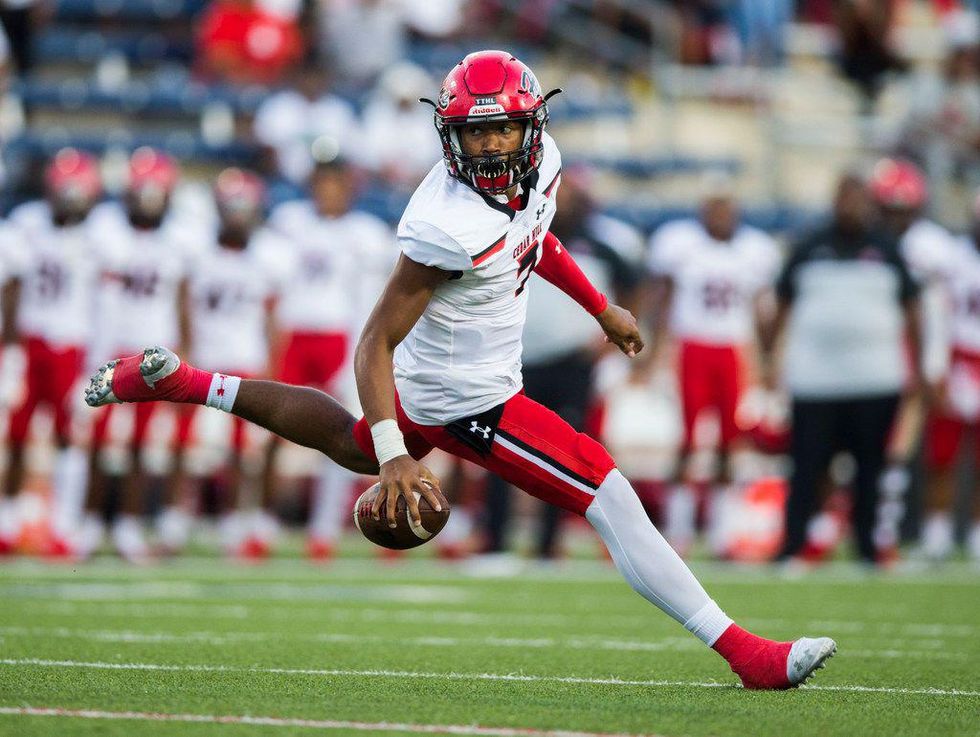 Ashley Landis (Dallas Morning News)
Kaidon Salter, QB, Cedar Hill High School
A Tennessee signee, Salter has continually led the charge for Cedar Hill football. The four-star quarterback has posted over 5,500 passing yards, over 1,600 rushing yards, and 78 total touchdowns. According to 247Sports, Salter is ranked as the No. 6 Class of 2021 recruit in the state of Texas.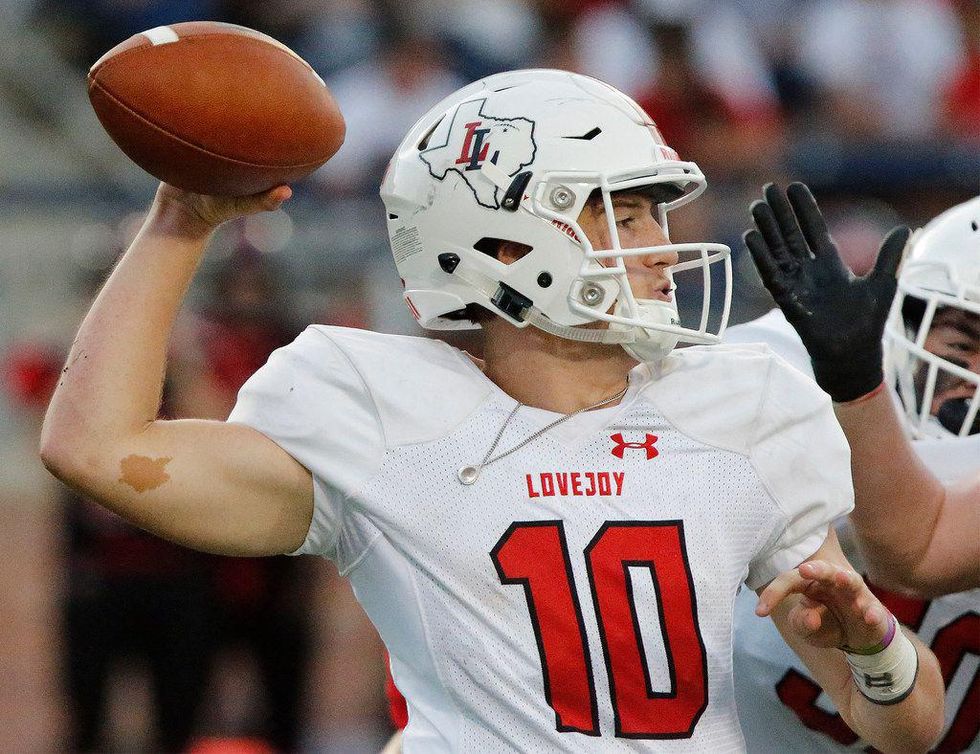 Stewart F. House (Dallas Morning News)
Ralph Rucker, QB, Lucas Lovejoy High School
Rucker posted a 68% passing completion rating during his senior season. With 3,423 packing yards, 47 passing touchdowns, and 1,044 rushing yards with 12 rushing touchdowns, Rucker continues to pull in college offers from programs like North Texas, Texas Tech, Oklahoma, Oklahoma State, and more.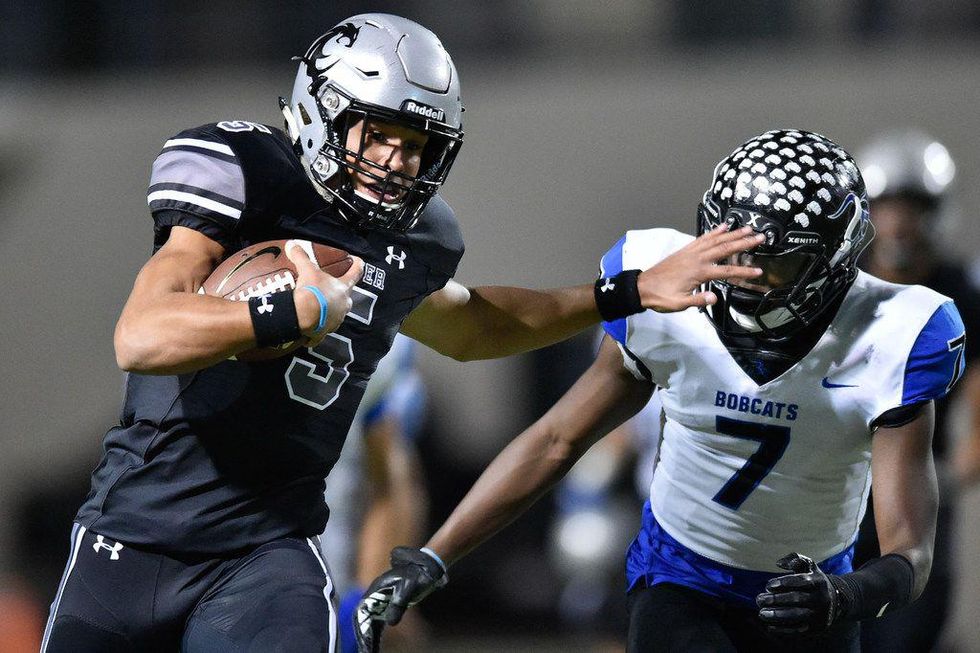 Jeff Woo (Denton Record Chronicle)
Eli Stowers, QB, Denton Guyer High School
This future Texas A&M Aggie shines bright in Denton as a four star recruit. Stowers has recorded over, 6,750 total passing yards and 65 passing touchdowns in his career. He has also recorded 3,228 rushing yards with 37 rushing touchdowns. Stowers is ranked as the No. 14 Class of 2021 recruit in the state of Texas according to 247Sports.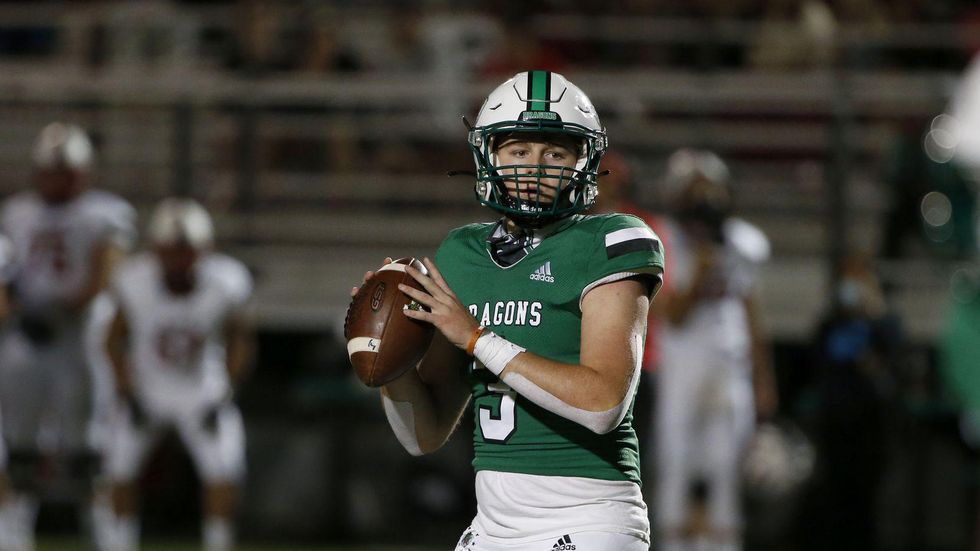 Michael Ainsworth (Dallas Morning News)
Quinn Ewers, QB, Southlake Carroll High School
This Ohio State signee is the No. 1 sought after Class of 2021 recruit in the state of Texas according to 247Sports. Ewers, a five-star recruit, has posted over 6,440 passing yards and 73 passing touchdowns. On the run, Ewers totaled over 700 yards and tallied 12 touchdowns.
Past Recipients:

2019: Jaxon Smith-Njigba, WR, Rockwall High School

2018: T.J. McDaniel, RB, Southlake Carroll High School
2017: John Stephen Jones, QB, Highland Park High School
2016: Kennedy Brooks, RB, Mansfield High School
2015: Jett Duffey, QB, Mansfield Lake Ridge High School
2014: Kyler Murray, QB, Allen High School
2013: Myles Garrett, DE, Arlington Martin High School
2012: Jake Oliver, WR, Jesuit High School
2011: Johnathan Gray, RB, Aledo High School
2010: Johnathan Gray, RB, Aledo High School
Photo by @Sykotyk
The Texas high school football season is over. We made and we're 220 days until the start of the 2021 season - the shortest offseason in #txhsfb history.
Congrats to our teams for pulling through and getting to the finish line. But with the end of the season comes the look ahead to the next season, and what could happen.
These are the ultimate knee-jerk predictions as move forward to the 2021 season.
No Missed Games in 2021
Knowing what it took to get through the 2020 season and with help on the way, my top bold prediction for the next year. While we didn't have major cancellations that affected too much of the postseason but had many cancellations or postponements in the regular season.
I don't believe we'll have that problem moving into next season. We had an unprecedented year and now with the knowledge of what it takes to get through, we're better equipped to handle it all.

6A Drought Will Continue
A 6A DFW team has not won a state title since 2017 when Allen beat Austin Lake Travis. Expect that drought to continue in 2021.
Of course, the divisional situation will inevitably create some paths that will be very favorable to some teams. However, looking at rosters of the 2020 champs Katy and Austin Westlake, I expect 2021 State to run through those teams again.
Southlake Will Be Back
With the talent at quarterback, running back and a young defense, Southlake is primed to make another run at State.
Quinn Ewers being back to 100 percent in 2021 will allow him to rack up big numbers even as Landon Samson will be the No. 1 target. Owen Allen will have another great season as the lead feature out of the backfield and a defense that made great strides with just three returning starters to begin the season.
Watch Out for Melissa
Argyle ran through state with a senior-laden team. It was the culmination years of anguish and coming up short along with a unrelenting desire to climb the mountain and claim the title.
Now, the team to watch in 4A Division I is going to be district-mate Melissa, which had the most proficient offense in the area in 4A, averaging nearly 500 yards a game and more than 50 points per game.
The talent is there and the defense will make strides to make Melissa a force to reckon with in 2021.

Ollie Gordon Will Be Mr. Texas Football
After his 400-plus-yard performance in the upset against Allen in the playoffs, Euless Trinity running back Ollie Gordon made a fan out of me. I know he had a solid season leading up to that game, but that performance put him in another category.
TexasFootball.com hands out the award, which was given to Hallettsville running back Jonathan Brooks this past year. Trinity is a ground-and-pound team with timely passes to keep defenses off balance, and barring any big injury Gordon, he'll be the best running back in the state in 2021.
Allen's District Win Streak Ends
It nearly happened at home against Prosper, but Allen was able to preserve its district win streak and extend it to 83 straight.
Talent permeates the Allen program, but it was a very senior-laden team in 2020. With another tough slate coming up - Denton Guyer, Denton Braswell, McKinney Boyd and McKinney - I think 2021 will be the year Allen's district win streak falls.

DFW Continues its TAPPS Domination
It'll be another in which DFW teams completely own TAPPS' highest classifications.
In 2020, DFW teams took home two of the 11-man state titles with the Division I matchup being all-DFW. That trend will continue with teams like Fort Worth All Saints, Fort Worth Nolan Catholic, Plano Prestonwood, Dallas Parish, Plano John Paul II, Colleyville Covenant and Dallas Christian all primed for big runs in 2021.