By Bradley Collier
Entering Week 5, here are the Class 5A/4A leaders in passing, rushing and receiving.
...
TOP 10 RUSHING LEADERS
Ashton Stredick, Needville, 631 Yards
Zion Childress, New Caney, 609 Yards
Tyree Simcik, Columbus, 579 Yards
Ronald Holmes, Northside, 549 Yards
AJ San Miguel, Huffman Hargrave, 545 Yards
Marvin Lewis, Hempstead, 539 Yards
Johntre Davis, El Campo, 533 Yards
Mitch Hall, Magnolia, 532 Yards
Devon Achane, FB Marshall, 511 Yards
Matthew Lord, Sealy, 504 Yards
…
TOP 10 PASSING LEADERS
Ryan Stubblefield, Foster, 959 Yards
Tucker Yarbrough, Manvel, 959 Yards
Ronald Holmes, Northside, 944 Yards
Justin Shively, Huffman-Hargrave, 842 Yards
Trevor Needville, Needville, 699 Yards
Steele Bardwell, Willis, 665 Yards
Kyron Drones, Shadow Creek, 649 Yards
Ijenea Wooley, Lee, 646 Yards
Jonah Brooks, Waltrip, 598 Yards
Christian Kaopula, Barbers Hill, 594 Yards
…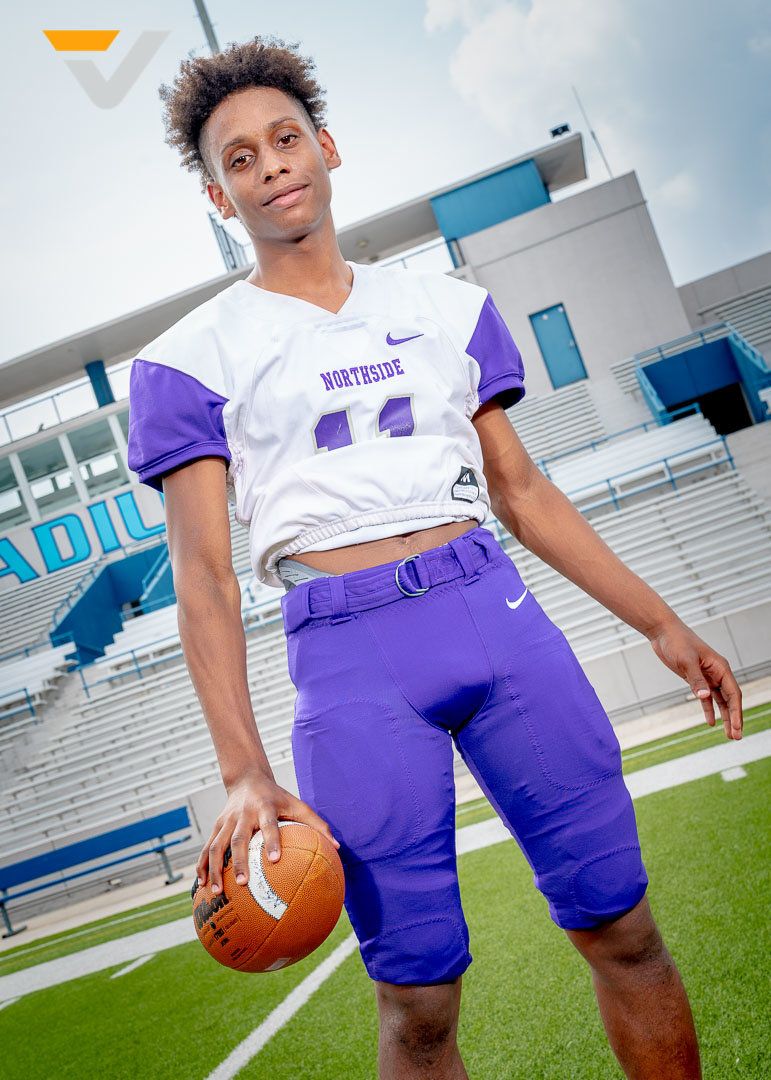 Devondre Moore, Northside
TOP 10 RECEIVING LEADERS
Cody Jackson, Foster, 503 Yards
Devondre Moore, Northside, 403 Yards
Cameron Cauley, Barbers Hill, 379 Yards
Devon Achane, FB Marshall, 336 Yards
Chris Martinez, Northside, 326 Yards
Roylee Williams, Yates, 316 Yards
Tre Harden, Montgomery, 287 Yards
Vince Villareal, Needville, 280 Yards
Dax Bridges, Needville, 280 Yards
Ty'Dederick Anderson, Stafford, 263 Yards
It was a relatively light weekend of games with several districts having bye weeks.
On the Class 6A slate, the biggest win was Bridgeland 48-14 smashing of Cypress Ranch to take the pole position in District 14-6A. Are the Bears for real? How about Stratford knocking off Cypress Ridge. A signature win for Spartan coach Todd Rankin.
Another interesting win was Klein Cain's 52-42 shocker over Klein.
All eyes were on Fort Bend on Friday as Marshall hosted Manvel. The Mavs held off VYPE's No. 1 team in Class 5A in an instant classic.
Here are VYPE's new Week 5 Rankings.
...
CLASS 6A TOP 20
No. 1 Katy Tigers
No. 2 North Shore Mustangs
No. 3 Cy-Fair Bobcats
No. 4 Pearland Oilers
No. 5 Tompkins Falcons
No. 6 Atascocita Eagles
No. 7 Dickinson Gators
No. 8 The Woodlands Highlanders
No. 9 Westfield Mustangs
No. 10 Klein Collins Tigers
No. 11 Travis Tigers
No. 12 Klein Oak Panthers
No. 13 Bridgeland Bears
No. 14 Ridge Point Panthers
No. 15 Dobie Longhorns
No. 16 Elkins Knights
No. 17 Cypress Falls Eagles
No. 18 Mayde Creek Rams
No. 19 Cypress Lakes Spartans
No. 20 Clear Falls Knights
...
MORE PHOTOS OF FB MARSHALL VS MANVEL
CLASS 5A TOP 10
1. Shadow Creek Sharks
2. Manvel Mavericks
3. New Caney Eagles
4. Angleton Wildcats
5. FB Marshall Buffs
6. Friendswood Mustangs
7. Foster Falcons
8. Baytown Lee Ganders
9. Lamar Consolidated Mustangs
10. Magnolia Bulldogs