Photo by Bradley Collier
Seeking perfection can be a double-edged sword.
Starla Jones, the head coach of Aldine Davis volleyball, must remind incoming junior Kiyah Felder at times that it's okay to not be perfect all the time. But the drive and determination to reach the pinnacle of her sport is something she admires.
"She works hard," Jones said. "She wants to be perfect, which sometimes can be a problem because nobody's perfect. But she's never satisfied. She always wants to be better. That's special in a player."
Felder is coming off a sophomore season where she opened eyes.
By the end of the year, Felder was named the District Newcomer of the Year. She lead Aldine Davis to a second-place tie with MacArthur in District 16-6A and a subsequent playoff berth. Felder finished with a team-leading 293 kills.
"It was exciting," Felder said about getting the award. "I feel like I worked for it."
At Plummer Middle School, Felder played basketball, volleyball and ran track. The junior's first taste of volleyball came in the sixth grade during a PE class.
Then in the seventh grade, she made the team. It was at that time that Felder decided to focus solely on volleyball and walk away from the other two sports.
Along with playing at Aldine Davis, Felder spends her offseason playing for the Texas Twisters in Katy, which has allowed her to expand her ability to play multiple spots on the court.
"It's helped a lot," Felder said about playing club. "At school I've only played outside or sometimes in the middle. Club helped me [play a lot more positions] than I'm used to."
Playing at a high level as a sophomore, Jones said she would work hard on her own game but sometimes wouldn't push others to do the same. That push from the now-junior is what Jones expects in 2019.
"Coming in as a sophomore, she really didn't lead but I'm expecting more of that this year," Jones said. "As a junior and a year under her belt, she's feeling more confident in herself."
Heading into her junior year, the talk of college volleyball has ramped up. Felder is starting the process of looking at colleges and getting her highlight reel in front of coaches across the country.
Playing college volleyball is a goal of Felder's, in big part because of her mom.
"It will make my mom happy because she thinks I can go all the way if I really tried," Felder said. "My mom is my motivation. She's put a lot of money into this and she played volleyball when she was my age too. So, I feel like I can go really far with that."
After winning the Newcomer of the Year Award a year ago, the sights for Felder are again set on another award.
Of course, the same accolade won't be available for her to win, but there is the overall District 16-6A MVP up for grabs.
"I feel like if I work hard enough, that's something I'll be able to achieve," Felder said.
Volleyball season is HERE! VYPE wants the fans to continue voting for their preseason public school players of the year! Here's the list of winners so far!
Libero - Lizzy Young, Kingwood
Setter - Avery Reynolds, Clear Springs
The Houston Methodist Orthopedics & Sports Medicine Poll of the Week – VYPE Houston Preseason Outside Hitter of the Year is now live! Fans will have the chance to vote until Thursday, August 8th, at 7 p.m.
Please note that the use of voting software or bots will result in a deletion of votes and a potential DQ from the contest. PLEASE try to keep this fair and fun for all involved!
All athlete polls and their content are only associated and created by VYPE Media and its staff. The content is not created or voted on by any corporate sponsor or marketing partner. Please contact VYPE Media directly if you have any questions, comments, or concerns around our Fan Polls.
Houston Methodist Orthopedics & Sports Medicine is Houston's leading provider of orthopedic services, from sports medicine to joint replacement. Houston Methodist Orthopedics & Sports Medicine offers comprehensive diagnostic, treatment and rehabilitative services with a high standard of excellence for elite athletes and active adults alike. Houston Methodist serves as the official health care provider for the Houston Texans, Houston Astros, Rice Athletics, Houston Livestock Show and Rodeo™, Houston Ballet, Houston Symphony and Houston Grand Opera.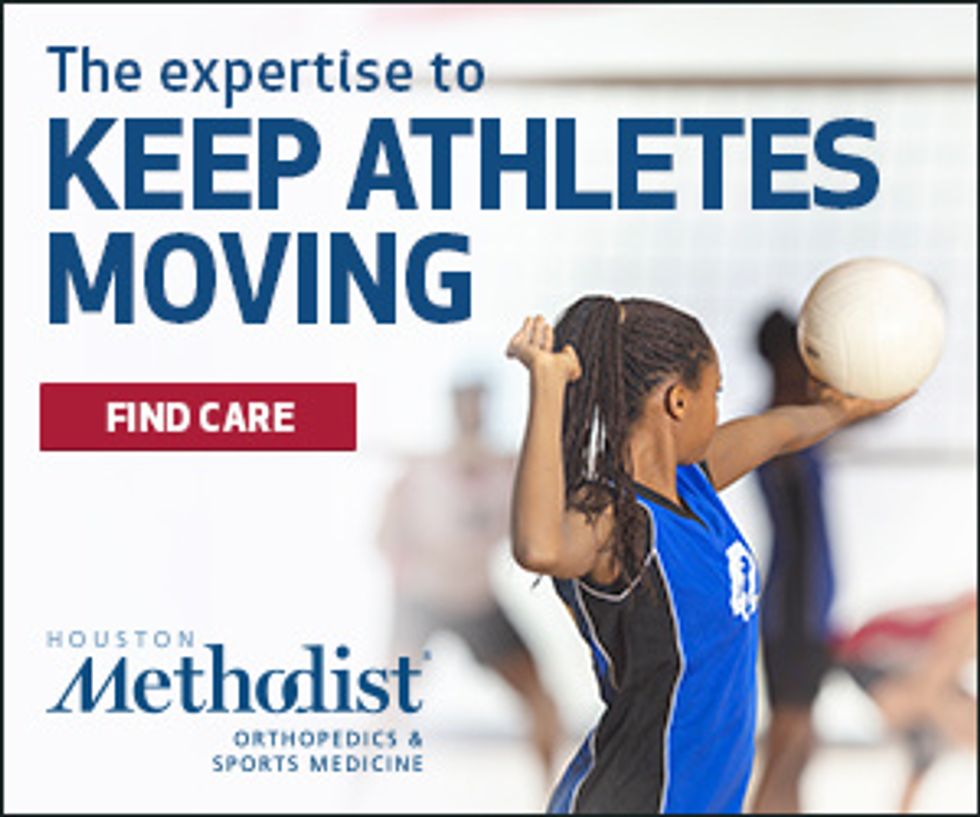 <a href="https://poll.fm/10375372">HOUSTON METHODIST ORTHOPEDICS & SPORTS MEDICINE POLL: VYPE Houston Preseason Public School Outside Hitter of the Year (Closes Thur. 8/8 at 7pm)</a>