HOUSTON – Impatient. Optimistic. Excitement.

Those are the range of emotions volleyball coaches are feeling day-in and day-out as the number of days between now and the tentative start of the 2020 volleyball season gets smaller.
"This life trial everyone is going through has been a waiting game in every aspect," The Woodlands coach Terri Wade said. "It's hard to plan ahead as we normally do. I think everyone is very hopeful we will start on time, but we have to have a back-up plan and a back-up plan to that plan."
The current start of 2020 volleyball tryouts still stand as August 3.
As that date gets closer, coaches are putting together their normal plans, including Friendswood's Sarah Paulk. But it is understood that the "normal" start to the season may not be the same for 2020.
"We haven't been told to do anything different yet, so I am going forward with planning like normal," Paulk said. "However, I could see where we have a delayed start and eliminate tourneys, etc. I haven't been told anything in regards to that yet."
The volleyball season comes fast. August 3 is the first day of tryouts, August 7 are the first scrimmages and first matches – which usually come in a tournament format – start on August 10.
Tournaments in the past, like the John Turner Classic in Pearland – which historically has brought teams from around the state – have been a popular launching point for teams.
"I hope that we will be allowed to play at least one tournament," Wade said. "Tournaments are the only opportunity we get to play other teams around the state and get a feel of what to expect down the road for playoffs. If we return to school at full capacity, I don't see how playing tournaments could be any greater of a risk to attend."
For coaches like Amanda Watts of Episcopal, the fate of their start falls at the hands of the Southwest Preparatory Conference. Episcopal returns as the defending SPC Volleyball Champions.
"The SPC and our administration at Episcopal have been working so hard to try and come up with a plan so our students can safely return to school and sports," Watts said. "I am ready to get back in the gym with my team. They are hungry to have a chance at defending their title, but we understand this is an uncertain time.
"The SPC is currently working on a plan to safely return to sports. They are running through many different scenarios to make sure our athletes can compete in a safe environment."
Each day there seems to be new rumors that surface about when, if and how fall sports could start. As each school district announces its reopening plans, that causes more questions.
"I tell my players to not listen to any rumors," Kingwood coach Christie Mewis said. "I tell them to plan to start on August 3 and I will let them know if there are any changes. I tell them to stay positive."
The coaches, like Mewis has, have been communicating with their players. The messages are ones of positivity and flexibility with each new wave of news.
"They haven't really been asking much, they are showing up and working hard," Splendora coach DaVette McCall said.
Watts added: "We have had some great conversations about how this uncertain time has helped us reflect on so many things we have taken for granted. We are staying positive and focusing on only things we can control."
So, the biggest question is how do we safely start volleyball on time?
"I want to play! So, if they tell me I have to stand on my hands and walk backward to allow us to play I'll do my best handstand," Paulk said. "But in all seriousness. Hand washing, sanitation and cleaning as best as we can. Temperature checks are an easy thing to do. And reminding kids to stay home if they feel sick is what I think we should do!"
Watts added: "I do believe we need to continue to be diligent about washing our hands, not touching your face and practice social distancing when you can. I will continue to pray that numbers go down and that a cure is found not just so that we can play sports and go to school but so our community can stay safe and healthy."
For Wade, The Woodlands volleyball players have not been brought together for camps or Strength and Conditioning this summer.
Club volleyball teams have been doing personal training this summer and have recently been doing tryouts for the 2020-2021 teams. The safety procedures they have followed have provided a bit of a roadmap of how volleyball could look come August.
"Some precautions they are taking that have been successful are: limiting people in the gym, screening with health checks, wearing masks entering and exiting buildings in specific doors, and all spectators in masks (very limited there as well). I think it has been a good practice to keep hand sanitizer at each court. Players are encouraged to clean their hands before they get water from their own water bottles or at any break in play. Volleyball equipment and floors are cleaned after each practice. No one comes close together for a huddle. They stay spread out when gathering."
During play, masks have not been required to wear, which Wade believes a mask wouldn't stay on well during live action. Wade believes other steps could be taken to promote safety, including spreading out practice times, traveling requiring two buses or two trips.
Another part where distancing will be key will be after a point, teams usually come together for a small celebration on court but that won't be the same in 2020.
"We will all miss the camaraderie of coming together with our teammates and encouraging each other with a high five or a pat," Wade said. "We will lose touch of the special moments while growing distance among each other, but the distance will not impact the importance of the competition and experience."
What a year 2018 was for Houston- area volleyball!
Kingwood Park went all the way and completed the mission, claiming the Class 5A State Championship. The Panthers bring solid pieces back for a potential run at a repeat. Ridge Point was also there playing for a state title but fell short to North Texas power Flower Mound. There are also the traditional powers in Houston, such as The Woodlands and Seven Lakes, who will try and make noise again in 2019.
So, who are the contenders?
Kingwood Park Panthers
(Won Class 5A State Championship)

READY TO DEFEND TITLE: Kingwood Park stood tall as the lone state champion from Houston in 2018. The Panthers made their first-ever trip to the UIL State Volleyball Tournament and shocked the land by knocking off Lucas Lovejoy in a sweep. Now, the target is firmly on the back of Kingwood Park heading into 2019. The Panthers do return solid pieces, including senior Libby Overmyer, who was named the 5A State Championship Game MVP. Overmyer (Colgate-commit) finished with a team-leading 391 kills and a second-best 290 digs. Also returning is Erika and Alia Williams. Erika finished with 211 kills and a team-leading 124 blocks at the net. Alia registered 262 kills last season. A spot the Panthers will have to figure out is at setter after losing Andie Unwin (743 assists) and Julia Hadley (706 assists) to graduation. Kelly Miser (102-22) enters her fourth season leading the Panthers and will try to get the program back to its third-straight regional final and potentially a run for back-toback state championships.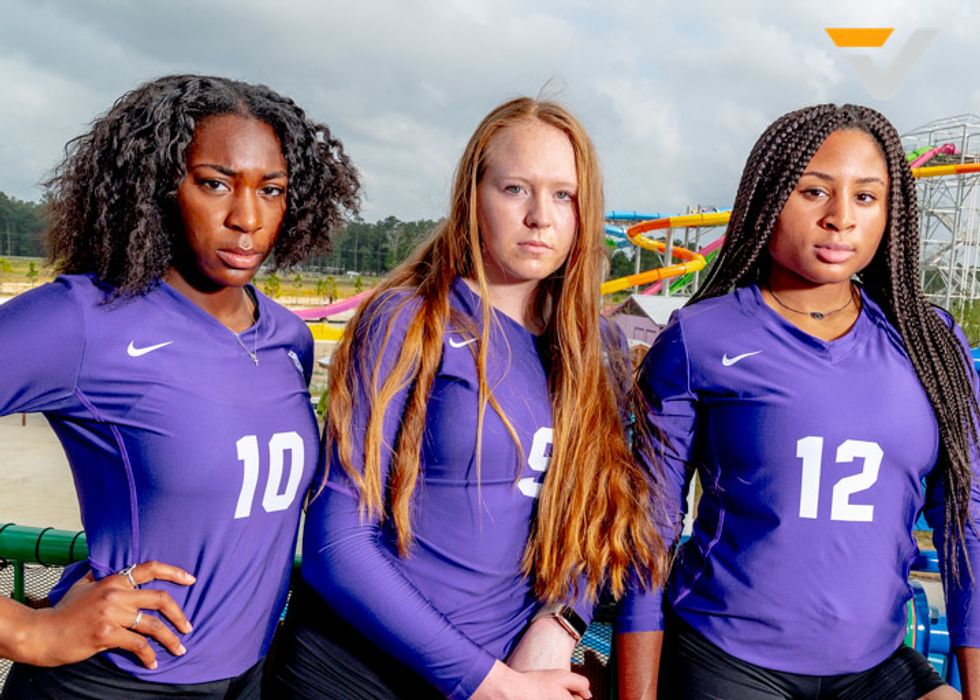 Ridge Point Panthers
(Reached Class 6A State Championship Game)

JETER, RUTHERFORD, MCCARDELL LEAD TALENTED GROUP INTO 2019: Ridge Point was on the cusp of bringing home the hardware in 2018. A loss in the Class 6A Championship game to Flower Mound prevented that, but fueled a team full of juniors to be ready for 2019. Gone is superstar Skylar Fields, who will star this fall at the University of Texas. Coach Lori McLaughlin has also moved on, taking the Cedar Park job. Lauren Bailey will take the coaching reigns and the cupboard is loaded. Back is a solid senior crew led by Claire Jeter (Texas A&M-commit). Jeter, a selection to the State All-Tournament team last season, led Ridge Point with 490 kills and 167 blocks. Also back is Reagan Rutherford (Kentucky-commit), who had 832 assists, 477 digs, 382 kills and 105 blocks. Ridge Point also brings back leading setter Kendall Sekula (979 assists) and defensive standout Nia McCardell (906 digs). With all this talent back on the roster, Ridge Point should be considered a heavy favorite in the city again. The Panthers will have to fight their way through a tough Region III-6A bracket, with the potential of running into Seven Lakes, Pearland Dawson or George Ranch in the postseason. The Panthers should be ready with the experience back.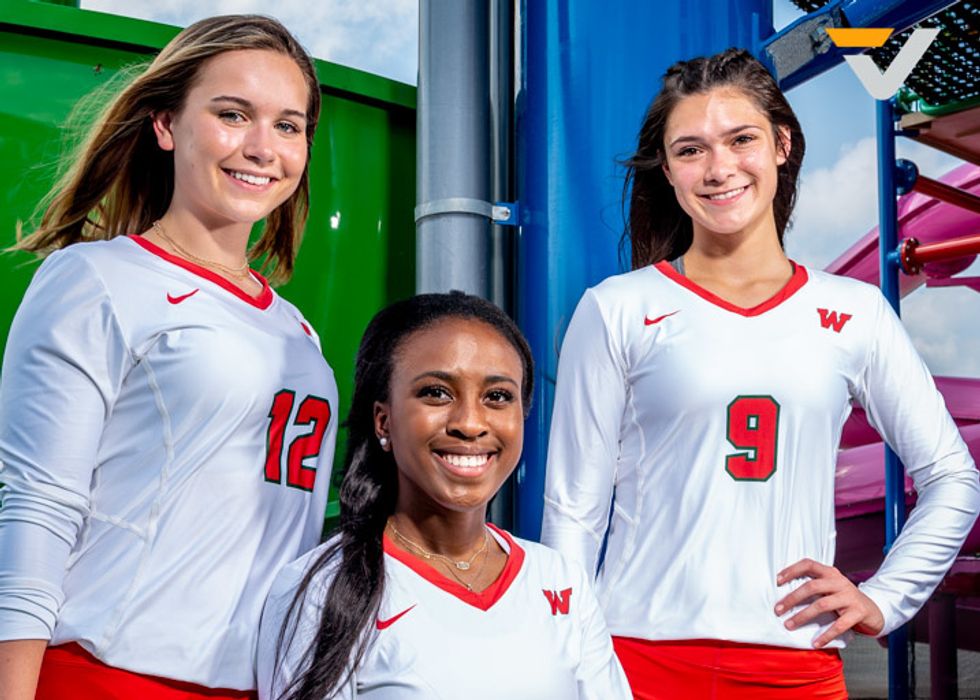 The Woodlands Highlanders
(Reached 6A Regional Semifinals)

MABERRY TO LEAD HIGH-OCTANE OFFENSE: When talking about contenders in Houston, The Woodlands must be in the conversation. The Highlanders reached the Regional Semifinals for a seventh-straight time last season before falling to Plano West. Falling short of reaching the Regional Finals snapped a five-year streak of playing in that round for The Woodlands. Heading into this season – chasing the program's fourth overall state championship and first since 2015 – The Woodlands has some top talent back. Dylan Maberry (LSU-commit) leads the offensive group after racking up an impressive 765 kills last season and was named the District 15-6A Offensive Player of the Year. Maberry also registered 489 digs, 62 aces and 59 blocks. Also returning is first-team, all-district selections Clara Brower (Georgia-commit) and Amanda Ifeanyi (UT-San Antonio-commit). Brower had 1,546 assists last season, while Ifeanyi had 359 kills and 110 blocks. Other key returners for The Woodlands include second-team, all-district selection Natasha Zorbas (134 kills and 100 blocks) and Allie Griffith (Air Force-commit), who earned an honorable mention, all-district nod after racking up 189 digs in 79 sets. Terri Wade (353-137) enters her fifth season at The Woodlands and 12th overall as a head coach.
<p class="shortcode-media shortcode-media-rebelmouse-image"> <img type="lazy-image" data-runner-src="https://assets.rebelmouse.io/eyJhbGciOiJIUzI1NiIsInR5cCI6IkpXVCJ9.eyJpbWFnZSI6Imh0dHBzOi8vYXNzZXRzLnJibC5tcy8yMDU0ODkyNC9vcmlnaW4uanBnIiwiZXhwaXJlc19hdCI6MTY1NTIwNTQ3MX0.k06SzmE71KfmwH9YdcKd-QebK4KqEdbuZAjAoHU3ht0/img.jpg?width=980" id="39c94" class="rm-shortcode" data-rm-shortcode-id="5af025f798f3cb179520d9685c454b8a" data-rm-shortcode-name="rebelmouse-image"> </p> <p><strong>Pearland Dawson Eagles <br>(Reached Class 6A Regional Finals) <br><br></strong><strong><u>CAN EAGLES MAKE HISTORY AND REACH STATE TOURNEY?:</u></strong> The Pearland Dawson Eagles are a power-player in the state of Texas. The Eagles have reached the postseason the past 10 seasons, reaching at least the Regional Semis five times. Dawson advanced to the Regional Finals a year ago under first-year head coach Lauren Leth. While Leth says goodbye to superstar Kynnedi Johnson to Baylor, the nest is still loaded. Back in the huddle will be power-players Nikki Deslatte, Madison Deslatte and Aliyah McDonald. The defensive effort will be led by first-teamer Dahlia Miller, while the offense will be ran by District Newcomer of the Year Kamryn Scroggins. McDonald was a first-teamer and will sign with Oregon State. Other solid contributors will be Kaelyn Hulick and Kari Tripp. "We have a sizeable front row with a strong attack and an experienced defense," Leth said. Even with the District MVP now in the Big 12, Dawson will be in the state conversation. </p><p class="shortcode-media shortcode-media-rebelmouse-image"> <img type="lazy-image" data-runner-src="https://assets.rebelmouse.io/eyJhbGciOiJIUzI1NiIsInR5cCI6IkpXVCJ9.eyJpbWFnZSI6Imh0dHBzOi8vYXNzZXRzLnJibC5tcy8yMDU0ODkzMS9vcmlnaW4uanBnIiwiZXhwaXJlc19hdCI6MTYzNDE1OTA1MH0.fZX1E_8vArBDb0jlGHYl1EpV1IpK4tRdCL0QJqCR1Mo/img.jpg?width=980" id="6e972" class="rm-shortcode" data-rm-shortcode-id="9b638be713f297f8741fdf46cc41bb87" data-rm-shortcode-name="rebelmouse-image"> </p> <p><strong>Friendswood Mustangs <br>(Reached 5A Regional Finals) </strong><br><br><strong><u>SVOBODA LEADS MOTIVATED GROUP INTO SEASON: </u></strong>The move down from Class 6A to 5A really paid dividends for all sports at Friendswood, especially volleyball. The crew led by Sarah Paulk reached the Regional Finals for the first time since 2013 and finished the year with a 33-15 record after falling to eventual state champion Kingwood Park. Being so close to a state tourney berth has lit a fire within the Friendswood returners. The group is led by Ashlyn Svoboda, who was the GHVCA Player of the Year, TGCA All-State selection and District 22-5A MVP as a sophomore. Svoboda recorded 18 double-doubles last season and led the team with 349 kills and 388 digs. Holding down the middle will be Makensy Manbeck (Houston Baptist-commit). Manbeck was a TGCA All-State, TAVC All-State and GHVCA all-Greater Houston team selection last season. Manbeck was chosen as the District 22-5A Offensive MVP after recording 374 kills. Also back is Tori Weatherley at the setter position. Weatherley was the District 22-5A Setter of the Year in 2018 after recording 1,298 assists. The senior ran a 5-1 and had an extremely balanced attack running that offense. Finally, Kate Bueche will be a youngster to watch after recording 393 digs a year ago. Paulk enters her fourth year at Friendswood (100-36) and her seventh overall as a head coach. Friendswood is loaded, so expect another run at a Regional Final or even state tourney appearance by this group in 2019. </p><p><strong>Santa Fe Indians <br>(Reached 5A Regional Quarterfinals)</strong> <br><br><strong><u>EXPERIENCE TO HELP YOUNG ROSTER IN 2019: </u></strong>For the fourth time in the last five years, Santa Fe reached the Regional Quarterfinals. The Indians hope for a semifinal's appearance ended at the hands of Foster. Gone off that team are the talents of Kylie Verm, who was second on the team in kills, and Jillian Gibbs, who led the team in blocks. Despite those losses, Santa Fe has a talented roster back for 2019. Kassidy Taves will lead the attack after recording a team-leading 302 kills, 294 digs and 63 aces last season. Teresa Garza is another hitter back to watch after she recorded 249 kills as a sophomore. Defensively, Freedom Stephenson recorded 540 digs as a sophomore and Cassi Cruz had 330 digs as a junior. They will be in charge of keeping the ball off the ground. Setting up the big hitters on the outside will be a combo of Elena Dondonay (661 assists) and Taves (616 assists). Santa Fe has a lot of talent, which was successful and young a year ago. With the experience added to the group, the Indians will be a crew to watch in 2019. </p><p class="shortcode-media shortcode-media-rebelmouse-image"> <img type="lazy-image" data-runner-src="https://assets.rebelmouse.io/eyJhbGciOiJIUzI1NiIsInR5cCI6IkpXVCJ9.eyJpbWFnZSI6Imh0dHBzOi8vYXNzZXRzLnJibC5tcy8yMDU0ODk0MC9vcmlnaW4uanBnIiwiZXhwaXJlc19hdCI6MTYyMzUwODk4OX0.8ISUDbkrgDh75fpDZZJ8SBxFzqzEXkt8AtgqLpjZKtY/img.jpg?width=980" id="b0384" class="rm-shortcode" data-rm-shortcode-id="841fd81c219c366c844a5f6c1685035a" data-rm-shortcode-name="rebelmouse-image"> </p><strong> Kingwood Mustangs </strong><p><strong>(Reached 6A Area Round)</strong></p><p class="shortcode-media shortcode-media-rebelmouse-image"> <img type="lazy-image" data-runner-src="https://assets.rebelmouse.io/eyJhbGciOiJIUzI1NiIsInR5cCI6IkpXVCJ9.eyJpbWFnZSI6Imh0dHBzOi8vYXNzZXRzLnJibC5tcy8yMDU0ODk4My9vcmlnaW4uanBnIiwiZXhwaXJlc19hdCI6MTY1ODYwOTE0Mn0.4U6c9w0mvMl8UmGC_HxuaPaLszc-AMLDz0O7dtulu2k/img.jpg?width=980" id="0a779" class="rm-shortcode" data-rm-shortcode-id="25e33fea6b88c30e6c40144bbd96d358" data-rm-shortcode-name="rebelmouse-image"> </p> <strong> </strong><p><strong><u>TRADITION-RICH MUSTANGS EYEING ANOTHER RUN: </u></strong>Another year and another playoff berth. Kingwood banked its 29th-straight postseason berth in 2018 after finishing undefeated in District 22-6A. The Mustangs reached the second round before falling to Pearland Dawson. Kingwood does have to replace the production of Camden Gray and Peyton Shamp (District Offensive Player of the Year) after losing the duo to graduation. But back is big hitter Brea Burrell (Northwestern State-commit). Burrell returns after a first-team, all-district season where she had 288 kills and 69 digs. Other key returners include Lizzy Young (236 digs and 16 aces) and Jordan Rambo (398 assists and 95 digs), who where both honorable mention, all-district selections. Sophie Ocampo and Megan Wilson are two others to keep an eye on this season as well. Christie Mewis, who won her 400th career game as a coach last season, enters her second her at Kingwood having to replace 10 seniors, which means a new looking group will take the floor this fall. A key to their success, Mewis said will be utilizing their size to dominate at the net. </p><p><br></p><p class="shortcode-media shortcode-media-rebelmouse-image"> <img type="lazy-image" data-runner-src="https://assets.rebelmouse.io/eyJhbGciOiJIUzI1NiIsInR5cCI6IkpXVCJ9.eyJpbWFnZSI6Imh0dHBzOi8vYXNzZXRzLnJibC5tcy8yMDU0ODk4MC9vcmlnaW4uanBnIiwiZXhwaXJlc19hdCI6MTYwOTkwMzExMH0.I0nXTaxSvMANuJUZV-t0pTxNQvi_xwnWcYjDWJpAICw/img.jpg?width=980" id="c7bb5" class="rm-shortcode" data-rm-shortcode-id="1217cfa4b0b5a62bf2752b36538826d2" data-rm-shortcode-name="rebelmouse-image"> </p><strong>Seven Lakes Spartans </strong><p><strong>(Reached 6A Regional Quarterfinals) </strong><br><br><strong><u>SPARTANS TRYING TO GET BACK TO STATE:</u></strong> Two years ago, Seven Lakes reached the final game of the season, playing for the Class 6A State Championship. Last year, the Spartans' run to a second-straight state tournament appearance was halted in the Regional Quarterfinals by eventual state runner-up Ridge Point. There's a very good chance that these two powers could collide again in the playoffs in a few months. The Spartans will have to replace the production of Natalie Winter and Morgan Janda, who led the team in kills and assists, respectively. Despite those losses, Seven Lakes has plenty of firepower back. Superstar Ally Batenhorst (Nebraska-commit) returns for her junior season. Batenhorst is a USA Youth Team player and was the District 19-6A Most Valuable Attacker last season. Batenhorst finished with 377 kills, 202 digs, 84 blocks and 42 aces. Gabrielle Collins also returns after a first-team, all-district season with a team-leading 127 blocks and 115 kills. The player that will step in for Janda at the setter position will be Casey Batenhorst – the younger sister of Ally. Last season, Casey was second on the team with 411 assists and will be the main gear to get this Seven Lakes' offensive machine churning this season. Other key players to watch will be Nylissa Snagg (Southeastern Louisiana-commit) and Lauren Brattain. Keys to Amy Cataline's (56-22, 3rd season at Seven Lakes) group having success will be diversifying the offense and blocking. Expect Seven Lakes to be a player again in 2019. </p><p><br></p><p class="shortcode-media shortcode-media-rebelmouse-image"> <img type="lazy-image" data-runner-src="https://assets.rebelmouse.io/eyJhbGciOiJIUzI1NiIsInR5cCI6IkpXVCJ9.eyJpbWFnZSI6Imh0dHBzOi8vYXNzZXRzLnJibC5tcy8yMDU0ODk3NC9vcmlnaW4uanBnIiwiZXhwaXJlc19hdCI6MTY0NDE0MDYyMH0.qGE2OjWFfN0jC9VAxetS86SrrJfDeM0CXf0-EcqM4G8/img.jpg?width=980" id="3b978" class="rm-shortcode" data-rm-shortcode-id="0ee864c204be91ace54b3cdc5f995a12" data-rm-shortcode-name="rebelmouse-image"> </p><p><strong>Cinco Ranch Cougars <br>(Reached 6A Regional Semifinals)</strong></p><p><u><strong>COUGARS READY TO ROAR IN 2019</strong>:</u> Cinco Ranch was one set victory away from reaching its first Regional Final since 2009 last season. But a five-set loss to Dawson ended the Cougars' season a round short. Cinco Ranch has the pieces coming back to potentially get to a Regional Final this season. First-team, all-district selections Danyle Courtley (410 kills) and Madalyn O'Brien (366 kills) are back and will power the offense. Courtley is committed to Rice, while O'Brien is committed to Texas Tech. Also returning is St. Mary's-commit Aislan Lennon (559 assists), who was a second-team, all-district selection last year. Another top returner includes Hayley Byrd. Keys to success for Danielle Wells' (13th season, 164-54 at Cinco Ranch) crew will be spreading out the offense and utilizing their weapons on the front row. Cinco Ranch will definitely contend for a district crown and deep playoff run this season. </p><p><br></p><p class="shortcode-media shortcode-media-rebelmouse-image"> <img type="lazy-image" data-runner-src="https://assets.rebelmouse.io/eyJhbGciOiJIUzI1NiIsInR5cCI6IkpXVCJ9.eyJpbWFnZSI6Imh0dHBzOi8vYXNzZXRzLnJibC5tcy8yMDU0ODk2OC9vcmlnaW4uanBnIiwiZXhwaXJlc19hdCI6MTYyMjMxMDcyOH0.ERq5Wv5jIYsyo2rhVzlkGmI2C98XPWXsHVRvAddZ-bs/img.jpg?width=980" id="f88b8" class="rm-shortcode" data-rm-shortcode-id="dd8a819d1c33beeffb7e3321647ce8ee" data-rm-shortcode-name="rebelmouse-image"> </p><p><strong>Deer Park Deer <br>(Reached 6A Area Round)</strong> <br><br><strong><u>TRIO OF SENIORS TO FUEL OFFENSE: </u></strong>The champs are here. Deer Park has made it a habit, tradition, ritual, whatever you want to call it of hoisting a district championship trophy at season's end. The Deer enter this year riding a streak of nine-straight district crowns dating back to the 2010 season. What's even more impressive is over that span of nine seasons, Deer Park has gone 119-1 in district games. Heading into 2019, the Deer are lined up for another run at a district crown and a playoff run. With a talented senior class of Adalyn Cable, Courtney Plocheck, McKenzie Morvant, Hannah Baker and Peyton Nance back, there is plenty of reasons to be excited about this team. Plocheck (258 kills), Morvant (252 kills) and Baker (251 kills) will power the offense to start. Defensively, Morvant led the team last season with 112 blocks at the net, while Baker patrolled the middle and dug up the ball 440 times. Nance also chipped in with 431 digs. With all these pieces of the puzzle back, Cortni Cox (5th season, 103-59 at Deer Park) could have this group contending deep into the playoffs.</p>