HOUSTON - What a year it has been at Second Baptist School.

Inside this 40-page magazine, you will find beautiful photos taken throughout the year of Second Baptist School student-athletes from all sports. There are also special features including one on super junior Jordan Williams, who had a monster year for the men's basketball team, three-sport star Julia Sauvageau, the two Golden Eagle Award winners, and much more.
Also, congratulations to Patrick Elder '22, Kate Davidson '22, Cameron Kelley '22, Jordan Williams '22, Julia Sauvageau '22 and Eli Smith '22 for gracing the cover of the second-annual edition of this magazine.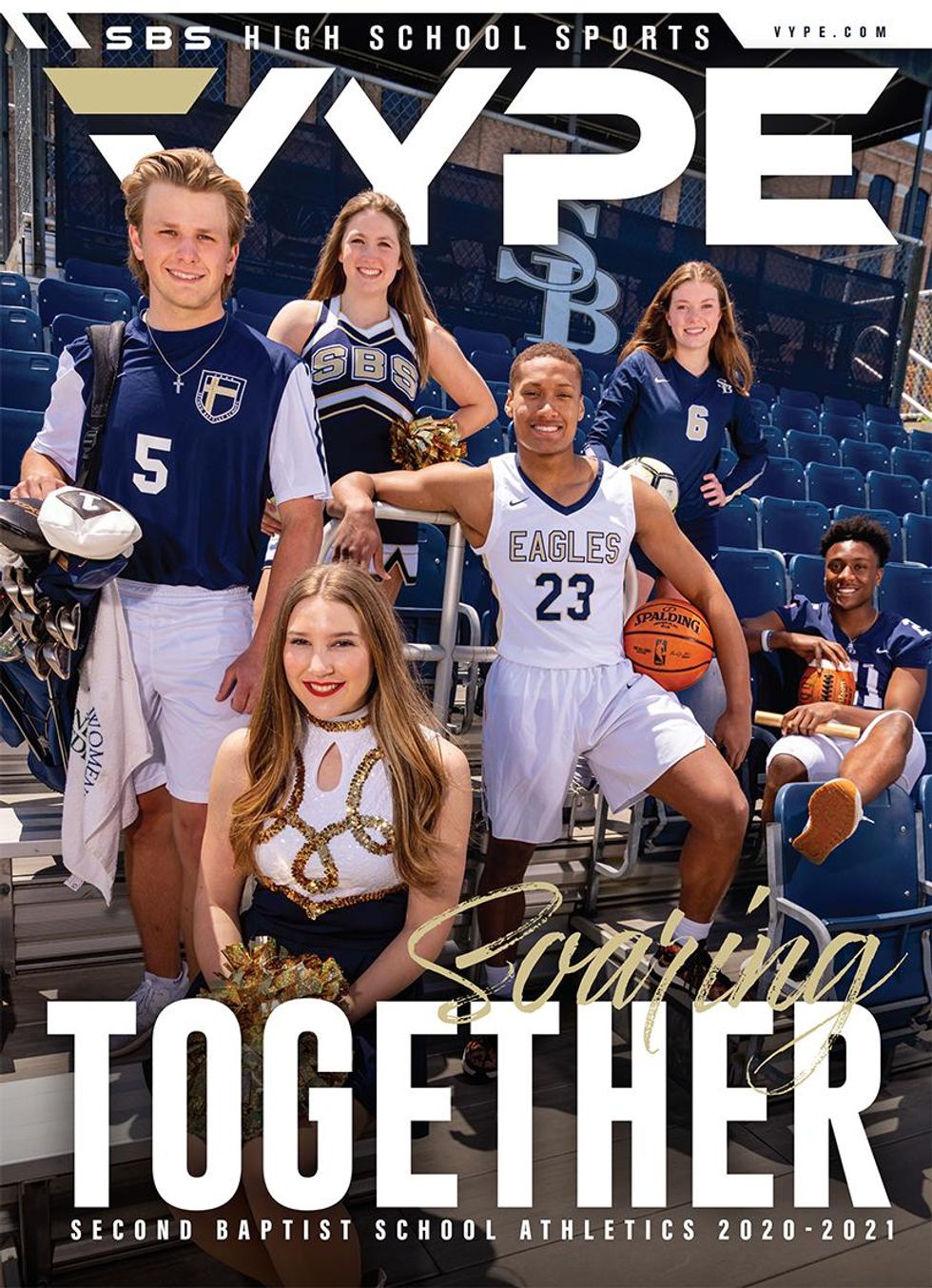 With a global pandemic bringing the nation's sports to a complete halt at one point, many didn't know how this fall would look.

Slowly but surely a sense of normalcy has returned. For Second Baptist School, that came on September 15, when the women's volleyball team hosted Emery/Weiner.
"I'm so thankful for the Second Baptist School administration and all the hard work they have put in so we can have our season and have school on campus this fall," Second Baptist School senior Bailey Ireland '21 said adding, "I'm really grateful."
The Eagles swept the Jags 3-0 (25-16, 25-20, 25-22) for their first win of the season in September and concluded the first game played on the Second Baptist School campus since March.
"I'm very thankful that we are able to play," Second Baptist School volleyball coach Sue Berg said. "I really just wanted us to go out and play and have fun; coming out with a win was just icing on the cake for us."

When looking at this Eagles' volleyball team roster heading into the year, Berg didn't have the luxury of a large senior class to lean on. It is a 2021 group with two players.
There will be production and leadership from that group, but it is the Class of 2022 that dominates this roster.
"We are really cohesive. I have been with them since freshman year on varsity," Alexis Gill '22 said. "We are all working to help with leadership since we only have two seniors."
Led by first-team, all-district pick Julia Sauvageau '22 and second-teamer Gill '22 this junior class is loaded with talent, which is something Berg is not surprised about.
"The class of 2022 has always been a volleyball group," Berg said. "Seeing them grow up as kids, they've always enjoyed the game. Some play other sports but a lot of them do just play volleyball. They are really the core to what we've had the last couple of years on our team."
Last season, the Eagles finished third in district before making it a couple of rounds in the TAPPS 5A Playoffs, and there were lessons learned from it.
"I think we all learned how to work together and play as a team, because as things got harder through the year, we had to depend on each other," Sauvageau '22 said.
Berg, who has coached at Second Baptist School since 1992, has seen her fair share of teams make runs. Under her tutelage, the volleyball program has made nine state tourney appearances and won four state championships.
Coach Berg, as a member of the 1988 University of Texas volleyball national championship team, knows more than anyone, if you can get in, anything can happen.
"Our goal is to win district," Berg said about the expectations for the team. "Once you win district and get to the playoffs, really anything can happen. I really love to outsmart people as we are playing. I love the mental side of volleyball. There's always that skill side but it's the mental side I really enjoy."