Volleyball season is HERE! VYPE wants the fans to continue voting for their preseason public school players of the year! Here's the list of winners so far!
Libero - Lizzy Young, Kingwood
Setter - Avery Reynolds, Clear Springs
The Houston Methodist Orthopedics & Sports Medicine Poll of the Week – VYPE Houston Preseason Outside Hitter of the Year is now live! Fans will have the chance to vote until Thursday, August 8th, at 7 p.m.
Please note that the use of voting software or bots will result in a deletion of votes and a potential DQ from the contest. PLEASE try to keep this fair and fun for all involved!
All athlete polls and their content are only associated and created by VYPE Media and its staff. The content is not created or voted on by any corporate sponsor or marketing partner. Please contact VYPE Media directly if you have any questions, comments, or concerns around our Fan Polls.
Houston Methodist Orthopedics & Sports Medicine is Houston's leading provider of orthopedic services, from sports medicine to joint replacement. Houston Methodist Orthopedics & Sports Medicine offers comprehensive diagnostic, treatment and rehabilitative services with a high standard of excellence for elite athletes and active adults alike. Houston Methodist serves as the official health care provider for the Houston Texans, Houston Astros, Rice Athletics, Houston Livestock Show and Rodeo™, Houston Ballet, Houston Symphony and Houston Grand Opera.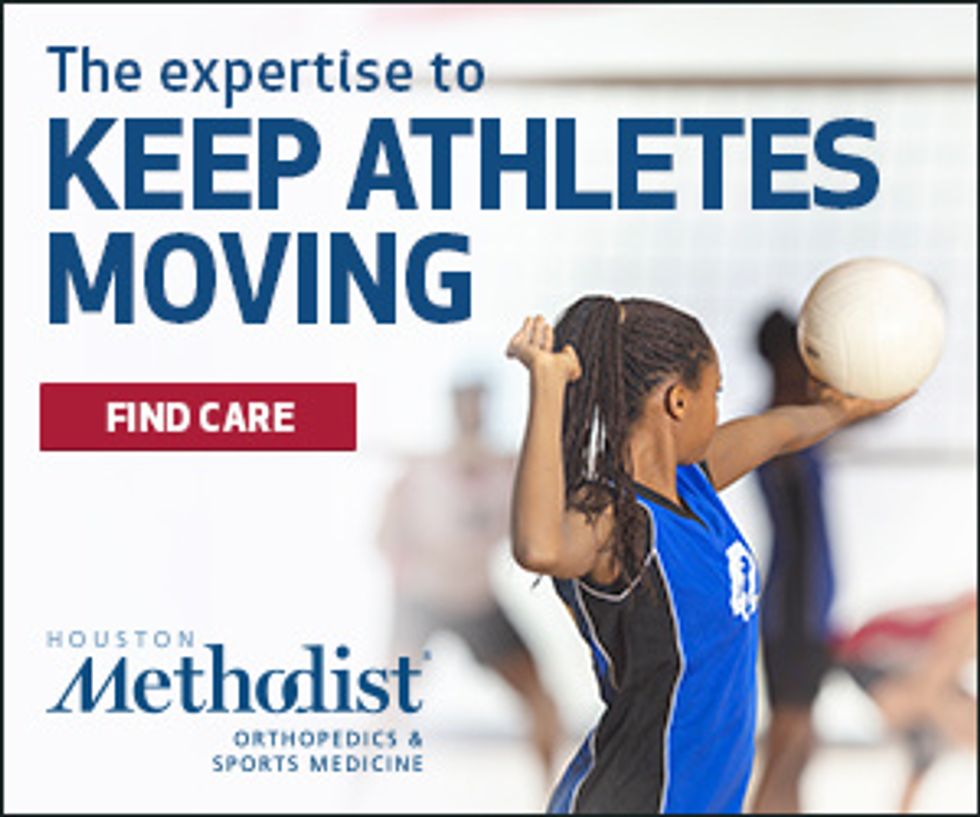 <a href="https://poll.fm/10375372">HOUSTON METHODIST ORTHOPEDICS & SPORTS MEDICINE POLL: VYPE Houston Preseason Public School Outside Hitter of the Year (Closes Thur. 8/8 at 7pm)</a>
It is time to rank the best in the city of Houston.
VYPE starts with Class 5A and that is where the defending state champions reside. Last year, Kingwood Park started the season as VYPE's No.1 team in 5A and eventually went on to win the Class 5A State Championship.
So, for 2019, of course, VYPE starts the year ranking Kingwood Park as the No.1 team in the land.
Check out the rest of the Top 10 below as VYPE ranks the best Class 5A volleyball teams in Houston.
VYPE Volleyball fans, if you can not find the printed magazine at any of our partners pick up locations check out our VYPE Shop to get a copy delivered to your door!
1) Kingwood Park
<p>Kingwood Park stood tall as the lone state champion from Houston in 2018. The Panthers made their first-ever trip to the UIL State Volleyball Tournament and shocked the land by knocking off Lucas Lovejoy in a sweep. Now, the target is firmly on the back of Kingwood Park heading into 2019. The Panthers do return solid pieces, including senior Libby Overmyer, who was named the 5A State Championship Game MVP. Overmyer (Colgate-commit) finished with a team-leading 391 kills and a second-best 290 digs. <strong>FULL TEAM PREVIEW COMING SOON! </strong></p>
2) Friendswood
<img lazy-loadable="true" src="https://assets.rebelmouse.io/eyJhbGciOiJIUzI1NiIsInR5cCI6IkpXVCJ9.eyJpbWFnZSI6Imh0dHBzOi8vYXNzZXRzLnJibC5tcy8yMDQyODUyMC9vcmlnaW4uanBnIiwiZXhwaXJlc19hdCI6MTY1Nzg4MzU2Mn0.fQ3dYiO9VRixEK0xjzIQRLBwsv3vvhenW4zFCP2N3OA/img.jpg?width=980" id="0404b" class="rm-shortcode" data-rm-shortcode-id="006a6acdead00565b3d70984346f8f88" data-rm-shortcode-name="rebelmouse-image" />
Kate Bueche, Tori Weatherley, Makensy Manbeck and Ashlyn Svoboda, Friendswood
Lily Cox/VYPE
<p>The move down from Class 6A to 5A really paid dividends for all sports at Friendswood, especially volleyball. The crew led by Sarah Paulk reached the Regional Finals for the first time since 2013 and finished the year with a 33-15 record after falling to eventual state champion Kingwood Park. Being so close to a state tourney berth has lit a fire within the Friendswood returners. The group is led by Ashlyn Svoboda, who was the GHVCA Player of the Year, TGCA All-State selection and District 22-5A MVP as a sophomore. Svoboda recorded 18 double-doubles last season and led the team with 349 kills and 388 digs. Holding down the middle will be Makensy Manbeck (Houston Baptist-commit). <strong>FULL TEAM PREVIEW COMING SOON! </strong></p>
3) Santa Fe
<img lazy-loadable="true" src="https://assets.rebelmouse.io/eyJhbGciOiJIUzI1NiIsInR5cCI6IkpXVCJ9.eyJpbWFnZSI6Imh0dHBzOi8vYXNzZXRzLnJibC5tcy8yMDQyODczMC9vcmlnaW4uanBnIiwiZXhwaXJlc19hdCI6MTYzNDY1NzY2Nn0.tNhlLEc04fRyAoN8CgUV6_h7s_3J_HeOobIr7VCCOaM/img.jpg?width=980" id="598ff" class="rm-shortcode" data-rm-shortcode-id="516da2791158814f54f23d33b6d86de2" data-rm-shortcode-name="rebelmouse-image" />
Cassi Cruz, Elena Dondonay, Shelby Freudensprung, Teresa Garza, Freedom Stephenson and Kassidy Taves, Santa Fe
Lily Cox / VYPE
<p>For the fourth time in the last five years, Santa Fe reached the Regional Quarterfinals. The Indians hope for a semifinal's appearance ended at the hands of Foster. Gone off that team are the talents of Kylie Verm, who was second on the team in kills, and Jillian Gibbs, who led the team in blocks. Despite those losses, Santa Fe has a talented roster back for 2019. Kassidy Taves will lead the attack after recording a team-leading 302 kills, 294 digs and 63 aces last season. <strong>FULL TEAM PREVIEW COMING SOON! </strong></p>
4) Shadow Creek
<img lazy-loadable="true" src="https://assets.rebelmouse.io/eyJhbGciOiJIUzI1NiIsInR5cCI6IkpXVCJ9.eyJpbWFnZSI6Imh0dHBzOi8vYXNzZXRzLnJibC5tcy8yMDQyOTE3OS9vcmlnaW4uanBnIiwiZXhwaXJlc19hdCI6MTYzNzEwNTM3MX0.Z7IFvJWZmUDL-YwdqDjVfC4kEyGaDB5GC3hbe7qebSQ/img.jpg?width=980" id="7a0d2" class="rm-shortcode" data-rm-shortcode-id="3b3975ef133513848cb35e731a1650ed" data-rm-shortcode-name="rebelmouse-image" />
Halle Sanders, Amber Johnson and Alexis Williams, Shadow Creek
Bradley Collier/VYPE
<p>Since its opening, Shadow Creek has reached the postseason every year. In fact, the Sharks have won a playoff game each season. More history could be made in 2019 as Shadow Creek returns some serious firepower. Back is District 24-5A Newcomer of the Year Alexis Williams, who had 364 kills, 441 assists and 317 digs a year ago and plays all the way around. The Chicago State-commit can play defense as well as set.<strong> FULL TEAM PREVIEW COMING SOON! </strong></p>
5) Barbers Hill
<img lazy-loadable="true" src="https://assets.rebelmouse.io/eyJhbGciOiJIUzI1NiIsInR5cCI6IkpXVCJ9.eyJpbWFnZSI6Imh0dHBzOi8vYXNzZXRzLnJibC5tcy8yMDQzMDYzMS9vcmlnaW4uanBnIiwiZXhwaXJlc19hdCI6MTY0Mzg1MTE0OX0.GfGX-AJona33yrfGiAfVKPMusbU4Udas-9HA54AwAsM/img.jpg?width=980" id="325e0" class="rm-shortcode" data-rm-shortcode-id="2b950237c7a5fb3644b3120d8a05d1e5" data-rm-shortcode-name="rebelmouse-image" />
Faith Guidry, Kylee Kejonen, Trinity Hennigan and Sarah Lankford, Barbers Hill
Bradley Collier/VYPE
<p>In her first year as a head coach, Kristin Goodman led her Barbers Hill Eagles to an 11-1 district record and the District 21-5A crown. Goodman came over to the eastside after being the lead assistant at Friendswood. The Eagles got off to a slow start in a competitive tournament season, but started to peak in the regular season. The competitive scheduling paid off as Barbers Hill reached the third round before falling to Friendswood. So, what will she do for an encore in year two? <strong>FULL TEAM PREVIEW COMING SOON! </strong></p>
6) Manvel
<img lazy-loadable="true" src="https://assets.rebelmouse.io/eyJhbGciOiJIUzI1NiIsInR5cCI6IkpXVCJ9.eyJpbWFnZSI6Imh0dHBzOi8vYXNzZXRzLnJibC5tcy8yMDQzMDkxNy9vcmlnaW4uanBnIiwiZXhwaXJlc19hdCI6MTYzMTE4NDA4MH0.S8tCVR3PLyhDyP4VwFEDJ54ZkMlfi0u7ydsrEuAWPCk/img.jpg?width=980" id="57889" class="rm-shortcode" data-rm-shortcode-id="17444db77e04eb6cf75c307df0c1d174" data-rm-shortcode-name="rebelmouse-image" />
Cecilia Harness, Morgan Smith and Aryn Johnson, Manvel
Lily Cox / VYPE
<p>The Manvel Mavericks look to build on their second-place finish, going 14-2, in District 24-5A and their second-round exit in the postseason (Barbers Hill) a year ago as three game-changers return to the locker room. Coach Susan Kennedy and her squad could make school history if they can reach the Regional Finals. Manvel was a step away in 2017 and 2016, bowing out in the semis. Back on the court for the Mavs will be Morgan Smith, who dominated up front and was named the District Blocker MVP. Cecilia Harness enters her senior season with a ton of experience. <strong>FULL TEAM PREVIEW COMING SOON! </strong></p>
7) Foster
<img lazy-loadable="true" src="https://assets.rebelmouse.io/eyJhbGciOiJIUzI1NiIsInR5cCI6IkpXVCJ9.eyJpbWFnZSI6Imh0dHBzOi8vYXNzZXRzLnJibC5tcy8yMDQzMTE1My9vcmlnaW4uanBnIiwiZXhwaXJlc19hdCI6MTY1NjIwNjMxMX0.gXdQs9R26GUBciHVbDyZVehjZld5UmIK8OXKtkTWeUU/img.jpg?width=980" id="03683" class="rm-shortcode" data-rm-shortcode-id="078d7d65febcbd55adafcef62a95d836" data-rm-shortcode-name="rebelmouse-image" />
Ashley Isbell, Karley Hardin, Annie Creery and Briana Creery, Foster
Jamey Wright
<p>Inside the Foster Falcon volleyball program, the baton is being passed. Coach Morgan Hunter says goodbye to her first senior class, which included District MVP Catherine Krieger (Sam Houston State), District Offensive MVP Lauryn Richardson (Delaware) and Defensive MVP Lauren Sulak. Sure, Foster will need to turn over their roster, but the Falcons have been in the playoffs the last 18 seasons and had a nice run to the Regional Semis last year. Eventual state champ Kingwood Park put a stop to their season, which also included a District 24-5A title. <strong>FULL TEAM PREVIEW COMING!</strong></p>
8) Tomball
<img lazy-loadable="true" src="https://assets.rebelmouse.io/eyJhbGciOiJIUzI1NiIsInR5cCI6IkpXVCJ9.eyJpbWFnZSI6Imh0dHBzOi8vYXNzZXRzLnJibC5tcy8yMDQzNDM4OS9vcmlnaW4uanBnIiwiZXhwaXJlc19hdCI6MTYyNjQyMTIxNH0.fb7PhLX7oKX1XFDyblNvXCSfWLbO2hCPgqC0BC6g_ik/img.jpg?width=980" id="e92f3" class="rm-shortcode" data-rm-shortcode-id="114cb01e373022a1a01bd68d34814b03" data-rm-shortcode-name="rebelmouse-image" />
Rachel Maciejeski, Kate Sralla and Maddie Scott, Tomball
Bradley Collier/VYPE
<p>There will be a new era for Tomball volleyball as long-time coach Cheri Wallace passes the baton to former Waller coach Jordan Williams to run the Cougars' Den. Williams went 26-15 in her first year as a head coach for the Bulldogs in 2018. Last year, Tomball finished in a tie for second in district and reached the area round of the postseason. While several seniors left their mark on the program, the Tomball volleyball legacy lives on. The most decorated returner is first-teamer Kate Sralla, who tallied over 400 kills as a sophomore. <strong>FULL TEAM PREVIEW COMING SOON! </strong></p>
9) Magnolia
<img lazy-loadable="true" src="https://assets.rebelmouse.io/eyJhbGciOiJIUzI1NiIsInR5cCI6IkpXVCJ9.eyJpbWFnZSI6Imh0dHBzOi8vYXNzZXRzLnJibC5tcy8yMDQzNDgwMy9vcmlnaW4uanBnIiwiZXhwaXJlc19hdCI6MTY2MDg2NzY0N30.MWfAPhKODgGnyU1watdFPb0k2Pi97JYPM0PcYYyOYe4/img.jpg?width=980" id="182eb" class="rm-shortcode" data-rm-shortcode-id="f6617b7968eb220954004e251a46a039" data-rm-shortcode-name="rebelmouse-image" />
Ellie Anderson and Faith Lynch, Magnolia
Lily Cox/VYPE
<p>Magnolia is coming off a year where the Bulldogs went 15-27 overall and 5-9 in district but have pieces coming back including Ellie Anderson and Faith Lynch. Anderson returns after a sophomore season where she had 216 kills. Marissa Moffatt is also back after registering 180 kills. Faith Lynch led the team with 628 assists a year ago to go with a team-leading 83 aces. Watch for Magnolia as they are one of VYPE's Teams to watch heading into 2019. </p>
10) Montgomery
<p>Montgomery is coming off a 26-19 season where the Bears made the playoffs. Montgomery fell in the first round to A&amp;M Consolidated. Madison Wofford returns as a senior after recording 185 kills a year ago. Out of the leaders in kills from a year ago, she is the lone returner. Sister Brianna Wofford led the team in aces with 90 last season. Ally Williams will set for the team after recording 522 assists a year ago. Montgomery plays in an absolutely loaded district with the likes of Kingwood Park, Tomball and WIllis in it. </p>

<script async="" src="https://pagead2.googlesyndication.com/pagead/js/adsbygoogle.js"></script><script> (adsbygoogle = window.adsbygoogle || []).push({}); </script>