Joe Lorenzini
After a long weekend of championship games, the Dallas-Fort Worth area has quite a few teams to be proud of with five brand-new state championship teams. Three of those championships came in soccer while two came in hockey. VYPE DFW has your Championship Weekend Recap.
Midlothian Heritage Lady Jaguars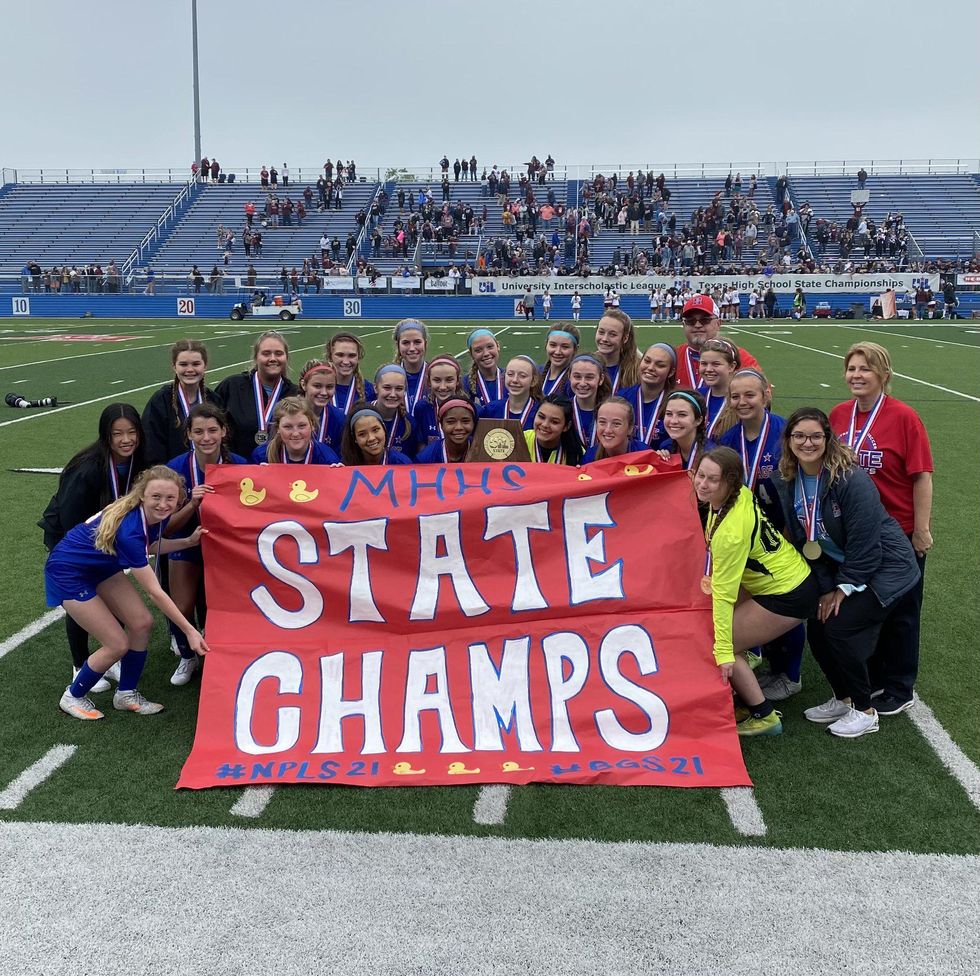 Midlothian Heritage Girls Soccer Twitter (@jagsoccergirls)
Friday morning, Corpus Christi Calallen had a hard time keeping up with the Midlothian Heritage Lady Jaguars in the UIL Class 4A girls soccer state championship game. The Lady Jags scored a state record-tying six goals in the championship game as they shut out Calallen. Midlothian Heritage's star freshman, Jules Burrows, earned the honor of being named MVP after scoring a hat-trick in the match.

Flower Mound Lady Jaguars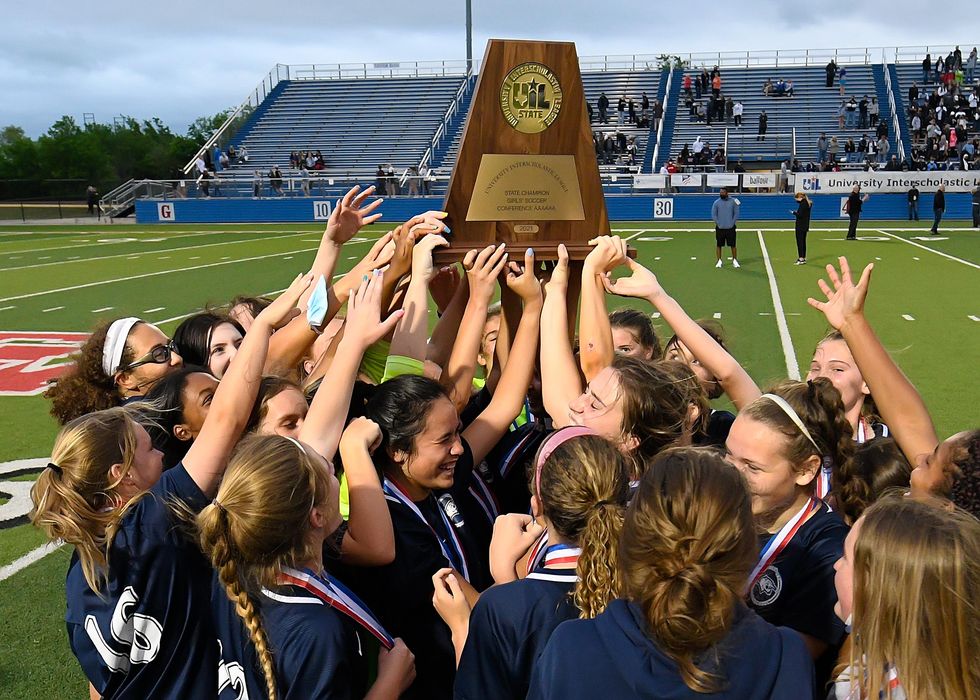 Joe Lorenzini (@lorenziniphotog on twitter)
Friday evening saw the Flower Mound Lady Jaguars defeat Austin Vandegrift 2-1 to claim the UIL Class 6A girls soccer state title. The victory marks the Flower Mound Lady Jags' second state title. Senior Riley Baker was awarded the championship game MVP after scoring both goals for Flower Mound.

Frisco Wakeland Wolverines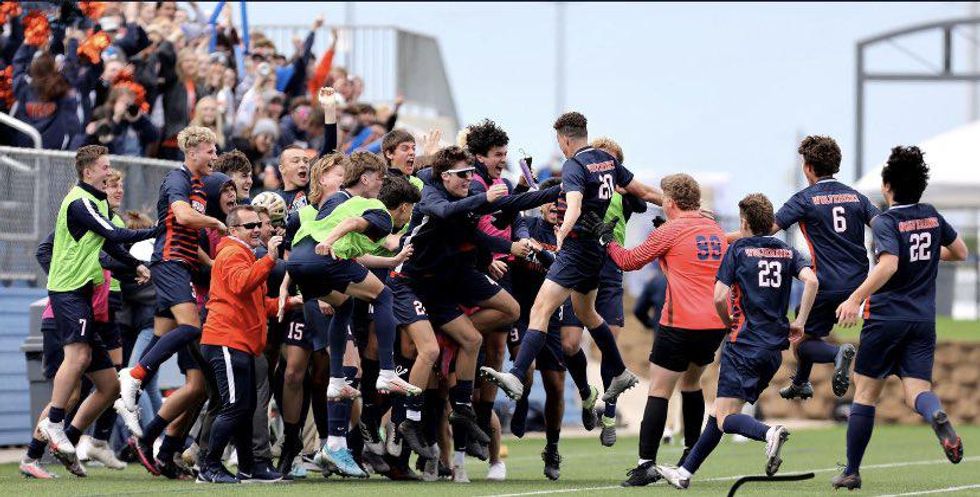 Dallas Morning News
Saturday, the Frisco Wakeland Wolverines were able to put a stop to Kingwood Park in the UIL Class 5A boys soccer state championship game. In Wakeland's fifth state title appearance, the Wolverines' junior Brennan Bezdek was awarded as the state championship MVP after recording the opening goal in the match. Bezdek also recorded a big assist that allowed the Wolverines the 3-2 defeat over Kingwood Park for their fourth state title.

Coppell Cowboys Hockey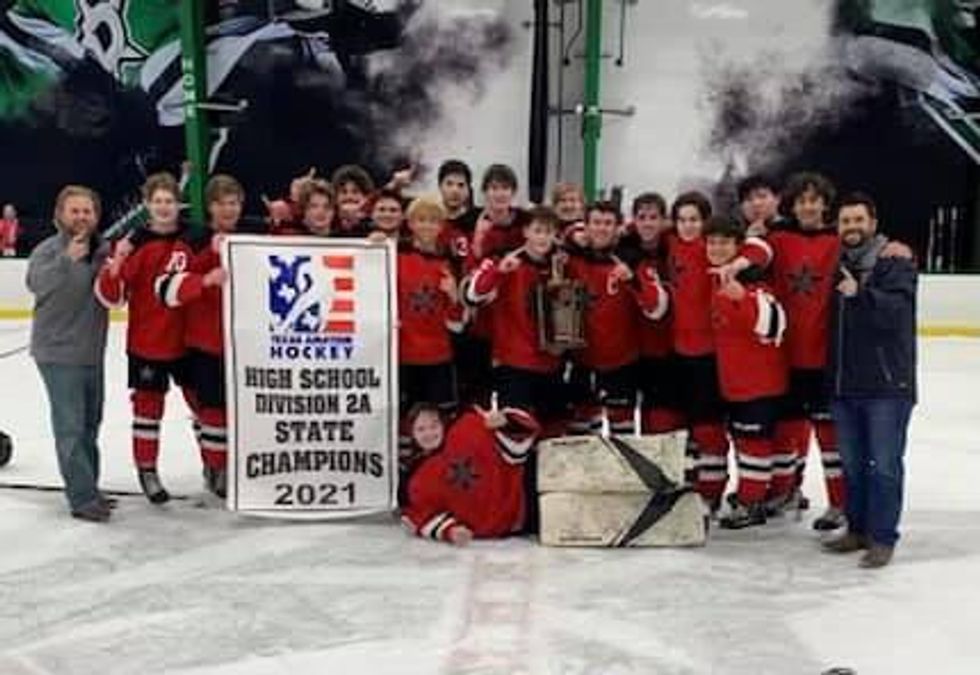 Coppell Hockey poses with the championship bannerCoppell Hockey Facebook Page
Sunday, the Coppell Cowboys hockey team won the Division 2A state championship with a 6-5 hard-fought win over Denton County. Coppell came back from a 4-1 deficit to force double overtime against Denton County. The Cowboys' captain Trevor Moore was not only able to score the first goal for Coppell, but the winning goal with thirty-one seconds left in the match. The winning goal marked a hat-trick for Moore in the back-to-back title win for Coppell's hockey program.

Richardson Rockwall Raiders Hockey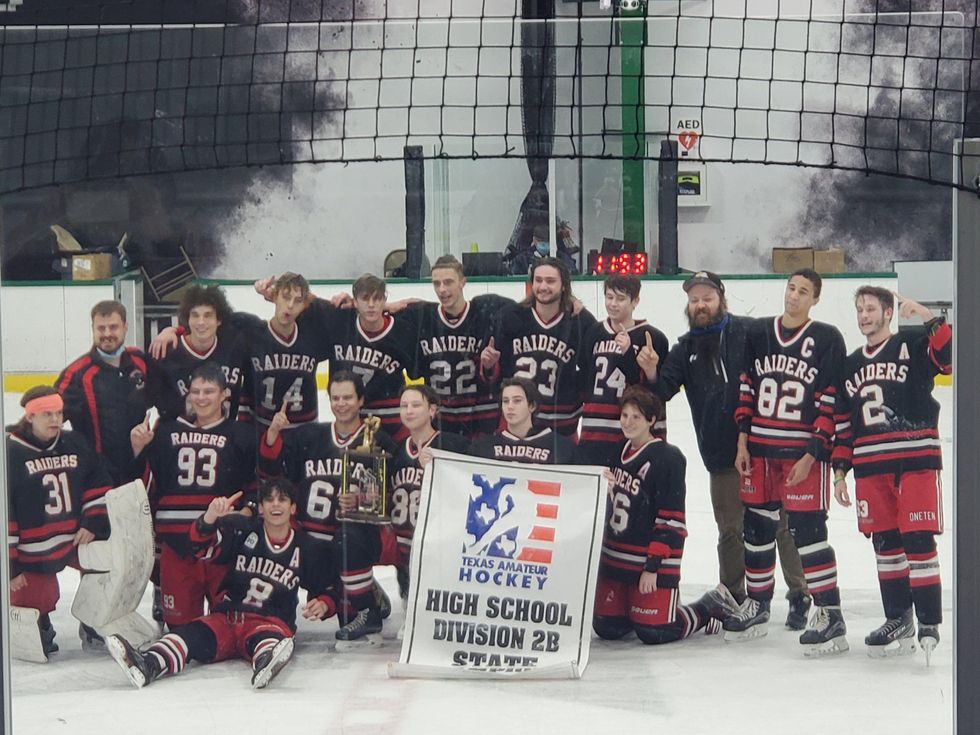 Richardson Rockwall Raiders post with the championship banner.Helen Seifert (@hcseifertfive on twitter)
On Sunday, the Richardson Rockwall Raiders hockey team defeated Cy Woods 6-5 in the Division 2B championship. With great plays from players like Carson Bassett, Austin Acala, and Alex Evanyk, the Raiders have made a successful run all season en route to the state title.
Wakeland Girls Soccer Twitter Account (@wakelandgsoc)
The Grapevine Lady Mustangs and the Frisco Wakeland Lady Wolverines are set to face off in a semifinal match on Tuesday evening. Before they meet, let's take a look at what got each team to this level.
Grapevine Lady Mustangs
The Lady Mustangs have been a force to be reckoned with all season. Going nearly undefeated in district play to finish first in their district, Grapevine has posted a 24-2-2 overall record (13-1 in district) this season. The Lady Mustangs have posted big wins this season over the likes of Justin Northwest, Denton Ryan, Richland, Lake Dallas, and more.
Grapevine has outscored their opponents by 92 goals so far this season. After a 3-1 win over Amarillo last week, the Lady Mustangs are coming into the semifinals on a 16 game win-streak.
Wakeland Lady Wolverines
The Lady Wolverines have shown no signs of quitting as they've moved through this season. Wakeland has posted a 19-2-3 overall record with an 85% win percentage en route to one of their best seasons yet. This season, the Lady Wolverines have posted 16 shutout wins, four of which came in the playoffs.
After a hard-fought 2-1 win in double overtime over a previously undefeated Highland Park team last week, the Lady Wolverines are coming into the semifinals matchup on a high. Wakeland has a fire that has not been able to be tamed on a 12 game win streak.
What To Expect
Grapevine's defense has shown its strength all season. It has been no different in the playoffs. Both teams have shown that they have what it takes offensively. Both teams are sure to put up a fight for the right to play at the state championship game this weekend.
The match is set to begin Tuesday, April 13 at 7 p.m. at Bronco Stadium in Denton.