When you've advanced to five College World Series since 2010 like TCU baseball has, you attract great talent from all over, including in another national power's backyard. The Horned Frogs left the Metroplex for Central Texas, where The University of Texas at Austin is the located, and sold a pair of local pitchers on their program. One was Georgetown's Braxton Pearson and the other was Lake Travis' Storm Hierholzer. Both have experienced big time success in their high school careers, so Fort Worth fans will welcome them with open arms.
"TCU was the best option for me," said Pearson. "The school and the coaches were just amazing [and] everything I wanted in a college. My coaches at Georgetown always taught me [that] having a good winning history and brotherhood culture was important and that was TCU."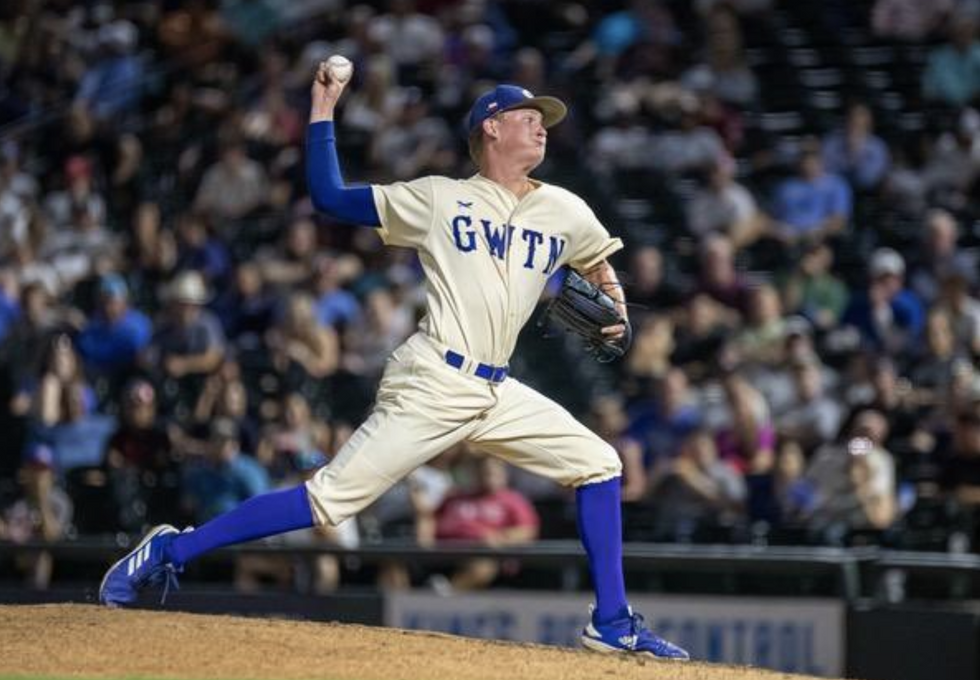 Like Pearson, Hierholzer couldn't pass up the coaching staff that TCU offered.
"What excites me is working with a great coaching staff, who I know will help me improve greatly," said Hierholzer. "The offer came in after the PBR futures game during the summer before my junior year. I felt great because a very high caliber baseball school believed in me."
Both players will rock their purple attire soon, but also know that their senior year performances will go a long way in reaching a goal that their teams fell just short of in 2019.
For Pearson and Georgetown, they're motivated after falling 14-2 to Colleyville Heritage in the 2019 UIL 5A state title game.
"The playoffs last year and the run to the state championship game was the best thing that has ever happened in my career," said Pearson. "My teammates weren't just my teammates. They were my brothers [and] we had the tightest bond. We say second isn't sweet, so we wanna get back to the championship game and win and fight for what's ours."
Lake Travis is another hungry squad because it suffered a tight 6-2 loss to eventual classification state champ Southlake Carroll in the UIL 6A state semifinal.
"We felt every emotion after the loss at Dell Diamond last year, and we have been working very hard during the offseason to not let that happen again," said Hierholzer. "Every win gets us closer and closer back to the state tournament, so we will take it day by day and slowly get back and win it."
As disappointing as the end of last season was, both athletes have proactive plans to finish what they started.
"As a senior, I'm looking forward to being the leader on the team and showing the younger guys what it means to be an Eagle and becoming the best teammate I can be," said Pearson. "I would like to mature in my baseball career and give the Eagles whatever it takes to get back to the Dell Diamond. I'm [also] looking to prove what I got to fill a spot at TCU."
As for Hierholzer, he will lean on his day-to-day work ethic to guide Lake Travis teammates through the campaign.
"I [will] try to do my best to show the new players how things work and teach them to embrace the grind," said Hierholzer. "My goals this year are the same as every year: win a state championship and give my team a chance to win every time I step on the mound."
For more sports coverage, follow Thomas (@Texan8thGen) and VYPE (@VYPEATX) on Twitter.

Looking to get more involved? Check out ShopVYPE for fresh gear that supports local schools and the VYPE U Ambassador Program. To sign up for the VYPE U Program, apply at VYPEU.com.
On Friday January 31st, a pair of Hays CISD schools were thinking about the next round of UIL Realignment, which will introduce new district lineups on Monday February 3rd. The school district's two oldest high schools had their final basketball district meetings before they head to different classifications for the 2020-2021 and 2021-2022 academic years.
Hays, which will remain in UIL 6A, completed its seventh boys basketball season sweep of future UIL 5A program Kyle Lehman by winning 54-36 in Buda on December 31st and 67-39 in Kyle on Friday. At the same time, the Lady Rebels were wrapping up their 11th girls basketball season sweep of the Lady Lobos. They won 53-31 in Kyle on December 31st and 49-21 in Buda on Friday.
"Felt great," VYPE Player of the Game Luke Watson said of the boys basketball sweep. "Playing Lehman all four years [and] finish out with two good wins."
VYPE Player of the Game Luke Watson had a game high 17 points in Hays' rivalry win against Kyle Lehman. Stay tuned… https://t.co/XcthvZNDl1

— VYPE Austin (@VYPE Austin)1580527187.0
The Hays boys (18-9, 7-5) leaned on Watson's game-high 17 points to stay in the mix for a 25-6A playoff spot with four district games remaining in the regular season. He had strong starts to both halves and set up important Rebel runs. It started with his seven points in the opening quarter, which paved the way to an early 16-4 advantage. Kyle Lehman (13-16, 3-9) did answer with a 12-5 surge to cut the difference to five in the second period, but seven more Watson points in the third frame and an 11-0 Rebels' start to the second half put an end to the Lobos' comeback attempt.
"I knew Lehman was going to be a tough game," said Watson. "They're a big rival, so I thought I'd come out there, bring a lot of energy, try to get my team going with a few shots and [it] worked out."
Hays also got 13 points from Caden Doyle and 11 from Durand Hill, while Jarek Salinas led Kyle Lehman with 13.
For more sports coverage, follow Thomas (@Texan8thGen) and VYPE (@VYPEATX) on Twitter.

Looking to get more involved? Check out ShopVYPE for fresh gear that supports local schools and the VYPE U Ambassador Program. To sign up for the VYPE U Program, apply at VYPEU.com.