Photos by Bradley Collier / VYPE Media
HOUSTON - It is hard not to pay attention to the hype.
Every time they step up to the plate, a scout hits record on their camera. Every time they come set, the radar guns rise in unison. The attention is hard to ignore.
It is hard not to see where they are ranked in the MLB.com Top 100 Draft Prospects list heading into the spring or where they may fall in 2020 MLB Mock Drafts. It's a lot for a high school senior, who is still trying to figure out what tux they want to wear to prom. But for The Woodlands' Drew Romo, Episocpal's Tanner Witt and Kingwood's Masyn Winn, it's become a way of life.
"It's pretty hard not to look at it. It's definitely really exciting because it is something I've been working for my whole life," Romo, who is ranked No. 27 in the MLB. com Top 100 Draft Prospects list, said. "Right now, I'm not thinking about it too much."
Winn added: "I think it's pretty cool but I'm not trying to get too ahead of myself. I just sit back and appreciate it. I've been working on this since I was three years old."
PROS TO GOING PRO
For the past few months, Romo, Witt and Winn have been busy meeting with virtually every MLB team.
"Just to have an MLB team in your living room is crazy, it's a dream come true," Romo said.
So, what are the pros of going pro?
In the past few years, Houston has seen several players get drafted and take the money. In the 2019 MLB Draft, three Houston-area players were taken in the first 53 picks.
All three were signed to Texas A&M.
Instead of going to college they signed contracts to begin their professional careers, including Matthew Thompson of Cypress Ranch.
"It was about me getting a head start versus college for three years and then going pro. It just seemed right," Thompson, who was taken 45th overall by the Chicago White Sox, said. "The organization was fantastic last year. They limited me to only so much throwing, it gave me time to really figure out how pro ball works. Last summer was fun and I'm really excited for my first full season."
For many MLB Draft prospects, they rely on the advice of scouts, friends, family and of course their parents when it comes to this decision.
For Witt, it helps that one of his resources includes someone who was drafted and signed out of high school – his father Kevin, who went to the Toronto Blue Jays with the 28th overall pick in the 1994 Draft.
"It's nice, I have my own mentor at home, who is also my dad," Tanner, who is ranked No. 67 in the MLB. com Top 100 Draft Prospects list, said. "Growing up he's been my dad, best friend, coach... he's been everything to me. I've been privileged to grow up with him in my household.
"He's just taught me that baseball is a game of failure. You're going to fail more times than you're going to succeed, and just know it's going to be a rough ride to the Major Leagues. So, just push through it and stay strong."
For players like Romo and Winn who don't have that kind of resource at home, they depend on the advice of friends who have been drafted.
Through those conversations, they have figured out what the pros and cons to going pro can be.
"The pro of going pro is that you are starting professional baseball," Winn, who is the No. 46 prospect in the MLB.com Top 100 Draft Prospects list, said. "Starting my career three years early is key. I think whenever we get there, we will have a better idea. It's been pretty fun."
GOING TO COLLEGE
What's the value of a college education?
That's the question that New York Yankee Gerrit Cole had to weigh for himself coming out of high school. On the "Twelve Six" Podcast with Collin McHugh, Cole talked about his decision to not sign with the Yankees, who drafted him with the No. 28 overall pick out of high school. He headed to UCLA.
That is what Romo, Winn and Witt will have to weigh as the trio are signed to LSU, Arkansas, and Texas respectively.
"My dad was a teacher for a long time, so education is really important to us," Romo said. "I make really good grades, good SAT scores, so education is important. That's going to be hard to turn down. Getting a degree is something you'll have forever."
Along with the college education, there is the experience of going to college.
"Going to college, it's three more years of being a kid," Winn said. "You know I'm one that enjoys school, getting a good education, having that degree to fall back on after baseball. The atmosphere of Arkansas, the coaching staff, the players... some of the commits are my best friends."
Witt added: "There's no bad decision. If I go to college for three more years or if I go out of high school, I'm ultimately trying to get to my same goal."
THE MONEY FACTOR
Signing a pro contract could make you a millionaire overnight. It is something that has to be taken into account.
In the 2019 MLB Draft, Bobby Witt Jr. (no relation) of Colleyville Heritage High School was the highest high school player drafted. His signing bonus was projected to be $7.79 million.
Of the eight high school players drafted in the first round, their projected signing bonuses averaged out to $4.59 million.
"It is crazy to think about, but I wouldn't say it's overnight success. It's something I've been working for every day my whole life," Romo said. "My whole family, friends and me have contributed so much to this whole effort."
For every player, the money is a rewarding part of the process, but it's not just for them.
The life-changing money also provides an opportunity for the players to give back to the people who have helped them get to this point – their parents.
"My parents have been a huge part of my journey," Witt said. "Every kid thinks about that signing bonus. I can pay this, or I can pay that. Of course, I'm going to do that, but my parents are more excited for me that I'm going to get there and finally do what I want to do."
For Winn, his mother, Tiffany Rawson, has been with him every step of the way.
Keeping him grounded, while supporting his ultimate dream.
"Of course, everybody's dream is to spoil their mom," Winn said. "I think if things do work out, whether if it's after three years of college or after this year, I want to do something special for my mom. Maybe pay off the house or something. She's important to me. Doing something for her would be great."
ENJOY THE JOURNEY
June seems like a long way away, but the 2020 MLB Draft from Omaha will be here before they know it.
MLB Commissioner Rob Manfred will stand at the podium and call name after name. If Romo, Witt and Winn's names are mentioned in the early rounds they will have to make the decision – go to college or go pro.
"It's definitely life-changing for my family," Romo said. "We have talked about it. We really can't go wrong either way. Whatever decision I make, it's a win-win. We'll cross that bridge when we get there."
For Witt, this has been the dream since he was little. Playing professional baseball is nearly a reality, Witt said that his father's biggest piece of advice is to enjoy these moments.
"Really just enjoy it, it only happens once," Witt said. "Just enjoy the process, don't overthink anything. If it happens, it happens. I'm in a good spot."
With the eyes of MLB teams on them this spring, one could anticipate that the pressure is higher than ever. But for guys like Winn, who have had eyes on him since his freshman year and during the USA Baseball tours, he's used to the pressure.
Knowing what's ahead of him, these last few months with his high school team are ones he is going to enjoy and cherish.
"Don't get too far ahead of yourself. These are some of my best friends and I'm never going to get to play with them again," Winn said. "I'm really just trying to enjoy this year and play through it with them."
Two of our five contenders brought home gold last season in Lutheran South and Northland Christian.
Concordia Lutheran is a traditional power and will have to hold off St. Thomas in the big TAPPS race, while Episcopal should be the favorites in the Southwest Prep Conference.
Here are the Private School Contenders
Concordia Lutheran Crusaders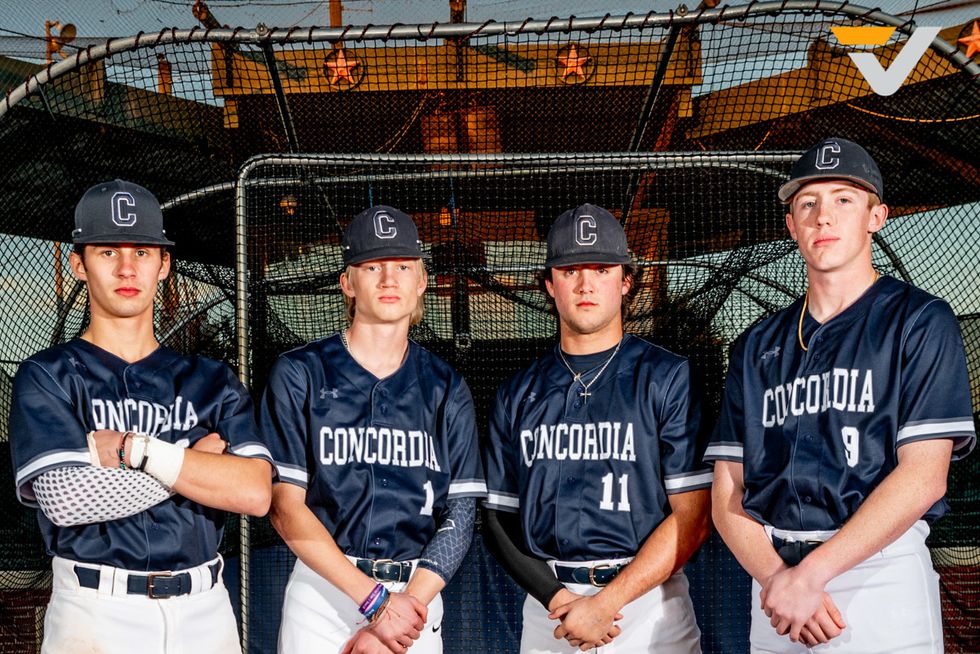 Concordia Lutheran's Jarrett Young, Sean Fitzpatrick, Cash McNicholas and James Hitt
Rick Lynch is a coaching legend at Concordia Lutheran up in Tomball, reaching the TAPPS DI state tournament six years in a row. The 'Saders won it all in 2015 with some uber-talent. So, who returns in 2020 to lead the Crusaders back to state? It all starts with first-team, all-state selections Cash McNicholas and James Hitt who are pitcher/outfielders. Hitt has signed with Texas Tech, while McNicholas will head to McLennan CC next year. Crafty, lefty Sean Fitzpatrick can be unhittable at times, while Jarrett Young holds down the infield at shortstop. Concordia Lutheran won district a year ago but fell in the state semis to districtmate St. Thomas in a 1-0 heartbreaker. They will be back with a vengeance and a one-track mind in 2020 – championship of bust.
Lutheran South Pioneers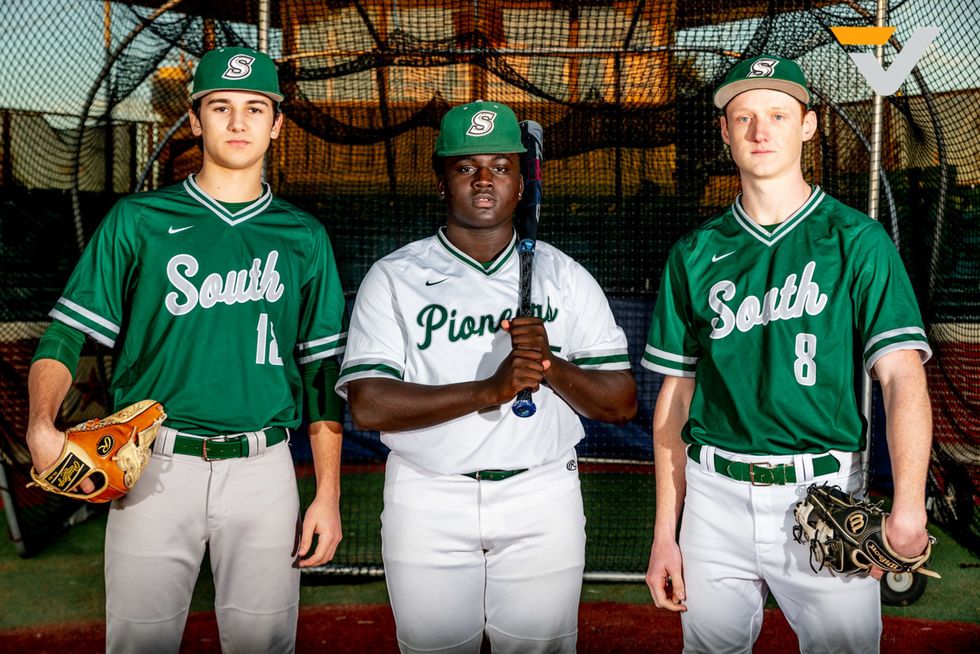 Lutheran South's Luke Harrison, Deaundre Jones and Henry Hill
Can Lutheran South complete the three-peat? The Pioneers have built a power baseball program under the direction of coach Aaron Schneider, winning back-to-back titles in TAPPS DII. They've actually made it three titles in five years. LSA is loaded again in 2020 as the Pioneers return junior lefty Luke Harrison to lead the pitching staff. The second-team, all-state selection has the stuff to have already committed to the University of Texas. Need a lethal bat? First-team, all-district selection Deaundre Jones has one of the best bats in the state. He's committed to the University of Houston. Henry Hill plays the hot corner and will provide senior leadership along with Kaleb Hicks. Second Baptist and Cypress Christian will challenge in district play, but the Pioneers are the team to beat.
Episcopal Knights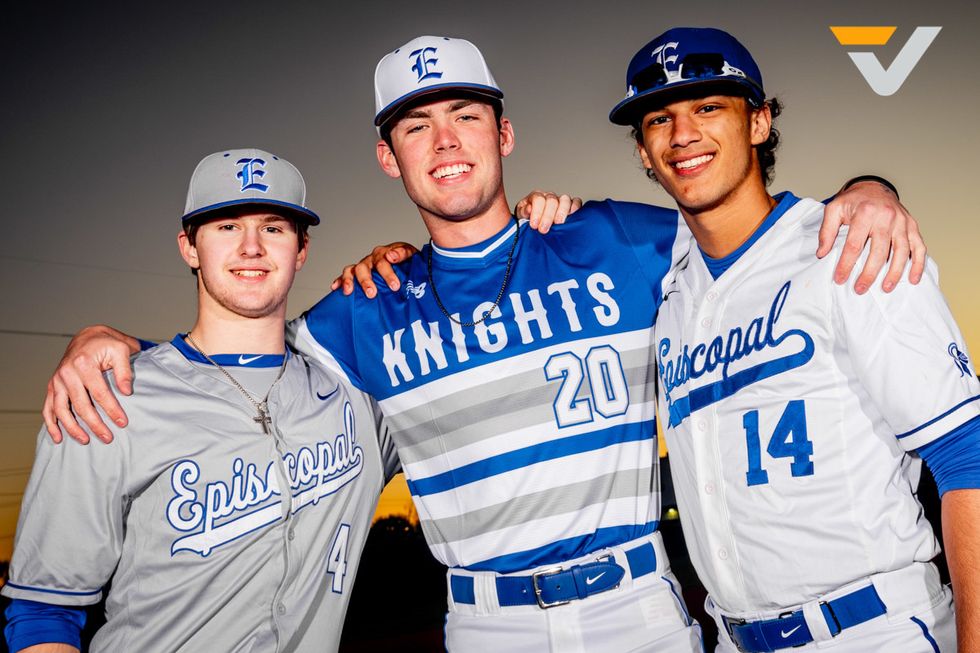 Episcopal's Bennett Hanks, Tanner Witt and Raffi Gross
The Episcopal Knights were knocked off by Kinkaid in the Southwest Preparatory Conference finals in 2019 and return a dugout full of stars still seeing red. The Knights have nine SPC titles in the trophy case. Six of the nine were won with the leadership of coach Matt Fox, who enters year 10 at the helm. Fox welcomes one of the top aces in the country – Tanner Witt, a 6-foot-4 senior who has signed with the University of Texas. Will he or won't he go pro is the real question? Also helping on the mound is Bennett Hanks, who also doubles as a first-baseman and can hit for power. Roaming the outfield is junior Raffi Gross, who has committed to the University of Houston. Max Madison will manage the pitchers behind the plate. Fox and crew would love nothing more than to bring back their 10th SPC title back to downtown.
St. Thomas Eagles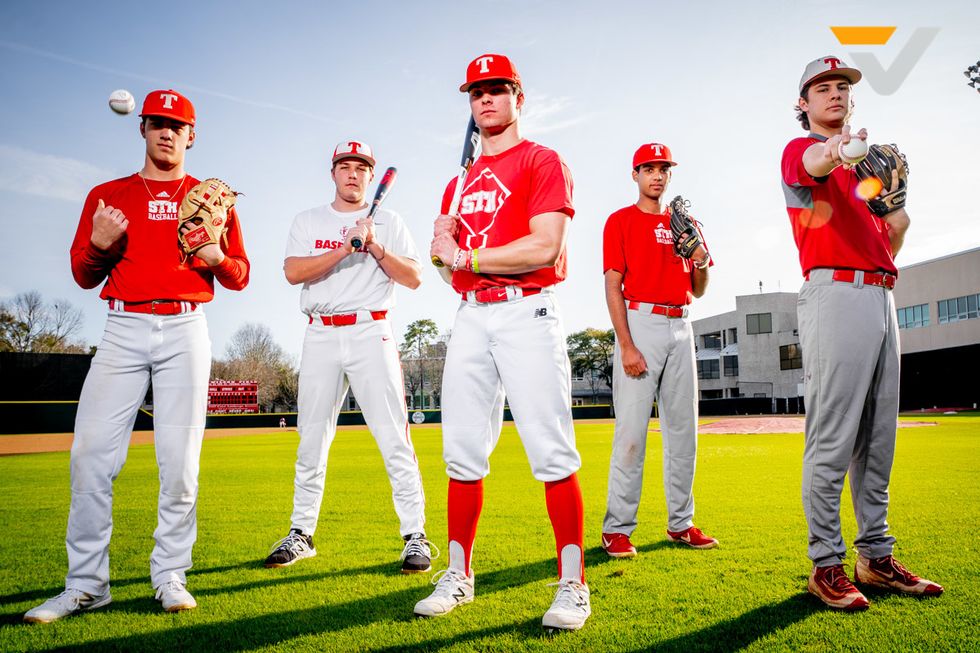 It's year two of the Adam Massiatte-era at St. Thomas, which has been a success so far. Massiatte led the Eagles to the TAPPS state finals last season, before falling to Liberty Christian. The Eagles are back with another talented roster ready to challenge at the highest level of private school baseball. St. Thomas returns Texas A&M signee Will Rizzo, an all-state pitcher and corner infielder. Adam Derosches could emerge as a solid pitcher as well. Daniel Coco is a three-year starter. Concordia Lutheran will challenge for the district title, but the Eagles have bigger goals – a state title.
Northland Christian Cougars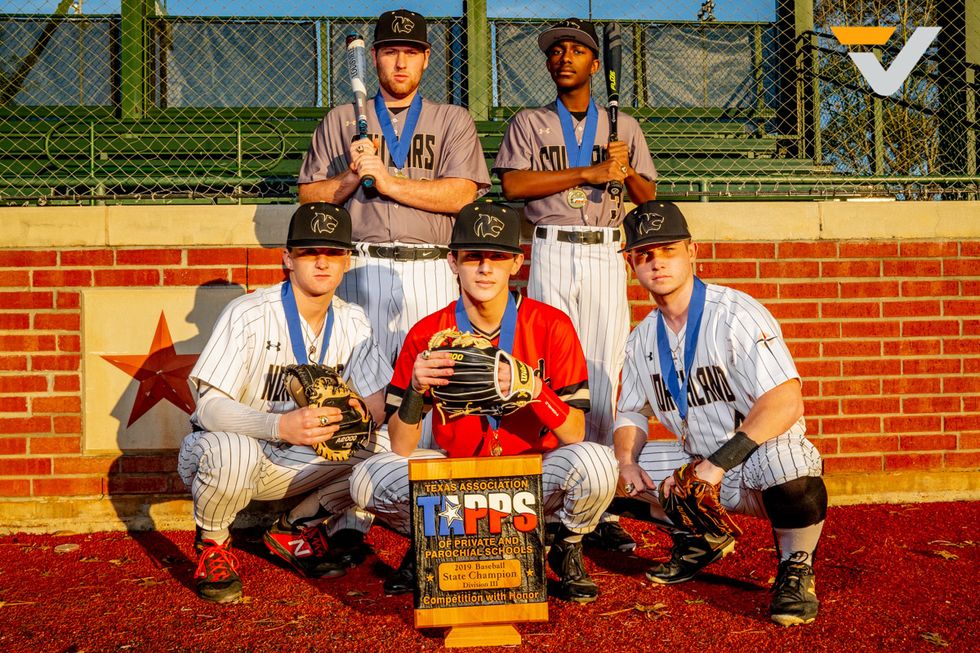 Northland Christian's (above) Peyton Fennelly, Kristopher Maxwell (below) Marshall Ingram, Cameron Bailes and Brady Kraner
The Champs are here … The Northland Christian Cougars join Lutheran North and Kinkaid as the private schools who won state titles in 2019. Coach Rich Nixon brings back some experience who have hopes of making it back-to-back titles. It all starts up the middle for the Cougars. Marshall Ingram was the first-team, all-state catcher, who can manage the staff and hit with the best in the business. All-state shortstop Cameron Bailes handles the middle infield, while first-team, all-district selection Brody Kraner patrols the outfield. Northland is going to need some arms to emerge to be THAT team. Peyton Fennelly and Kris Maxwell could be those guys. The Woodlands Christian Academy will challenge for the district title and help get