By Matt Malatesta
No pressure here.
Coach Scott Joseph takes over the nest at Aldine Davis with high expectations. The Falcons have always had some elite talent, while the name "Joseph" is synonymous with Texas High School football.
"You have to live up to the name and that means winning," Joseph laughed. "My dad [Eddie] set the bar and my brother [Gary] made it even higher."
The culture is changing at Davis and it starts at the top. The offseason was tremendously competitive, and the Falcons made some strides in the weight room. It's all about competition with Joseph, in everything the Falcons do.
His father is legendary coach Eddie Joseph, inducted into the Texas High School Coaches Hall of Fame. Same with his brother Gary, who leads the Katy Tigers.
"I'd love to play Katy," he said. "We just don't have the numbers but having our kids play in front of 10,000 fans and see the pageantry that is Katy would be a great learning experience. That type of program is what everyone is striving to be."
Davis reached the postseason a year ago, before being throttled by The Woodlands in the first round. It wasn't competitive and athletic director Dre Thompson made the switch to Joseph en lieu of coach James Showers, who opened the school.
"Coach Showers did a great job and had some success here," Joseph said. "We are here to take it to the next level."
Like the old adage states, "it's not about the X's and O's, but the Jimmies and the Joes". So, what's in the cupboard? Davis was hit hard by graduation but there are some nice returning pieces.
Running back DeMarcus Barlow Jr. is the headliner. He rushed for just under 1,000 yards and also doubled as the quarterback. This year he will be the featured back and will likely see some balls thrown his way out of the backfield.
"We saw him in the spring and the offseason," Joseph said. "He needs to understand his role as a leader and he's been working on that. He's got to do things the right way because everyone else is watching him.
"He nearly gained 1,000 yards playing teams like Westfield, Eisenhower and Spring. That's some pretty tough competition, so we know he can play."
The offensive line is huge but must get more explosive off the ball. Keeymon White is the leader along with ViShean Graham and Alexis Guerrero, who are all at least 6-foot-3 and over 300 pounds.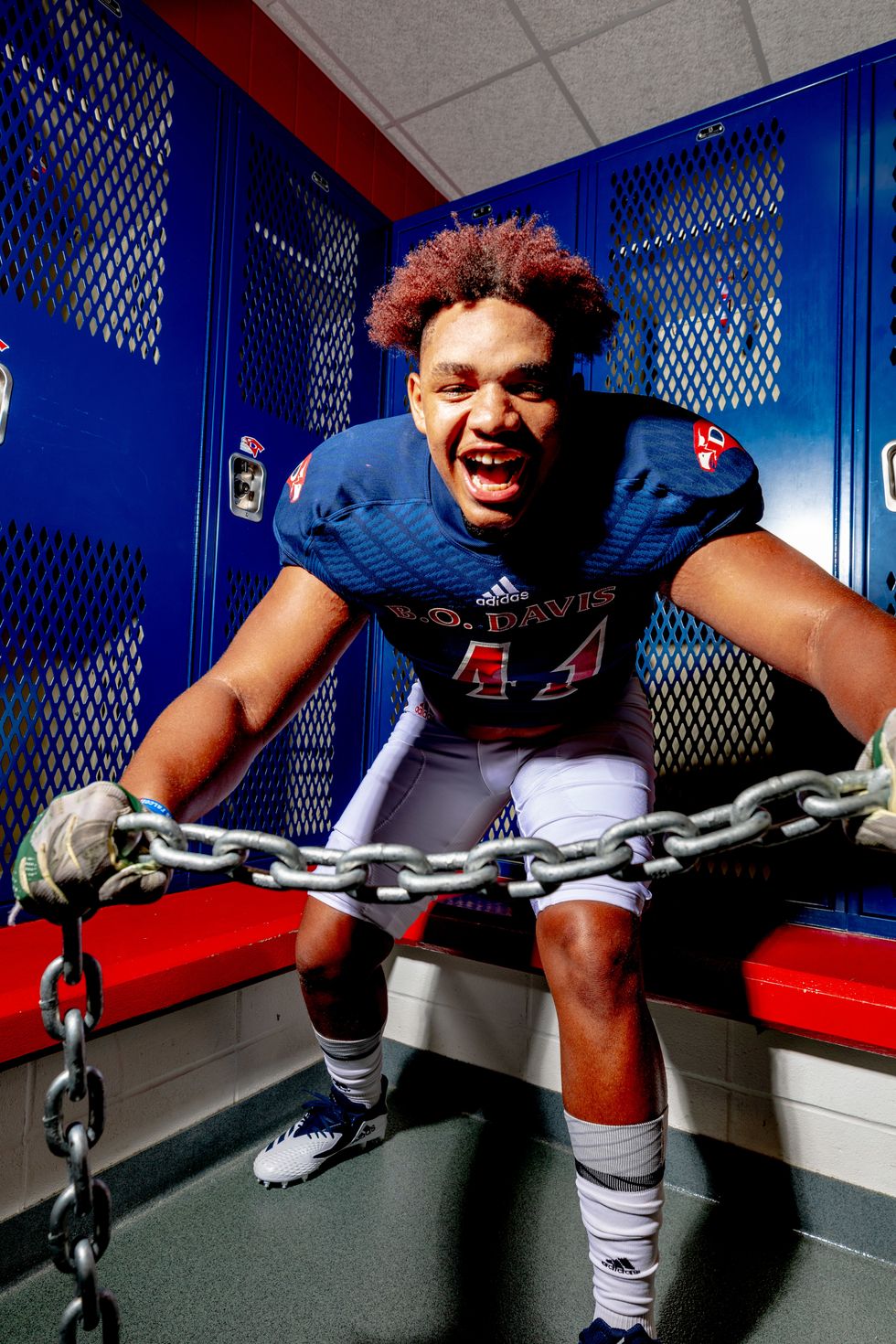 Isaiah ProchiaBy Lily Cox
The surprise could be at quarterback with the arrival of Lufkin move-in Jah'Rell Stevens, who is huge but an unknown so far. He will challenge Tylen Charles for the signal-calling spot. Jacob Sampson, Rodney Johnson and Jayden Clebourn are explosive targets on the outside.
The defense will be tremendously inexperienced but likely more sound in 2019 – it better be. The playmakers will be Tremayne Evans, who will patrol the secondary while Isaiah Prochia will come off the edge at defensive end.
Other defensive players of note include DB Darius Mackey and Jamel Thomas.
The biggest challenge for Joseph this offseason was getting his staff and athletes on the same page.
"There are 10 new coaches here and we had so much to get installed in a short period of time," Joseph said. "To be able to work kids hard, you have to have a relationship with them and that was a challenge early on.
"What we are really excited about is that our seniors are buying into the program. Of course we are measured by winning, but changing the culture at Davis starts with them. I want them to be remembered for starting something big at Aldine Davis."
CLCK TO SEE FULL ALDINE MAGAZINE
VYPE Aldine ISD August 2019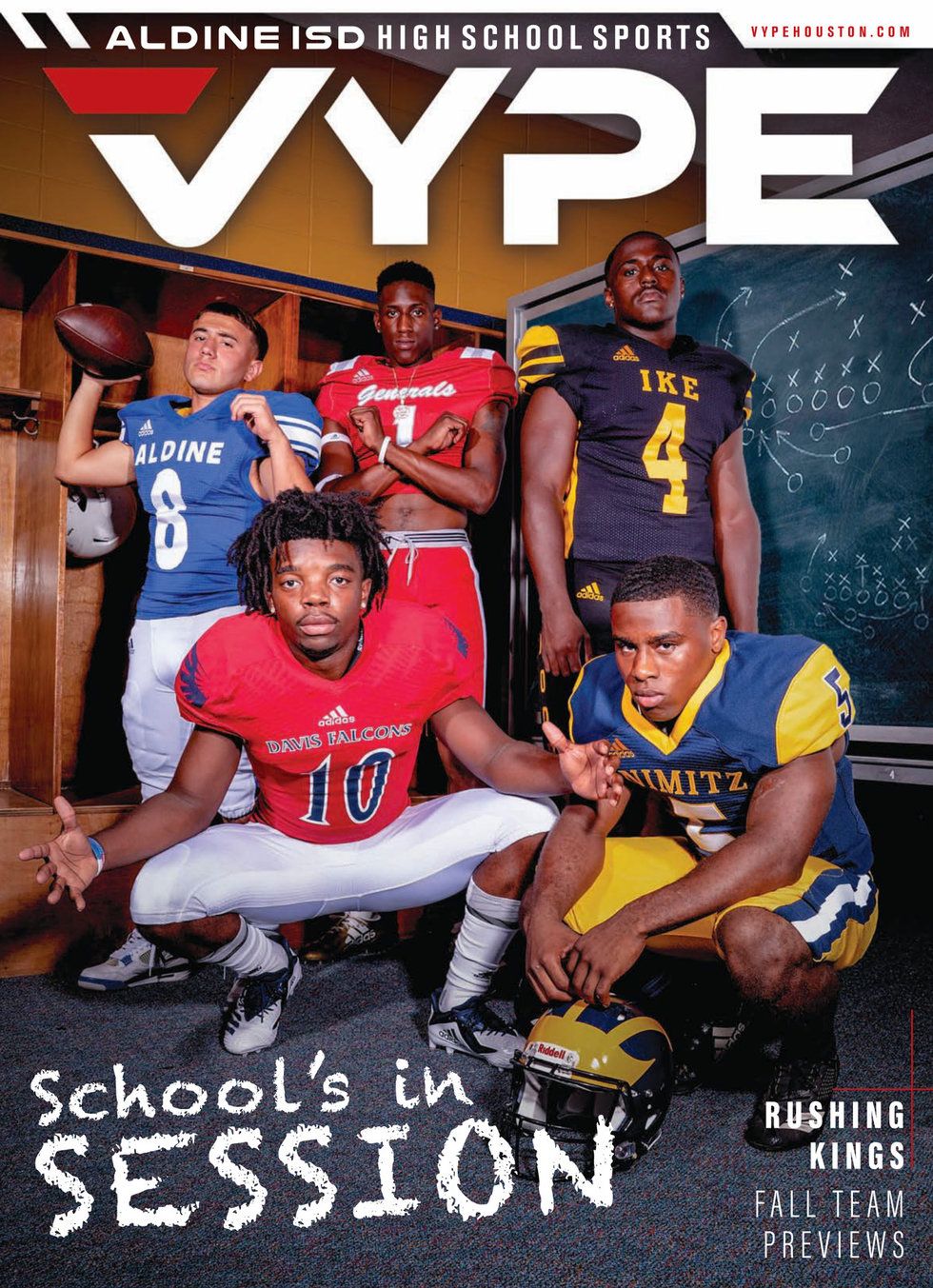 VYPE Aldine ISD August 2019 omagdigital.com
Every time a running back gets the ball and heads towards the line there is that split-second to make a decision.
Cut right, cut left, follow your blocker to the outside or power forward and stay inside.
It really becomes an art when executed with perfect timing. The art of playing running back becomes a player's craft, one that they want to hone to perfection with the right combination of power and speed.
Take for instance Nimitz's Jayvon Davis, Aldine Davis' DeMarcus Barlow Jr. and Eisenhower's Sevan Guidry. All three running backs. All three are coming back for their junior and senior seasons, respectively, and are the leading rushers from District 16-6A a year ago that are returning.
"It was fun competition, that's what I like the most," Guidry said. "It's like 'oh he had 100 yards', that means I need to produce as much. It makes me want to work harder to be at the top."
If there was a "rushing title" to hand out, it would have gone to the shifty sophomore Davis in 2018.
The 5-foot-5 back, busted loose for 1,811 yards, averaged 10.23 yards per carry and scored 22 touchdowns to lead District 16-6A rushers in all three categories.
"Speed and heart, most definitely," Barlow said about Davis. "He's kind of little but he can maneuver through the line and through traffic."
<p> Guidry remembers Davis from their first meeting when he made one cut and was gone for a score. Turn on his film and you'll see a lot of one cut and run away from the defense kind of highlights. </p> <p> Davis, who likes the running style of Marshawn Lynch, has worked on getting stronger and faster for this season. </p> <p> "I'm getting more yards this year," Davis – the reigning District 16-6A Offensive MVP – said. "I don't have a number. I'm just going to go as far as I can." </p> <p> As far as guys coming back, Guidry ranks as the next best back. </p> <p> The now-senior finished with 1,038 yards last season, which ranked fourth in the district behind Aldine's Jacorey Howard and Spring's Clifton McDowell, who both graduated. </p> <p> "It makes me want to work harder," Guidry said. "I want to be at the top. Why not? Why be second, third or fourth? Why not be No. 1?" </p> <p> Turning on Guidry's film, the first play shows off his true brute strength. </p> <p> The first-team, all-district selection is seen running into the middle of the defense and being swallowed by the entire line. What should have just been a one-yard gain turned into a 50-yard, tackle-shedding touchdown run. </p> <p> "He can find the hole and run outside and inside," Barlow said. "He's a power back. He can run through people and is hard to tackle." </p> <p> Guidry's power is shown time and time again, which Davis recognizes calling him "powerful and shifty". </p> <p> When looking back on the stats of a previous season, Guidry said it's fun to compare "who got who." </p> <p> "I like the scoring," Guidry said about why he likes playing running back. "The touchdowns and finishing a run when your team needs that one, two or three yards. I like to do it for the team. I like to satisfy people." </p> <p> Finally, the District 16-6A Newcomer of the Year returns with a clear goal in mind – eclipse the 1,000-yard mark. In the regular season, Barlow finished with 998 yards. </p> <p> "I've been working hard in the offseason," Barlow said. "I'm just going to push harder and get over 1,000." |<br> <br> What makes Barlow unique is that he also played quarterback for Aldine Davis last year. Some of the plays were designed "Wild Falcon" formations. Other instances he threw the ball – passing for 464 yards and a score. </p> <p> "He's versatile," Guidry said. "I like him because he doesn't just play running back. He can produce at other positions. When he does run, he finishes with a force." </p> <p> "I'd call him a power back," Davis added. "That's it. He's powerful." </p> <p> Barlow, who revere's New York Giants running back Saquon Barkley, said he is going to "fight harder" to get to the mark he wants to reach. </p> <p> "I've been working on my speed and my explosiveness," Barlow said. "Being able to break tackles and explode out of the tackle." </p> <p> So, who will be the rushing king in 2019? All three will vie for it. Even though they won't talk about it during the season, at the end of the year there will be bragging rights to claim. </p> <p> "At the end of the year, most definitely," Barlow said with a smile. "It's fun knowing that you were in the top three."<br> </p> <script async="" src="https://pagead2.googlesyndication.com/pagead/js/adsbygoogle.js"></script> <ins class="adsbygoogle" data-ad-client="ca-pub-9787720712654893" data-ad-format="fluid" data-ad-layout="in-article" data-ad-slot="5921136909" style="display:block; text-align:center;"></ins> <script> (adsbygoogle = window.adsbygoogle || []).push({}); </script>