What a year it has been on the offensive side of the ball.
So many points, so many weapons in the Bayou City.
It's so hard to pick just one, but here are the candidates for the 2019 VYPE Offensive Public School Player of the Year.
The Houston Methodist Orthopedics & Sports Medicine Poll: VYPE Houston Offensive Football Player of the Year is live now! Voting will conclude on Sunday, January 5th at 7pm.
Please note that the use of voting software or bots will result in a deletion of votes and a potential DQ from the contest. PLEASE try to keep this fair and fun for all involved!
All athlete polls and their content are only associated and created by VYPE Media and its staff. The content is not created or voted on by any corporate sponsor or marketing partner. Please contact VYPE Media directly if you have any questions, comments, or concerns around our Fan Polls.
Houston Methodist Orthopedics & Sports Medicine is Houston's leading provider of orthopedic services, from sports medicine to joint replacement. Houston Methodist Orthopedics & Sports Medicine offers comprehensive diagnostic, treatment and rehabilitative services with a high standard of excellence for elite athletes and active adults alike. Houston Methodist serves as the official health care provider for the Houston Texans, Houston Astros, Rice Athletics, Houston Livestock Show and Rodeo™, Houston Ballet, Houston Symphony and Houston Grand Opera.
<a href="https://poll.fm/10484289">Houston Methodist Orthopedics & Sports Medicine Poll: VYPE Houston Offensive Football Player of the Year (Poll Closes Sun. 1/5 @ 7pm)</a>
THE FALL SPORTS SEASON IS OVER. SEE WHICH TEAMS AND INDIVIDUALS SHINED IN ALDINE ISD
...
In Aldine ISD, the Fall Sports Season has come to an end, but there were some historic accomplishments to take care of.
MacArthur's football team overcame the doubters, the cross-country team continued its dynasty with another district crown and Aldine Davis volleyball came close to a district championship.
See who were the brightest stars in Aldine ISD this fall.
...
MACARTHUR BREAKS THE DROUGHT!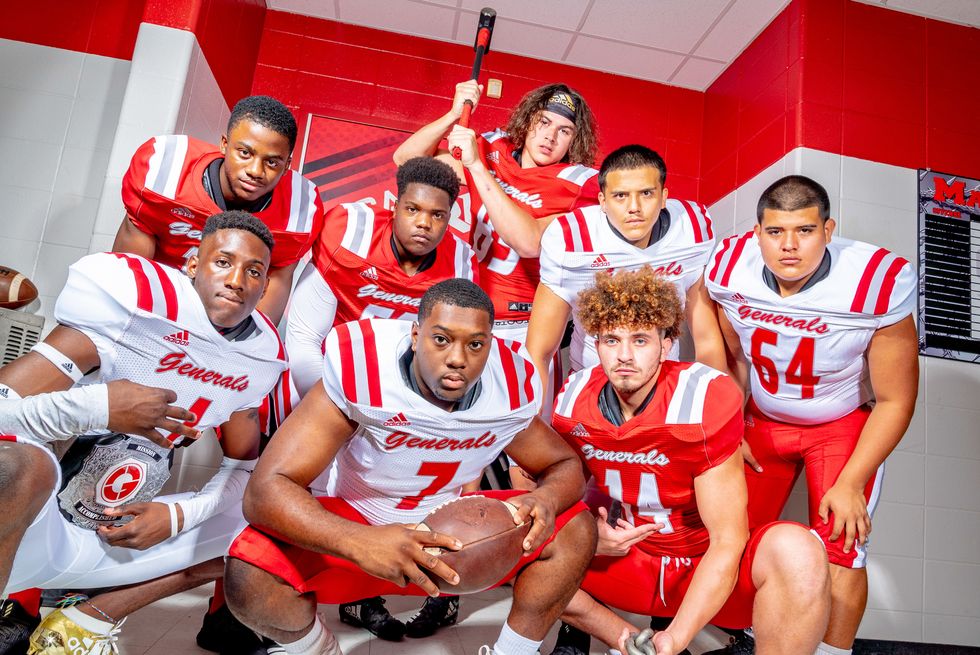 Who would have thought?
After 12 years, the MacArthur Generals represented the neighborhood in the 2019 football postseason. Coach Wayne Crawford's bunch was the only team from Aldine ISD to make the playoffs. At 5-6 overall and 4-3 in district, the Generals' senior class led the way.
"This group of kids came together and worked really hard the past three years," Crawford said."They bought into the program. The team was the most important thing for us."
"This particular class has begun to change the culture, where they are responsible for holding everyone and themselves accountable. They are laying the foundation for the incoming freshmen and those after them."
So, who led the way? Offensively, Rashaun Jackson stepped into the quarterback role, throwing for over 1,200 yards. Senior Darius Gatson churned for over 600 yards, while junior Maurice Woods tallied 350 yards on the ground. Senior Taylor Eaton and Broderick Starnes were the deep threats.
The mouthpiece and vocal leader, however, was Joshua Eaton – the four-star defensive back that helped make everyone in the locker room believe in General Nation.
MacArthur beat Eisenhower, Aldine, Nimitz and Davis to get into the postseason. The dream season came to an end at the hands of Klein Collins, but the dye has been set for the future of the General program.
Eisenhower also finished 4-3 in district play, followed by Davis (2-5), Nimitz (1-6) andAldine (0-7).
Individually, Davis RB Demarcus Barlow rushed for over 1,400 yards for first-year head coach Scott Joseph, while MacArthur's Jackson was Aldine ISD's top passer and Taylor Eaton was the top WR.
...
THE VOLLEYBALL REPORT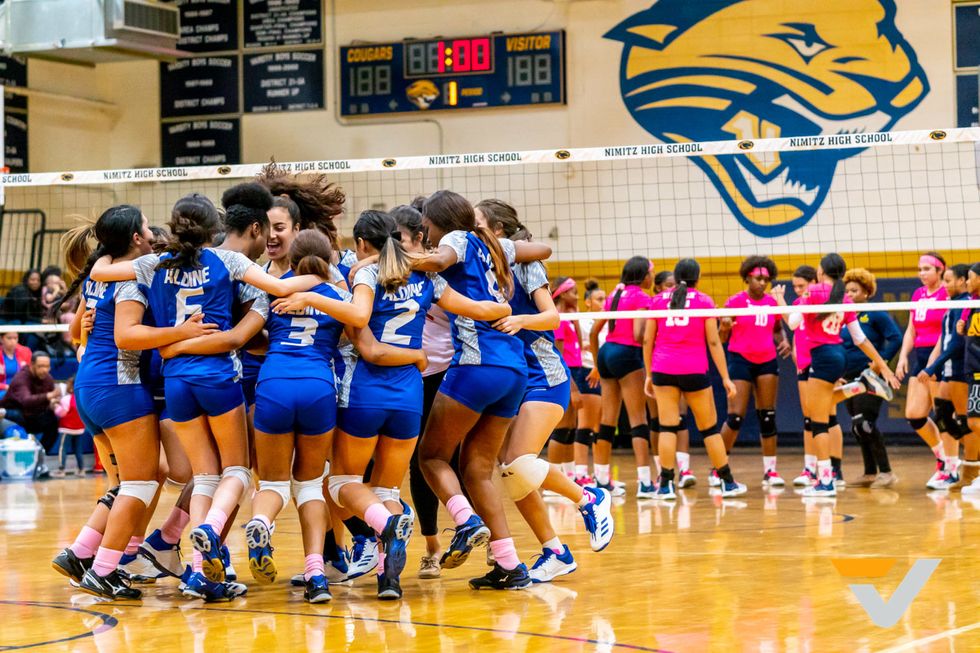 The Davis Falcons carried the banner for Aldine ISD, finishing second only to Spring in District 16-6A.
Coach Sharla Jones led her squad to a 12-2district record before falling to College Park in the first-round of the postseason.
The Falcons did it with the one-two punch of MVP Ashlyn Laymond and Outstanding Hitter Kiyah Felder. First-teamer Hailey Harris had over 250 kills, while running the offense was Travia Harrell, who had nearly 500 assists. The defensive stud was Lyric Caldwell.
Finishing third in district was MacArthur, who earned another playoff berth under the direction of Lynda Eastland. The Lady Gens went 9-5 in conference play before losing to Klein in the first-round.
Big Mac was led by setter Jasmine Rutledge and Aaliya Callaway was the leading kill artist. Jacqueline Gonzalez was all over the court as the libero, while Sarahangel Bazan was the defensive specialist.
First-teamer Jasmine Patton led Nimitz to a 6-8 season, while the District Outstanding Setter Ashanti Robertson led the way for Eisenhower. Rebecca Espinosa headlined the Aldine Mustangs.
DISTRICT 16-6A ALL-DISTRICT AWARDS
MVP
Ashlyn Laymond, Davis
Outstanding Hitter
Kiyah Felder, Davis
Outstanding Setter
Ashanti Robertson, Eisenhower
First-Team
Hailey Harris, Davis
Travia Harrell, Davis
Lyric Caldwell, Davis
Jasmine Rutledge, MacArthur
Jacqueline Gonzalez, MacArthur
Jasmine Patton, Nimitz
Chelsea Lewis, Eisenhower
Second-Team
Makiyah Thomas, Davis
Autumn Hall, Davis
Aaliya Callaway, MacArthur
Sarahangel Bazan, MacArthur
Stephanie Barragan, Nimitz
Tayler King, Eisenhower
Darnee Williams, Eisenhower
Rebecca Espinosa, Aldine
...
BIG MAC BOYS CONTINUE XC DOMINANCE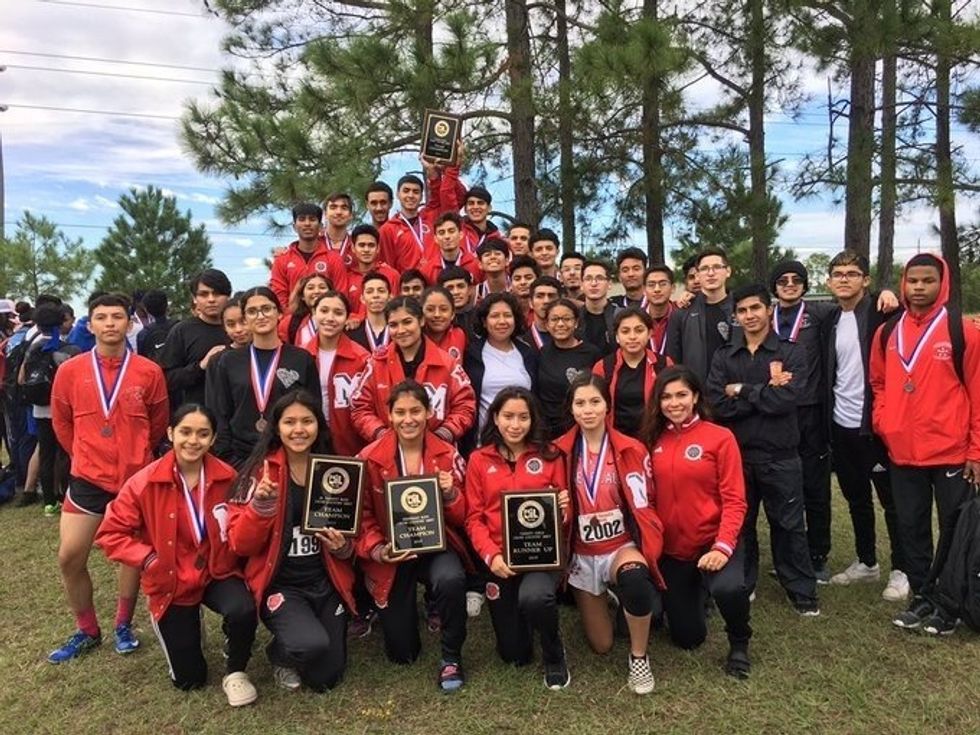 All the MacArthur boys' cross-country team knows is winning.
At the District 16-6A Meet, MacArthur - coached by Xang Chareunsab - brought home its 11th-straight district championship. Eleven!
"It means a lot, especially for the kids who spend their entire summer putting in miles for moments like this," Chareunsab said. "The entire boys' team, Varsity, JV and even the Freshman swept district in dominating fashion. Everyone stepped up and did their part. It was just an amazing way to finish the season and I was so proud to be apart of it. It was a great day. The kids earned that moment."
The General girls' cross-country team, which won the district title last year, finished in second overall right behind Spring. They were led by Samantha Hernandez.
Chareunsab also noted Flora Gutierrez and Ashley Sosa posted personal bests, while freshman Julieta Vega helped secure their
second-place finish.
"I'm really proud of our girls' team," Chareunsab said. "We battled a lot of injuries this year and lost some key runners, but they believed in each other and finished the season strong."