ISAIAH HARRELL KEEPS A BUSY SCHEDULE.
For the past three years, the Aldine Davis senior has starred in football during the fall, basketball during the winter, and then track and field in the spring.
"I just like to compete," Harrell said. "I like to go against other people and do the best I can. Seeing people with the same skill level as me makes me to want to go harder."
This past year, Harrell was named first-team, all-district at receiver and then first-team, all-district in basketball season as well, where he played all five roles on the floor.
In track season, Harrell broke the school record in the high jump, clearing 6-foot-4 at the District 14-6A Championships and advanced to Area. Harrell was also a part of the 4x200-meter relay team that won five-straight track meets at one point this season.
"It's the best senior season I could have asked for."
Did we mention his grades?
Harrell is an all-A student, who is in the Top 10 percent of his graduating class and plans to attend Texas Tech on an academic scholarship in the fall.
"It's about a 70- 30 relationship; 70-percent in the class and 30-percent on the field," Harrell said. "I care about how my grades look because that represents me. I put a lot of effort into my grades to keep all A's and I let my athleticism do the rest on the field."
The true definition of a student-athlete.
CLICK HERE TO VIEW DIGITAL MAGAZINE
THE DAVIS GOLF TEAM HAD A MAGICAL SEASON IN 2021 UNDER THE DIRECTION OF DISTRICT COACH OF THE YEAR ALFONSO HUBBARD.
While they have proven formidable on the course, his student-athletes have excelled in the classroom.
Let's start with the ladies. The trio of Mia Paz, Anum Badat, and Ashley Flores has completely changed the face and expectations of golf in Aldine ISD.
"I got into golf because I was looking for a sport in high school," Paz said. "I thought golf would be the easiest, but I was very wrong."
They have combined on 23 tournament wins in their careers and will play golf at the collegiate level. All three were All-District selections along with Janeth Mendoza. They were also Academic All-District selections and joined by Jazmine Garcia, Stacy Uzowuru, and Jennifer and Sophia Flores. The girls' team's average GPA is a staggering 3.83.
"We've been so successful because of our teamwork," Paz said. "The familiar bonds we've made have also played a huge role. We all want each other to have success and we've gone down this road together to greatness."
On the boys' side, Anderson Branch, Israel Reyes, Jesus Pecina, and Ta'Quorise Dixon earned All-District honors, while Branch, Reyes, Pecina, Peter Ngo, and Andy Buu were All-Academic picks. The teams' overall GPA is over a 3.5.
So, what's going on at Davis?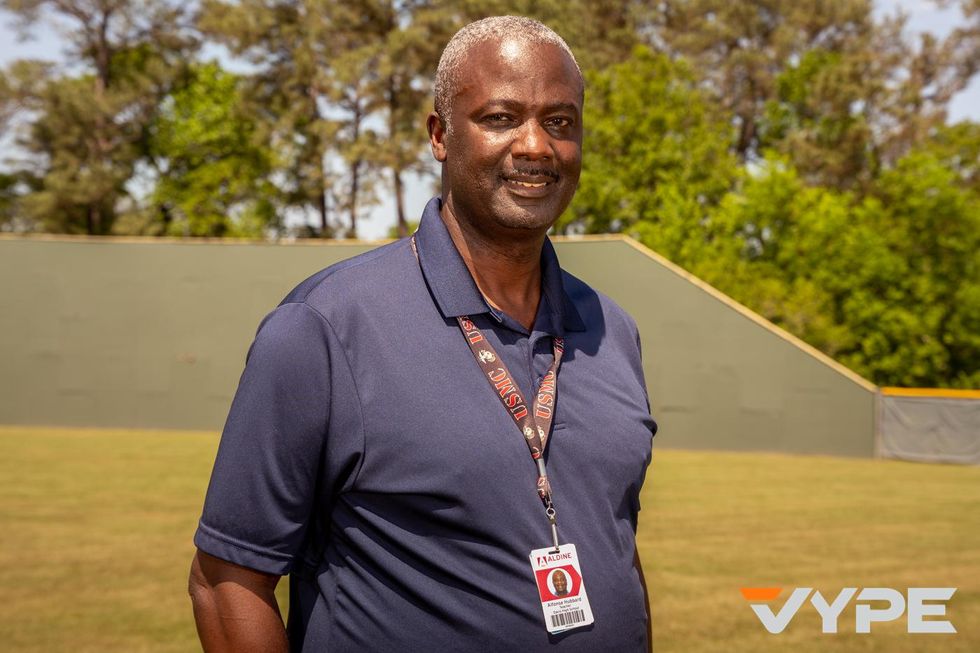 Hubbard runs a tight ship. The New Orleans-native is a marine and came over from private industry (Compaq Computers) to education. The engineering teacher has built his golf program with a sound blueprint.

"My kids don't really have any experience coming in," he said. "It's a blank slate. I've been blessed to partner with First Tee of Greater Houston.
"I'm a believer in their nine core values – honesty, integrity, sportsmanship, respect, confidence, responsibility, perseverance, courtesy, and judgment – which will take them well beyond golf."
The Davis team also learned from Cypresswood golf pro Tirrel Baymon, who really took interest in the Falcons.
"As a team, we have great bones," Hubbard said. "He just gave them the fundamentals and away they went."
Davis boys and girls won district and advanced to the Regional Tournament.
"I've been blessed with great students and I've learned so much more from them, than they have from me," he said. I'd beg to differ.
CLICK HERE TO VIEW DIGITAL MAGAZINE