Jaime Wright // VYPE Media
Welcome to the 2020 volleyball season. What a weird offseason it was for everyone. No club tournaments to travel to, limited training available but what that means is everyone should be fresh for the 2020 campaign.
VYPE previewed 30 public school teams in this year's VYPE Houston Volleyball Preview. Here is one of the Sleepers - the Cypress Creek Cougars.
Cypress Creek Cougars
The Cypress Creek Cougars were the volleyball standard in the city of Houston decades ago. The Cougars won state in 1989, 1993 and 1997 at the highest level of Texas high school volleyball. To put that in perspective, Houston has won only won three volleyball titles at the highest classification since then – The Woodlands (twice) and Cy Falls. Cy Creek is looking to get back to their consistent winning ways. Creek reached the playoffs in 2019 but fell in the first round to Bellaire. The Cougars return three stars who have hopes of advancing further. Lindsey Kriendler (222 kills, 54 blocks) is a first-team middle, while Kiara Thomas (240 kills) was a second-team hitter. Hallie Shepherd (393 digs) will run the defense as an honorable-mention recipient.
This content is sponsored by CertaPro Painters.
Cy-Fair ISD Communications
It has been a busy week around Cy Creek Nation with a lot of accomplishments to talk about.
Start on the football field.
Cy Creek defeated Memorial last week 31-6 to improve to 6-3 overall and and 6-1 in District 17-6A play. But the biggest number of the day was 100. That is what this win marked in the career record of Greg McCaig at Cy Creek.
According to a release, McCaig was presented with two game balls, one signed by faculty, coaches and players and one from the Cypress Creek Silverados Drill Team. McCaig also received a commemorative 100 wins t-shirt, towel and a celebratory cake.
McCaig took over the Cougars in 2002 following short stints at Giddings and Stratford.
"The kids are the only reason why I do all this because I enjoy being around them," McCaig said in a Cy-Fair ISD release. "They changed over the years and our demographics have changed over the years but I've enjoyed having the opportunity to coach all of them. That's why you're there – to spend time with those guys because they do a great job."
Cypress Creek will try and win a share of the District 17-6A Championship this week when they face Cy-Fair, which is looking to complete a perfect regular season slate with a victory.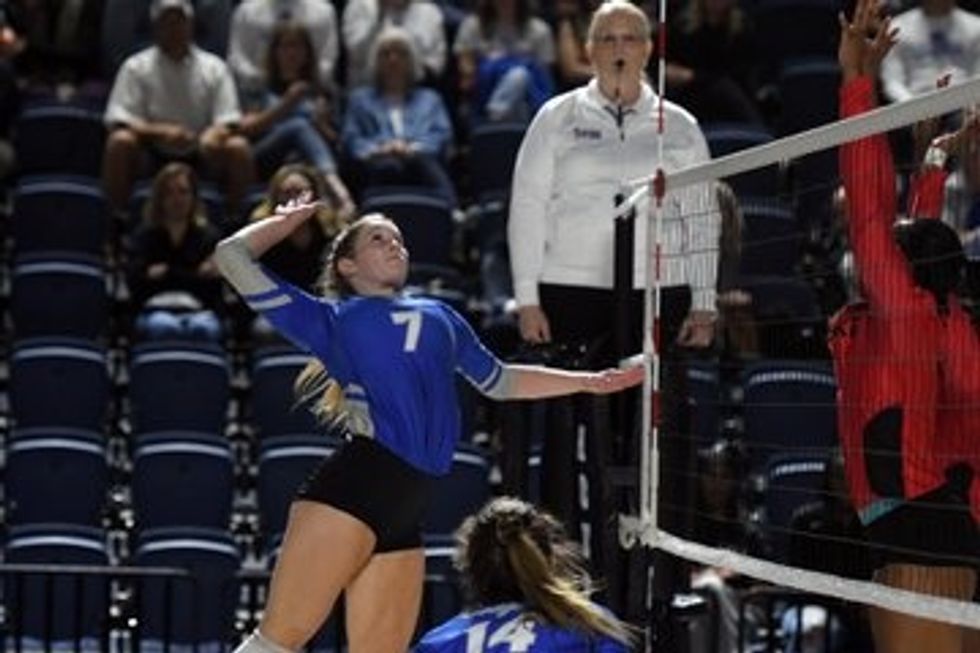 Cy-Fair ISD Communications
Cy Creek Volleyball

The Cy Creek volleyball team finished the regular season at 21-21 overall and 10-6 in district, which pushed them into the playoffs.
Earlier this week, Cy Creek battled Bellaire in the first round only to fall short 3-1, ending their season.
Alex Evans-Brooks finished the year leading Cy Creek in the kills category, posting 331, and also leading the team in aces with 39. Brooks also finished with 362 digs, which was second-best on the team. The senior was followed in the kill column by junior Kiara Thomas, who had 240, and also had 336 digs.
Hallie Shepherd led the Cougars in digs with 393, while Paige Underbrink led the team with 814 assists.
This marked the second-straight season Cy Creek has made the playoffs. The Cougars will return some players off this team for next year, which should make them a contender again for a playoff berth.
T-Mobile at Jones & Cypress North Houston RdJones & Cypress North Houston Rd provides the highest quality in customer service in town. The store at 12113 Jones Rd in Houston has a full range of the current mobile handsets, including the latest iPhone and Samsung devices, as well as a full range of tablets, watches and accessories. Our store has knowledgeable Mobile Experts to help you find the right plan & device that fit your lifestyle and budget. So if you are looking for a change or looking for a new device to help you live a better life, come to T-Mobile on Jones & Cypress North Houston Rd,Jones & Cypress North Houston Rd, and let us help you choose.