The TD Club of Houston has unveiled its 2019 All-Greater Houston Public High School Football Team. The event will be Wednesday, August 21st at the Bayou City Events Center.
For tickets or more information, please go to https://www.touchdownclub.org/
Here are the preseason selections.
OFFENSE
Quarterbacks
J.D. Head, Pearland; Troy Tisdale, Houston Lamar; and Mike Welch, Dickinson
Running Backs
Devon Achane, Marshall; Zach Evans, North Shore; Breyton Gilford, The Woodlands; and R.J. Smith, Tompkins
Offensive Linemen
Joshua Bankhead, College Park; Smart Chibuzo, Hightower; Damieon George, North Shore; Chad Lindberg, Clear Creek; and Akinola Ogunbiyi, Kempner
Tight End
Drake Dabney, Cypress Ranch
Wide Receivers
Logan Kyle, Tomball Memorial; Troy Omeire, FB Austin; and Parker Washington, FB Travis
DEFENSE
Defensive Line
Vernon Broughton, Cypress Ridge; Alec Bryant, Shadow Creek; Chidozie Nwankwo, Foster; Warren Robinson, Marshall; Asyrus Simon, Atascocita; and Bryson Stewart, Ridge Point
Linebackers
Corey Flagg, North Shore; Timothy Lavallais, Heights; Dyllon Peavy, Westfield; and Josh White, Cypress Creek
Defensive Back
Xavion Alford, Shadow Creek; Denzel Blackwell, Strake Jesuit; Joshua Eaton, MacArthur; Braden Hay, Katy Taylor; Dwight McGlothern, Klein Oak; and Bryson Washington, C.E. King
Volleyball season is HERE! VYPE wants the fans to continue voting for their preseason public school players of the year! Here's the list of winners so far!
Libero - Lizzy Young, Kingwood
Setter - Avery Reynolds, Clear Springs
The Houston Methodist Orthopedics & Sports Medicine Poll of the Week – VYPE Houston Preseason Outside Hitter of the Year is now live! Fans will have the chance to vote until Thursday, August 8th, at 7 p.m.
Please note that the use of voting software or bots will result in a deletion of votes and a potential DQ from the contest. PLEASE try to keep this fair and fun for all involved!
All athlete polls and their content are only associated and created by VYPE Media and its staff. The content is not created or voted on by any corporate sponsor or marketing partner. Please contact VYPE Media directly if you have any questions, comments, or concerns around our Fan Polls.
Houston Methodist Orthopedics & Sports Medicine is Houston's leading provider of orthopedic services, from sports medicine to joint replacement. Houston Methodist Orthopedics & Sports Medicine offers comprehensive diagnostic, treatment and rehabilitative services with a high standard of excellence for elite athletes and active adults alike. Houston Methodist serves as the official health care provider for the Houston Texans, Houston Astros, Rice Athletics, Houston Livestock Show and Rodeo™, Houston Ballet, Houston Symphony and Houston Grand Opera.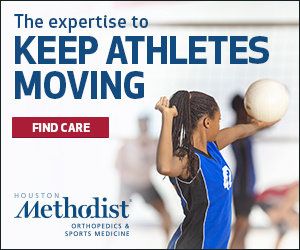 <a href="https://poll.fm/10375372">HOUSTON METHODIST ORTHOPEDICS & SPORTS MEDICINE POLL: VYPE Houston Preseason Public School Outside Hitter of the Year (Closes Thur. 8/8 at 7pm)</a>