Ashton Lux
This past Friday the Bridgeland Bears closed a two-game series against the Cy Falls Eagles with a 4-3 win, reigning supreme in 16-6A Region II. Going into the game the Bears were hot off of a 3-1 win where they continued to show their powerhouse status as they clicked on both offense and defense.
On defense, TCU commit Murphy Brooks threw for five innings with seven strikeouts and only allowed three hits. The offensive side matched the same energy the defense gave as Mississippi State commit Ryan Williams went 2-2 with a double and a walk, Hill College signee Tripp Cromer went 1-2 with an RBI triple.
Game two was a different story. The Bears started off strong as pitcher Justin Kim threw only five pitches in the first inning and continued to throw a strong game until the third inning where an infield error allowed the runner from third to be brought in putting the Eagles up 1-0. The Eagles put up a battle on the defensive end keeping the Bears scoreless until the fourth inning when North Central Texas signee Josh Phillips hit a solo home-run to right field to tie it up. The Bears remained scoreless until the bottom of the seventh where they went on a much-needed rally after being down 3-1. The rally began with a single from pinch hitter, Nico Fernandez. The momentum swayed in the Bears' favor as the Eagles put in Closer Allen Bocanegra to relieve Starting pitcher Elian Balmaceda. A&M commit Conner Weigman took advantage of this and hit a sacrifice fly to right field to bring the runner in from third and Mississippi State commit Ryan Williams also hit a sacrifice fly to bring another runner in to tie the game. Bocanegra continued to walk another runner and with two outs left, a runner on third a wild pitch brought in Freshman pinch runner Miles Syptak to walk it off. After the game Head Coach, Paul Orlando reflected on the wild but well-deserved district championship for the Bears.
"It feels great, I am proud of the kids, I am proud of the way they battled all year. Things do not go your way sometimes, you can't control the weather and how ironic is this. In the fall on the back of shirts, the motto was "Embrace the Storm", to be honest, there wasn't a more fitting end to this than a district championship with the storms all around us," Coach Orlando said.
With the regular season all wrapped up the Bears prepare to take on the Klein Cain Hurricanes in a three-game series in round one of the Bi-District Playoffs beginning on May 7 at 7:00 PM at Cy Woods.
He led the Bears to new heights on the football field as none-other than a… dual-threat quarterback. He can run and throw with the best in the State of Texas, passing for over 3,800 yards and running for nearly 600 yards.
Weigman led Bridgeland to a 12-1 season, a district title, and a Regional Semi appearance.
But, could he be better in baseball?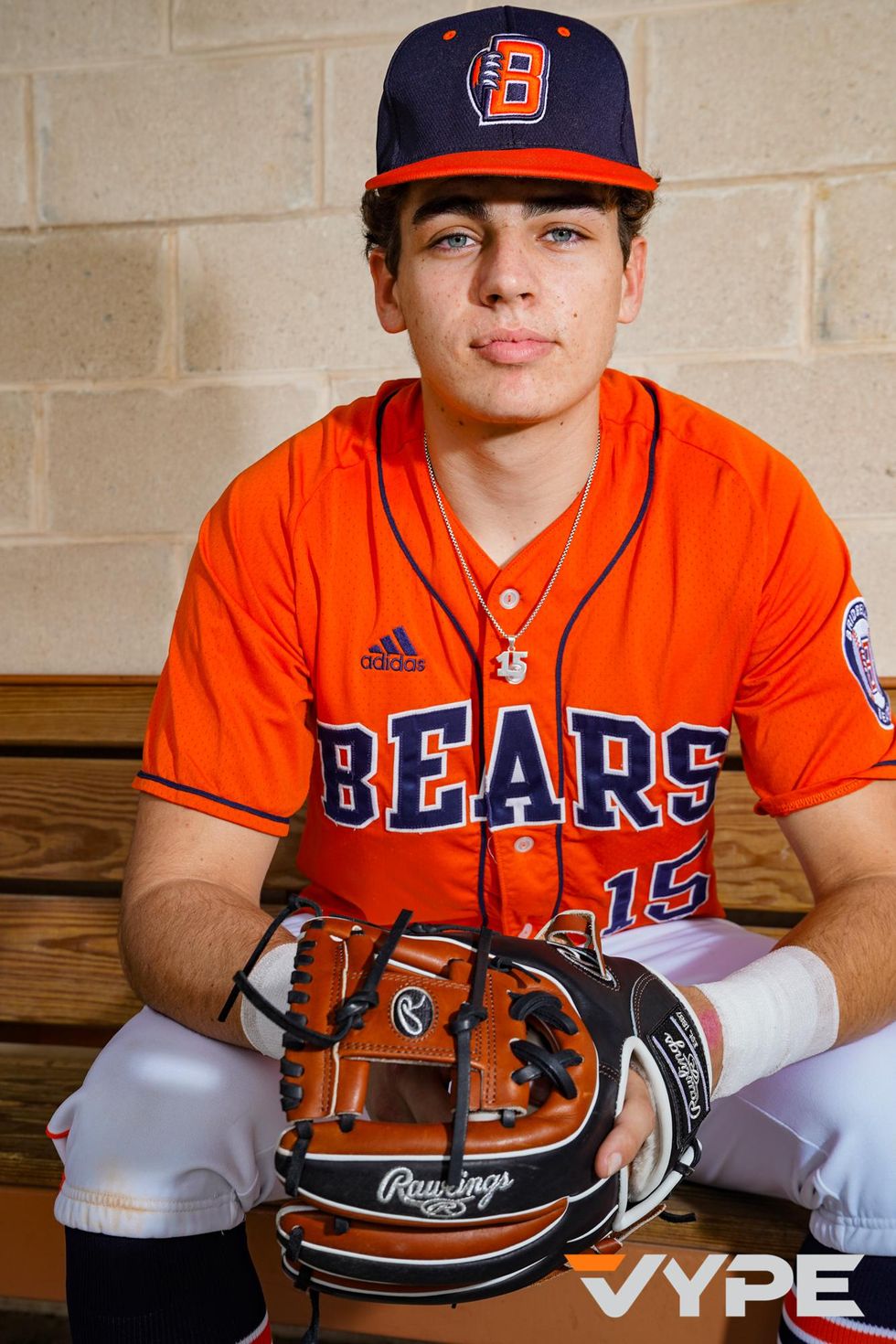 The big, athletic shortstop is rangy in the field and can mash at the plate. He has a live arm and can motor around the basepaths, making him a potential future Major League Draft pick next summer.

"I feel like I can go out and compete with anyone on any field of play," he said. "I feel like I'm the best on the field at any given time. You have to be like that at this level. You aren't going to have much success if you don't have that mindset."
Weigman has been laser-focused from a young age, knowing what he wanted.
"Since I was like four-years-old, I wanted to play baseball and football at the next level," he laughed. "Now, it's a reality and all I'm focused on."
The offers started pouring in early this school year. Virginia Tech was first to offer a year ago, followed by Tulsa, then Arkansas, Baylor, SMU, and UH in the Spring. When his junior football season began to erupt, it was Oklahoma, TCU, Florida, Auburn, Texas and then Texas A&M.
"Seeing guys like Kyler Murray or Pat Mahomes play both sports gives me confidence," he said. "But I want to be the first Conner Weigman. I wouldn't have committed anywhere I couldn't play both sports." Weigman committed to Texas A&M in early February and will play for coach Jimbo Fisher on Saturdays in the fall and coach Rob Childress in the spring. That's of course if he doesn't sign to play pro baseball next summer.
"People ask me, which is my first love?" he said. "It's really whatever season it is. I just never stop working. I love football, leading a team, and running and throwing. In baseball, I love the focus you have to have pitch to pitch."
CLICK HERE TO PURCHASE 2021 VYPE BASEBALL/SOFTBALL MAGAZINE
CLICK HERE TO PURCHASE 2021 VYPE BASEBALL/SOFTBALL PHOTOS