Who is getting in?
The Goose Creek CISD have a few squads with postseason hopes at entering late October.
The Goose Creek Memorial football team has had a bounce-back season under the direction of first-year coach Shannon Carter.
The Pats are 3-4 overall and 2-2 in District 9-5A-DI. They face Galena Park this week and need a win. Then they face New Caney followed by Kingwood Park, who they are currently tied with. Port Arthur Memorial is getting in with the No. 3 seed, leaving the GC-M and K-Park as the play-in game. Brice Lane is the leading rusher with nearly 400 yards, while Emerson Haywood has thrown for 881 yards. Jaylon Thompson is the leading WR with 300 yards.
After starting 3-0, Lee has gone 1-3 in district play. Ijeana Wooley has done with part with over 1,600 yards of offense from the QB spot. Keke Davis has rushed for 450 yards and WR Elijah Partida has 414 yards in receiving.
The Ganders have to sweep – Dayton, Vidor and Crosby – which is tough sledding. That would make them 4-3 in District 12-5A-DII.
Baytown Sterling is 1-6 on the season and winless in district play. The defense is ranked No. 2 in the district. The offense is led by Jacob Landry, who has thrown for 750 yards. EJ Hawkins is the favorite target with 262 yards.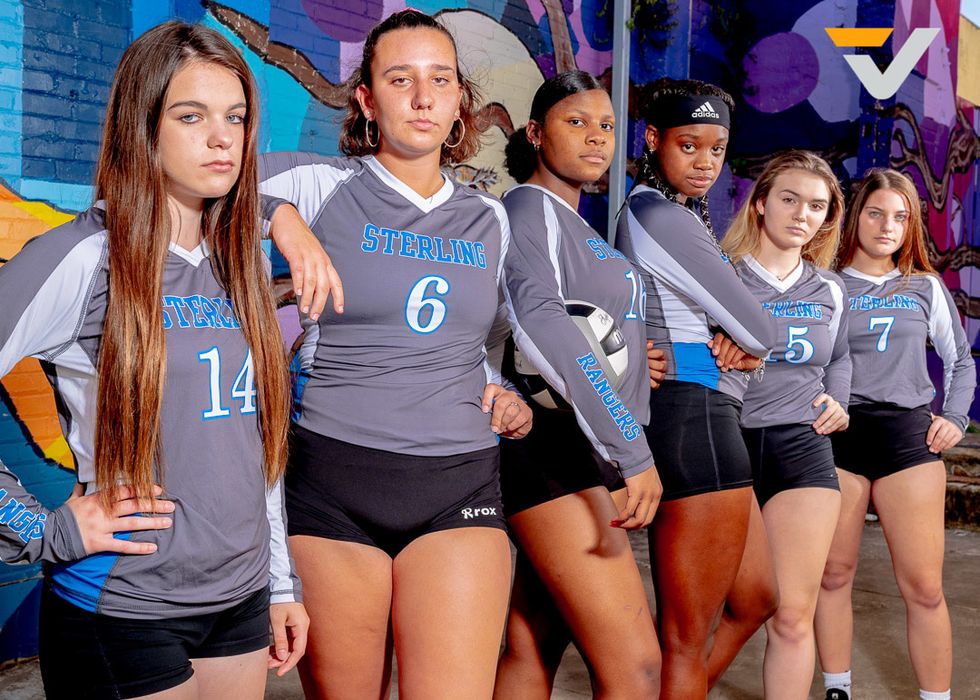 Baytown Sterling seems to be a lock for the playoffs. By Bradley Collier
On the volleyball beat, a pair of GCCISD teams have a shot at the postseason.

Under the direction of coach Candace Southall, Baytown Sterling is tied for third in District 21-6A with two games to play. It seems as if the Rangers will reach the postseason.
The Goose Creek Memorial Patriots are fighting for their lives in District 22-5A. They must beat Galveston Ball. After that is undefeated Friendswood. They are tied with Crosby, who has Santa Fe and Baytown Lee. If both go 1-1 in last two games, they tie at 7-7. Both teams split their district series and both beat each other 3-1 in their wins.
Baytown Lee is currently 2-10 in district play.
By Bradley Collier
Shhhhh. Don't tell anyone, but there is a hoop star emerging on the East Side of Houston.
The 6-foot-4 post from Baytown Sterling recently committed to the University of Texas, but is still somewhat of an unknown to area hoop fans. The Rangers have not been successful over the past several seasons, leading to a new head coach in Monique Everett. That could shine a brighter light on the elite post.
"She didn't play her freshman year and no AAU the summer after," coach Monique Everett said. "Her weight loss, determination and drive have led her to opportunities she hadn't thought of before. The talent was always there, she just needed to commit to tapping into it.
"I really started playing basketball at nine-years-old," she said. "My dad played. I started playing for fun, but as I got better I started to think that I could actually make a career out of this."
Everett has several strengths, but continues to hone her game in the offseason leading up to her senior year.
"I'm really working on my speed," she said. "I want to be able to get up and down the court like guards do. It takes a lot of work. Of course, I'm always working on my post moves."
Johnson is thrilled with her commitment to the University of Texas and has high expectations for her college future.
"Texas feels like home," she said. "The intensity of practices looks like the work we put in with my AAU team. I'm really excited to get to work up there."
For now, Johnson hopes to get her team into the postseason coming out of a pretty tough district. She needs to take more of a leadership role and dominate in the paint. If so, the sky is the limit for her, and the Rangers.
"She's a leader. She's positive and she encourages her team," Everett said. "If the team looks to her and she looks to them, we will make the playoffs. It's about trust."