The goal is very simple: Recognize the best public high school volleyball players in the state of Texas.
As I've said many times before, Texas has the best collection of volleyball players in the United States (if not the world).
Consider there are approximately 1,200 public high school volleyball teams. If you figure an average of nine players per team (and that's a conservative number), that's about 11,000 players to consider for our 2nd Annual VYPE All-State Awards.
But here they are – we believe these are the best in a state full of incredible volleyball talent.
Courtesy CrossTimbersGazette.com
MANSFIELD - At one point in the second half, if felt inevitable. It felt like the surprise upset of the second round was about to take place at Vernon Newsom Stadium as Stephenville erased a 35-21 halftime deficit to make it 42-42 heading into the fourth quarter.
But just like the duo had started the game, quarterback Bo Hogeboom and wide receiver Cole Kirkpatrick put the game on their collective shoulders and made sure no upset was to be had.
When it mattered the most, Argyle went to its bread (Hogeboom) and butter (Kirkpatrick) for three, fourth quarter touchdowns. When it was all said and done, Argyle escaped the Area Round with a 63-49 win after it forced Stephenville into a turnover on downs and an interception on its final two drives.
For the night, Hogeboom completed 26 of his 38 passes for 452 yards and eight touchdowns, connecting with Kirkpatrick 11 times for 286 yards and five scores.
Argyle finished with 635 yards of offense - the third highest output of the season and the seventh time it has scored 62 or more points in a game.
In Round 2 between these two, it was a stark contrast in final numbers as Stephenville finished with 459 yards on the night after only getting 199 yards in the first meeting.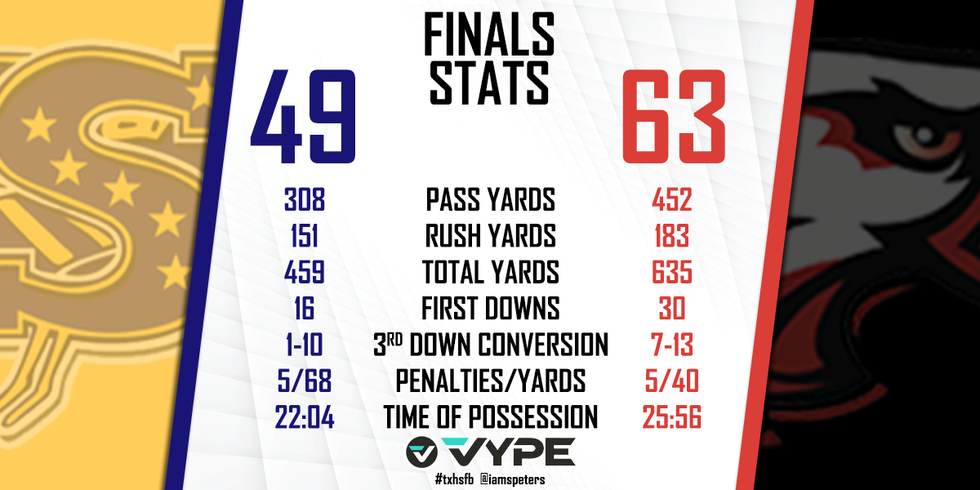 Courtesy @iamspeters
Argyle will have to shore up its defense, though, if it wants to continue as undefeated state champs with a tough matchup in the next round either against either a Alvarado or Brownwood.