THE DAVIS GOLF TEAM HAD A MAGICAL SEASON IN 2021 UNDER THE DIRECTION OF DISTRICT COACH OF THE YEAR ALFONSO HUBBARD.
While they have proven formidable on the course, his student-athletes have excelled in the classroom.
Let's start with the ladies. The trio of Mia Paz, Anum Badat, and Ashley Flores has completely changed the face and expectations of golf in Aldine ISD.
"I got into golf because I was looking for a sport in high school," Paz said. "I thought golf would be the easiest, but I was very wrong."
They have combined on 23 tournament wins in their careers and will play golf at the collegiate level. All three were All-District selections along with Janeth Mendoza. They were also Academic All-District selections and joined by Jazmine Garcia, Stacy Uzowuru, and Jennifer and Sophia Flores. The girls' team's average GPA is a staggering 3.83.
"We've been so successful because of our teamwork," Paz said. "The familiar bonds we've made have also played a huge role. We all want each other to have success and we've gone down this road together to greatness."
On the boys' side, Anderson Branch, Israel Reyes, Jesus Pecina, and Ta'Quorise Dixon earned All-District honors, while Branch, Reyes, Pecina, Peter Ngo, and Andy Buu were All-Academic picks. The teams' overall GPA is over a 3.5.
So, what's going on at Davis?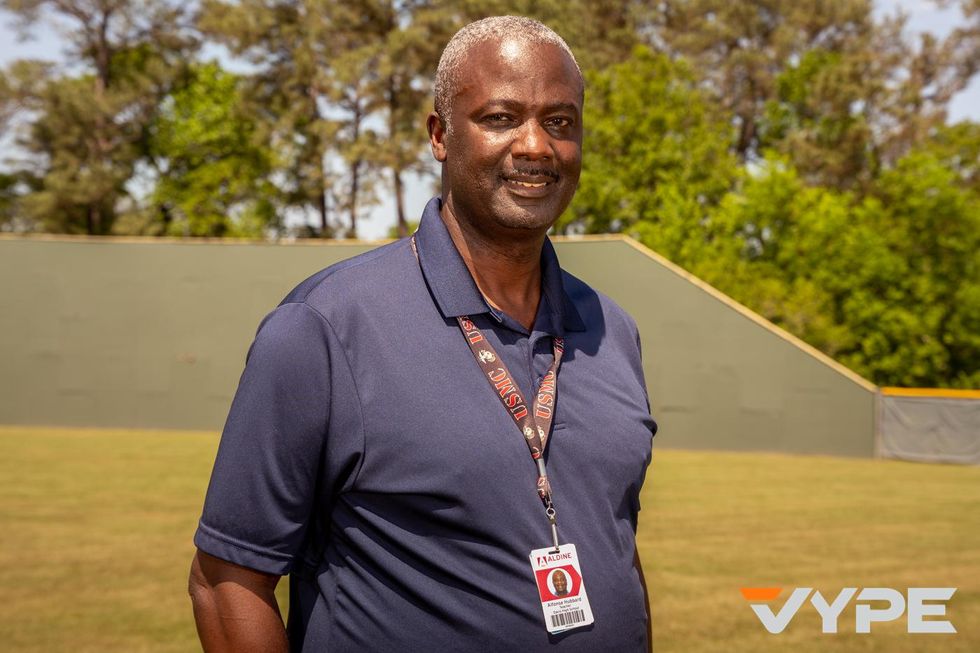 Hubbard runs a tight ship. The New Orleans-native is a marine and came over from private industry (Compaq Computers) to education. The engineering teacher has built his golf program with a sound blueprint.

"My kids don't really have any experience coming in," he said. "It's a blank slate. I've been blessed to partner with First Tee of Greater Houston.
"I'm a believer in their nine core values – honesty, integrity, sportsmanship, respect, confidence, responsibility, perseverance, courtesy, and judgment – which will take them well beyond golf."
The Davis team also learned from Cypresswood golf pro Tirrel Baymon, who really took interest in the Falcons.
"As a team, we have great bones," Hubbard said. "He just gave them the fundamentals and away they went."
Davis boys and girls won district and advanced to the Regional Tournament.
"I've been blessed with great students and I've learned so much more from them, than they have from me," he said. I'd beg to differ.
CLICK HERE TO VIEW DIGITAL MAGAZINE
JAIYA COVINGTON JUST HAD THAT BREAKOUT SEASON.
Every coach knows when it happens, and colleges quickly take notice. The Eisenhower junior is two years removed from an injury-plagued freshman campaign. Her sophomore year was a COVID-19-shortened season. Covington was healthy and ready for 2021.
It is very apparent that she was indeed ready to run.
Entering the Regional Meet, she had placed first in every single 100-meter and 300-meter hurdle event she had ran in 2021. Her personal best in the 100 was 13.19 from the season opener and 43.69 in the 300 at the district championships.
She has also excelled in the high jump, clearing 5-feet-6 inches at the District 13-14 Area Meet to punch her ticket to the Regional Meet in three events – something she has never done.
"This season has been very challenging, but I've been able to work through it because I know it's going to pay off in the end," Covington said.
Covington advanced to the 2021 UIL State Track meet in the 100-meter hurdles, finishing second at the Regional Meet with a time of 13.79.
In May, junior brought home the bronze in Austin, with a time of 13.28, and is set for a big senior season.
"It was my first time at state and running in front of a big crowd on a stage like this," Covington said after her race. "I feel awesome. I just worried about myself, my time, and nobody else and making the podium."
Covington reaching state is something she has worked for the last three years and now has accomplished.
"Getting to state means a lot because the last two years I didn't get to go because the first year I got injured and last year COVID-19 happened," she said. "I'm working really hard to try and get to where I need to be."
The hard work is not only paying off on the track with a plethora of gold medals now on her wall at home but also from colleges.
A stack of letters arrives daily in the recruitment for Covington – who owned the No. 7 overall time in the country in the 100-meter hurdles and No. 1 in Texas at the end of April. Her anticipation of a college career grows with it.
"It's very exciting, because I can't wait until that day comes where I make a decision and decide where I want to go," Covington said. "So, it's very surprising and different for me because it's something new."
Once her junior season is complete, Covington said she does plan to make some college trips this summer once the NCAA allows on-campus visiting again.
So, how did Covington get so good at clearing hurdles at a high speed?
Well, it all started back to when she was a child and started in gymnastics before ever stepping onto the track. Gymnastics laid the foundation for the sport that could earn her a collegiate scholarship.
"Very much, the flexibility has helped me do what I have to do," she said.
CLICK HERE TO VIEW DIGITAL MAGAZINE