Sky is the limit for gritty, reloading Spartans
Aug 24, 2022
VYPE Media
KATY—Tuesday's non-district volleyball game between Seven Lakes and George Ranch did not just showcase two of VYPE's Top 20 teams in Class 6A, it matched up two programs with substantial tradition who are in reloading phases.

The Spartans, with two state tournament appearances since 2017 and a state title in 2020, are a young, raw club playing without a Batenhorst on their roster for the first time since 2013, as Danielle (Gonzaga), Ally (Nebraska) and Casey (SMU) are now frustrating collegiate defenses. George Ranch graduated four premier DI talents in Allie Sczech (Baylor), Logan Lednicky (Texas A&M), Avery Shimaitis (Pepperdine) and Dylan Hoskins (Texas Tech), who led the Longhorns to 116 wins over the last four years.
Seven Lakes got the best of George Ranch at home tonight, winning 3-1 (25-18, 20-25, 25-15, 26-24) to improve to 10-6 and earn an impressive win over a 14-7 Longhorns team that had won 10 of its previous 11 games.
"The process is always the same, but we take it a season at a time," Seven Lakes coach Amy Cataline said. "Right now, we're focusing on growth in preseason and when district comes, our focus will be on winning it. We have big goals but we're still figuring out some of the pieces so that when we're tested, we're confident because we've done it before."
Juniors Temi Sam-Olibale (13 kills), Leanna Beaty (12 kills) and Sameena Burns (11 kills) paced Seven Lakes' attack.
Sam-Olibale is a returner. Beaty is a newcomer as a middle. Burns was a freshman reserve on the Spartans' state title team two years ago but is making the switch from middle to outside hitter.
"It's definitely a mental battle," said Burns, who focused on cleaning up her passing and out-of-system play this summer to get ready for her new role. "Some games, you feel your performance should be how it was as a middle. At the same time, I get stuck and trapped because I still don't know what to do in certain situations, because I've never been in them. It's about being more kind to myself and realizing this is a new position and that sometimes it's not going to be perfect."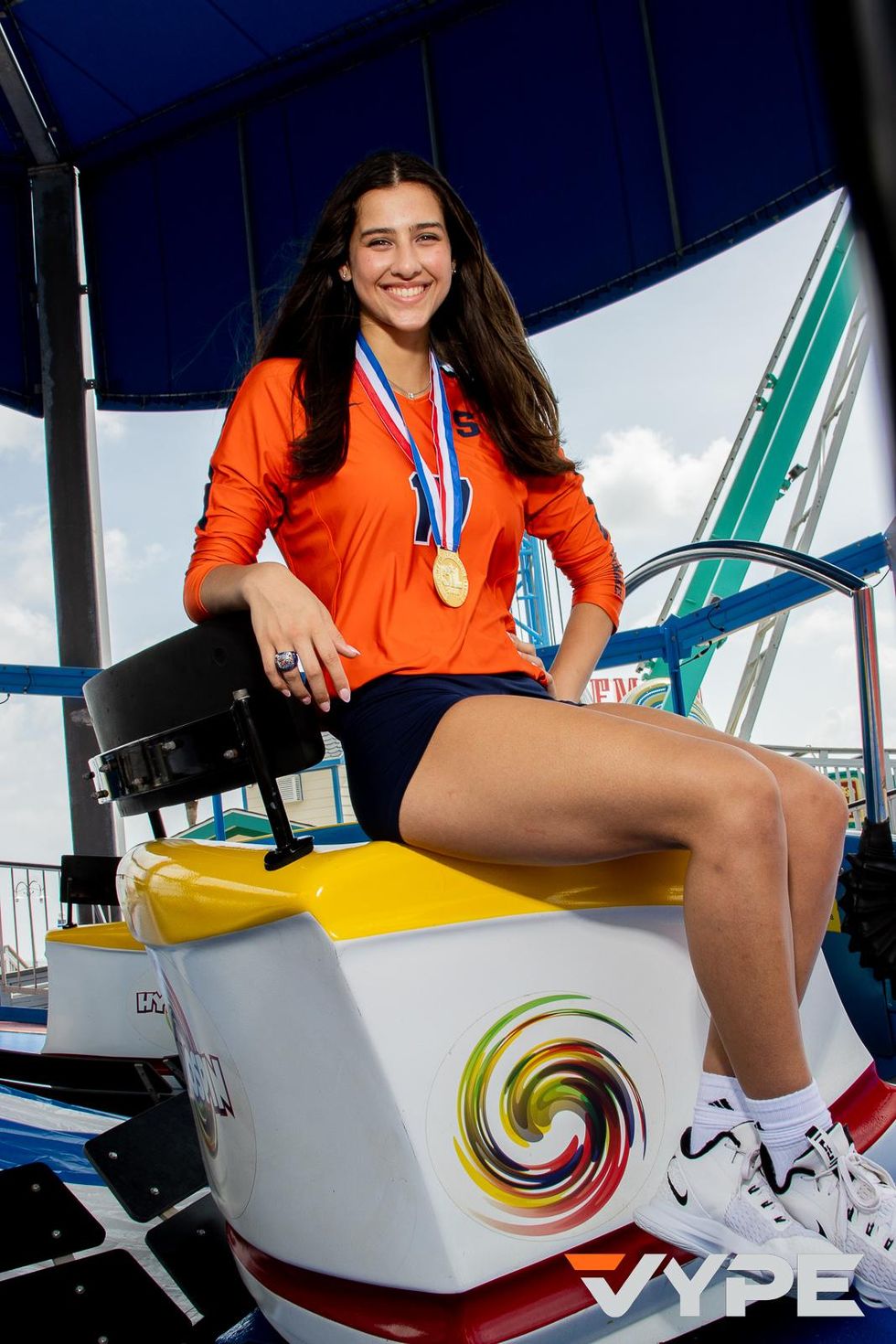 Seven Lakes junior Sameena Burns.VYPE Media
Still, Burns is averaging 2.5 kills per set, second on the team behind Sam-Olibale. Her .242 hit percentage Tuesday was her third highest of the season.
Burns said she is becoming more confident and loves that she can affect the game in more ways as an outside hitter.
"She has a heavy hand," Cataline said of Burns' fast, violent swings. "She just needs to work on the timing. As a middle, she's a speed attacker, so oftentimes now she has to wait, especially if we're out of system. It's been a challenge for her to find her timing, but she's grown so much."
Cataline also raved about Beaty's shot selection and placement. It has been an emphasis of Cataline's, and Beaty heeded her coach's words.
\u201cLeanna Beaty puts this one away. @7LakesVBnews takes the fourth set 26-24 in a thriller to beat George Ranch 3-1. Spartans go to 10-6. Longhorns drop to 14-7. #txhsvb @SLHSABC @KatyISDAthletic\u201d

— Dennis Silva II (@Dennis Silva II) 1661303292
Beaty had a .500 hit percentage against George Ranch and only one error in 22 attacks, methodically choosing at what and when to swing.
The Spartans' heart and soul, though, resides in senior libero Grace Lanier.
Seven Lakes sees itself as a scrappy, gritty team that fights, and those attributes define the relentless Lanier perfectly. Lanier had 25 digs, four assists and two aces, and thrilled spectators with her persistent pursuit of balls.
"Definitely, go for everything," Lanier said. "On that 900th time that you don't think you'll get to a ball, stick a limb out, do something. It'll be there. Our mentality is just go and get it.
"If you don't go, you'll never know."
On a team of mostly juniors and sophomores, Lanier, a sophomore when Seven Lakes won state two years ago, has embraced the leadership role.
\u201c.@7LakesVBnews senior Grace Lanier (@GAL888) talks about the Spartans\u2019 3-1 win over George Ranch tonight. Lanier was exceptional in the win, with clutch digs, assists and aces in boosting the Spartans to 10-6. #txhsvb @KatyISDAthletic @SLHSABC @SpartanCrazies_ @GHVCA\u201d

— VYPE Houston (@VYPE Houston) 1661305673
"It's about patience," she said. "Everyone's got a special gift they can bring to the team, and it's my job to help bring it out in each and every one of them. I came to summer clinics, skill sessions and weightlifting, just trying to create a connection with each and every one of the girls. That's what I remember from my sophomore year, when Ally and our other great players made an effort to have an impact on you personally.
"The sky's the limit when we're all playing for each other."
Cataline said Lanier's energy and "go-for-it" attitude is contagious. While the Spartans are trying to find themselves still, particularly in the attack, there is no question what they want to be about and what they are.
"We are 100 percent your 'out' team," Burns said. "We outwork people, we outplay people. This team loves each other and fights. The amount of grit this team has makes it really special."
True