VYPE Sunday Feature: A Mother-Daughter Love of Volleyball
Aug 21, 2022
HOUSTON - For the past 18 years after every Rice volleyball home game, Genny Volpe would join her team for Rice's Honor – the playing of the school fight song.

In her early coaching days at Rice, when the celebration ensued after the win, a little boy and girl raced down the stands to join in. It was Genny's son John and daughter Alice.
As Alice made her way to mom onto the court, Genny picked her up and placed her on her hip during one of the Rice Owls' time-honored traditions.
"When they would run to the court and want to celebrate the win with me, that stands out to me a lot," said Volpe, in her 19th year leading Rice volleyball. "Just sharing that with them [was special]."
Fast forward to last November.
Genny, this time, was sitting in the stands at Lufkin High School. It was the Region II-6A Final between Bridgeland and The Woodlands. The winner would go to State. Luckily for Genny, the game fell on one of Rice's bye weeks.
Alice, the starting libero for Bridgeland, was who she was there to watch. In the end, Bridgeland won the match 3-2 (23-25, 25-20, 25-23, 16-25, 15-13) and punched its ticket to the UIL State Tournament for the first time.
During the celebration, Alice raced up into the stands and once again jumped into her mom's arms. This time, as a sophomore starter for Bridgeland volleyball.
"That moment felt so unreal," Alice said. "And being able to celebrate it with her made it ten times more enjoyable."
The Path to Volleyball
When Alice was growing up, volleyball, ironically, was the last sport that she got into.
Alice started with gymnastics, then soccer; the latter, a sport she liked a lot. Then softball, basketball and volleyball came into play in the seventh grade.
"I tried really hard not to push volleyball on her when she was little, because volleyball is a little tough to play when you're that young," Genny said. "I didn't want her to try until it was a little more organized.
"I thought she was going to end up on the soccer field or softball. She really enjoyed soccer. She doubled up soccer and volleyball when she was 12 and 13. But then she decided to go all volleyball when she was 14."
It was at that age that Alice fell in love with the sport.
"My love for volleyball began when I was 12," Alice said. "After my first club tournament, I knew volleyball was my sport."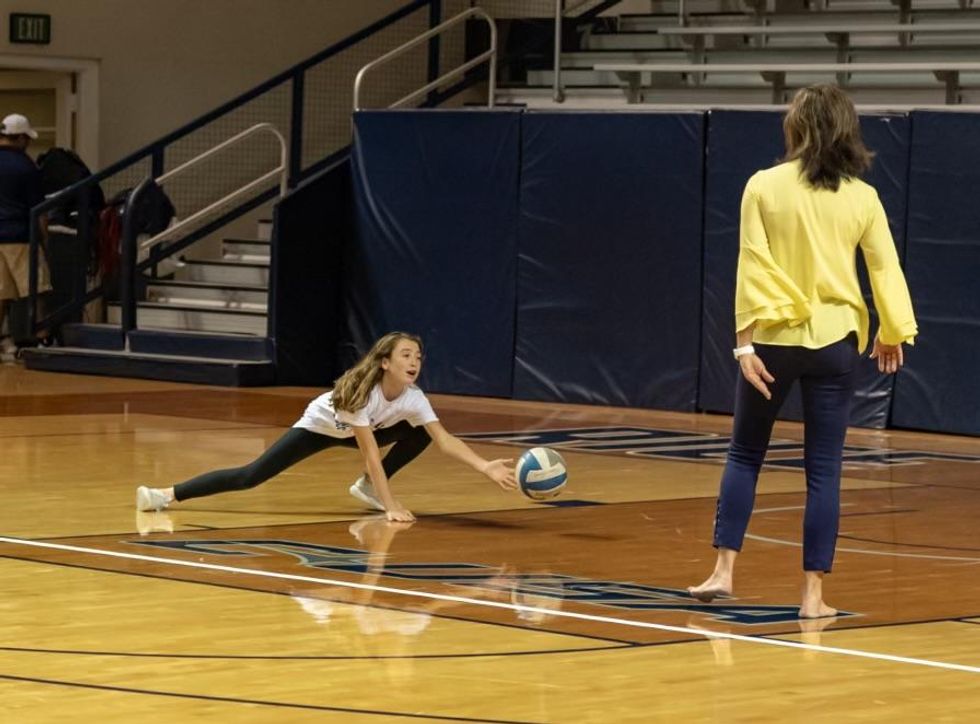 Love for the Game
When Alice got into volleyball and became fully invested, there was a sense of excitement by Genny because the sport is her passion.
It is Alice's passion as well.
Every time Alice gets home from either a club or high school match, the Bridgeland standout is already pulling out the iPad to see if the video of the game is up for her to analyze. She is a student of the game.
Her and mom love to sit together and watch film.
"Honestly, it's a daily occurrence, and I can't imagine a day without talking volleyball with my mom," Alice said.
Genny said: "One of the things I enjoy the most is sitting down with her and going through the game. She'll talk through things. She'll say, 'What do you think of this play?' Most of the time, she's hard on herself. I point out things she did well."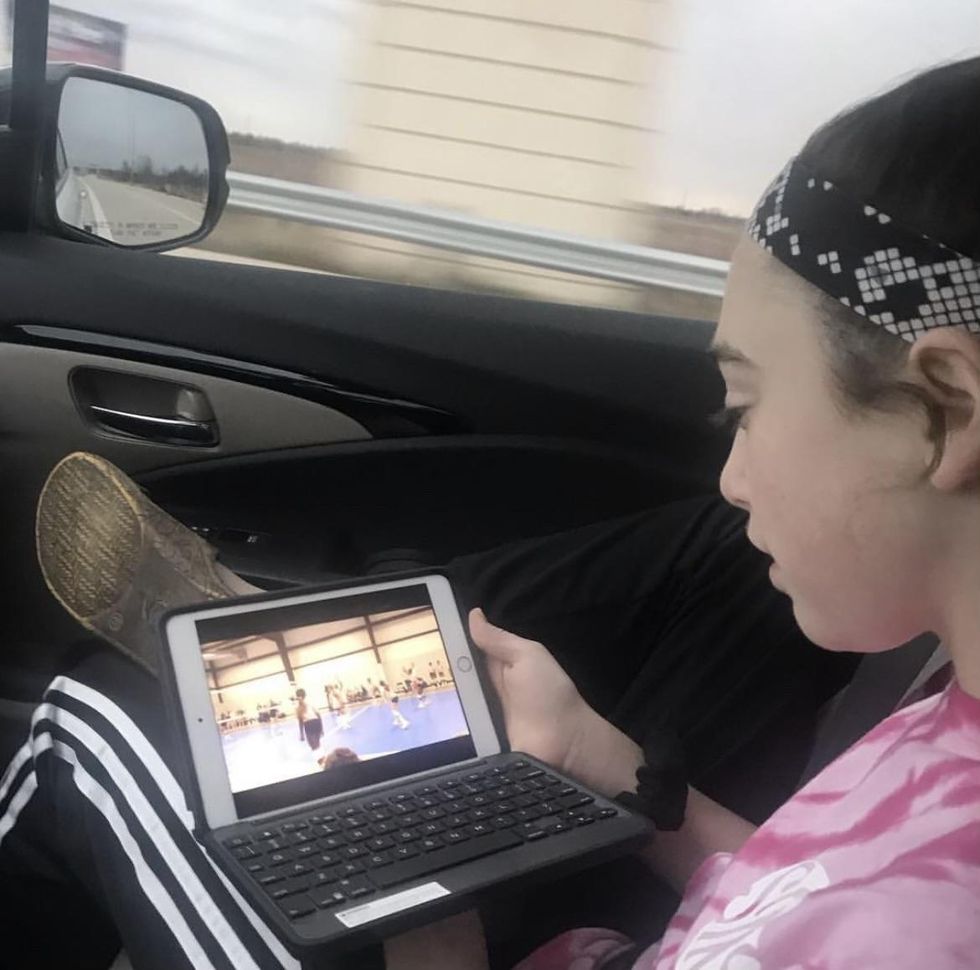 Comparing their Games
When Genny was coming up through the volleyball ranks, she played setter and outside hitter. Her defensive prowess was notable as well.
At Texas A&M, Genny is still etched into the Aggie record books for most matches played (140), third in career digs (1,403) and 10th all-time in assists (2,309). She admits that in today's college game she would be a libero just like Alice if the position had existed in the late 90s.
When people who had either coached or watched Genny play watch Alice play today, the comparisons are there. They have the same competitiveness and play defense similarly, as they are both "defensive-minded players".
But who was better at that age?
"She's definitely better than I was at that age," Genny said. "I was a good player, but she is more advanced than I was. I do see a lot of myself in her."
As a sophomore last season, Alice registered a team-leading 820 digs for the Bears in 147 sets, averaging 5.6 digs per set. She will surpass 1,000 career digs this season.
"It's definitely been a process of learning," Alice said about the development of her game. "I was always pretty aggressive and quick on the court, but I had a lot to learn about technique and that's what I've tried to focus on more as I've gotten older."
"Failure is the Greatest Teacher"
One of Alice's favorite quotes is, "Failure is the Greatest Teacher".
In playing sports, there are times that you will fail. Bad games, or even just a bad play, can hang with a player. It is in those moments that Alice tries to learn. For Genny, she is not a coach, but just mom.
"I think the times I'm the most her mom is after a loss or a bad game," Genny said. "I'm a shoulder to lean on and sometimes she needs to vent, and I just listen. And I tell her it is all going to be OK. The more you play this game, there's going to be heartbreaks and really fun moments."
The Biggest Lesson
Having her mom there to be that rock to lean on is big for Alice.
Yes, her mom is a Division I college volleyball coach. She is the all-time winningest volleyball coach in Rice history. She is a former standout at Texas A&M with a plethora of volleyball knowledge.
But Alice's biggest lesson from her mom has nothing to do with the skill part of playing the sport that they both love.
"The one thing that she said that's always stayed with me is you have to work for what you want," Alice said. "Talent and knowledge won't get you far if you don't work hard."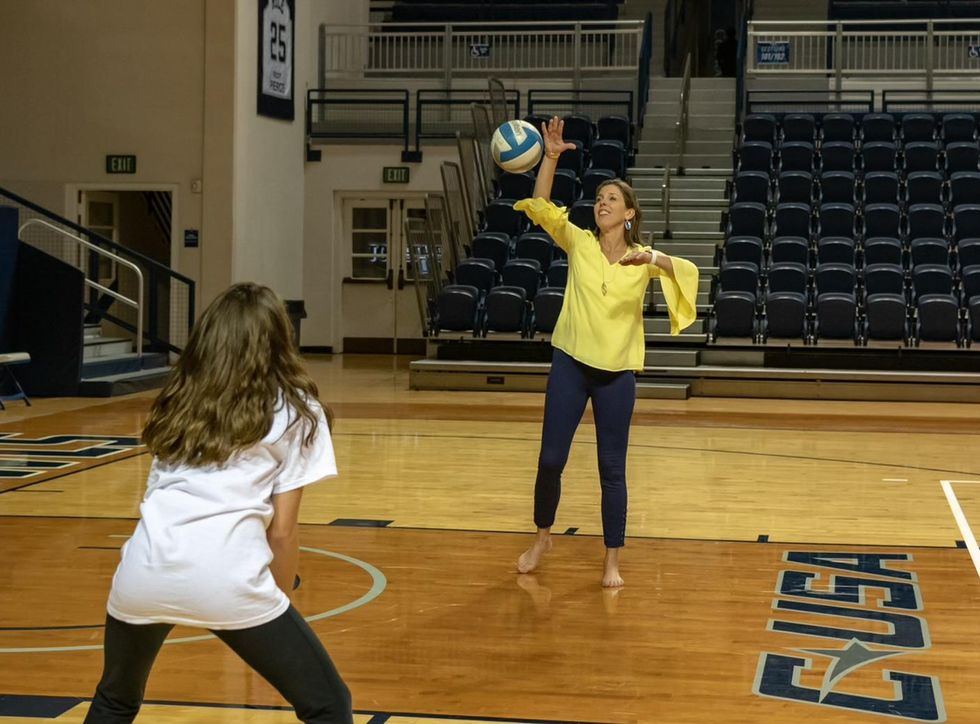 Enjoying the Ride
As the first true weekend of the 2022 volleyball season came to a close, the Rice volleyball team had a morning practice that had just wrapped up.
Genny jumped into her car and raced over to Bridgeland High School and was able to catch the final match of the day for the Bears.
"I love watching her play," Genny said.
It is tough with her schedule. Tuesday nights, she can usually make it. Fridays are usually a no unless a bye week. Last year, during the State Tournament, Genny was in her hotel room preparing her final scouting report for the Conference USA Championship Match while watching Bridgeland's State Semifinal game on a live stream.
She cherishes the moments, like seeing Alice's Bridgeland team beat The Woodlands in the Regional Championship, that she gets to see her play. The moments they watch film together and just talk the game.
"We were always close, but I think it brought us even closer together," Genny said.
The fun, active and outgoing little girl who would come to her summer volleyball camps is now a junior. Getting recruited to play college volleyball.
Genny is just enjoying the ride and loving watching her daughter play the sport that has given her a lifetime of memories.
"It's like it happened overnight," Genny said. "It's odd thinking she's a junior and about to drive. I think every parent can relate to that. You embrace the times when your kid is small, and you can remember them like they were yesterday and suddenly, they are about to graduate."
True