INSTANT REACTION: Stowers, Guyer Dominate Tascosa
Dec 07, 2019
Courtesy Denton Record-Chronicle
FRISCO - After a turnover on downs to start the game, Denton Guyer scored on seven of its next eight possessions, led by quarterback Eli Stowers' 4 touchdown passes, en route to a 48-7 win in the 6A DII Region I finals.
Denton Guyer completely shut down the Tascosa rushing attack, which came in averaging more than 400 yards with its flexbone formation. Outside of a few busted plays or missed tackles, Tascosa wasn't able to mount much offensively. Tascosa' lone score came on a "trick" play, which was just a play-action pass in which the Guyer defense was completely fooled.
On offense, Stowers was able to utilize play action and RPOs with high success. The total numbers may not show it, but the Guyer receivers were well behind the Tascosa secondary on all four touchdown passes.
Guyer effectively ran half as many plays and put up twice as many yards as Tascosa, which shows the efficiency in which the offense operated in the win.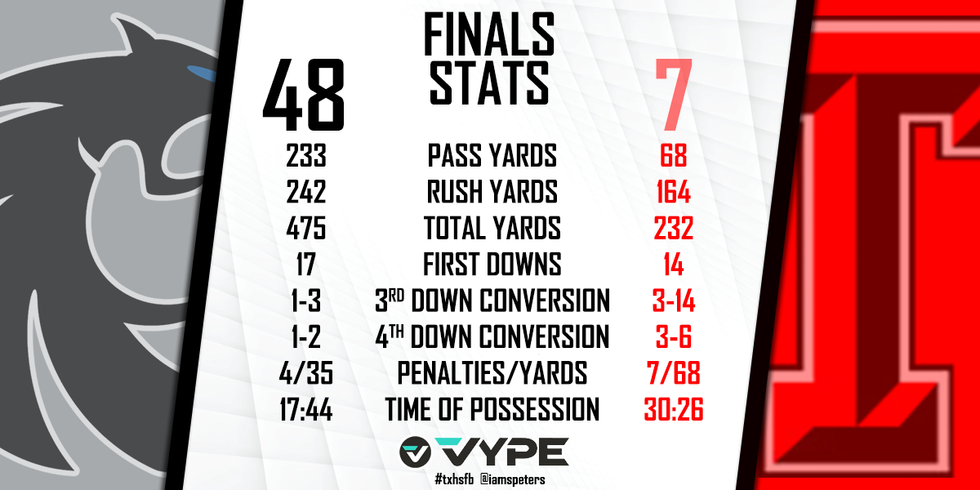 It was a complete win for Guyer, which will now look to a state semifinal matchup between either Dallas Jesuit or Spring Westfield. Times and dates are still to be determined.