Recruit of the Week: Episcopal School of Dallas cross country phenom, Tori Schmidt
Dec 14, 2021
Photo provided by Tori Schmidt
As a four-time team captain, Tori Schmidt has been an incredible force for the Episcopal School of Dallas cross country and track teams. In track, Schmidt was able to set the school record in steeple chase as a sophomore before setting the record in the one and two miles during her junior season. Schmidt is currently less than a second away from the 800m record. During this cross country season, Schmidt set ESD's record for the 5K. VYPE DFW was able to catch up with Schmidt in an exclusive interview after she was named recruit of the week. To read the exclusive interview with Schmidt, become a VYPE Insider today!
Staying Focused
With a couple of shortened seasons mixed in with the usual offseason, no one would have blamed any student athlete that may have gotten distracted, but Schmidt was able to remain focused leading up to this season. "I have a great competitive coach- shout out to Coach Dawn- and a great team that I get to work with during the off season," Schmidt told VYPE. "It is awesome to have an outside of school team made up of girls from all over Dallas that enjoy running and we can push each other and support each other to be the best we can. It showed me how much we can benefit from a supportive environment with a group of strong girls to run with."
With a strong focus even through the offseason, Schmidt says she is always able to go into every season with a great mindset. "At the beginning of every season, I have a feel for how it's going to start," she started. "This year I started off strong and was able to keep at it and improve throughout the season. My mindset was to come out of every race with a positive feeling that I ran my hardest with no regrets. Co-captain Sydney [Knodle] and I pushed each other in practice and during races to perform our best and keep positive mindsets. Even though we are a small team, it was our senior year and we wanted to represent our program well- which... I think we did."
Accomplishing Goals
It's easy to see that Schmidt is an extremely talented runner. With one of her goals being to represent her team well, anyone can also see that she has a good spirit anytime she gets ready to race; because of that, setting and accomplishing goals might be natural for Schmidt. VYPE was able to talk to Schmidt a little bit about what her goals for this season were. "My individual goals for this year were to lead the team with positivity and confidence, leave a legacy at school, and set a personal best in the 5K. I wanted to say 'goodbye' to high school cross country knowing that the next year's captains would know how to lead the team- I feel as though the captains and I accomplished that," Schmidt said.
"I wanted to leave the school with people associating a smiling face and a bright personality with my name, which I also felt I accomplished. I accomplished setting a new school 5K record and a personal best by almost a minute from the previous years of my cross country experience and I look forward to continuing to bring that time down," she added. As she heads into the offseason again, her goals are to continue to train and work hard during training in order to see success in the track season ahead.
While setting goals that can be accomplished, some fans or fellow athletes might look at Schmidt and wonder what the secret to her success- or the secret to ESD's success- has been. In her eyes, it's all about routines. "I think having a routine is the secret to my success. The day before each meet, I always prepared the same way by shaking out with my school team and stretching before bed. My mom makes me homemade chicken pasta that is amazing before all race days. Getting plenty of sleep has helped me to recover." As far as the secret to the team's success? Leadership. "ESD's cross country team has always been small, however, the leadership this year by the captains pulled the team together. We all encouraged each other during workouts and challenged each other to do our best in the races which set fort personal bests for most everyone on the team."
Swimming in Memories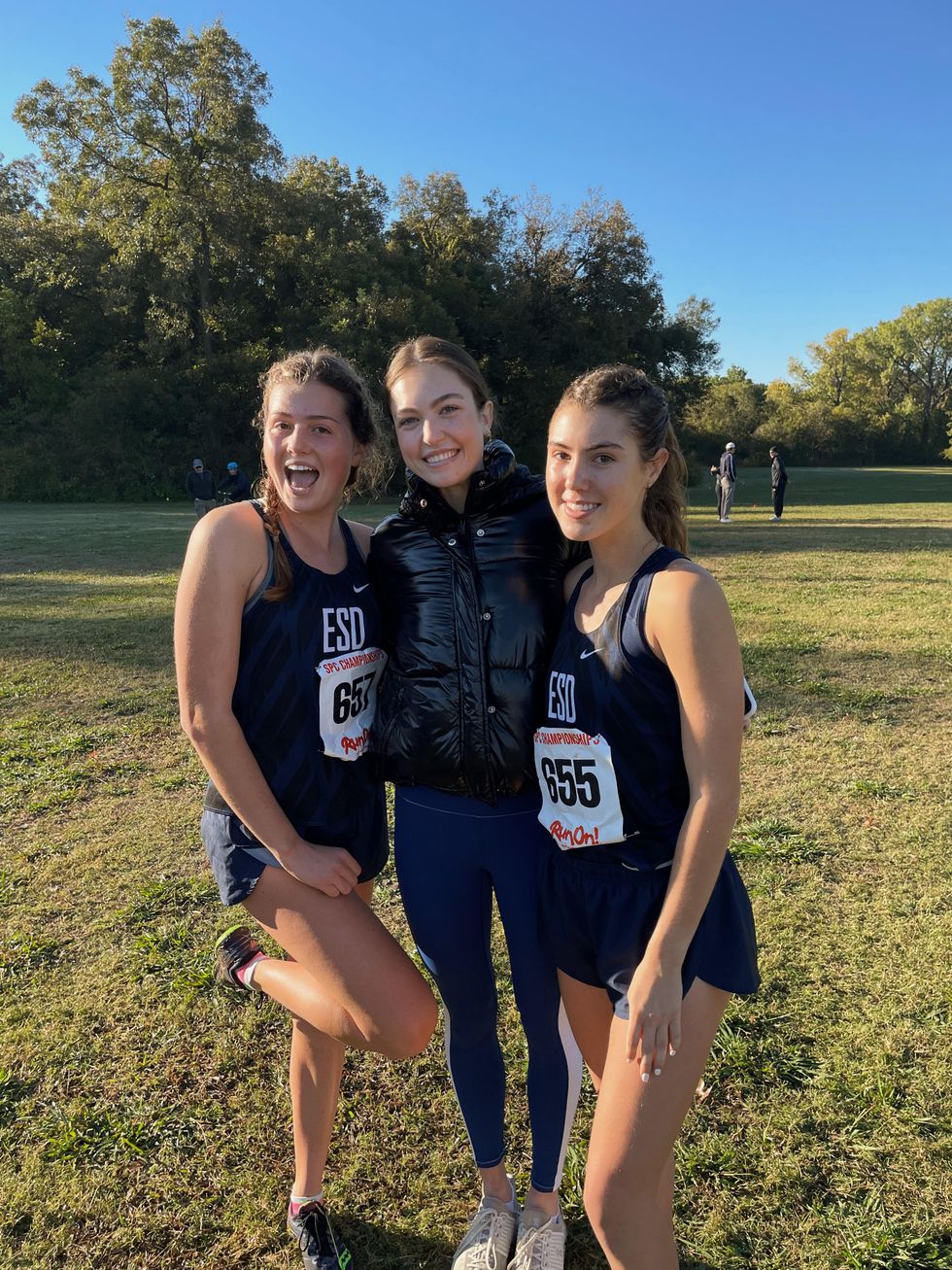 Photo provided by Tori Schmidt
As a great high school athlete, it's not that hard to make memories that you are going to cherish for the rest of your life. While Schmidt has many memories that she can draw from, her favorite memory comes from her freshman year on the team when she raced in the Southlake Invitational. "I was basically swimming in mud," Schmidt said. "It had rained so hard that at the end of the race the mud was up to our knees. The varsity girls ran, but the boys races got cancelled because of the weather."
A Bright Future Ahead
Although she has not yet decided where she will go to college, she does want to attend a school where she can continue her running career. "I look forward to running in college and the next chapter in my running career," Schmidt told VYPE DFW. "I am interested in running at a school that has a program that can help me improve as an athlete, has a cohesive and supportive team with room to grow, and coaching to help individuals achieve their best ability."
Following in her sister's footsteps, Schmidt is interested in digital marketing. "Technology is very involved in every aspect of life," said Schmidt. "Especially when it comes to business technology." She is hoping to major in International Business. "I have taken Spanish my whole life and I would love to be able to use it in life."
Fun Questions
What is your favorite professional sports team?
"New York Rangers hockey."
Who do you look up to as an athlete?
"I look up to my parents and sisters as seeing their success in life inspires me to be a better person and continue to work hard."
If you could go to dinner with one person (dead or alive), who would it be? What would you want to talk about?
"I would like to go to dinner with Queen Elizabeth and talk to her about her experience of being queen for so long; including all the people she has met from a political and social standpoint as well as discuss all of the history."
Keep reading...
Show less
True