Breaking Records: Quinton Brown breaks Liberty Christian school 60m record
Feb 07, 2023
Shana Willeford (VYPE Media)
Athletes are always pushing to be their best selves on and off the field. Part of being their best self includes constantly improving their performance. Sometimes, athletes set personal records that propel them beyond school records. For Argyle Liberty Christian sophomore Quinton Brown, personal success can look like a lot of things. Most recently, Brown finished first place in the 60m at the OU Indoor Track Meet with a Liberty Christian School (and personal) record of 6.90. VYPE DFW caught up with Brown following his achievement on the track with an exclusive interview: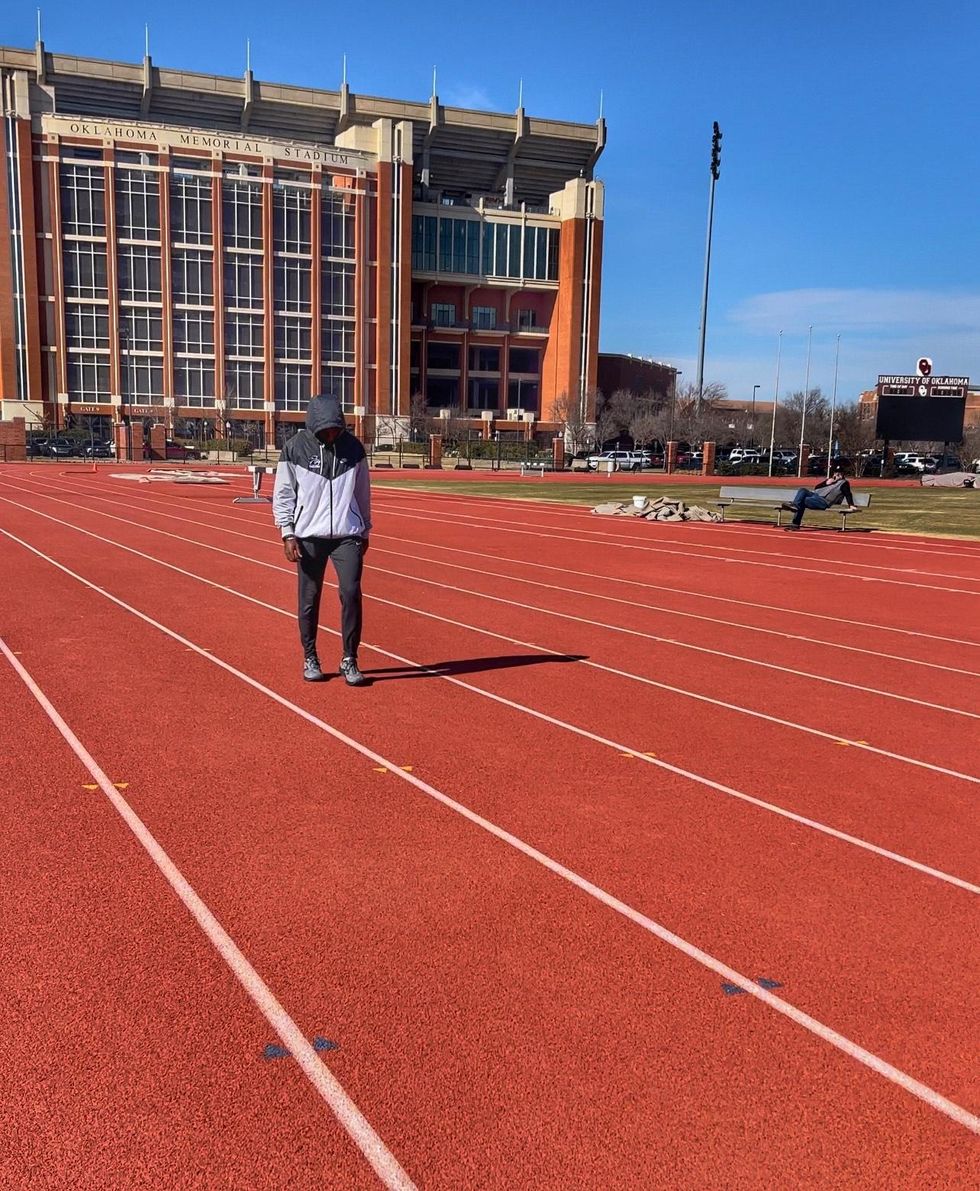 Image provided by Quinton Brown.
As a multi-sport athlete, Brown uses his experience in other sports to power through his varying seasons. A talented football and baseball player as well as track runner, Brown has been able to build confidence and stamina over his time in athletics. His ability to shine on the field and track is something that stands out- especially since he is only a sophomore and has plenty of time to continue fine-tuning his approach to the game and race. Check out VYPE DFW's exclusive interview with Brown below!
When did you start running? What got you into the sport?
"I started running track when I was six years old. My dad is big on track, so he wanted to get me started at a young age. From day one, I feel in love with the sport."
You have been making quite the impact for Liberty Christian. Most recently by finishing first in the 60m at the OU Indoor Track Meet. Your first place finish resulted in a PR and a brand new school record of 6.90. How does it feel to have this sort of legacy to your name?
"It kind of feels surreal. To have all of your hard work pay off is an amazing feeling. I just thank God for blessing me with this opportunity and my parents and coaches for always pushing me."
How did it feel when you realized you broke the school record?
"I was in shock. I honestly never followed the record. I ran a great time in prelims and felt like I was close, but honestly, I was focused on the next race. When I crossed the finish line and saw the time, I was shocked and I knew I did something special."
What is your go-to race day routine? How do you get your mind into the moment?
"Start with a good breakfast, morning stretch, and music. Music helps me get in the zone. I try to block everything out and focus on the race."
What do you do in the offseason to prepare for the next season ahead?
"In the offseason preparing for track season, our Liberty track team goes through a thorough offseason training regimen. Out head track coach, Ross Roby, really focuses on the details. It's the best track program I have been a part of. Along with that, I do extra work with my dad who is a track trainer. He focuses on certain areas that compliment and build on what we are learning at Liberty."
What are your personal goals this season?
"I want to help my team win a state championship. I think we have a great track team with great coaches and I believe we can do something special this year. Personally, I have individual marks I am also striving to reach such as a 6.85 60m, 10.58 100m, and 21.8 200m."
Is there an athlete you look up to- why?
"I would say Christian Coleman and Tyreek Hill. Christian is one of the fastest humans on the planet. I study him a lot; especially in the 60m and 100m. Tyreek is an amazing athlete. He is good in track and great in football; that is something that I strive to do also."
In your opinion, what is the secret to your success so far?
"Letting God lead the way with a lot of hard work and dedication."
What has been your favorite memory, so far, running for Liberty Christian?
"Just being with the team. We have a lot of fun together. Everyone supports each other. It's truly a family."
A young athlete with big dreams, Brown can be expected to continue play a huge role in putting Argyle Liberty Christian on the map. Be sure to stay tuned on Brown's high school career as he excels. Brown's current PRs aside from the 6.90 60m include a 22.41 200m. Catch him on the track when his season starts in March!