Former Allen star, Kyler Murray, sports Allen HS letterman ahead of Sunday game
Oct 04, 2021
Allen ISD
There's no doubt that one of the biggest quarterback names to come out of the Dallas area is Arizona Cardinal Quarterback Kyler Murray. Before the lights and eyes of the NCAA and NFL world were on him, though, Murray was making a name for himself at Allen High School. Sunday night, ahead of the Cardinals vs. Los Angeles Rams game, Murray took his swag all the way back to his roots and entered the stadium in none other than his high school letterman.
Throwin' it back

Posted to the Arizona Cardinals Instagram story featured various athletes entering the stadium before Sunday's game. A few clicks brought fans to something that is rarely- if ever- seen in the NFL: an NFL star wearing his high school letterman: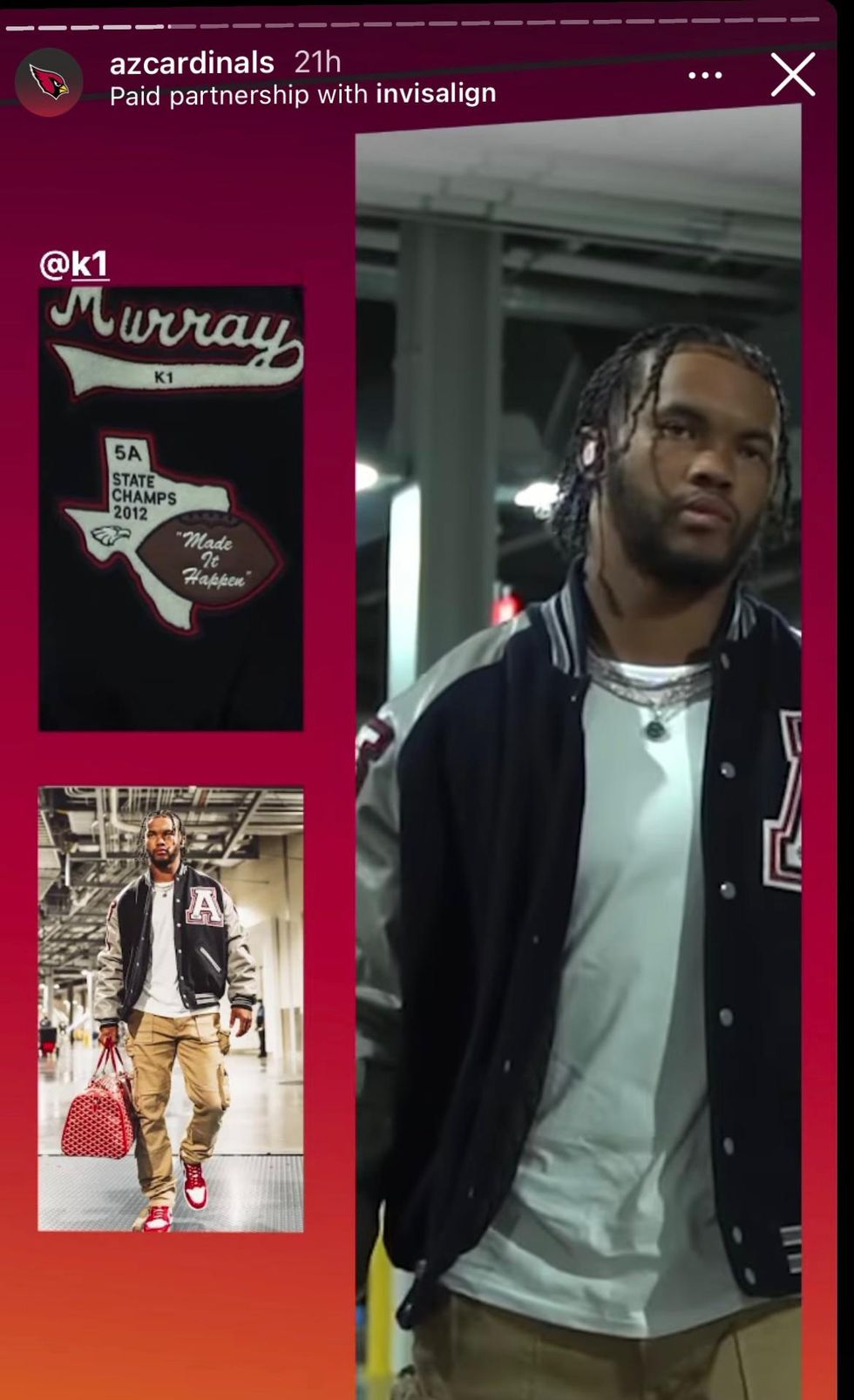 Arizona Cardinals Instagram feat. Kyler Murray as he sports his high school letterman.Arizona Cardinals
The Twitter account known as Allen Eagle Nation Inc. quickly posted a photo showing Murray's throwback to his high school days. The tweet brought a lof of attention from fans who have followed Murray on his journey through high school, college, and now the NFL.
REWIND
As most will recall, Murray had arguably one of the best high school careers ever. Murray helped lead the Allen Eagles to three straight UIL Class 5A State Championship titles between 2012 and 2014.
During his high school career, Murray went 42-0 as the starter in the pocket for the Eagles. The 5-10, five-star athlete threw for 10,386 passing yards and 117 touchdowns with only 21 interceptions. Additionally, Murray rushed for 69 touchdowns racking up 139 rushing yards.
Originally going to Texas A&M, Murray did not win over the starting role for the Aggies- instead Kyle Allen took the lead spot in College Station. From there, Murray transferred to the University of Oklahoma where he served as the backup for Baker Mayfield before taking over in 2018. During his collegiate career, Murray threw for over 4,360 passing yards and 42 touchdowns with only seven interceptions. In 2018, he became the Heisman Trophy winner and the No. 1 pick in the 2019 NFL Draft by the Arizona Cardinals.
Murray has stayed with the Cardinals where he has played as the starting quarterback for three seasons now. So far, Murray has tallied 8,966 passing yards and 55 touchdowns with 28 interceptions while completing 66.9% of his passes.
True