2020 VYPE Public Softball Preview: Contenders
Feb 20, 2020
VYPE breaks down the Public School Softball sector in this section. The final set of teams we dive into are the Contenders, which are the teams we think have the best chance of raising the trophy in Austin! Check out the VYPE 2020 Public School Softball Contenders.
This article appears in the 2020 VYPE Houston Baseball/Softball Preview presented by Champion Energy, which will be hitting newsstands next week in the Houston-area.
Barbers Hill Eagles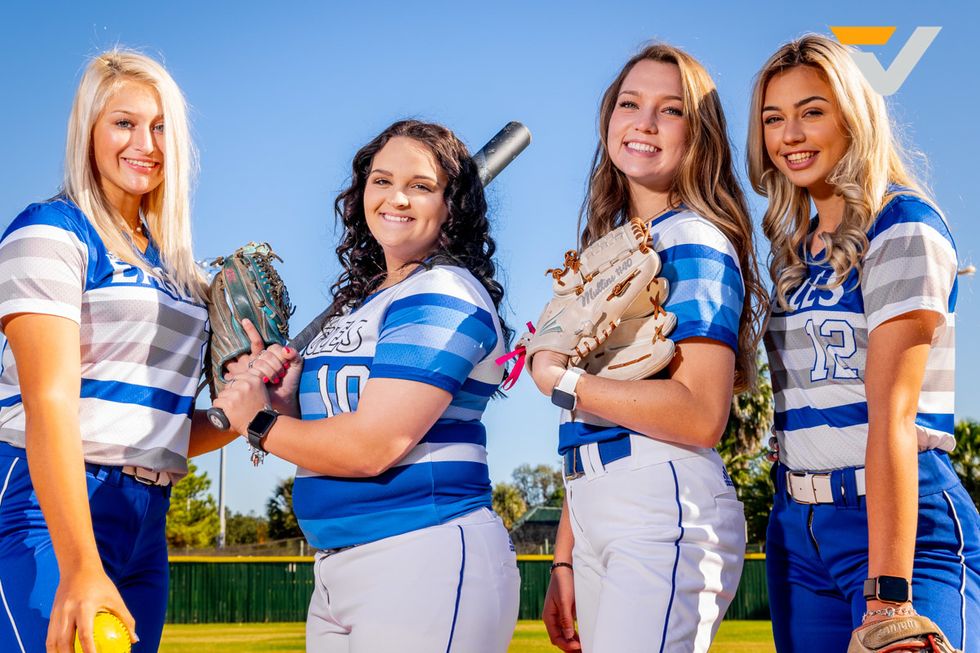 Barbers Hill's Sophia Simpson, Hayley Freudenberg, Jessica Mullins and Samantha Landry
Photo by Bradley Collier/ VYPE Media
Over the past few years, Barbers Hill has become a constant, making deep runs in the postseason. The Eagles will seek a fourthstraight trip to the Regional Finals in 2020. Barbers Hill finished last year 39-5 overall, with its season ending in a Game 3 thriller to eventual 5A State Champion Angleton. Aaron Fuller (166-32 at Barbers Hill) enters his sixth season leading the Eagles. He will have to replace Sydney Hoyt (Texas A&M CC), Rebecca Miller (Pittsburgh) and Matee Simon (UT-Dallas). Fuller does have six starters returning, led by Jessica Mullins (Texas State), Samantha Landry (UL Lafayette) and Sophia Simpson (Texas), who were District 21-5A co-MVPs. Landry was also named All-State, while Estela Garza earned Utility Player of the Year. The Eagles also return first-team, all-district selections Hayley Freudenberg (Lamar), Amber Thibodeaux and Stephanie Niemann. Other key returners include Kaylee Hornberger (2nd team, all-district), Kaitlyn Dutton (honorable mention – Texas State), Summer Gigout (honorable mention) and Faith Guidry (Michigan State). This will be a team to watch.
Huffman Falcons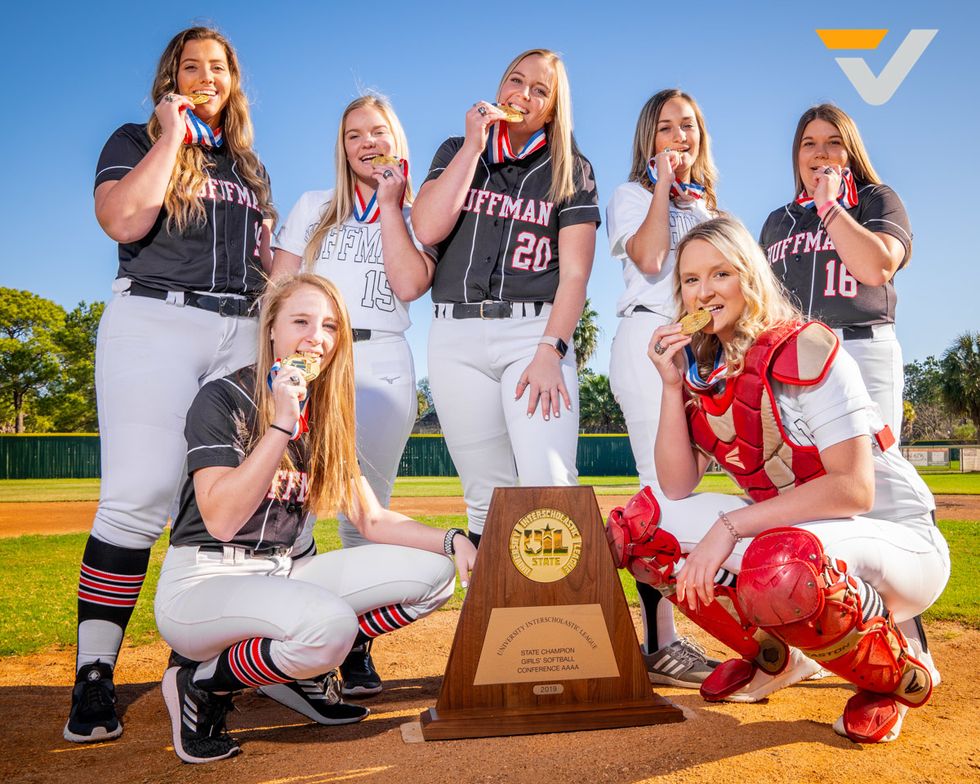 Huffman's Lauren Reese, Kenzie Gates, Katy Janes, Kyndel Berard, Talynn Morace, Andrea Hortch and Madison Anderson
Photo by Bradley Collier / VYPE Media
Huffman started district play 0-2 a year ago. The Falcons got hot after that, finishing the rest of the way 6-4 to make the playoffs. Once in, they were unstoppable. Huffman went on to win 38 games in 2019, including the very last, beating Anna 12-0 to claim the Class 4A State Championship. It was the second title for the program in the last five years. So, can the Falcons go back-to-back? Garrett Gates will have to replace Dez Cardenas (North Dakota State) and Alli Humphries (Hillsboro College). Gates (3rd year – 81-33-5) does return seven starters, including State Title Game MVP Katy Janes (Houston Baptist). The senior batted .320 with 11 home runs, while posting a 27-5 record with a 1.36 ERA and 331 strikeouts. Janes was also named all-state and the District Pitcher of the Year. Other key returners include State All-Tournament team selections Kenzie Gates (.291), Christin Haygood (California Baptist University - .355, 4 HR) and Andrea Hortch (.279). Hagan Pike (.342) also returns after being selected first-team, all-district.
Klein Collins Tigers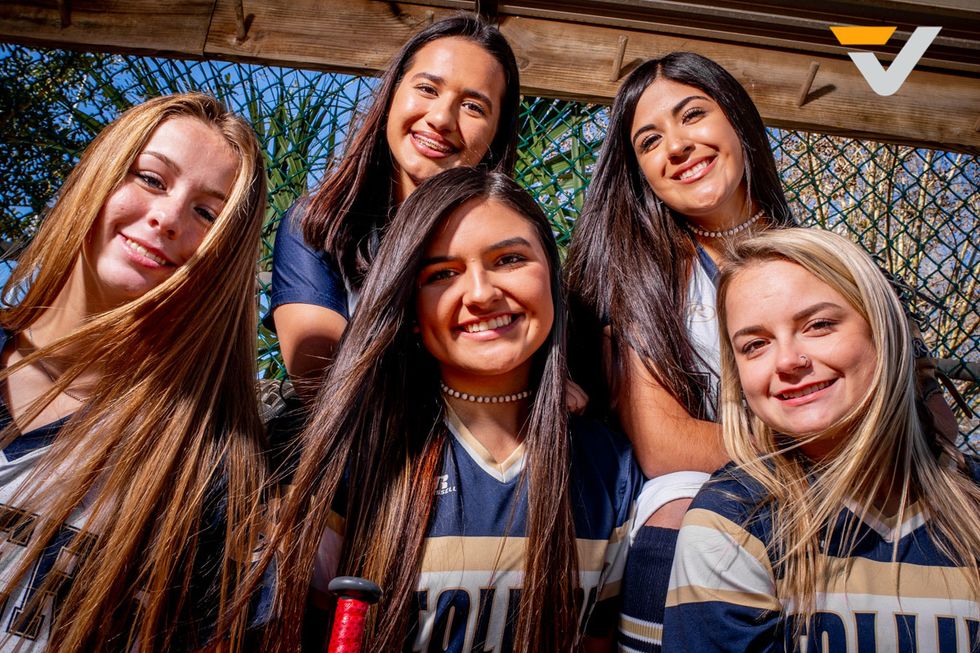 Klein Collins' Arwin Callaway, Nadia Almanza, Mia Cantu, Abigail Ramirez and Caley McGuff
Photo by Bradley Collier / VYPE Media
Klein Collins was on the cusp of winning the program's first state title a year ago. The Tigers reached the 6A State Championship game but fell to Houston-counterpart Katy. Klein Collins finished 38-3 overall. Heading into 2020, the Tigers will have a different look on the field and in the dugout. Meghan Fisher comes over from Kingwood to take over as the head coach. Fisher does have some players to be excited about with five starters back. First-team, all-district selections Mia Cantu (ULL), Caley McGuff (ULM) and Nadia Almanza (.425) will lead the charge. Cantu hit .519 a year ago and drove in 47 RBIs, while McGuff hit .402 at the dish. Second-team, all-district returners include Abby Ramirez (1.20 ERA) and Arwin Callaway. Other players to watch include Gracie Hull (Oklahoma Wesleyan University) and Cherie Green (Coffeyville Community College). Keys to success for the Tigers in 2020 include first building and maintaining team chemistry among the returners and several new players, Fisher said. She also remarked that players in new roles to maximize strengths as a team will also be key. Klein Collins should be the Class 6A frontrunner in Houston in 2020
Deer Park Deer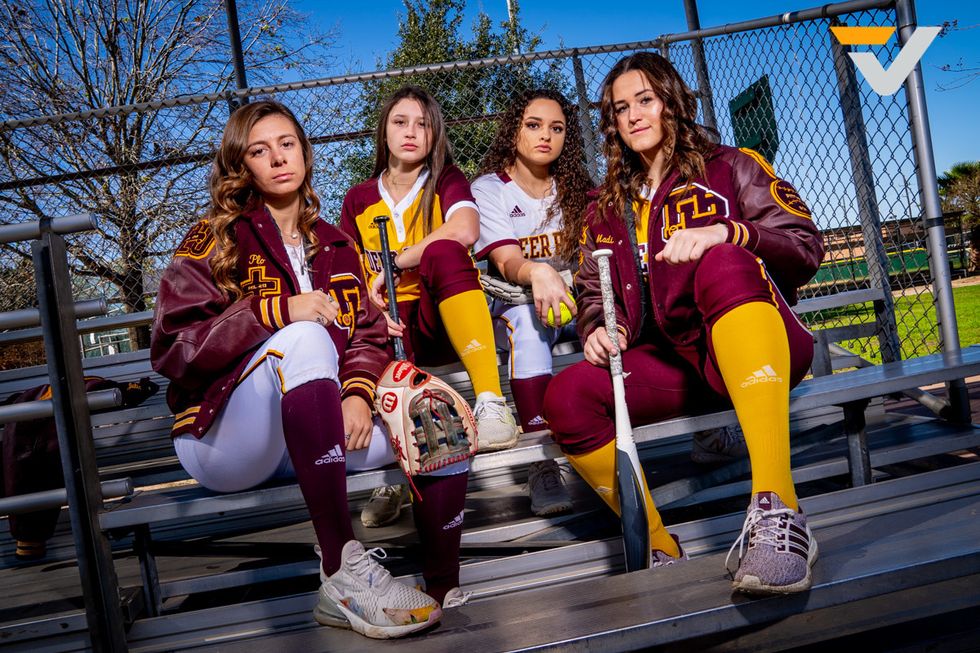 Deer Park's Courtney Plocheck, Haidyn Hardcastle, Julia York and Madison Applebe
Photo by Bradley Collier / VYPE Media
Deer Park is a perennial playoff power in Houston. No doubt about it. The two-time state championship program has reached the Regional Finals in two of the last three seasons. Last year, the Deer fell to eventual 6A State Champion Katy. Deer Park finished 33-7 overall. Katie Schaefer enters her third season leading Deer Park and has a dugout with seven starters back. The Deer will have to replace the likes of Sara Vanderford (Texas State) and Amaya Montano (Texas A&M), but have the pieces to reload. First-team, all-district selections Madison Applebe, Courtney Plocheck (UT-Tyler), Kaurie Winters and Alaina Cortez (Lamar) will be ones to watch. The Deer also bring back secondteam, all-district picks Julia York (San Jacinto), Tabitha Burnett (San Jacinto) and Haidyn Hardcastle. Other players to watch include Emily Land (Stephen F. Austin), Alie Alcantar (Texas A&M-Corpus Christi), Emma Overla (ETBU) and Vicki Viaclovsky (Rhode Island). Deer Park will once again be a definite contender in Houston. Can the Deer get back to state for the first time since 2017? We will see.
Katy Tompkins Falcons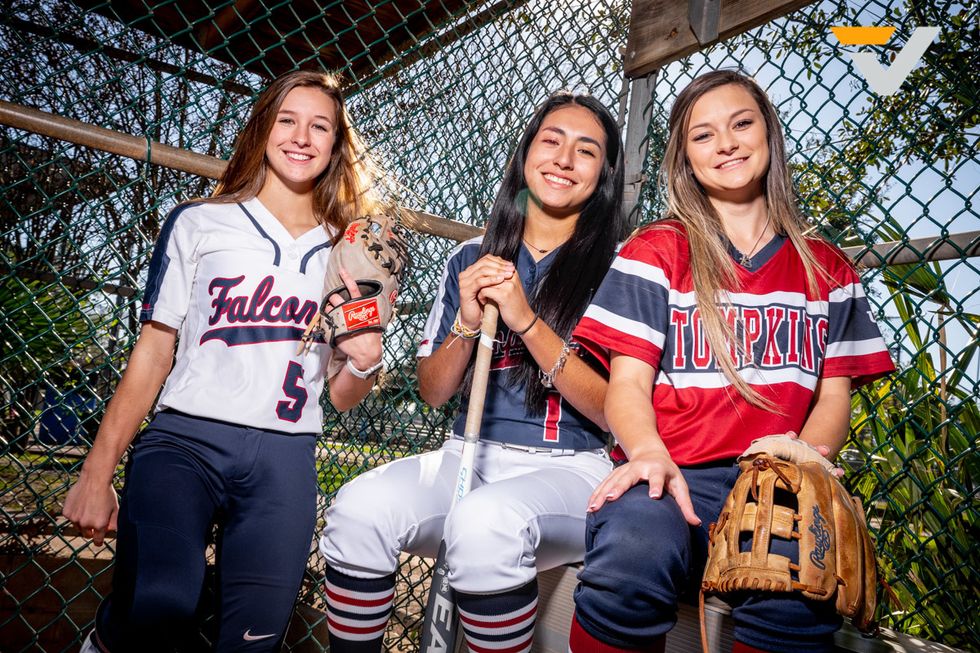 Katy Tompkins' Avery Hodge, Kat Ibarra and Avery Witten
Photo by Bradley Collier / VYPE Media
Katy Tompkins is still one of the younger high schools in the Houston area but they are starting to piece together deep playoff runs in all sports. Add softball to that list. In 2019, the Falcons reached the Regional Semifinals for the first time in program history. After losing just two players (Morgan Wright – University of Iowa; Kendall McGary – Incarnate Word), Katy Tompkins could really make a run this spring. The headliner of the group is sophomore Avery Hodge (Oklahoma). As a freshman, Hodge earned District 19-6A Newcomer of the Year and played on the USA Softball 17U Junior Olympic Team this past summer. Also returning are firstteamers Kat Ibarra (UTSA) and Reagan Heflin, and second-teamers Avery Witten (University of Montevello) and Brooke Lorenzo (Ole Miss). The other player that is currently committed is Taylor Gage (Our Lady of the Lake University). Katy Agiannidis enters her seventh year (72-54-3) leading the program. According to Agiannidis, the keys to success this year include focusing on their consistency and bringing it day-in and day-out.
Atascocita Eagles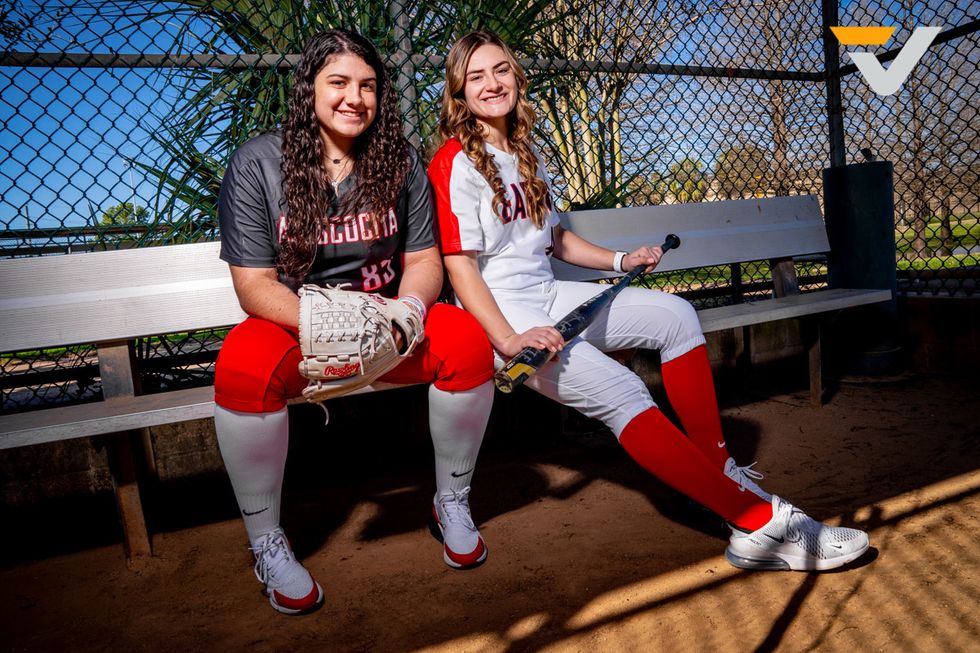 Atascocita's Mikayla Garza and Katie Cimusz
Photo by Bradley Collier / VYPE Media
Atascocita is not far removed from winning the program and district's first-ever softball state championship. Last season, the Eagles were unable to defend their crown, falling in the first round of the playoffs to Deer Park, who reached the Regional Finals. Atascocita finished 17-10 overall. Looking to 2020, the Eagles will have to replace London Marder (Texas) and Bryanna Bell (Prairie View A&M). Seven starters return for Atascocita led by all-state selection Katie Cimusz (Texas). Cimusz led the team, batting .512 with 35 RBIs and 21 extra-base hits. Other key returners include all-district selections Kelsie Kelso (.421, 25 RBIs), Lesly Miranda (East Texas Baptist University - .407, 23 RBIs), Bailey Payne (Texas A&M Corpus Christi - .356) and Skylar Wilabay (ETBU - .343). Other players who are also committed to play at the next level include Sarah Bledsoe (ETBU), Hannah Triplett (Navarro), Madelynn Bernabe (WAGU) and Caylee Spangle (Concordia). Ashley Boyd is in her sixth season at Atascocita with a record of 138-33 overall. Keys to success include power hitting and aggressive defensive play, Boyd said.
The Woodlands Highlanders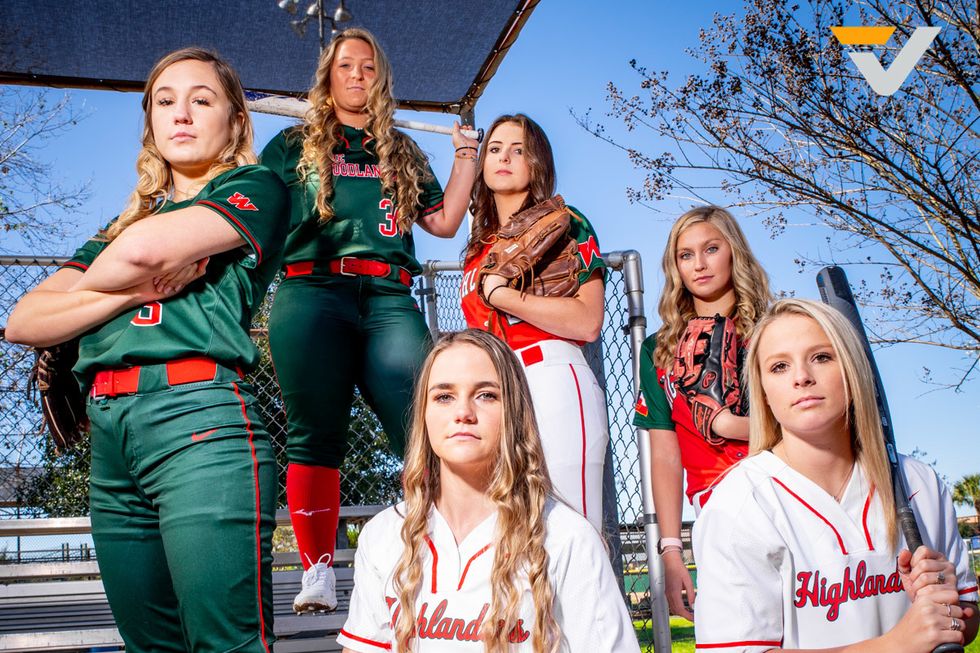 The Woodlands' Avery Taylor, Katie Emberton, Kayla Falterman, Haley Mountain, Skylar Sirdashney and Abbey Newlun
Photo by Bradley Collier / VYPE Media
The Woodlands enters 2020 once again as a contender. The Highlanders have the talent, that has never been a question about this program. But can they reach the Regional Finals for the first time since 2017, and the state tournament for the first time since 2015? Coach Tim Borths enters his fourth season leading the Highlanders and will have to replace the likes of Amanda Curran (Tennessee) and Abby Jones (Tulsa). Borths does return six starters off a team that went 24- 7, which was ousted in the area round. All-state selections Kayla Falterman (ULL) and Skylar Sirdashney (Wisconsin) return as key pieces for The Woodlands. Sirdashney was also named the District 15-6A Defensive Player of the Year. Also returning is first-team, all-district pick Avery Taylor and second-teamers Katie Emberton and Abbey Newlun (Nebraska). Other players to watch include Madison Martinez (Texas Southern), Jordan Jones (Vernon College) and Haley Mountain (UT-Arlington). Borths' philosophy includes focusing on accountability, teamwork, tenacity, attitude, communication and knowledge. The Woodlands has the players, now can they make a playoff run in 2020?
Angleton Ladycats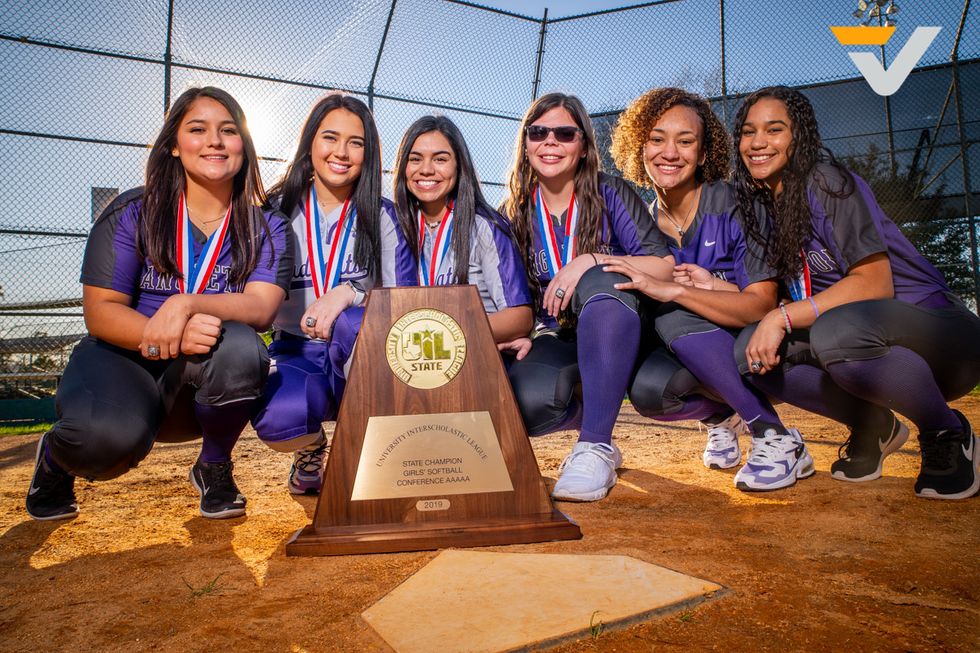 Angleton (Alphabetical Order): Danieca Coffey, Angel Jasso, Mika Hinojosa, Haylie Savage, Mia Scott and Teagan Whitley
Photo by Bradley Collier / VYPE Media
It was time to party like it was 1994 in Angleton last year. The Ladycats powered their way to the Class 5A State Championship, finishing the year 40-2 overall and winning the program's first title since 1994. The stellar play of senior Aaliyah Garcia helped carry them to the title with her impressive bat (.430, 60 RBIs) and pitching (27-2, 1.46 ERA, 259 Ks in 158 2/3 innings in 30 recorded appearances). Garcia is gone to graduation but the Ladycats have some solid players returning. Junior Mia Scott (University of Texas) is back after hitting .574 with 35 RBIs last season. Also back is Danieca Coffey (LSU), who hit .400 with 29 RBIs and 10 triples in 2019. That duo will pace the offense in 2020. Other key returners include Haylie Savage; who hit .404 with 26 RBIs, Teagan Whitley; who hit .413 last year and Mika Hinojosa, who hit .265 with 26 RBIs last year. So, who replaces Garcia in the circle? Senior Avery Church could see some time there after posting a 7-0 record with a 1.74 ERA last year