2020 Public School Softball Preview: Sleepers
Feb 18, 2020
Photo by Bradley Collier/VYPE Media
The 2020 season is here.
VYPE breaks down the Public School Softball sector in this section. The first teams we dive into are the Sleepers, which are squads who could really jump up and surprise some people this year. Check out the VYPE 2020 Public School Softball Sleepers.
This article appears in the 2020 VYPE Houston Baseball/Softball Preview presented by Champion Energy, which will be hitting newsstands next week in the Houston-area
Alvin Yellowjackets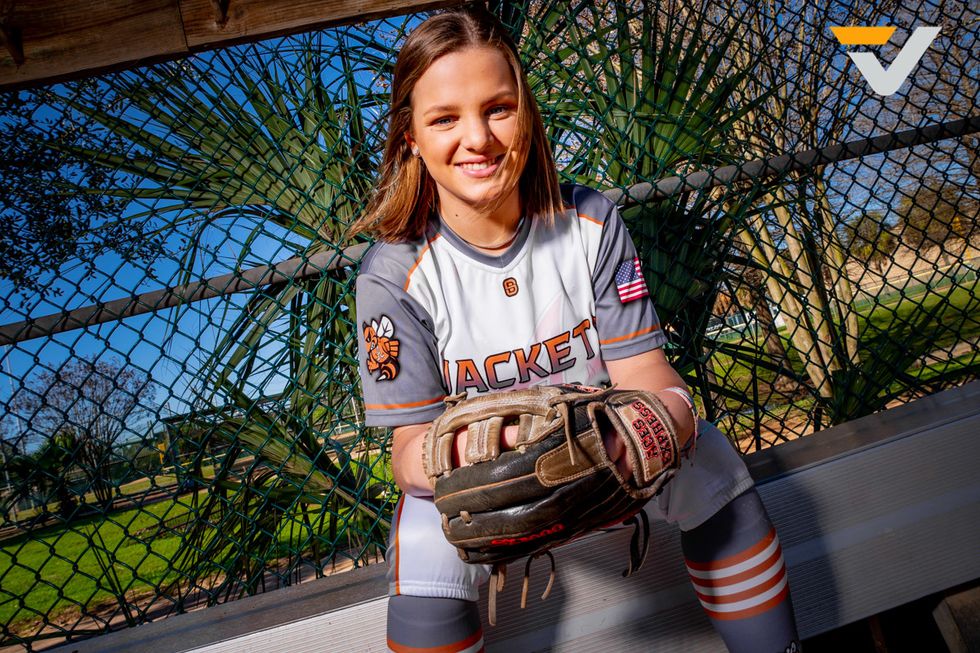 Alvin (Alphabetical Order) Jodie Aguirre, Reagan Jones, Mindy Matthews, Shae Montemayor, Mary Pourcio and Victoria Valdez
Photo by Bradley Collier/VYPE Media
Alvin could be one of the sneakier teams in the city in 2020. The Yellowjackets reached the Regional Semifinals but fell short to eventual state champion Katy. Alvin has been in the playoffs for 20-straight years after going 33-7 a year ago. Coach David McCorkle brings back seven returners including Jodie Aguirre (Brown), Mary Pourcio (Letourneau), Shae Montemayor (St. Thomas) and Katie Kincaide (Galveston). Aguirre will be the ace in the circle for the Yellowjackets after posing a 1.18 ERA with 346 strikeouts in 236 innings last year. She will also provide some pop at the plate, after leading the team in RBIs (29). Pourcio will also be big at the dish after driving in 26 with a .345 average a year ago
Ridge Point Panthers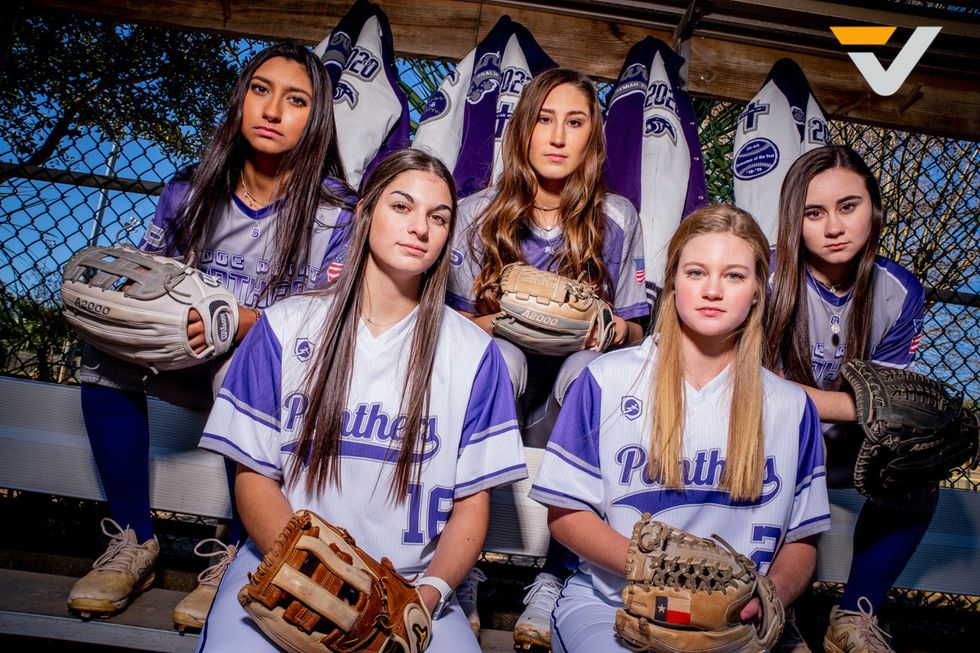 Ridge Point (Alphabetical Order) Maggie Darr, Kaia Hernandez, Grace Janik, Brenna Kelly and Malyn Simmons
Photo by Bradley Collier/VYPE Media
Ridge Point softball will be under new leadership this year. Lindsey Gage takes over, coming from Class 4A Anna High School, where she guided the team to its first state tournament appearance in school history in 2019, which was her fourth season there. Gage inherits a team that has four returners back off a Regional Quarterfinals squad. Maggie Darr (Northwestern State), Malyn Simmons, Grace Janik and Emma Corner will be looked to this season for production. Darr is a threat at the dish (.404) and in the circle (2.94 ERA, 112 Ks). Other players to watch include Kaia Hernandez (Vernon JC), Chloe Jolivet (Jarvis Christian College), Brenna Kelly (University of Dallas), Maggie Wilmot (Alverno College) and Alexa Semeyn (Colorado School of Mines).
Memorial Mustangs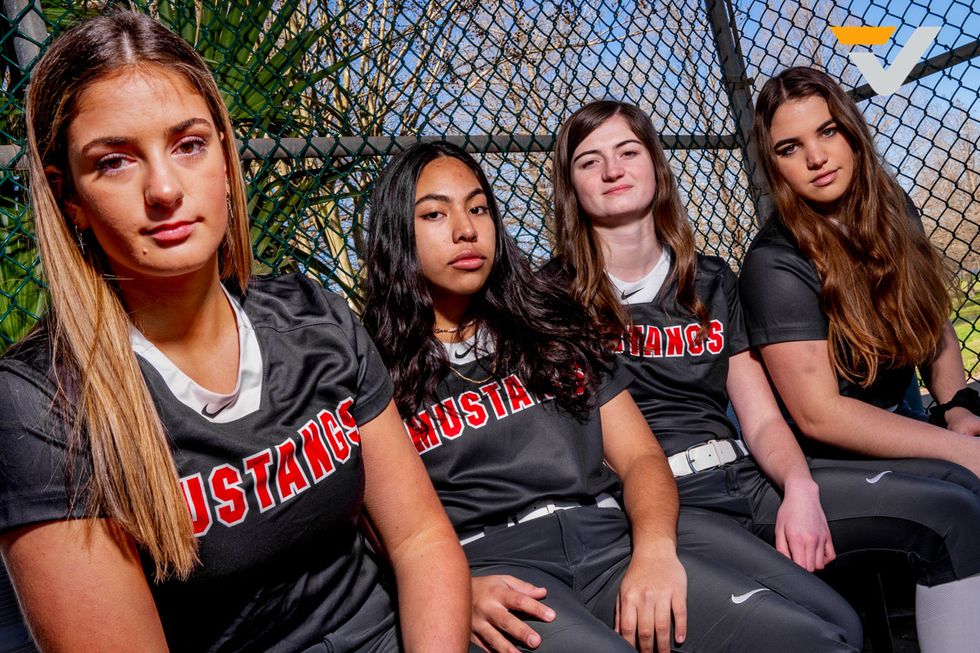 Memorial (Alphabetical Order) Brianna Ellis, Mia Garza, Riley Kerns and Camille Lafferty
Photo by Bradley Collier/ VYPE Media
Memorial is coming off another solid year. The Mustangs went 26-8, won District 17-6A but then fell a bit short of a deep playoff run, just reaching area. Stephanie Mosley's crew will try to make it nine-straight years in the playoffs in 2020. Five starters are back, led by Auburn signee Brianna Ellis, who earned first-team, all-district honors last year. Ellis hit .415 with 12 HR and 45 RBIs. Also back is District 17- 6A Newcomer of the Year Mia Garza (Drexel University). Other key returners include secondteam selections Camille Lafferty (.504, 46 RBIs) and Ellen O'Neil (.284, 20 runs). Mosley enters year 10 at Memorial and is only 28 wins from No. 200 of her career.
Santa Fe Indians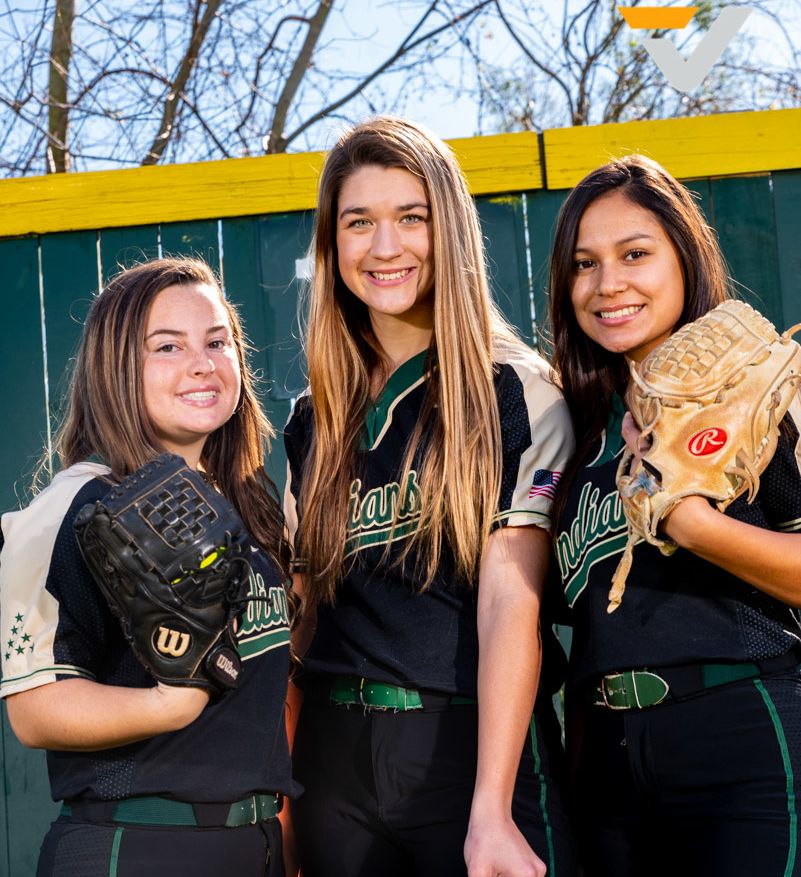 Santa Fe (Alphabetical Order) Maddy Blake, Maggie Childs and Juliana Garcia
Photo by Jamey Wright
Santa Fe reached the Regional Quarterfinals last year for the first time since 2015. Now, can the Indians break through to the Regional Semis and beyond in 2020? Christina Jacques enters her first year leading Santa Fe. The program she inherits is a good one, having made the playoffs seven-straight years heading into 2020. So, how can they get back to the third round and beyond? Jacques will lean on Maggie Childs (San Jacinto), Maddy Blake (Incarnate Word), Juliana Garcia (San Jacinto) and Ryleigh Mata (Stephen F. Austin) to guide the team this season. This group has the pieces to sneak out of the sleepers category and into contenders at some point this spring.
Cypress Creek Cougars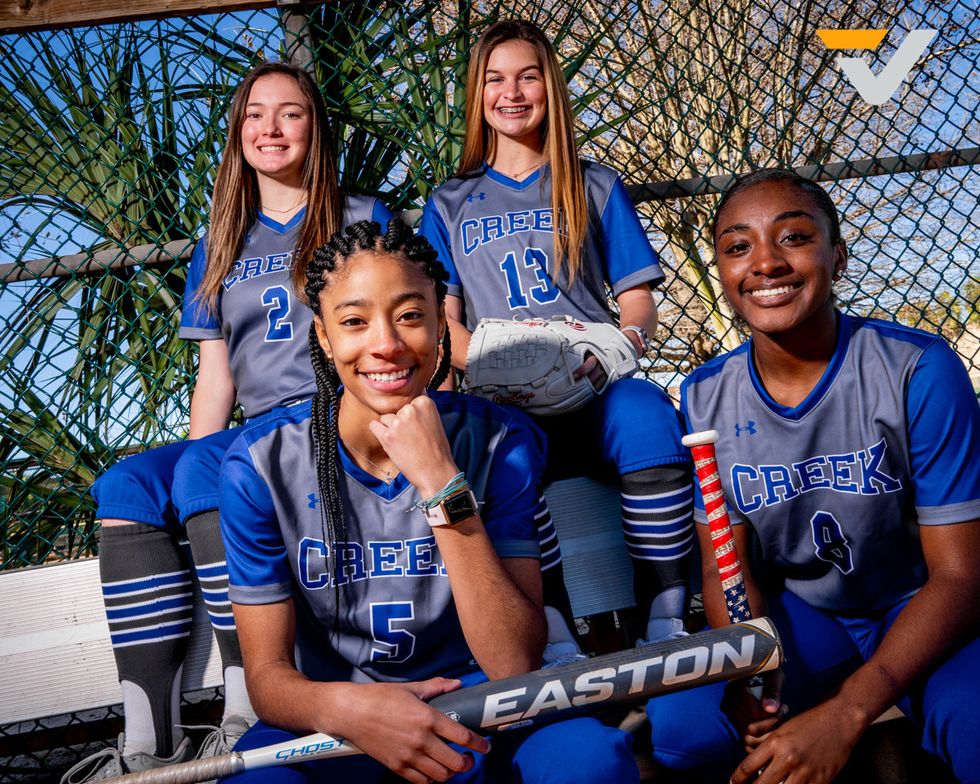 Cy Creek's Jordan Peno, Madison Battle, Delayne Moreno and Ja'Naiya Thomas
Photo by Bradley Collier / VYPE Media
Cypress Creek could be sneaky good in 2020. Randy Knight enters his 29th season leading the Cougars, sitting only 15 wins from No. 400 of his career. Cypress Creek is coming off a year where they went 15-5 overall and fell to Ridge Point in the second round of the playoffs. The Cougars do bring back eight starters but will have to replace District MVP Idalia Alarcon. Leading Cypress Creek will be first-teamers Ja'Naiya Thomas (University of Houston), Delayne Moreno, Holly Selldin and Madison Battle. Other players to watch include Jordan Peno (Sam Houston State) and Connor Payton, who were both second-team, all-district picks in 2019. The pitching staff will need to get some experience under their belts but they have the bats to do some damage.
Klein Oak Panthers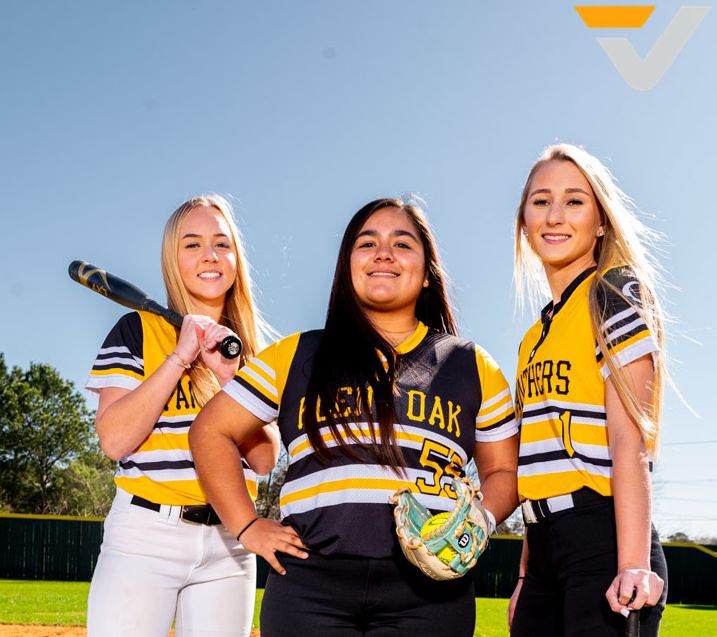 Klein Oak's Allison Saville, Eryn Sanchez and Avery Krolczyk
Photo by Jamey Wright
Klein Oak is not far removed from making a third-round appearance in the playoffs. The Panthers suffered an early exit from the postseason in 2019 but have some pieces that could rekindle that playoff magic from 2018. Barry Wilson enters his third year as the head coach of the Panthers and should be excited about the prospects of this season with eight returners. Eryn Sanchez (LSU-Alexandra) will be a key piece in the circle (7-5, 3.67 ERA) and at the plate (28 RBIs) for Klein Oak. Other players to watch include Allie Saville (Sam Houston State), Mackensie Baldwin, Avery Krolczyk (Northeastern State University) and Kamrynn Burks (Midwestern State). This team has loads of talent, now can they make a run?
Summer Creek Bulldogs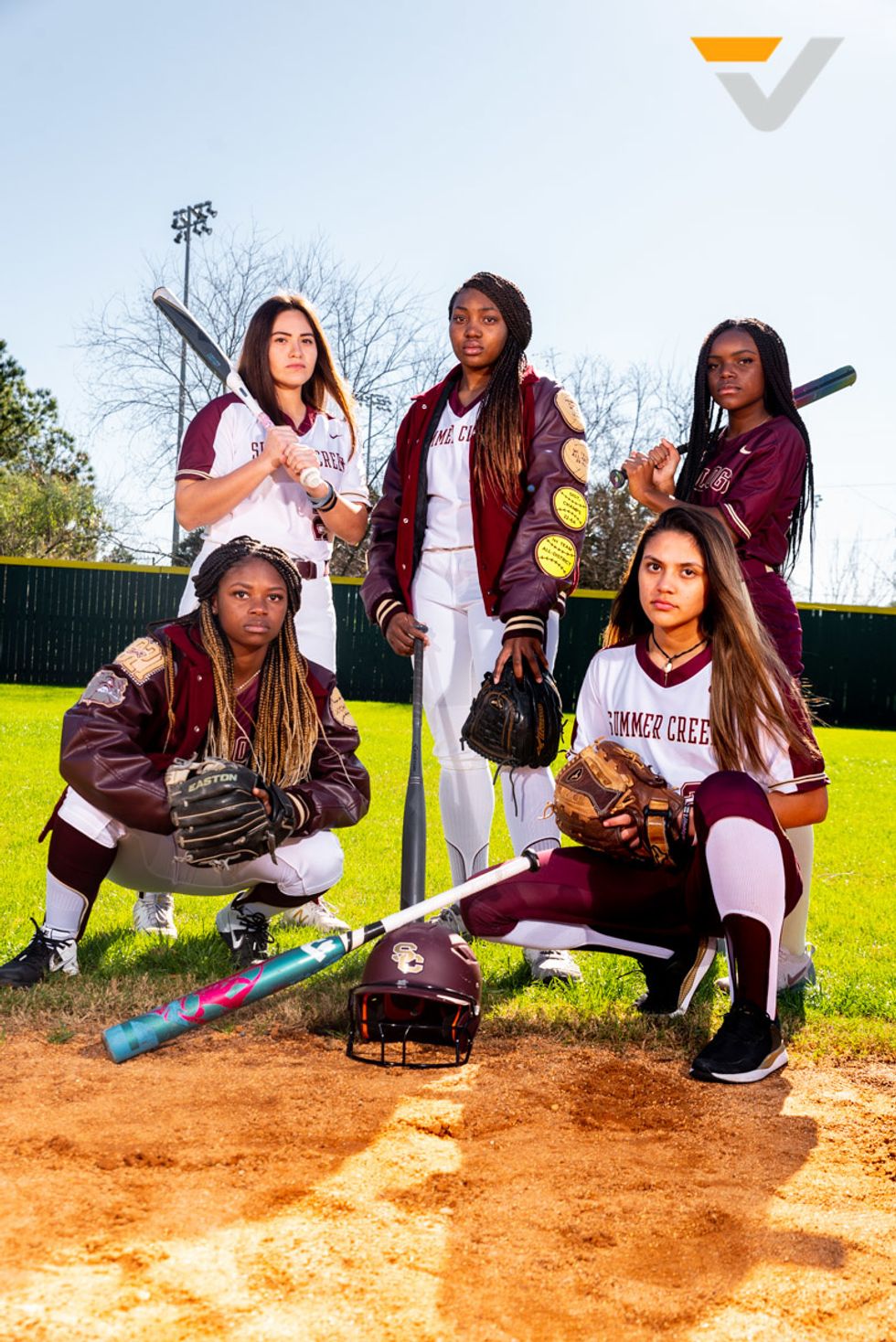 Summer Creek (Alphabetical Order) Jeralsilca Albiter, Derika Castillo, Tauryn Cummings, Tyra Parker and Jillian Walters
Photo by Jamey Wright
Summer Creek made school history in 2019 by making the playoffs. It was the first time ever for the Bulldogs. Now, can they go back-to-back years out of a highly competitive District 22-6A? Gabe Castillo enters his fourth year (55-35-1) leading Summer Creek and has seven starters back. Derika Castilo and Tauryn Cummings lead the group. Castillo, a Northwestern Statecommit, hit .404 a year ago with 28 RBIs and posted a 1.91 ERA, while Cummings hit for .531 with 35 RBIs. Both were named firstteam, all-district. Other first-teamers include Jillian Walters (.377, 38 RBIs) and Tyra Parker (Campbell University). Jeralsilca Albiter was named second-team, all-district and was a member of the USSA 2020 Select 30 All-American HS Team.
Cy Woods Wildcats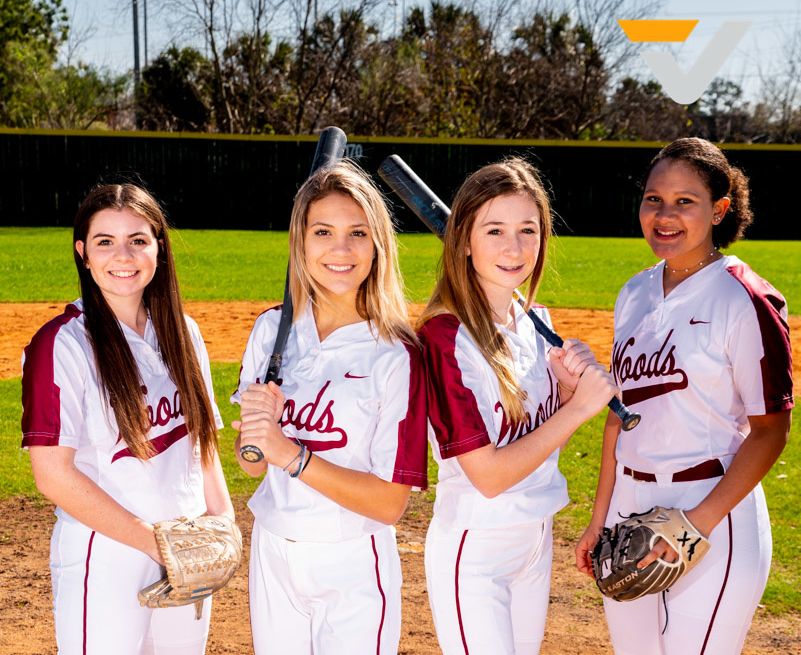 Cy Woods (Alphabetical Order) Erin Krause, Arianna Lopez, Katherine Lott and Madeline Mouhot
Photo by Jamey Wright
Cy Woods has been to the playoffs consistently – 12-straight years – but can 2020 be the year they finally breakthrough in the postseason? The Wildcats haven't been to the second round since 2016 and have never been past that. Clifton Bond enters year 14 leading the Wildcats' den and has six starters back off last year's squad. The group is led by first-team, all-district picks Madline Mouhot (.561, 11 RBIs) and Erin Krause (.469, 9 RBIs). Emily Schmuck is committed to Concordia Lutheran and was selected honorable mention, all-district last year after hitting .349 with 12 RBIs. Other players to watch include Megan Garcia and Alyssa Budisalovich.