Following an exceptional season last in which the girls won TAPPS State, the Legacy Prep Swim Team doesn't plan on slowing down.
"My expectations for this season are the same as last year," said coach Billy Gerwick. "I think we want to win a State title. I think I have the team coming back fairly strong, if not stronger. We have the capability if we put our minds to it, to win another State Championship."
Standouts for the Lions on the Girls' side include Janey Leiker, Serenity Stepanik and Emily Tomlinson, who are expected to keep the team in title contention. While the boys are young, having talents like Gage Gerwick, Malcolm Kerr and Rowan Stepanik will keep them in the State conversation.
Swimming can be an incredibly demanding sport that requires both mental and physical stamina in order to succeed, which is a fact that this Legacy Prep Swim Team will take to heart if they intend to go back to State.
"A lot of times, you're in the water alone," Gerwick said. "You have to have discipline and that inner soul to reach the expectations of what you want from yourself. It's a lot of hard work and a lot of dedication, but the rewards pay off."
IT'S DIFFERENT BEING THE "HUNTED" VERSUS THE "HUNTER".
After a perfect season and a Southwestern Preparatory Conference title, the Houston Christian Mustangs have become the hunted. Despite the fact that they are playing big-time public schools and have a huge target on their backs, Houston Christian's winning mentality has not wavered.
"We're definitely the hunted this season," said coach Ryan Bickham. "My girls are having to get acclimated to that. It's a big difference in the level of intensity, not just in the headliners like Loghan [Johnson] and D'Asia [Thomas], but the No. 8 and No. 9 kids on the team, who have to perform up to their ability for us to win."
Texas Tech-signee Loghan Johnson and Georgia Tech-commit D'Asia Thomas are the catalysts for their team's ambition.
"I think we're a lot deeper this year," said Loghan Johnson. "We're going to continue to grow our chemistry on and off the court and just gel together. When we are in those tough situations, hopefully we can have that chemistry and trust in each other, so that we can get the job done."
The two Mustang standouts are embarking on their senior campaigns. However, that doesn't mean they are going to slow down, given all the work they've put into contributing to the team's success. Their coach will see to that.
"I keep them [Johnson and Thomas] motivated by picking on the little stuff," coach Bickham said. "I set high expectations for them. For instance, I want Loghan to not only be the best forward on the court but be the best rebounder and playmaker. It's the same thing for D'Asia. I challenged her to handle the ball more and be more of a leader on the wing. I want to invigorate them."
Even though the competition will be formidable, Houston Christian's expectations for this season remain the same.
"The sky is the limit for this team," said coach Bickham. "I expect another SPC Championship."
Bradley Collier (VYPE)
Katy's dominant postseason continued following their recent 56-34 victory over C.E. King at NRG Stadium last Friday in the Regional Finals.
With only two wins away from claiming their 10th title, the undefeated Tigers will look to their top playmaker, RB Seth Davis, to maintain his MVP-caliber form and lead Katy to the State Championship.
After falling to Westlake in last year's State Semifinals game (45-14), Davis and company are determined to flip the script in their matchup against Vandegrift.
"Last year didn't end how we wanted it to," said Davis. "It would be awesome to get another ring, so we have been working hard all throughout the offseason in order to make up for that, and win another State Championship."
Seth Davis and his older brother, Jalen, were key factors in Katy's 2020 title. The younger Davis' game has only sky-rocketed since. Since he was a child, it's been a goal of his to become one of the best running backs to ever play for Katy.
"I knew Katy had a lot of great running backs and I wanted to be part of that list," Davis said. "It took hard work, even when times were tough. I'd have to thank my parents for that. They took me to all the workouts so that I could get better and perfect my craft. Without them, I wouldn't be where I am."
Due to his exceptional high school career, Davis has been given the opportunity to play in college at Mississippi State, following the conclusion of his senior year. Exciting though it may be, the memories the young athlete has amassed during his time as a Tiger, will not soon be forgotten.
"It's been great playing for Katy," said Davis. "My most memorable moment is when I scored six TDs in one game (the most single-game scores in Katy history). But, I've made several life-long friends, and it's been great playing for Coach [Gary] Joseph and all the other coaches who have taught me to be unselfish and how to persevere."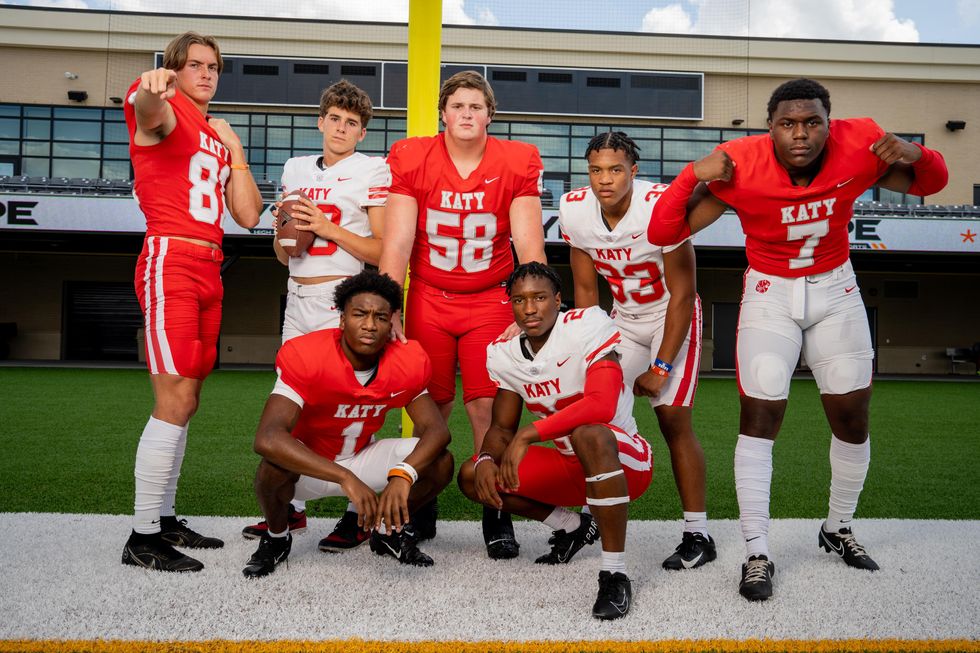 The Katy Tiger standoutsBradley Collier (VYPE)
The future looks bright for No. 23, but the Tigers have their sights set on another 6A State Championship, before anything else. Currently, Vandegrift stands in their way of returning to the Title game. The two powerhouses are set to face off this Saturday at 1 P.M, at the Alamodome in San Antonio.
"We are just going to keep doing what we've been doing," Davis said. "Running the ball and executing the play-action has been our offensive strength. We expect to play a good team, who plays hard on Saturday. So, we've gotta be ready to go."
Join the #VYPETEAM
Get up to date news from all over the country!