Photo by Bradley Collier
ENTERING HER SECOND YEAR AS HEAD VOLLEYBALL COACH AT FORT BEND AUSTIN, KRISTIN GOODMAN ONLY HAS FOUR RETURNERS. NOT EXACTLY IDEAL.
Goodman has to work new faces into the lineup after not being able to implement as much of her culture or philosophy that she desired last year because of COVID-19.
Fortunately, one of those returners is versatile senior middle Gabby Johnson, a three- year letterman who gives Goodman an impact player to build around.
"She is our powerhouse," Goodman said. "Our middle who can do everything. I'm not even afraid of playing her in the back row because she's that dependable."
Johnson is excited for this season. She said Goodman brings much-welcomed stability to a program on its fifth coach in six years. Goodman has a different vibe, spirit and energy, Johnson said, then previous coaches.
Johnson is hungry to bring the storied Bulldogs' program back to prominence, and she's confident that will happen because of solid team chemistry.
"I'm with my old team that I played with my freshman year, so we're all together again," Johnson said. "It's going to be fun."
Johnson is an improved player, which is saying something because she was a formidable force to begin with. She totaled 182 kills and 59 blocks last season on the way to being named to the District 20-6A first team, and so far has 107 kills and 44 blocks in 41 sets this season.
Because the Bulldogs don't have the hitting prowess they have had in the past, Johnson feels she will be used more in the front row. Her defense has gotten better as well and hopes to be a bigger leader in 2021.
"I just want to see more of a leadership role out of myself, being an older sister to the younger players," Johnson said.
Johnson recently verbally committed to Tennessee State. She has been buoyed by the prospect of playing at the next level, but she will never lack motivation or inspiration.
If she does, all she has to do is glance into the crowd at her four sisters and parents, cheering her on every move and encouraging her to keep on keeping on.
"They hype me up and are always in my corner," Johnson said. "That really gets me going. That makes me want to work harder and keep pushing."
This story appeared in the Inaugural VYPE Fort Bend ISD Fall Edition, which is now available to pick up at your local Fort Bend ISD High Schools.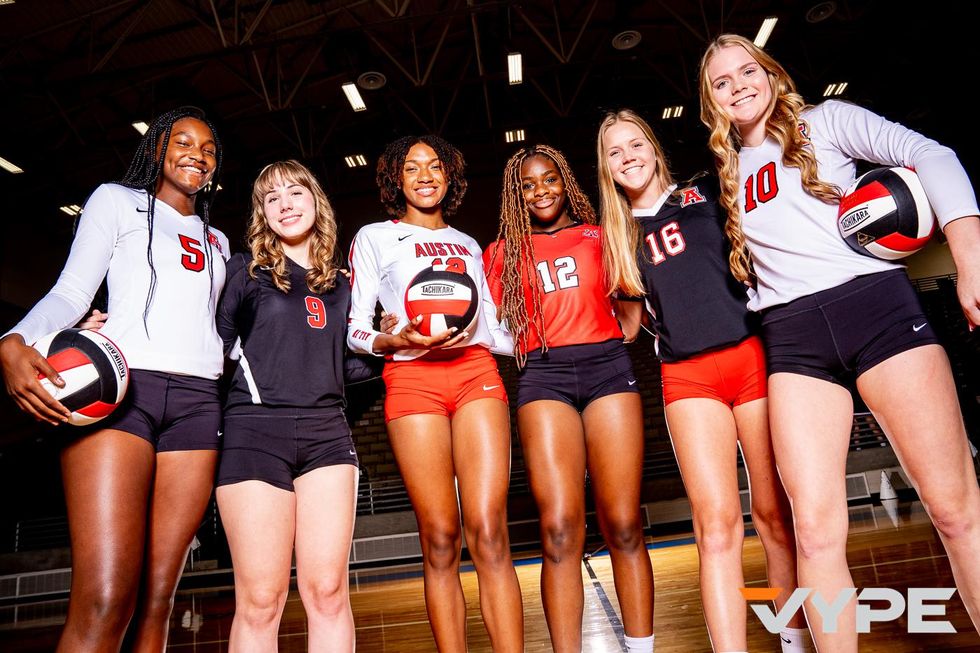 Ibifiri Jamabo (VYPE Media)
Week 9 saw tons of action in Texas High School Football. One of the big games of the week was Richardson J.J. Pearce vs. Irving. Despite Irving's attempt at a fourth-quarter comeback, the Tigers were unable to bounce back for a win over the Mustangs. J.J. Pearce defeated Irving by a 49-20 score and VYPE DFW was there to catch all of the action!
The Mustangs posted 49-unanswered points in the first three-quarters of the game last week. During J.J. Pearce's win, Hayden Hawthorne threw for 305 yards and five touchdowns with a 72% pass completion rating. On the receiving end of Hawthrone's touchdown passes was Oliver Crawford who caught three touchdown passes on seven receptions for 102 yards, Caden Varner who caught one touchdown pass on three catches and 67 yards, and Dylan Quinn who caught one touchdown on one reception and 13 yards. Daiquan Landon led in rushing for the Mustangs with two rushing touchdowns and 146 rushing yards on eight carries.
Irvings only two touchdowns came on rushes from Jaycob Vine who scored twice on 11 carries and 108 rushing yards. The rest of the Tigers' points came from field goals.
This VYPE DFW Game of the Week was powered by Boost Mobile. For any of your cellular device or plans needs, please visit your local Boost Mobile store where there are always great deals. Whether you're looking for a new service or just have questions about a phone, stop by your local Boost Mobile in Irving at any of the following addresses:
829 E Irving Blvd, Irving, Texas 75060 - (972) 779-9440
924 E Grauwyler Rd, Irving, Texas 75061 - (469) 524-3238
1503 N Story Rd, Irving, Teas 75061 - (463) 542-3414
Highlight video shot by Ibifiri Jamabo.
Photo by Bradley Collier
The Tompkins Falcons have established themselves as a serious volleyball contender lead by junior Cindy Tchouangwa. The Rice commit lead Tompkins to a district title and a 32-5 record. Congrats to Cindy Tchouangwa on Athlete of the Week.
Be sure to check out H-Town High School Sports Saturday's at 10:30pm on CW39 Houston, plus, throughout the week on AT&T SportsNet. CLICK HERE for more great video content from H-Town High School Sports.
Don't wait for the Holidays, get to Exclusive Furniture! We have 100 Hot Buys IN STOCK and ready for guaranteed delivery or we'll give you $100 plus an extra 20% off!
Join the #VYPETEAM
Get up to date news from all over the country!