Photos by Andy Tolbert
Atascocita, Cypress Park, Deer Park and Stratford had big Class 6A wins last weekend to move up or into the Class 6A Top 20 ranking powered by Kelly Malatesta of First United Bank.
The Eagles knocked off undefeated and Top 10 team CE King in a lopsided match-up, while Cypress Park took down Bridgeland. Deer Park bounced Dobie out of the Top 20, while Stratford went to 7-0 with a big neighborhood win over Memorial.
It's Week 8 in high school football in Houston and the playoff picture is getting clearer by the week.
PHOTOS BY ANDY TOLBERT
CLASS 6A RANKINGS
No. 1 Katy Tigers
No. 2 Westfield Mustangs
No. 3 Atascocita Eagles
No. 4 North Shore Mustangs
No. 5 Cypress Park Tigers

No. 6 Jersey Village Falcons
No. 7 Spring Lions
No. 8 Stratford Spartans
No. 9 Ridge Point Panthers

No. 10 Dickinson Gators
No. 11 Tompkins Falcons
No. 12 CE King Panthers

No. 13 Cypress Ranch Mustangs
No. 14 Clear Falls Knights
No. 15 The Woodlands Highlanders
No. 16 Shadow Creek Sharks

No. 17 Bridgeland Bears
No. 18 Klein Cain Hurricanes
No. 19 Deer Park Deer
No. 20 Pearland Oilers
...
The process of buying a home can be stressful! The process of building or renovating a home can be terrifying. Kelly Malatesta is the best in the business as one of the Top 20 Overall mortgage brokers in the COUNTRY as ranked by Scotsman's Guide. She and her team can make the construction process go smoothly with their unmatched products and customer service. Go to kellytx.com to run your construction or renovations scenarios.
SAMANTHA SHARER WANTS TO LEARN. SHE NEEDS IT.
Take the club volleyball tournament Sharer had in Orlando this summer, for instance. The Kempner junior outside hitter didn't just use Florida as a getaway vacation.
She watched, observed, played and came away smarter and better on the court, learning the importance of moving on to the next play and sustaining a positive attitude through mistakes.
"Each year I go to that tournament, I take away so much information that I wish I had more tournaments after that so I could immediately apply that back into my game," she said.
Sharer started playing volleyball in the fourth grade. She noticed the better she played, the more fun the game was.
She became a student of the game, hungry to take in any coaching. Sharer said her best traits are court awareness
and consistency, two strengths that would put a smile on any coach's face.
In her first year on varsity last year, Sharer totaled 103 kills, 80 digs and 36 aces in 68 sets. She was named an honorable mention all- district selection. This year, Sharer has 167 kills, 261 digs and 46 aces in 87 sets so far.
Sharer talked more with VYPE.
...
VYPE: What did you take away from your first year on varsity?
SHARER: I learned volleyball is definitely a mental sport. You have to keep the right mindset throughout the game to play well and be successful. There are no "free" points. You have to work for every ball and give all your effort to better the ball.
VYPE: Kempner has a new coach. What are your impressions of Coach (Rachel) Kessler?
SHARER: I like that Coach Kessler came into the program setting expectations for our team and how we can achieve them. She made us realize that she has a fun side, but there is a lot of hard work she expects from us. From the beginning, she started building relationships and focusing on growing and improving our program.
VYPE: What are your expectations for yourself and your team this season?
SHARER: Improve every day. After every game or practice, figuring out what I can work on at our next practice and what I can do on my own to continue improving. My expectations for my team are high. I think, win or lose, we are going to do what we can to improve on that game to make the next even better. Last year, we were so close to making it to playoffs, and this year that is going to be a big goal for our team.
This story appeared in the Inaugural VYPE Fort Bend ISD Fall Edition, which is now available to pick up at your local Fort Bend ISD High Schools.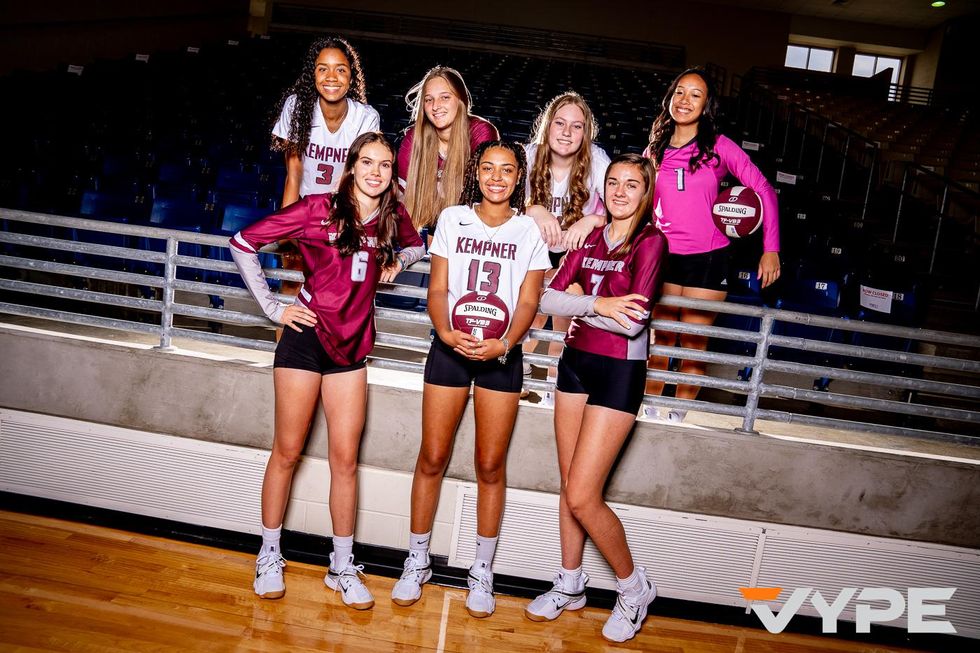 AUSTIN SENIOR DEFENSIVE END VICTOR PHILIP LOVES MIND GAMES. ESPECIALLY, THE KIND THAT TEST HIS CREATIVE THINKING.
When the 6-foot-3, 315-pounder isn't tearing through offensive backfields, he plays chess. He appreciates the strategy
and mental grappling of it. It stimulates his thoughts.
It's like how he approaches football.
Philip, who has 30 total tackles and three tackles for loss through six games this season, spends hours and hours watching film on opposing quarterbacks, identifying strengths and weaknesses. He'll then adjust his own game during that week of practices in preparation for what's to come.
Philip also understands the battle of the trenches against offensive linemen is won with the hands.
"It's like a game of chicken, seeing who shoots their hands first in the trenches and how fast you can counter it," Philip said.
Read and react. Staying one move ahead. Counters. Like a chess match.
But more importantly, Philip plays with a drive.
Being average is the worst- case scenario in his eyes. It's practically a fear.
"I have to prove, not just to myself but everyone else, that I'm not just another football player who was blessed with talent but couldn't go nowhere with it," Philip said. "I'm inspired to show that this talent can take me far in this game and I'll work my hardest to maximize it."
Philip talked more with VYPE.
...
VYPE: When did you start playing football, and what was it about the game you fell in love with?
PHILIP: I started playing football around the seventh grade, but I didn't fall in love with the game until around last year, to be honest. The reason for that was that I grew up as a basketball fan/ player and football back then was just never a focus. But as time went on, the love for the game just grew more and more.
VYPE: What is it about your game that you feel makes you a special player?
PHILIP: Well, one reason is the way I'm built. I'm blessed with God-given football genes and I use them to my advantage. I think what separates me is my coachability and the fact that I can recognize my own weaknesses and have the willingness to improve on them.
VYPE: What is something people don't know about Victor Philip?
PHILIP: I think what people may misunderstand about me, at first glance, is that even though I'm a big guy and play football, I'm really just a nice guy who likes to crack jokes.
This story appeared in the Inaugural VYPE Fort Bend ISD Fall Edition, which is now available to pick up at your local Fort Bend ISD High Schools.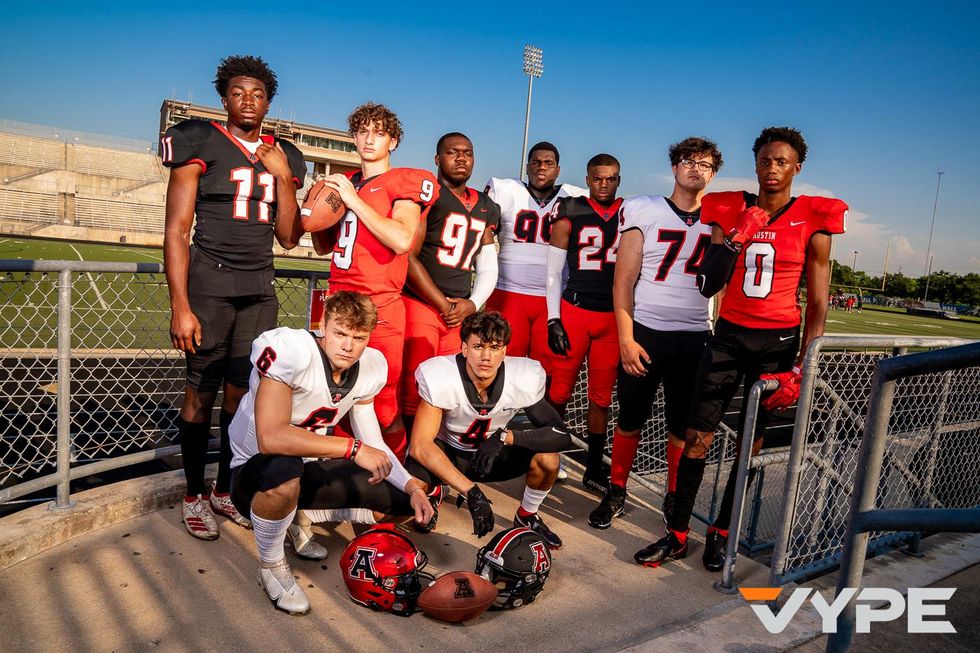 Join the #VYPETEAM
Get up to date news from all over the country!