VYPE Austin/San Antonio Helmet Stickers: Week 6 (10.4.22)
Oct 05, 2022
Welcome back to another edition of VYPE Austin/San Antonio Helmet Stickers for the 2022 Texas High School Football season.
There were tons of amazing performances last week across the Central Texas. We compiled all of those top performances in the VYPE Austin/San Antonio Football Player of the Week Fan Poll - CLICK HERE TO VOTE - but then we boiled that down to what we felt were personally the Top 7 performances of the week
These are Week 5's Helmet Sticker selections (in no particular order).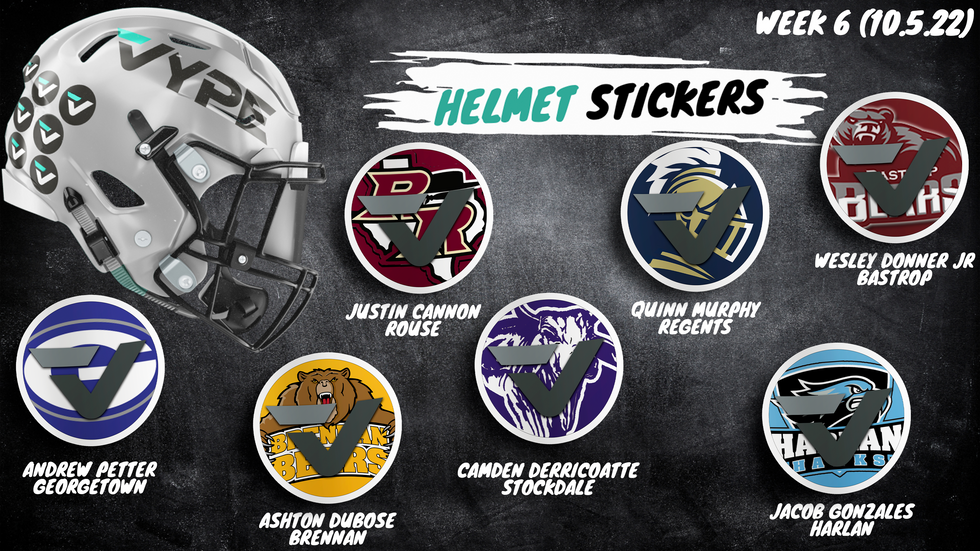 ANDREW PETTER-GEORGETOWN
Petter was absolutely dominate in Georgetown's 70-28 win over Hendrickson on Thursday. Petter ran for 168 yards on 18 carries with 4 touchdowns and added 21 more yards receiving and 96 yards on punt returns. Petter has been a workhouse for Georgetown all season and will look to continue that against Leander Friday.
ASHTON DUBOSE-BRENNAN
After their Week 1 loss, the Bears and Ashton Dubose have looked dominate. In their 41- win over O'Connor Dubose was 17/31 for 295 yards and 3 touchdowns on the night. He also ran the ball 6 times for 93 yards and 2 touchdowns.
JUSTIN CANNON-ROUSE
Rouse got back in the win column Thursday with a 48-28 win over Pflugerville Connally. Justin Cannon led the way for the Raiders carrying the ball 26 times for 190 yards and 3 touchdowns.

CAMDEN DERRICOATTE-STOCKDALE
It always feels good to end somebodies unbeaten streak. That's what Stockdale did against Pearsall this past week defeating the Mavericks 29-0. Camden Derricoatte did it all for the Brahmas. Derricoatte was 11/18 for 112 yards passing with 2 touchdowns and carried the ball 18 times for 136 yards and 1 touchdown.
QUINN MURPHY-REGENTS
The spotlight isn't to big so far for this freshman. In the Knights 51-12 victory over Victoria St. Joseph Murphy was 15/22 for 221 yards and 4 touchdowns and looked poised in the pocket doing it.
JACOB GONZALES-HARLAN
In a high scoring victory over district opponent Stevens this past Friday, Jacob Gonzales ran the ball for 267 yards and SIX touchdowns on 24 carries with 12 yards receiving on 2 catches for good measure.
WESLEY DONNER JR-BASTROP
Bastrop picked up its first win of the year against Kerrville Tivy 30-27 on Friday and one of the key reasons why was Wesley Donner. Donner was a force to be reckoned with on the defensive side tallying 9 tackles, 1 sack, 2 forced fumbles and 1 fumble recovery on the night.