VYPE Austin/San Antonio Helmet Stickers: Week 3 (9.14.22)
Sep 14, 2022
Welcome back to another edition of VYPE Austin/San Antonio Helmet Stickers for the 2022 Texas High School Football season.
There were tons of amazing performances last week across the Central Texas. We compiled all of those top performances in the VYPE Austin/San Antonio Football Player of the Week Fan Poll - CLICK HERE TO VOTE - but then we boiled that down to what we felt were personally the Top 7 performances of the week
These are Week 3's Helmet Sticker selections (in no particular order).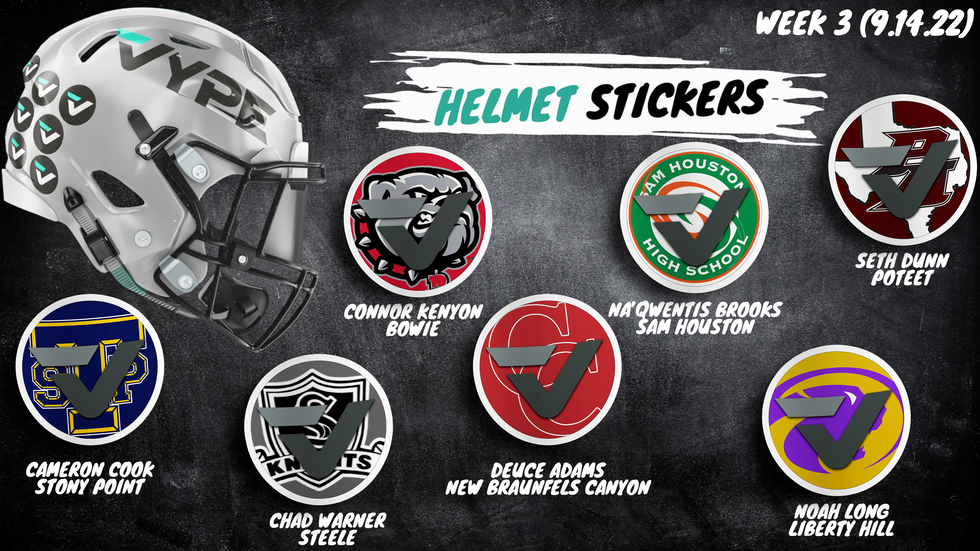 Cameron Cook-Stony Point
Cameron Cook help lead the Tigers to a 3-0 start on Thursday with a 55-7 win over Pflugerville. The senior had 11 rushes for 126 and 3 touchdown and added on another touchdown off of a 52 yard reception to boot. Cook has been off to a hot start this season and will look to continue that hot streak this week versus Vandegrift
Chad Warner-Steele
Steele is off to a 3-0 start and some of that has come down to the play of Sophomore Chad Warner. Warner was not only efficient but impressive in the Knights win over Hutto this past Friday going 17/22 for 314 yards and 4 touchdowns
Connor Kenyon-Bowie
Talk about a dominating performance. In their shutout win against Del Valle, 64-0, on Friday Quarterback Connor Kenyon was 11/14 for 257 and SIX touchdowns to help lead the Bulldogs to a 3-0 start.
Deuce Adams-New Braunfels Canyon
Talk about a statement win. The Unicorns had been the talk of the town in New Braunfels after their Week 1 win versus state power Denton Ryan. But in their rivalry game on Friday it was the Cougars who came out on top. A big reason why is one of our helmet sticker winners this week in Deuce Adams. Adams threw for 304 yards completing 20 out of 34 attempts with 4 touchdowns and no interceptions.
Na'Qwentis Brooks-Sam Houston
Talk about a dominating performance. In their win versus Jefferson this past Thursday Sam Houston's Na'Qwentis Brooks could not be stopped. He ran for an impressive 268 yards on 36 attempts with 1 touchdown. Most impressive about this performance? That would be the consistency of the carries. His longest run was 25 yards and his average run was 7.7 yards. If you needed some quality yards, Brooks was going to get them for you on Thursday.
Noah Long- Liberty Hill
Speaking of dominanting rushing performances we have to mention Noah Long. Known for their Slot-T offense Liberty Hill is always going to put up good rushing numbers. But this Friday Long put up an astounding 343 yards on only 26 attempts with 5 touchdowns to go with that. He would not be denied against cross town opponent Georgetown in their 49-35 win.
Seth Dunn-Poteet
Talk about an overall performance! In their 21-12 victory over Uvalde on Friday Dunn made plays all over the field. On the offensive side of things he had 143 yards rushing on 19 carries and 3 receptions for 12 yards and 1 touchdown. But he wasn't done there. On defense he also accounted for 9 tackles and 1 sack. If you needed a play, Dunn was going to get it for you on Friday.