Argyle Beats Sweeny Again; Earns 2nd Straight State Title
Jun 13, 2019
Argyle baseball knows how to play Sweeny, so it produced back-to-back successful UIL 4A state championship game performances. The Eagles beat the Bulldogs 5-0 in the 2018 title game, and followed that with Thursday's 6-3 win at The University of Texas at Austin's UFCU Disch-Falk Field.
"That game was defined by our team," said Argyle head coach Ricky Griffin. "[The players have] been here enough, they've been in enough situations like that, and there was no panic. They just knew they were going to win. I'm very proud of them."
Argyle started on the right foot because it took the lead in the top of the first. Dillon Carter recorded a one-out single to start the Eagles' surge, advanced to third on Chad Ricker's two-out single, and scored on Hayden Clearman's RBI single. Austin King also walked to load the bases, but Sweeny pitcher Cade Homniok forced Alex Gonzales' inning-ending foul out.
Sweeny also found a way to get runners on base in the early innings, but couldn't drive them home for a game-tying or go-ahead score. The bottom of the first inning saw a Joe Effenberger leadoff double and a Quinton Martin walk. The second frame featured Blake Benavides and Braden Norris walks, as well as a Cord Filipp single. Wes Folse also had a one-out hit in the third, but couldn't extend a double into a triple.
Argyle answered Sweeny's missed opportunities by expanding its lead in the fourth. Austin King reached base on a fielding error to start the inning, and was replaced by pinch runner Jake Sullivan on the bases. VYPE Player of the Game Cade Merka then used a RBI double to drive in the latter and scored on Bo Hogeboom's RBI single. Mason Green acted as a pinch runner for the latter and scored on Brenden Dixon's RBI single.
"I just prepared for this, pretty much the entire season," Merka said of his performance. "And I just gotta give everything to my teammates."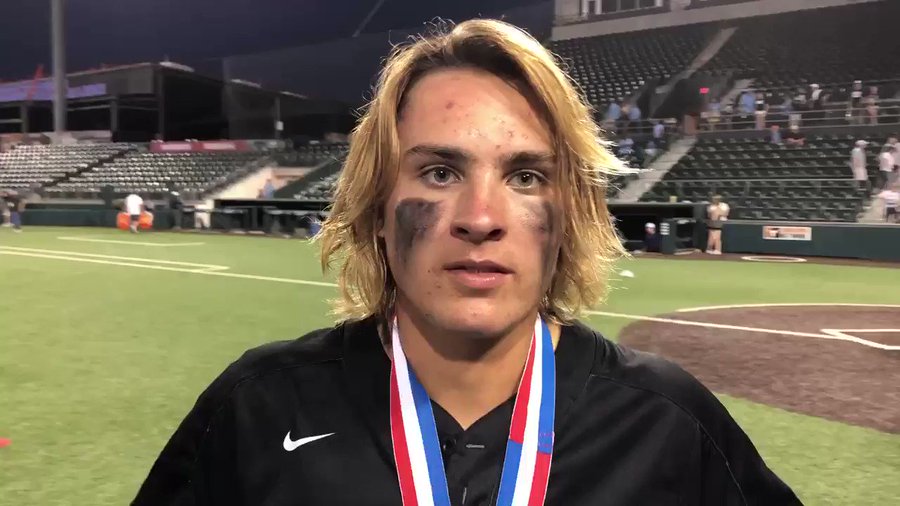 VYPE DFW@VYPEDFWVYPE Player of the Game Cade Merka did a little bit of everything (1 double, 1 RBI & 1 run) in Argyle's 6-3 UIL 4A state championship game win against Sweeny. It clinched the Eagles' second straight state title. @ArgyleSports @argyle_baseball @4cademerka #txhsbaseball #UILState
1059:10 PM - Jun 6, 2019
26 people are talking about this
Twitter Ads info and privacy
The game's scoring continued in the fifth. Argyle loaded the bases, and Preston King's hit by pitch allowed Sullivan to score. Sweeny then followed with a trio of runs in the bottom half of the inning. Effenberger's RBI triple drove in Filipp and Collin Coker to get the Bulldogs on the board, and Homniok's RBI groundout allowed Effenberger to come home for another run.
But, Argyle wrapped up the win in the top of the seventh. Austin King started the inning with a leadoff double, and pinch runner Riley Hartman advanced to third base and home on wild pitches.
Keep reading...
Show less