Trailblazing Warriors: Jordan state-bound in inaugural varsity season
Apr 13, 2022
Courtesy of Katy Jordan boys soccer
Katy Jordan boys soccer coach Jason Meekins often talks to his players about being trailblazers. He would know. He's been one.

Meekins played for the 2001 Brenham High team that was the first to go to state. It led to bigger and better things. It was a considerable movement forward for the Cubs program in culture, standard and expectations.
"You're blazing the trail for everybody that's coming after you," Meekins tells his players. "Whatever you want the expectation to be or the tradition to be, you're setting that."
The Warriors have owned that. It's showing on the field.
That notion of being the first to accomplish anything has engineered Jordan's impressive run to state in its first year of varsity play. The Warriors play Dripping Springs in the Class 5A state semifinal Thursday at 5 p.m. at Birkelbach Field in Georgetown.
Jordan is 18-6-2 with no seniors and 12 underclassmen.
"We're playing some of our best soccer," Meekins said, "and a lot of it is because of their mindset and what they want."
Three things are a boon for Jordan.
One is work ethic.
"Sometimes we joke around off the field, but when it's time to work and train, we flip the switch and focus," freshman midfielder Marcelo Ojeda said.
Another is team chemistry. The Warriors' program is a familial one, led by Meekins, though it has been a work in progress since the offseason.
"Our team chemistry has grown since then and the respect level has increased," junior forward Hani Taan said. "We stopped playing for ourselves and started playing and working hard for each other. We all have respect for each other on the same level. We see each other as players, and not through grade levels."
And the third, interestingly, is youth. It is something the Warriors see as a battle cry, not a burden. Players talk about Greece in the Euros and Leicester City in the Premier League as examples of teams overcoming to overachieve great things.
"Being young makes us feel a bit like underdogs," Ojeda said, "and that helps motivate us to win."
COACH
Meekins was an assistant coach under Tom Jones at Tompkins when the Falcons made the regional tournament in their second year as a varsity program in 2016. After three years as head coach at Ridge Point, Meekins made the move back to Katy, where his family lived and his wife is a teacher.
"As a coach, you always want to put yourself against the best and see where you match up," Meekins said. "This is a good area with good talent, year in and year out. Building a program that could compete at the highest level here in Houston was kind of the drive."
Like Jones, Meekins immediately went to work fostering a program of relationships.
"It's bigger than soccer, and that's what I learned from (Jones)," Meekins said. "High school soccer is an emotional game. He's able to get accountability and playing together out of his kids."
Meekins introduced his players to the weight room, something that was a foreign concept to most of them. Soccer programs generally don't spend a lot of time, if any, lifting weights.
"The weight room identifies a lot about a person, as far as what they're willing to put their bodies and their mind through," Meekins said. "A lot of it is mind over anything else. That's a big part of getting them to realize they can compete above what they think they can."
From assistant coach Robert Courtney, Meekins learned to delegate ownership to players. The Warriors program is not a dictatorship. It is a democracy.
"Coach Meekins likes to listen to our opinions and takes them into consideration as he organizes the team," Taan said. "He doesn't have a set way of playing. He makes his tactics around the players, which makes the players connect with each other."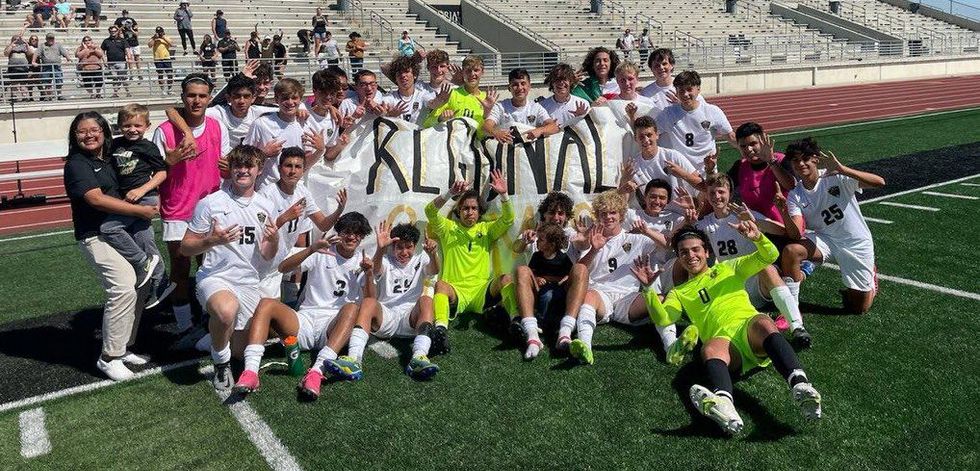 Katy Jordan: Region III-5A champs in its inaugural year of varsity play.Courtesy of Katy ISD Athletics
THE GREAT RESET
A critical juncture of Jordan's season was a three-game losing streak to start district play. The Warriors were outscored 4-0.
"We were very unmotivated, so our coach took matters into his own hands and organized a meeting that is now known as 'The Great Reset,'" Ojeda said.
The meeting put the emphasis on the players. Meekins was direct and succinct. "What do you want to do in your first varsity season?"
Since then, the Warriors have been definitive in their response, winning 16 of their last 20 games.
"We gained a lot of momentum, and that was when we realized that this team, this family, could have a really successful run in the playoffs," Ojeda said. "We were right."
Ojeda said the Warriors are "enjoying the heck out of this." There is no pressure.
"The hardest thing about being a first-year varsity team is everyone takes us as less due to not having seniors," Taan said. "But I also think that's the most enjoyable part, to be able to show that we don't need a senior class to be a top-class program and to prove ourselves."
The Warriors are playing freely, joyfully and relaxed despite high stakes. Take last weekend's Region III-5A championship win over Austin Northeast Early College in penalty kicks, when Jordan's five shooters were laughing and telling jokes with a referee while waiting for their turn to kick.
"Coach tells us before every game to have fun and enjoy it, because not everyone has this opportunity," Ojeda said. "A lot of times, me and my teammates crack jokes during the game to ease the pressure by just talking and saying funny stuff. Just going out there and playing with nothing to lose. Nobody thinking that this might be their last ever high school game."
True