'This will be remembered forever:' McKinney's incredible season falls short in state final
Mar 13, 2022
Joshua Waclawczyk | VYPE Media
SAN ANTONIO—A magical, sensationally brilliant season came to a devastating end Saturday for McKinney's boys basketball team.

Making their first state tournament appearance since 1928, and their first state championship game appearance ever, the precocious Lions were simply no match for No. 2 nationally-ranked Duncanville in the Class 6A state championship game, 69-49, at the Alamodome. The Panthers won their third straight title and finished the season with 20 straight wins in handing the Lions only their sixth loss in 41 games.
"Obviously, the end result wasn't what we wanted," McKinney coach Wes Watson said. "We weren't just happy to be here. We wanted to win this thing. You could tell by the expression on the faces of these young men just how much this hurt."
The Lions (35-6) ran into a buzzsaw in the overwhelming Panthers (35-1), who were declared MaxPreps' national champions not long after the game ended.
"I've been coming down here for 28 years to this tournament," Watson said. "I've seen a lot of great teams. The Chris Bosh teams with Lincoln. The TJ Ford teams with Willowridge. But I'm not so sure that team we just played is not the best I've ever seen down here."
.@MHSLionsHoops coach Wes Watson\u2019s opening statements. #UILState #txhshoops @McKISDAthpic.twitter.com/SyDlO8RiYf

— VYPE DFW (@VYPE DFW) 1647147435
Duncanville led 46-21 at halftime. The Panthers held the Lions to 40.9 percent shooting and forced 10 turnovers, scoring 17 points off those takeaways.
Duncanville's distinct size advantage—no starter stands shorter than 6-foot-5—was a nightmare defensively for the Lions. McKinney's dribble-drive attack was stunted.
"When you don't go by a guy and draw help, it makes it kind of difficult," Watson said. "We had to ask our guys to do some things that they don't normally do, like set some off-the-ball screens, pop the screener, and create just a little bit of space."
But the third quarter was all McKinney, as it outscored Duncanville, 14-4, to cut its deficit by 10 points going into the fourth. The Lions scored the quarter's first 11 points. Duncanville did not get its first points of the second half until a Davion Sykes slam with 1:25 left in the third.
McKinney held Duncanville to 2-for-9 shooting and forced seven turnovers in the period.
"I was really proud of our effort in the second half," Watson said. "We did a better job containing the ball up top and walling up around the rim. We did a better job winning 50-50 balls. I thought our first-shot defense was better, and part of that was not allowing so much easy offense for them because of our mistakes on the offensive end."
However, McKinney never got closer than 13 points as Duncanville held on down the stretch of the fourth quarter.
What a season by @MHSLionsHoops. First state tournament appearance since 1928. First state championship appearance ever. #UILState #txhshoops @McKISDAthpic.twitter.com/23I0Yqb9Dp

— VYPE DFW (@VYPE DFW) 1647146712
"We wanted this so bad for McKinney," Watson said. "We wanted it for all the former players, for our former students, for our fans. It's a wonderful community. We had so much support as we went through this thing. They saw that. We were playing for a lot of people."
McKinney junior guard Ja'Kobe Walter, who scored a game-high 23 points in the state title game, said the Lions believed they could win, no matter the opponent's ranking or status. It showed in the playoffs.
The Lions took down state power Dallas Richardson, which was ranked No. 1 nationally earlier in the year, in the regional quarterfinals. It conquered Austin Westlake, a state finalist last season, in double overtime in the state semifinal.
"We've always been on the other side of big games," Walter said. "Everyone always expected us to lose. But coach would always tell us he never believed that. When we won, it was never upset. We always believed we were that team."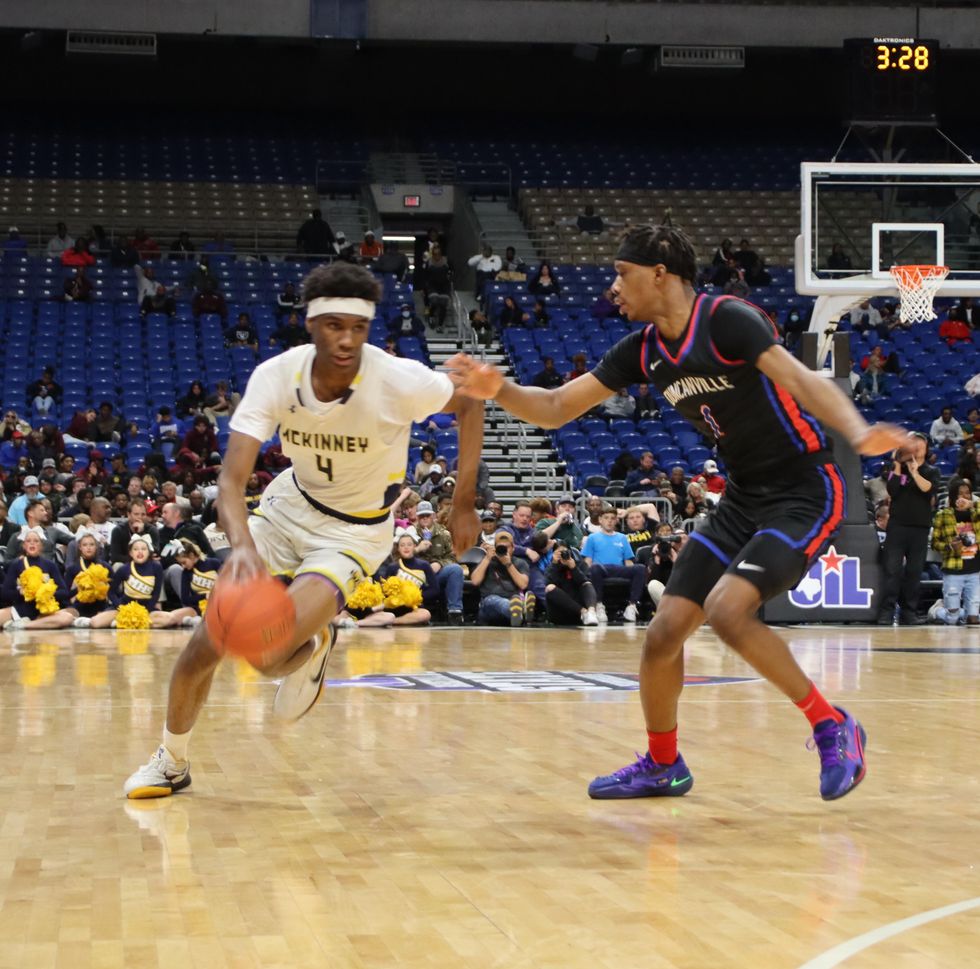 McKinney junior guard Ja'Kobe Walter (4) drives by a Duncanville defender during their Class 6A state title game Saturday in San Antonio. Walter scored a game-high 23 points.Photo by Joshua Waclawczyk | VYPE Media
In 2019, when senior starters Alex Anamekwe and Devin Vincent were freshmen varsity players, the Lions went 13-16 and did not make the playoffs. But that's when the foundation for this season was put in place.
The next season introduced Walter and Jacovey Campbell as freshmen to the varsity, along with then-sophomore Thatcher McClure. McKinney went 19-11 as an area playoff finalist.
McKinney went 25-3 last year, again falling in the area playoffs. But there was a feeling that greatness was around the corner.
"It starts with how much they loved each other and how much they cared for each other," Watson said. "Last year ended a bit earlier than we wanted it to, and that molded us. We took a long look that we had a chance to be good this year. All these dudes worked really hard in the spring, had incredible summers, and they came back better."
The result was something that hasn't been done in 94 years.
"We made history with this run," McClure said. "This will be remembered forever."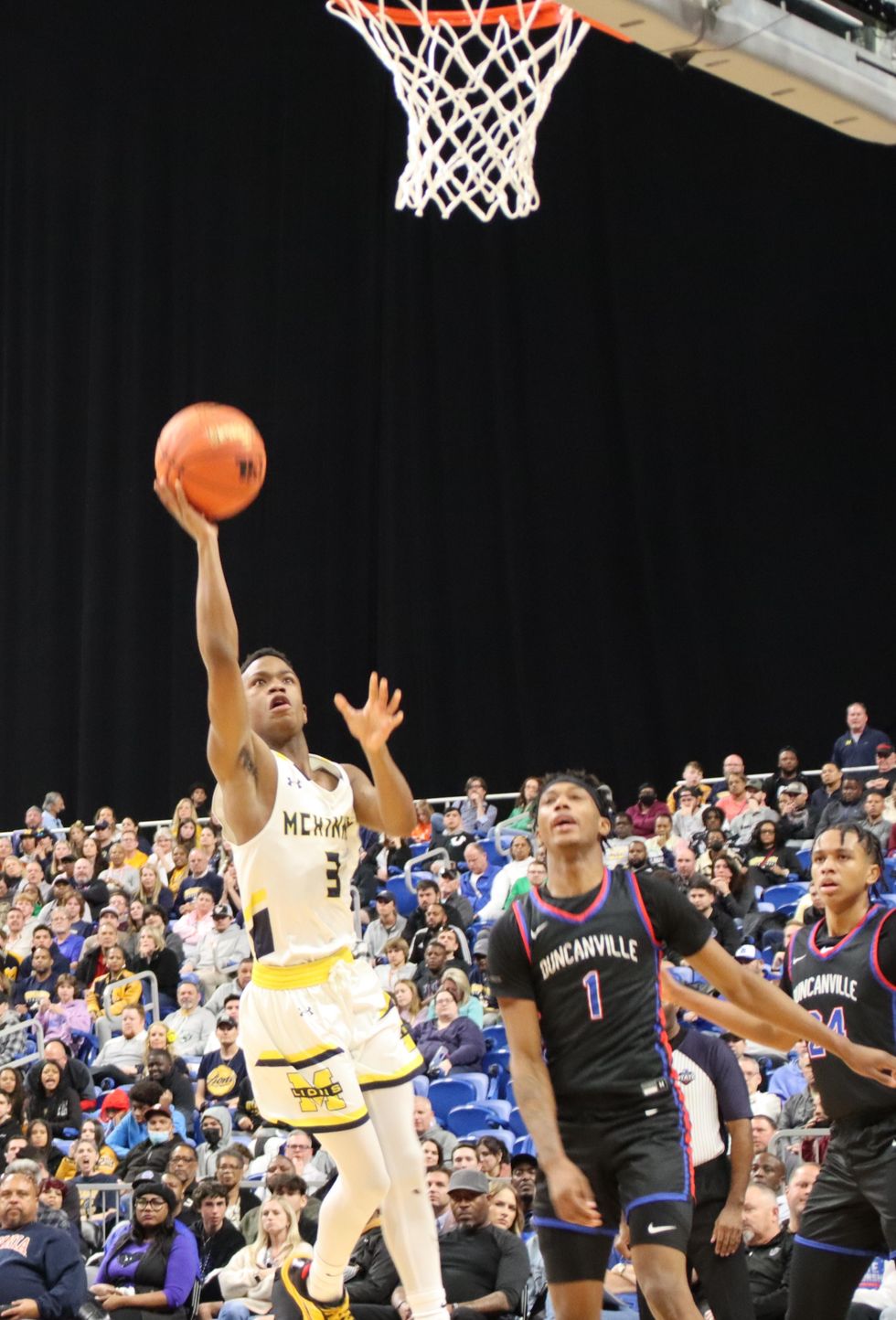 McKinney guard Jacovey Campbell attempts a shot during the Class 6A state championship game against Duncanville on Saturday in San Antonio.Photo by Joshua Waclawczyk | VYPE Media
Watson said seven or eight guys from his high school showed up to watch the Lions play in the regional tournament.
"None of that happens without these dudes here," Watson said. "It's one of the special things about high school sports. We've got a bunch of dudes here who all went to middle school in McKinney, Texas. They grew up playing together, and playing for our community meant a lot to them. These dudes had some choices. Believe me, a lot of places would've loved to have these guys come play for them. But they trusted us. I'll be forever indebted to them and their parents and taking our community on an unbelievable ride."
Not every Lion was so effusive in their feelings afterward. Anamekwe was one. However, his words, no matter how brief, were arguably the most meaningful.
"I'm just glad I got to do it with this team."