Rebel Red to Bobcat Maroon: Hays Volleyball Players Will Team Up At Nearby Texas State
Oct 01, 2019
By VYPE Media's Amanda Lattimer.

The Texas State Bobcats are excited to welcome two Hays County locals to their volleyball team the next two years. Power duo Ryann Torres and Trista Strasser have been playing volleyball together since the seventh grade, and have attended Texas State volleyball camps annually. Torres will be trading out Rebel red for Bobcat maroon in 2020, while Strasser will be arriving shortly behind her in 2021.
Strasser has been an athlete her whole life, but focused more on basketball until she realized her personal growth in volleyball once she started to play on the Hays High School varsity team.
"I knew how much I loved the sport and how much I've grown," said Strasser. "And all the amazing people I've had such great friendships with."
Strasser looked up to Torres and the other upperclassmen, and was able to catch on to what it's like being on varsity. With several college offers, Strasser explains that Texas State had a special touch to it that other schools didn't have.
"Other big schools would not have a close relationship with my family," said Strasser. "And I want my mom to be able to feel like she can talk to the coaches about anything, just like she does with my [Texas State] coaches right now."
For Torres, it has always been a dream to play at Texas State because she has been a Hays County local her whole life. Playing volleyball right in her backyard is what she hoped for, especially so she can stay close to family and won't have to miss her mom's spaghetti dinners.
Torres started to get serious about college ball her sophomore year, when her club team played against Texas State's current assistant head volleyball coach Sean Huiet's club team. Torres' agility and passionate energy on the court made a lasting impression on Huiet, leaving him to contact her as a junior to talk about her future volleyball career.
Like they always say, it's a bittersweet season as a senior, and Torres wants to impact the underclassmen like the seniors did for her.
"How we played together, maybe college will bring that back to me, but, as of right now, I can say that I have never played with a team that has so much chemistry with each other," said Torres. "They are pretty much sisters to me."
With Strasser taking a new role as a senior next year, she explains how the team will change.
"It's going to be hard to let these younger kids on the team experience what varsity is like and trying to teach them the way the seniors taught me, like Ryann and the other seniors did," said Strasser.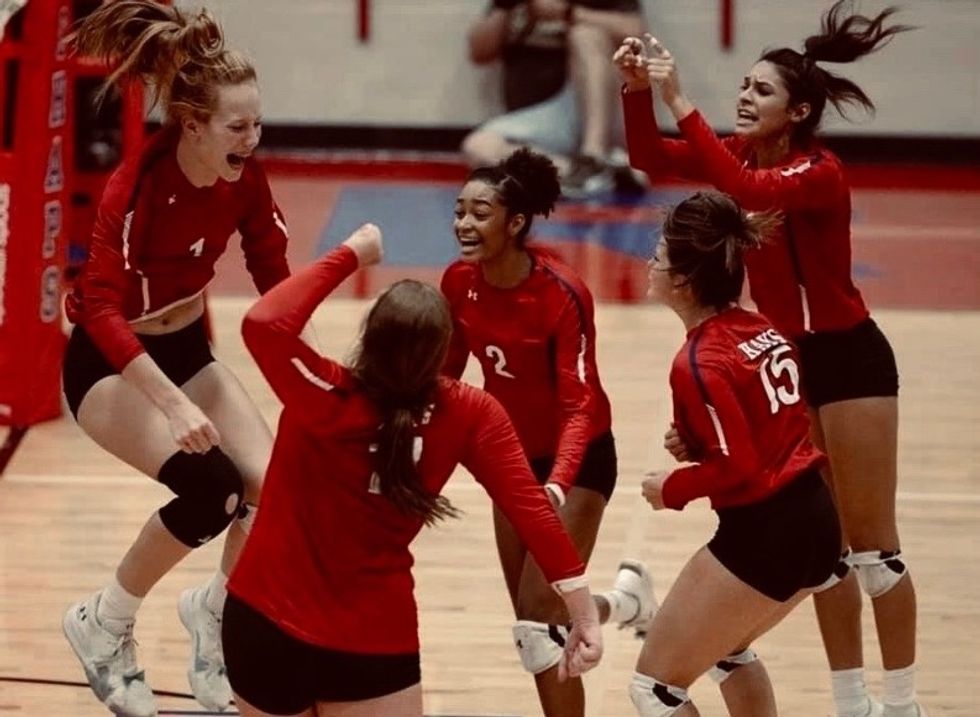 Photo provided by Ryann Torres.
As for this season, the girls have specific goals that they want to see the team accomplish. Strasser hopes the Rebels can become district champs, and Torres wants to see them succeed past the first round of playoffs. After this season, we will see the girls reunite as Bobcats in 2021.

"Our chemistry together is already going to be automatic when [Strasser] comes," said Torres. "We will never lose that chemistry with each other."
Looking to get more involved? Check out ShopVYPE for fresh gear that supports local schools and the VYPE U Ambassador Program. To sign up for the VYPE U Program, apply at VYPEU.com.