PLAY BALL: VYPE's Public School Baseball Dark Horses
Feb 27, 2020
By Bradley Collier
The Greater Houston-area is loaded with power-programs and there are several in the Dark Horse category.
Cypress Ranch has won two state titles in the last decade. Atascocita and Santa Fe are Regional powers along with Klein Collins.
Who will punch through the glass ceiling and become a state contender? Stay tuned.
Cypress Ranch Mustangs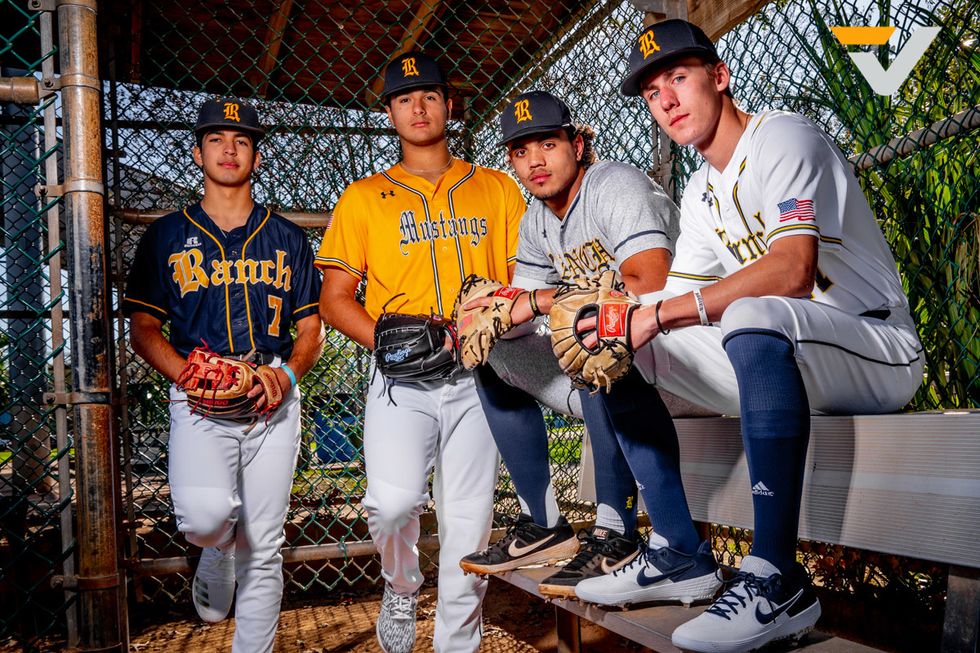 Cy Ranch's Eric Ortiz, Luke Negrete, Fabian Mayfield and Hunter Conner
By Bradley Collier
The Cypress Ranch Mustangs have been the face of Houston area high school baseball since its opening. With titles in 2012 and 2015, the 'Stangs have been in the state conversation every season. They have been to four Regional Finals as well. Unfortunately for Cy Ranch-nation, they say goodbye to MLB draft picks Matthew Thompson and JJ Goss from last year's team. Carrying the baton this season are a trio of seniors. Luke Negrete can pitch and play third, and his bat is powerful. Cypress Ranch will be stingy up the middle with Eric Ortiz at shortstop and Hunter Connor running down balls in centerfield. Don't sleep on Fabian Mayfield at first-base. Coach Corey Cephus will need some youngsters to step up to hold off the district challengers like the up-and-coming Bridgeland.
Santa Fe Indians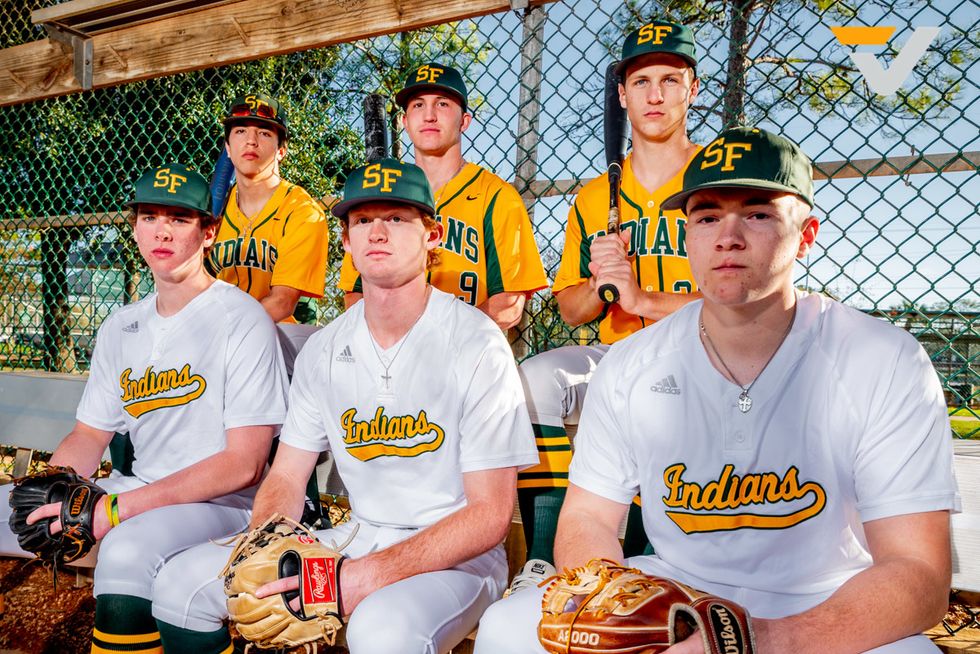 Santa Fe (Alphabetical)Albert Garza, Nicholas McDonald, Grant Pfaff, Jeremy Sheppard and Rome Shubert
By Bradley Collier
This could be a special season for the Santa Fe Indians. Several student-athletes who went through that tragic campus shooting a few years back now enter their senior seasons, which will be a memorable one. Coach Ronnie Wulf, who has 35 years of head coaching under his belt, welcomes back all-state selection Rome Shubert – a Houston-signee – who went 11-0 on the mound as a junior. Shubert will be joined by seniors Dalton Stevens, Nicholas McDonald and Jeremy Sheppard in the bullpen. They are loaded with quality pitchers which bodes well in the postseason. Shortstop Alex Garza, Cameron Bennett and Grant Pfaff give the lineup some punch. The Indians were two steps from a state tournament appearance in 2019 but lost in a three-game series to Georgetown. Santa Fe can make school history by reaching the Regional Finals. What a way that would be to send out this group of seniors.
Atascocita Eagles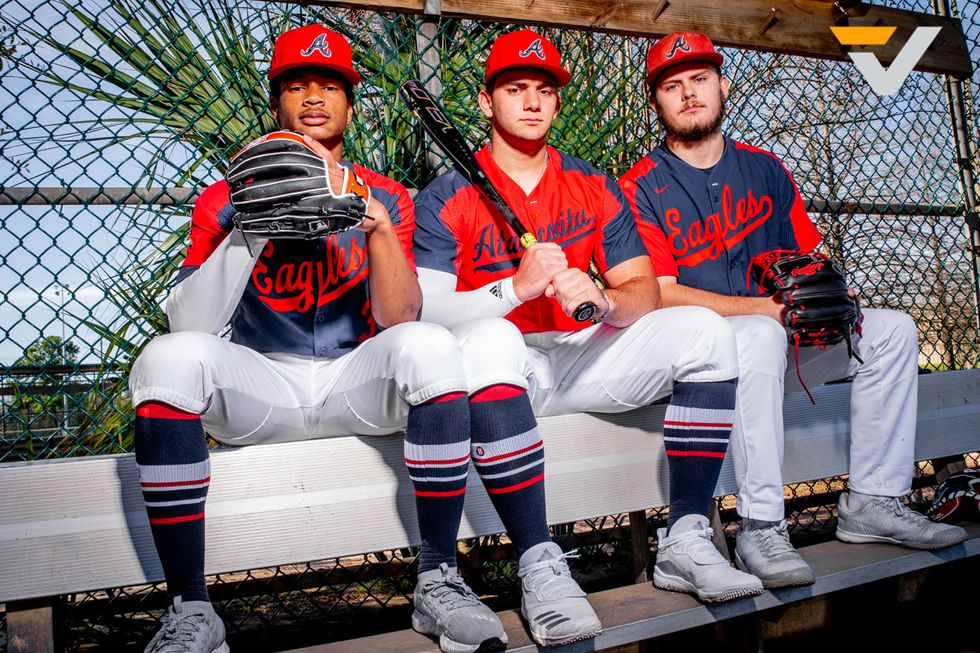 Atascocita's Brice Matthews, Tyler Byrd and Dylan Ivey
By Bradley Collier
After beating powers Deer Park, Pearland and Clear Springs in the postseason, the Eagles ran out of gas against state finalist Ridge Point in the Regional Semis. Coach Eric Matthews returns some fire-power in 2020 as a trio of first-teamers are back in the dugout. The leader is Brice Matthews, one of the city's best two-sport athletes. The Nebraska-signee was one of the state's top QBs and brings a football mentality to the diamond. The shortstop is comfortable anywhere on the field but will likely play middle infield. Dylan Ivey will pitch and play third, while Tyler Byrd will hold it down behind the plate. He's a Texas A&M-Corpus Christi signee. It's going to come down to pitching for Atascocita if they plan on making a run in the postseason and knocking off Kingwood for the district title.
Lamar Texans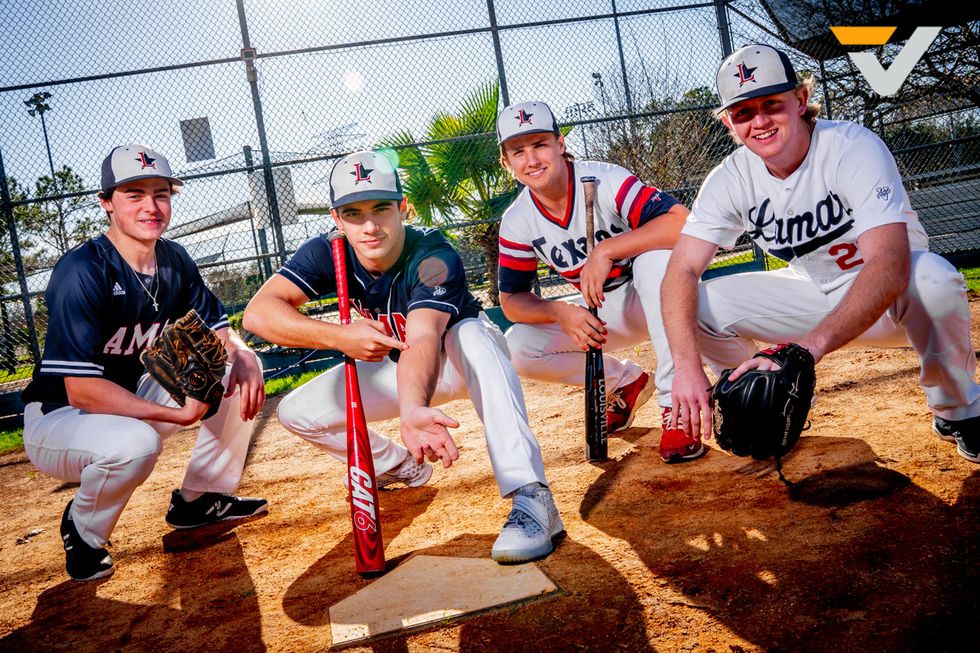 Lamar (Alphabetical) Noah Dickerson, Matthew Mackey, Cameron Meisenbach and Drew Woodcox
By Bradley Collier
The Lamar Texans have been to the postseason for 15 straight seasons. This year will be no different after reaching the Regional Semis last year. The Texans beat Jersey Village, Katy and Memorial, before falling to Kingwood. Coach David Munoz returns some key pieces to do battle in HISD and beyond. Drew Woodcox is the headliner. The senior shortstop is a Texas Tech-commit and an all-district, first-teamer. He can crush the ball. Cameron Meisenbach is another first-team returner, who plays the corner infield spots and pitches. Lefty Matthew Mackey will likely be the ace and is signed to Trinity University. Noah Dickerson and Cyrus Twaddle man the outfield. The Texans got hot at the right time in 2019. Do they have enough pitching to get to the regional tourney against the suburban schools in 2020? Time will tell.
Clear Springs Chargers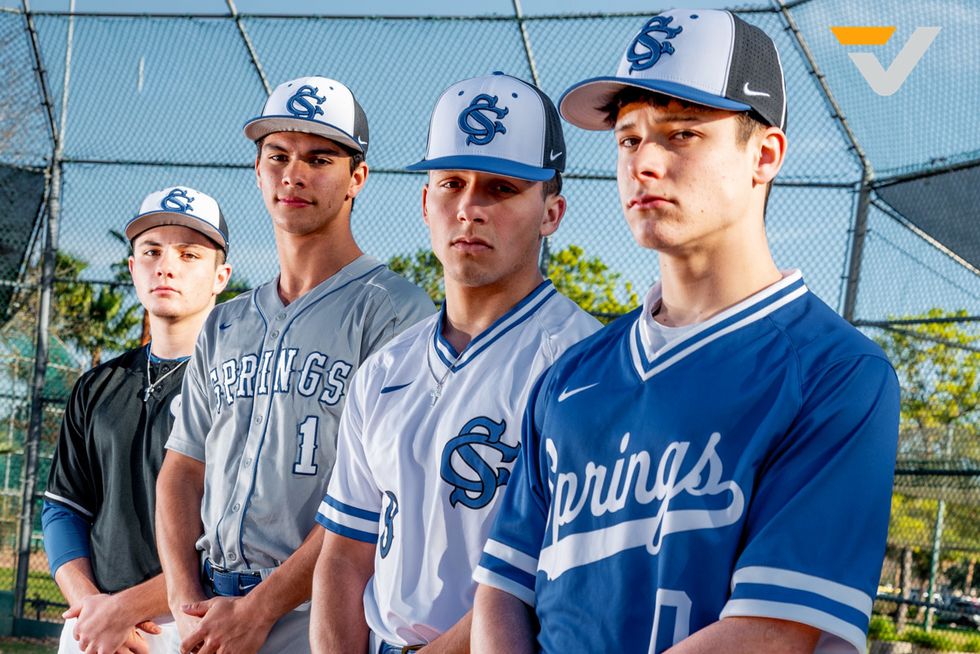 Clear Springs' Mason Knight, Mason Schulz, Chase Arnaud and Jacob Carpentier
By Bradley Collier
The Chargers surged to the Regional Quarters for a third year in a row, before being swept by Atascocita in the third round. Clear Springs shared the district title with Dickinson in 2019 and looks to be the favorite this year. Coach Chris Floyd welcomes back District MVP Mason Schulz, who is the ace of the staff. The Sam Houston State-signee can also flash the leather in the field and the bat at the plate. First-teamers Chase Arnaud will patrol the outfield, while Mason Knight will anchor the infield. Senior catcher Jacob Carpentier will manage the pitchers. Parker Lee will play a bigger role in the lineup as the junior gets a better feel for varsity life.
Kingwood Park Panthers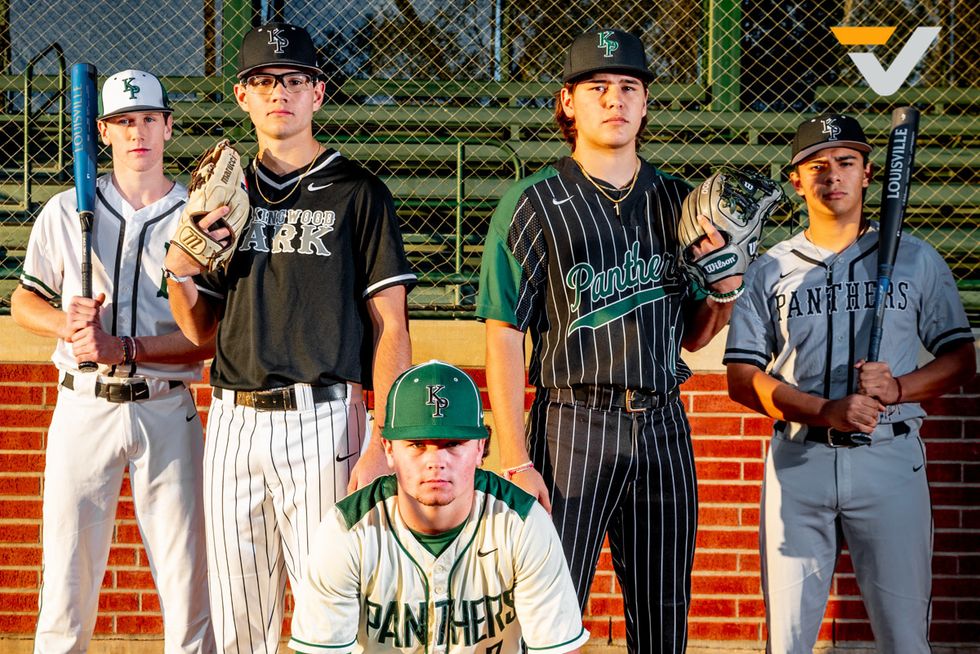 Kingwood Park (Alphabetical) AJ Gonzalez, Jonas Holloway, Matt King, Zachary Rennard and Jackson Rodriguez
By Bradley Collier
It's all about the arms, right? Well coach Bruce Cox has a few good ones who can carry his Kingwood Park Panthers. First-team pitcher Jackson Rodriguez looks to build on his resume after a solid junior season. He will play for LSU-Eunice starting in the fall. Caleb Carter and Jacob Colby will pitch in on the mound. The Panthers also have some sticks to power through the tough District 20-5A. Matt King (UTSA) had a solid year at the plate and plays a smooth shortstop, while Tyler Boutot is the DH. Jonas Holloway (UTSA) and AJ Gonzalez (TLU) can also swing the lumber, while all-district selection Zachary Rennard returns to patrol the outfield. Tomball, Grand Oaks and Porter make for a tough district, which should prepare the Panthers for the playoffs.
Friendswood Mustangs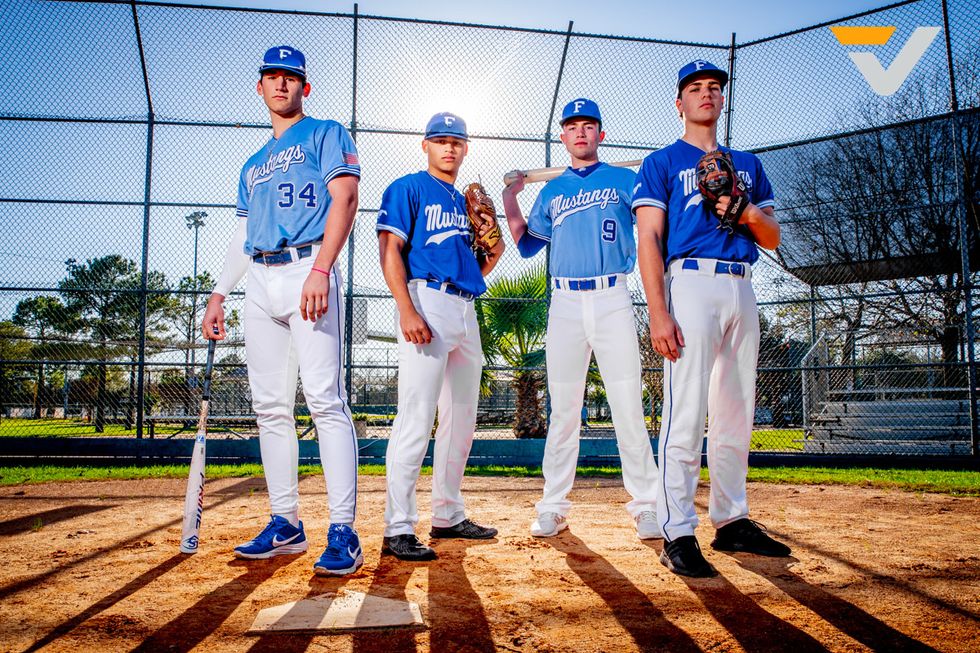 Friendswood's Izaac Pacheco, Max Mims, Spencer Beck and Zachary Ryan
By Bradley Collier
Are we feeling Friendswood? The Mustangs reached the postseason a year ago but were knocked off by Port Neches-Groves in the first round. Coach Cory Benavides returns a ton of talent, starting with Texas A&M-commit Izaac Pacheco, who was the District Offensive MVP. The shortstop anchors the infield along with first-teamers Kevin Newkirk and Spencer Beck. Isaiah Naylor will need to have a big year on the mound along with Max Mims and Zachary Ryan. Devon Andrews and Dylan Maxcey will also bolster the starting lineup at third and behind the plate, respectively. It's going to be a battle between Friendswood and Santa Fe for the District 22-5A title, and it will come down to pitching. Benavides needs to develop some young arms to make a significant run in the postseason.
Klein Collins Tigers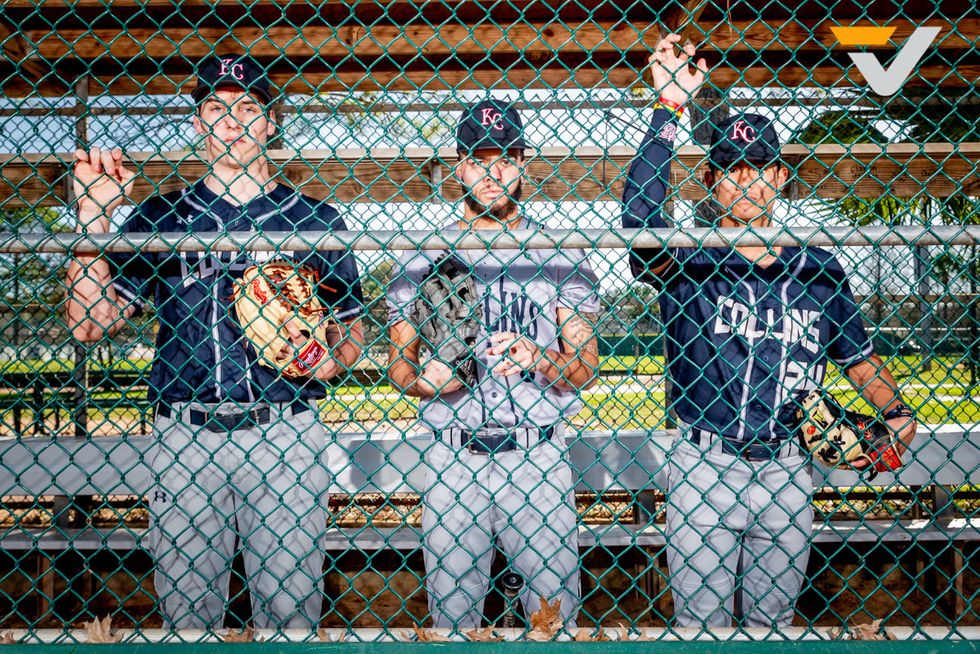 Klein Collins' Ryan Jacobs, Joshua Cordova and Jacob Evangelista
By Bradley Collier
The Klein Collins Tigers have reached the postseason for 10 consecutive years. This year will make 11. Last year the Tigers lost a heartbreaking, one-game playoff against Cypress Ranch, 3-2, and they are looking for redemption. Coach Chris Griffin is ready to break out the bats and gloves as he returns some pieces to win a tough District 15-6A. Ryan Jacobs (Tarleton State) is the ace after going 6-0 a year ago to earn a second-team, all-district nod. At the plate, Colby Powers is the headliner and earned first-team honors last season. Powers is a 6-foot-4 tight end/QB on the football team and has several DI offers. If he returns to the diamond, he will be protected by Elijah Comeaux and Jacob Evangelista (SFA). Josh Cordova will be used as a pitcher and in the outfield. The Alvin CC-signee is also a tremendous table-setter on offense.