Midlothian ISD Athletics Twitter Account (@MISD_Athletics)
Midlothian Heritage and Celina are set to face off in the UIL Class 4A State Semifinals early Tuesday evening. Before the teams hit the pitch, let's take a look at what got them to this point.
Midlothian Heritage
The Midlothian Heritage Lady Jaguars posted an undefeated district season for district championship bragging rights. On the season, the Lady Jags have lost only one game in pre-season to a strong Nolan Catholic squad.
With a 96% win percentage, Midlothian Heritage topped Argyle last week in a 1-0 victory. The Lady Jags will enter the semifinals match on a 14 game win streak
Celina
The Celina Lady Bobcats have been sneaking up on their opponents all season. With a second place finish in their district and a 24-1-1 overall record (12-1-1 in district play), the Lady Bobcats have a 94% win percentage.
With a 4-1 win over Henderson last week, the Lady Bobcats are coming into the semifinals on a five-game win streak. In four of the last five games, Celina has shut out their opponents (18-0 over Ferris, 13-0 over North Dallas, 12-0 over Caddo Mills, and 7-0 over Bullard) outscoring them by 53 goals collectively.
What To Expect
Both teams have the drive to succeed that hasn't been snuffed all season. Though Midlothian Heritage might seem to have the upper hand as a favorite, fans shouldn't sleep on a competitive Celina squad. It's going to be a tough, physical match that comes down to whichever team strikes early.
The game is set to begin at 5:30 p.m. on Tuesday, April 13 at Dragon Stadium in Southlake.
HOUSTON - Brandon Carpenter is ready to continue developing the KOlture at Klein Oak High School.

The Klein Oak football offensive coordinator was announced on Tuesday as the next head football coach for the Panthers, replacing Jason Glenn, who moved into administration earlier this spring.
"It's an immeasurable sense of gratitude," Carpenter told VYPE via Twitter. "Oak is a special place, I'm surrounded by incredible student-athletes and very special people. I'm blessed to have come in with Coach Glenn in 2017 & help establish our KOlture, it's incumbent upon me to continue developing that vision for our young people."
For the past four seasons, Carpenter has served as the offensive coordinator and quarterbacks coach under Glenn, who took over the program in 2017.

In that span, Klein Oak went 31-15 overall and made the playoffs every single season. The Panthers registered 10 wins in the 2018 and 2019 campaigns, averaging 31.2 points per game in 2018.
But it's not all about the stats and wins for Glenn when you first mention Carpenter.
"He's a great man first and foremost!," Glenn, the new Klein ISD Director of Student Outreach, said. "And that's what the program has been about since we came together to run Oak! He will continue to put the kids first and will win a lot of games!
"He will teach them that football is great but what type of man/lady will you be without sports! He's my brother, my friend and I'm so happy for him, the school and our community! I love my guy! [Klein Oak Principal] Thomas Hensley made a great hire!"
Each week VYPE's own Joshua Waclawczyk and Scott Terrell sit down and take a look at the teams from each area and rank them based on their super-secret formula. Rankings of the top Baseball and Softball programs in the area are then broken up into 5A-6A, 1A-4A, and Private Schools. Will you agree with our rankings? Most assuredly not. After all, these are just our opinions and we are sure there are much smarter people out there that may have better opinions/rankings. So if you have your own thoughts on these rankings let us know on Twitter (@vypesatx) and Instagram (@vypesatx).
This week we got some movement from some teams, but the top stands pat, check out the rankings below!
VYPE SATX 5A-6A SOFTBALL TOP 10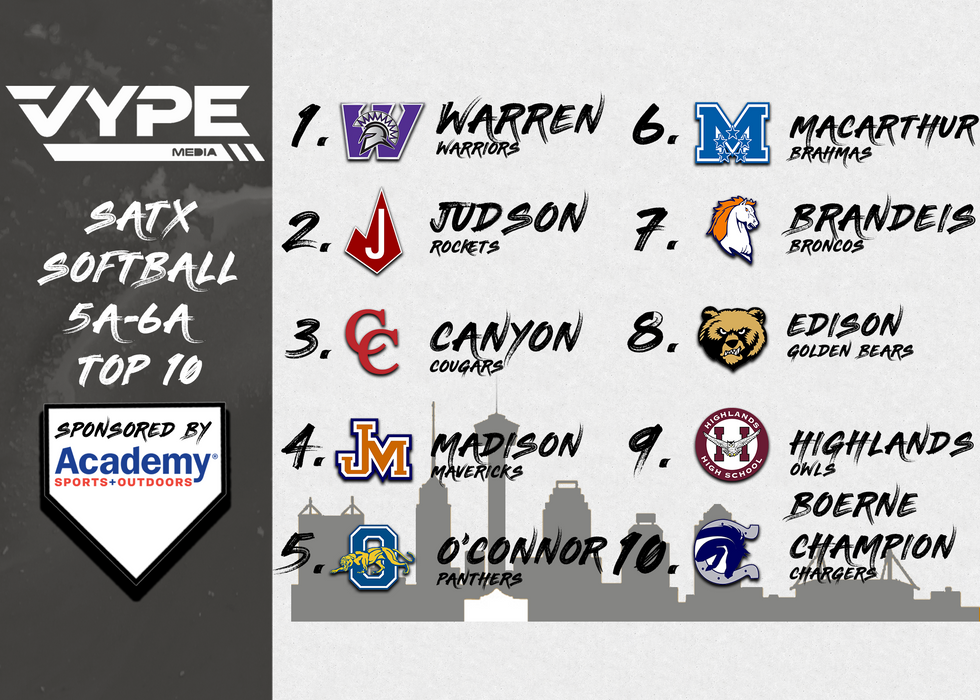 We have one new team in this week's rankings, as Edison makes its debut. They probably could have been here sooner but records can be hard to come by. But a fan reached out to let us know (thanks Brandon Gonzalez) and so they climb from unranked to number eight. O'Connor falls to five after their loss to Warren this week as well. Could see some changes depending on how some district matchups play out.
VYPE SATX 1A-4A SOFTBALL TOP 10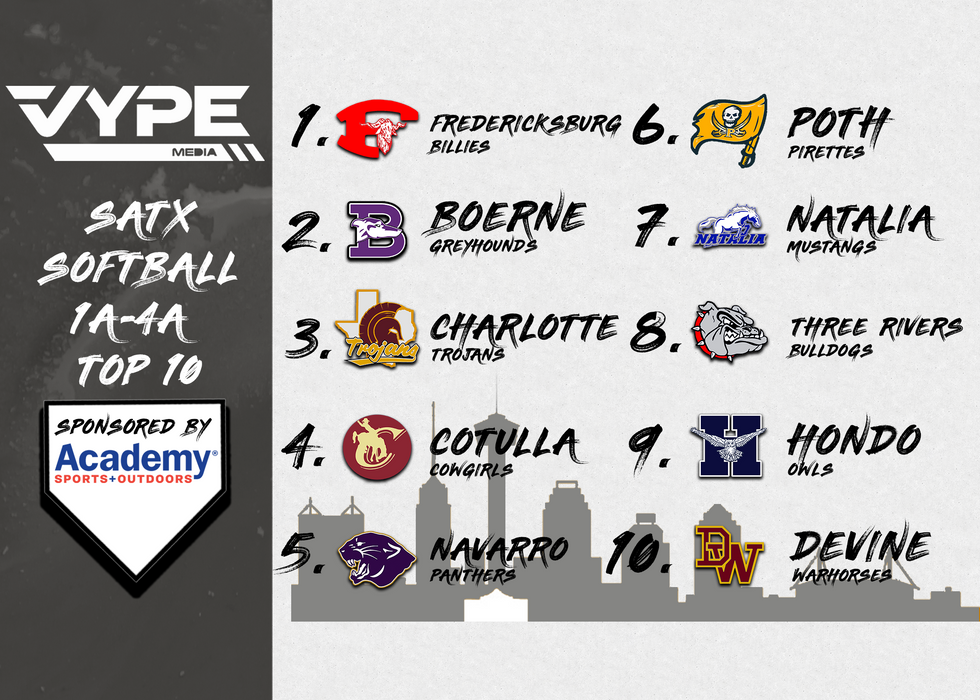 As with the 5A/6A rankings we have one team dropping out and one joining the rankings. Natalia falls to seven after their loss to Lytle and Center Point falls out of the rankings after a loss to Harper with Devine entering the rankings.
VYPE SATX PRIVATE SCHOOL SOFTBALL TOP 5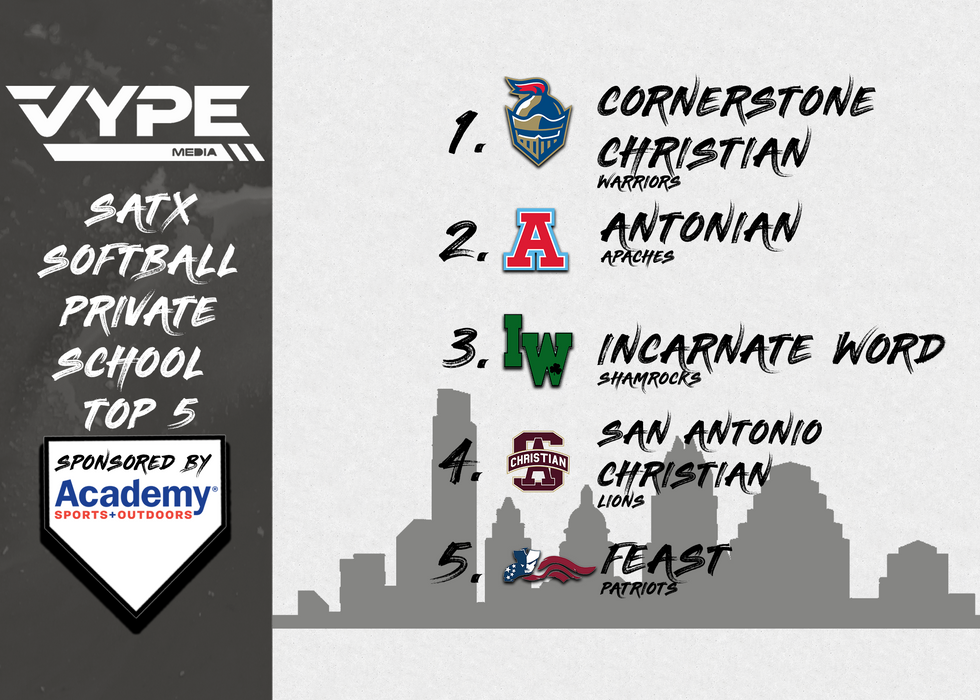 It's really all about Cornerstone and Antonian it seems when it comes to the Private School San Antonio Softball rankings. We don't know if anyone will challenge them at this point.
For all the ways you love to play, Academy Sports and Outdoors makes it easier than ever to gear up and have fun out there! Get free shipping on your favorite brands at academy.com or get free curbside or in-store pick-up at your Academy store.
Gear up this Spring at Academy Sports and Outdoors.
Join the #VYPETEAM
Get up to date news from all over the country!