FAMILY AFFAIR: Shadow Creek's Drones trip to State has special meaning
Dec 18, 2019
HOUSTON – Jerry and Kevin Drones have plenty of State Championship-game stories to tell.
In 1996, Jerry joined the La Marque staff as an assistant head coach and defensive line coach during La Marque's historic run of three-straight titles.
On December 21, 1996, La Marque was in another Class 4A DII state title game facing Denison. It was a hectic week for the Drones family as Jerry left the Cougars' practice in Dallas to get to Texas State to witness his son Kevin's graduation. He would then fly back to Dallas for the game as La Marque destroyed Denison for the title as his family arrived before halftime. Two amazing milestones in one day.
"Everybody doesn't get a chance to do it," Jerry said. "I was fortunate enough to coach in three of them in the 46 years that I coached."
In 2004, it was Kevin's turn to coach in his first state title game.
As a part of first-year coach Corby Meekins' staff, Kevin helped lead Westfield to the 5A Division II State Championship game in the Alamodome. To this day that remains as the lone state title appearance for the Mustangs.
That game would be foreshadowing to what is to come this weekend.
Standing on the sideline, Kevin looked up for a photo. In his bright Westfield Mustang polo and black cap, Kevin held his one-year-old son Kyron in his arms.
"He was so little," Kevin said about the photo. "He was one-year old. As long as he had a ball, he was okay running around. After the game, all he wanted to do was to run around on the turf. That was the biggest deal, that's what I remember."
This weekend, Kevin will get to coach in what will be his third state championship game and second-straight as Shadow Creek's defensive line coach.
Kyron will be "running around on the turf" again but as the starting quarterback of the Sharks.
"I kind of get choked up talking about it with my wife," Kevin, who talked with Longview coach John King about coaching his son Haynes in a title game, said. "When it hit me that we're going to the state championship and Kyron's the starting quarterback, it was like wow. This is unbelievable."
Kyron added: "It's special, not too many people get to do this. We just have to take the moment and get the win."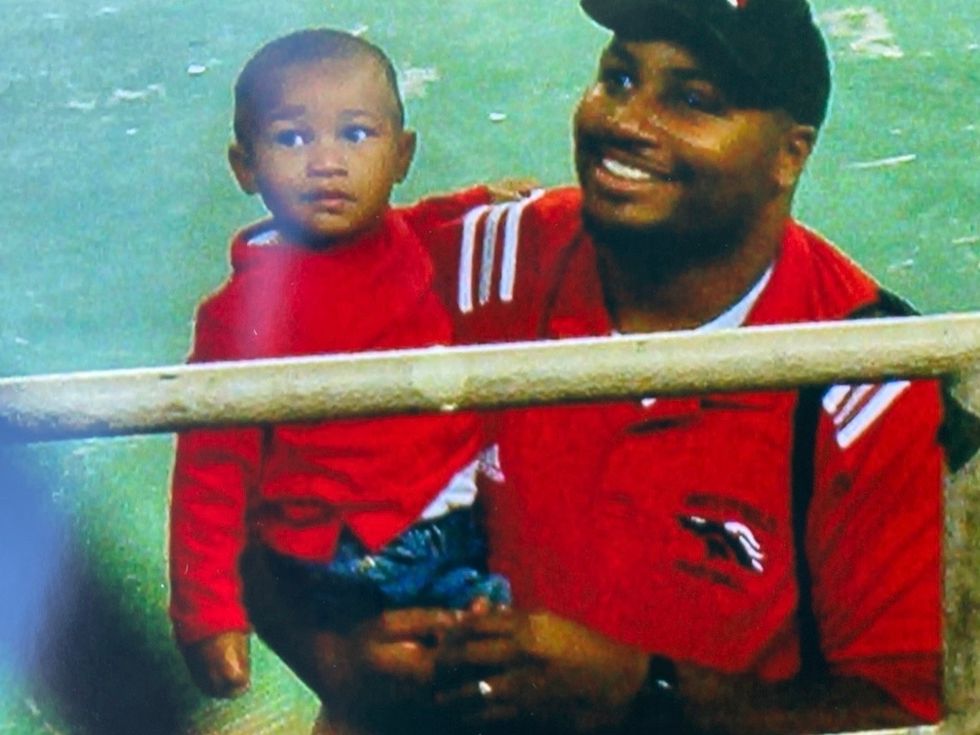 This fall has been different and really special for grandfather Jerry.

For the first time in 46 years, the veteran coach hung up the whistle and retired from coaching, allowing him to go watch his son coach and grandson play quarterback every week.
"Just to see him from the time he started playing sports to now, just watching him develop, this will be a special moment," Jerry said. "He's got a lot of family that come to the games. Every week it's more and more that come to watch. It's a special time."
From an early age, Kevin knew Kyron would be a quarterback.
In Little League, Kyron played defense and running back for the Missouri City Raiders and Northwest Jets. He would sling the ball around during practice, and Kevin saw the talent in his arm.
"He just had a gift of throwing the ball naturally with little effort," Kevin said. "I saw that and steered him that way in junior high."
In middle school, Kyron shifted to playing quarterback and since then it has stuck.
Last year, Kyron backed up season Jamarian George who had a huge season. He waited for the 2019 season when the Sharks' offense would be all his.
He has led the team to a 15-0 mark, while passing for 3,217 yards, 46 touchdowns and rushing for another 690 yards and 16 scores.
"I've kind of been in awe at some of it," Kevin said. "He's put in the work. I knew that. He was ready. As far as confidence, he was full of that. He talked about it all the way back to the state championship last year. He's always been confident in himself."
Week in and week out, Kyron has continued to put the work in to improve.
"Learning different coverages, watching film and being more accurate," Kyron said about what he's worked on this year. "Finding how my teammates want to catch it and being on point with them."
The X's and O's are rarely talked about once they get home as they are father-son inside those walls and not coach-player.
They will talk football Kevin admitted, but he and Jerry serve more as a sounding board for Kyron.
"I try to separate it," Kevin said. "My dad was my head coach. My position coach was like my uncle. We're father-son at home because I really limit what I do with him football-wise. I'm glad he's on offense. I let his coaches coach him."
On Friday, Kevin will head up to the box inside AT&T Stadium, where he will coach and watch Kyron from above.
It was a move he asked Shadow Creek coach Brad Butler for last season.
"If I was on the sideline my back would be turned," Kevin said. "So, I can still watch him and communicate with the defense. I get the best of both worlds."
The best for the Drones' family will come Friday if the Sharks are able to make history in beating Denton Ryan for the program's first-ever state championship.
"These are the things you dream about when he was born," Kevin said. "It would be a special father-son moment."
Now, wouldn't that be a great story to add to the Drones' family scrapbook.