Photo By Bradley Collier || VYPE Media
As teams try and dodge the rain, it's Regional Semi week for Hill Country softball. Stay tuned to VYPE all week for results.

6A REGION IV
Converse Judson vs SA O'Connor
At San Antonio Hardin Athletics Complex, Field #1 (Friday 6:30pm)
At Converse Judson (Saturday noon)
At Converse Judson (Saturday 2:00pm) *if necessary
Converse Judson and SA O'Connor have been consistency in the top 5 in the SATX Softball Rankings all season. Expect this one to be a tough matchup between these two squads.
HOW CONVERSE JUDSON GOT HERE
BI-DISTRICT: Beat SA Clark
AREA: Beat Buda Hays
REGIONALS: Beat Round Rock
HOW SA O'CONNOR GOT HERE
BI-DISTRICT: Beat Laredo United
AREA: Beat Harlingen South
REGIONALS: Beat SA Brennan
PREDICTION: Converse Judson Advances.
…
Austin Bowie vs Los Fresnos
At Corpus Christi Cabaniss (Friday 7:00pm)
At Corpus Christi Cabaniss (Saturday 1:00pm)
At Corpus Christi Cabaniss (Saturday 3:00pm) *if necessary
Austin Bowie played for the state championship game in 2017. Lead by Auburn signee Abbey Smith, the Bowie Bulldogs are playing solid softball after a slow start to the season. Los Fresnos knocked off SATX No. 1 Warren in the second round of the playoffs and have been rolling this season. This match-up will be a hard fought showdown.
HOW AUSTIN BOWIE GOT HERE
BI-DISTRICT: Beat Cedar Park Vista Ridge
AREA: Beat Cibolo Steele
REGIONALS: Beat Lake Travis
HOW LOS FRESNOS GOT HERE
BI-DISTRICT: Beat Edinburg North
AREA: Beat SA Warren
REGIONALS: Beat Weslaco
PREDICTION: Bowie advances
…
CLASS 5A Region IV
Georgetown vs Victoria West
At Marion (Friday 6:00pm)
At Marion (Saturday 1:00pm)
At Marion (Saturday 3:00pm) *if necessary
Georgetown knocked off New Braunfels Canyon after losing the first game in that series. Georgetown finished second in their district behind, No. 1 in the country, Leander. This team is talented and confident in themselves. Victoria West is having a great season as well and has gone undefeated in the postseason.
HOW GEORGETOWN GOT HERE
BI-DISTRICT: Beat SA Johnson
AREA: Beat Floresville
REGIONALS: Beat New Braunfels Canyon
HOW VICTORIA WEST GOT HERE
BI-DISTRICT: Beat Mission Veterans Memorial
AREA: Beat Mercedes
REGIONALS: Beat Sharyland Pioneer
PREDICTION: Victoria West Advances
…
Leander vs CC Carroll
At Somerset (Thursday 6:00pm)
At Somerset (Friday 6:00pm)
At Somerset (Saturday 1:00pm) *if necessary
This could easily be 6A Region IV Final. Both these teams finished first in their respective districts. Leander was the No. 1 team in the entire country this season so they enter as the favorite, but lost their first game of the season last round again Medina Valley. However, that could take off the pressure of an undefeated season. CC Carroll will be stiff competition since they have won 30 games and have cruised through the postseason. This a battle of two heavyweights.
HOW LEANDER GOT HERE
BI-DISTRICT: Beat Seguin
AREA: Beat SA Southwest
REGIONALS: Beat Medina Valley
HOW CC CARROLL GOT HERE
BI-DISTRICT: Beat Roma
AREA: Beat Weslaco East
REGIONALS: Beat CC Ray
PREDICTION: Leander Advances
Each week VYPE's own Joshua Waclawczyk and Scott Terrell sit down and take a look at the teams from each area and rank them based on their super-secret formula. Rankings of the top Baseball and Softball programs in the area are then broken up into 5A-6A, 1A-4A, and Private Schools. Will you agree with our rankings? Most assuredly not. After all, these are just our opinions and we are sure there are much smarter people out there that may have better opinions/rankings. So if you have your own thoughts on these rankings let us know on Twitter (@vypesatx) and Instagram (@vypesatx).
This week's rankings are the final rankings of the regular season (We may do an end-of-season rankings once the Championships happen). Take a look below!
VYPE SATX 5A-6A BASEBALL TOP 10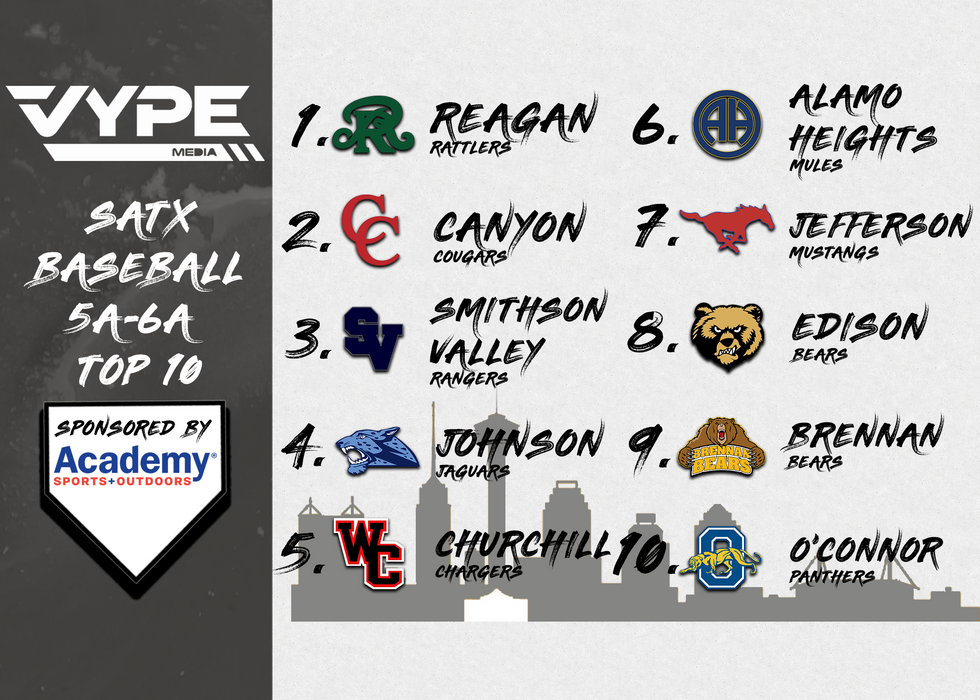 Reagan ends where they started, #1. Canyon, Smithson Valley, Johnson, and Churchill round out the Top 5. The bottom five sees some adjustments though none drop out because of losses.
VYPE SATX 1A-4A BASEBALL TOP 10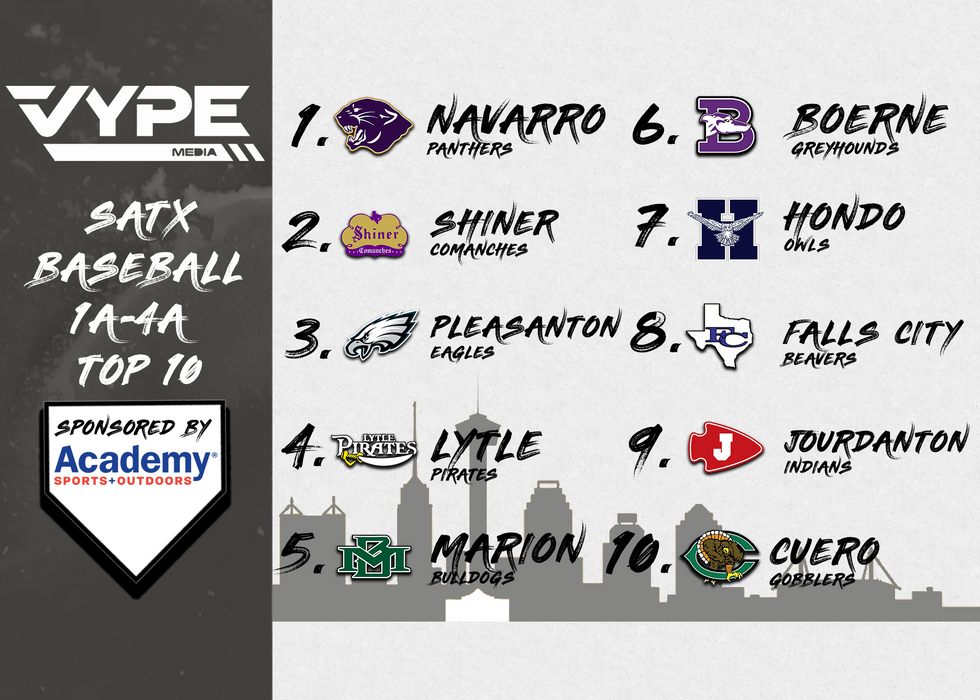 The top three stay the same even with Pleasanton's split games with Hondo. Their five-hour game with Hondo (with rain delay and lights going out) gave them the #1 seed in district. Hondo moves into the rankings with their impressive play in District as well.
VYPE SATX PRIVATE SCHOOL BASEBALL TOP 5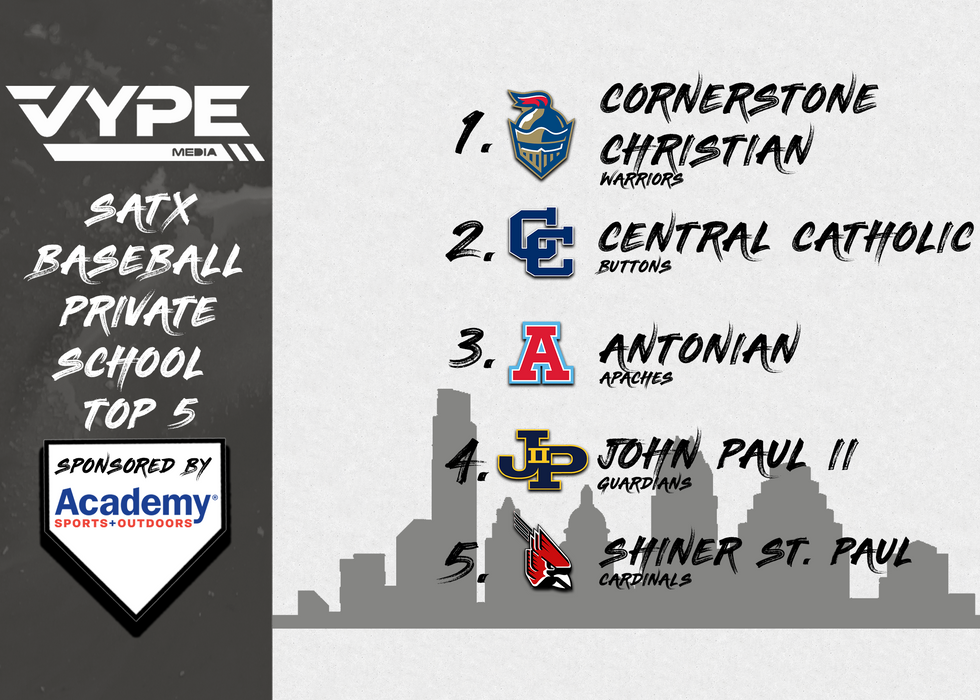 No movement in the Private rankings where Cornerstone and Central Catholic separated themselves as the season went all.
For all the ways you love to play, Academy Sports and Outdoors makes it easier than ever to gear up and have fun out there! Get free shipping on your favorite brands at academy.com or get free curbside or in-store pick-up at your Academy store.
Gear up this Spring at Academy Sports and Outdoors.
1..2...3....Cheese!
No, we are not asking if you want cheese on your No. 1 from Whataburger. Instead, saying to smile for the camera. The San Antonio, Texas area is full of Track & Field talent. Track & Field stars across San Antonio got to experience the bright lights at the recent VYPE SATX Track & Field Photoshoot presented by Whataburger.
Join the #VYPETEAM
Get up to date news from all over the country!