The offseason culminated in the Spring Game last week for Concordia Lutheran as new coach Willie Amendola installed his program.
Episode 3 of "On My Whistle" showcases the Crusaders' Spring Game as they put the pads away for the summer.
Check out the Final Episode "On My Whistle."
VYPE Media
This softball season was supposed to be something of a reload for Santa Fe.

What a transition it's been.
With only two seniors and high-caliber, but raw, talent, the Indians are in the regional final for the first time since 2014. Third-year coach Christina Jaques and a core of juniors in Sidne Peters (Washington commit), Makenna Mitchell (Texas Tech commit), and Brooklyn Spencer, and seniors Reagan Smith and Ashley Nickerson, have expedited what should have been a steep learning curve.
"They're dedicated. They work hard," Jaques said of her girls. "We went into this year feeling like our backs were against the wall. We had a chip on our shoulder to prove, hey, why not us? It's been a process of showing these younger girls the ropes, learning to work together."
The Indians graduated eight seniors from last year's regional quarterfinalist, which was a disappointing end to a season with high hopes.
This season, players made a more concerted to give their all on every play, intent on not leaving games up to plays that might or might not be made. With so many new players around that veteran core, faith, trust and belief have been works in progress throughout the year.
Jaques stressed game-like simulations during practices. They are tougher and more demanding, so much so that now the game comes easier to players.
"Patience has been a huge deal," Jaques said. "We know we're going to play really young at times. We know we're going to have some green areas. But as a coach, we have to make sure the girls grow off that. Each practice is figuring out where we need the most work in, and sometimes it means going back to something you've already addressed."
Just like players had to go back to the basics, the coaches had to as well, challenging themselves to put players in better positions to succeed.
Every returner from last season, aside from the pitchers, is playing a different position than they were last year.
"We were going to have to coach our butts off and think in ways we hadn't before," Jaques said. "It was about our core girls and building around that."
Still, despite all the newness and rebuilding, Jaques knew the team could do something special this year.
A big reason why is Peters, who, in six playoff games, has allowed one run on 11 hits while striking out 44 in 32 innings. She had a perfect game against Nederland in the bi-district round and back-to-back complete-game shutouts of Richmond Foster in the regional quarterfinals.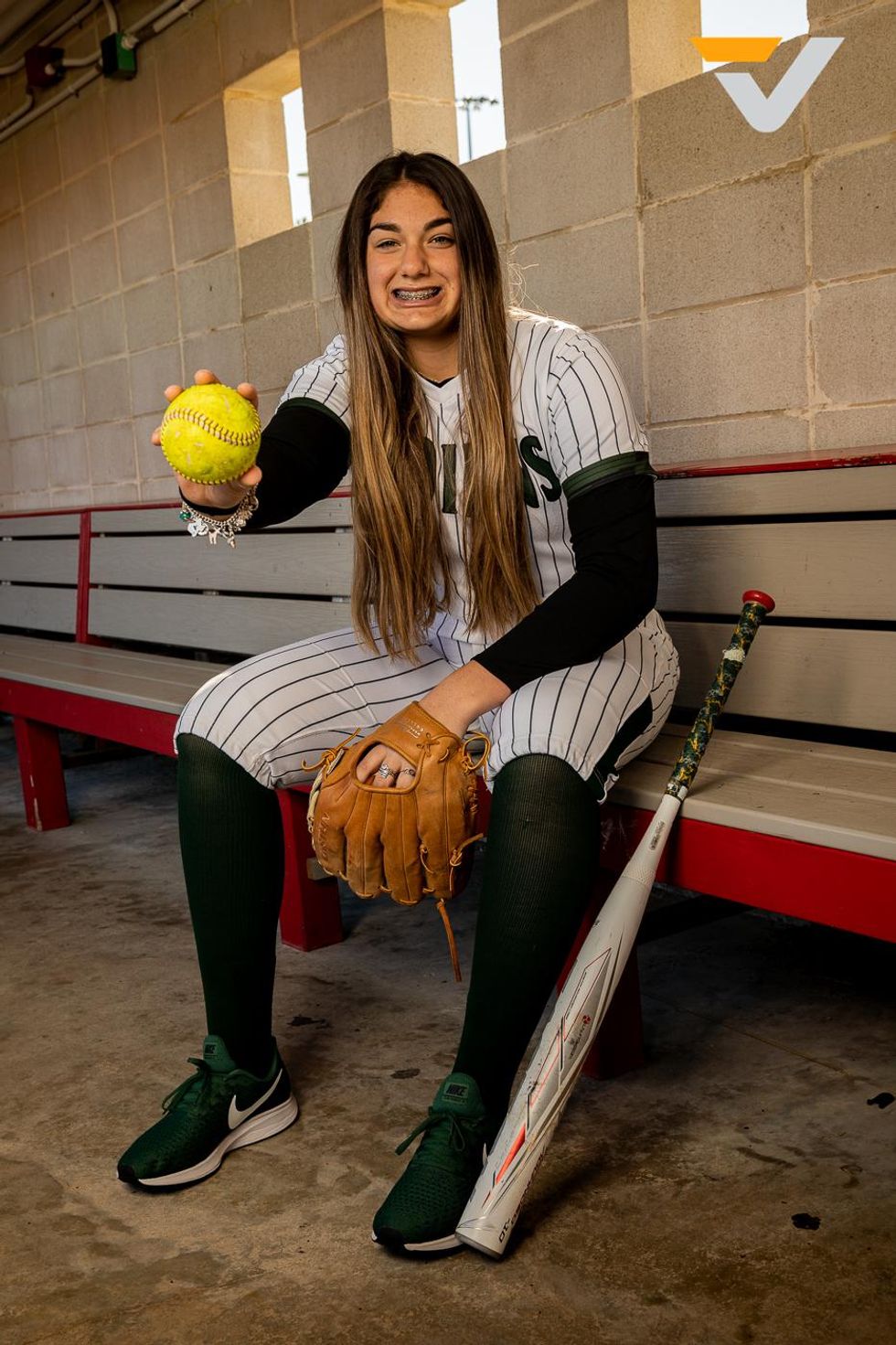 Santa Fe junior Sidne Peters.VYPE Media
"Her settling in each year and getting more games underneath her, I think the kid has grown tremendous in the mental aspect of it," Jaques said. "The way she approaches teams now and the way she's more confident. She's dominating, and she's letting her defense play for her. No matter how the game has flowed, she has that confidence in our defense that has really been a tremendous stride for her."
Peters is also a threat at the plate. Against Kingwood Park in the regional semifinal, she went 3-for-3 with a home run, double and five RBIs.
"She's our rock," Jaques said. "She's very, very special, and as time goes on, she dominates more and more as we see tougher opponents. She's just so locked in."
Around Peters is a selfless, gifted group of young ladies willing to do whatever it takes to win.
Spencer is a leader behind the plate. Nickerson plays everywhere; a first baseman last year, she is playing more of a utility role this year, depending on whatever Jaques needs.
The pitching staff is one of the best in the Greater Houston area in Peters, Smith and Jaden Cooper. Sophomore Mea Slayton has enjoyed a breakthrough campaign in centerfield. Mitchell is a sparkplug of energy at shortstop. Freshman outfielder Kaitlyn Torres has been a boon.
"Whatever has been expected for our team and what we've needed, our girls have given," Jaques said. "It's been about what's best for our team, and that's been a big part of our success. We're going to get everyone's 'A' game. Our kids know we have to be tough. We have to let the little things go, and as long as we're growing, we're going to find out way."
True
The Greater Houston area is loaded with elite talent in every sport. Welcome to the VYPE Playmakers, powered by UTMB Health, where we highlight five student-athletes making a difference on the field or track.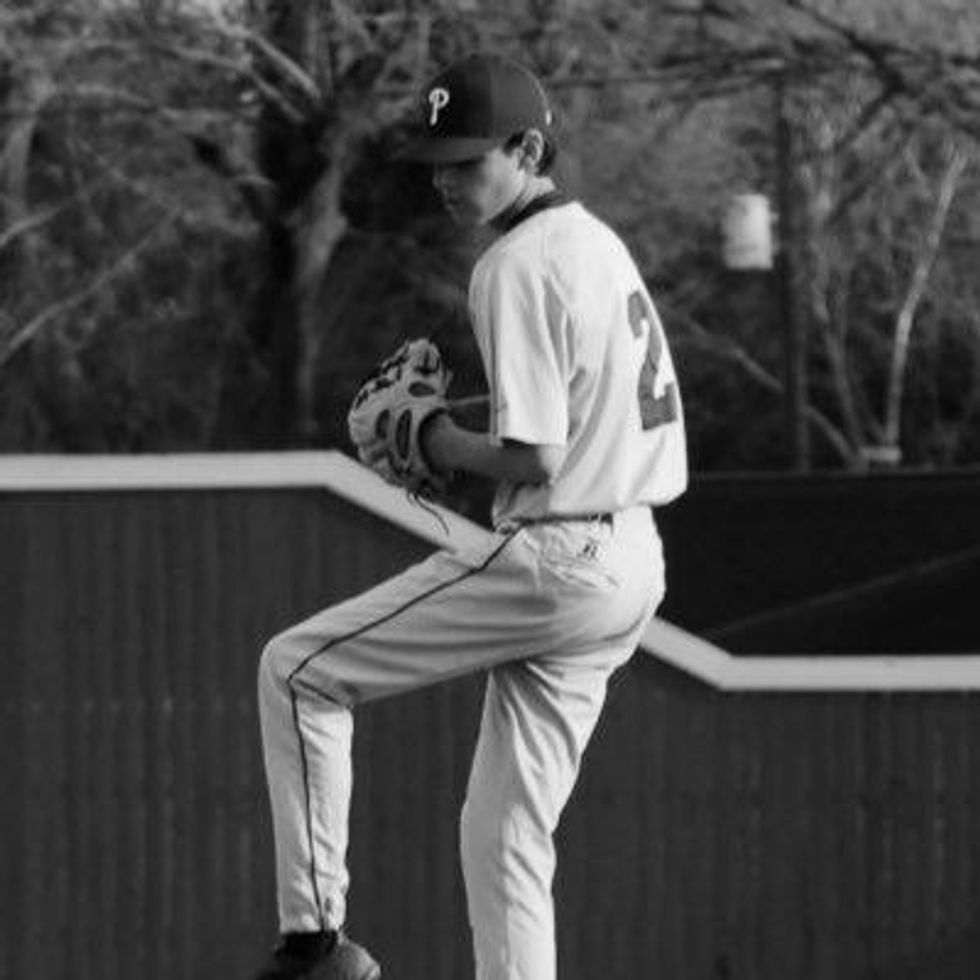 Pearland senior Logan Scott.Courtesy of Logan Scott social media
>> Logan Scott, Pearland, baseball
Scott drove in two runs for the Oilers in their 6-2 Class 6A regional quarterfinal win over Clear Creek last weekend to advance Pearland to the regional semis. The senior infielder has been steady for the Oilers all season, hitting .264 with 23 RBIs. He is dynamic with the glove, with only five errors in 68 chances in the field. Scott has turned seven double plays this season and boasts a .926 fielding percentage.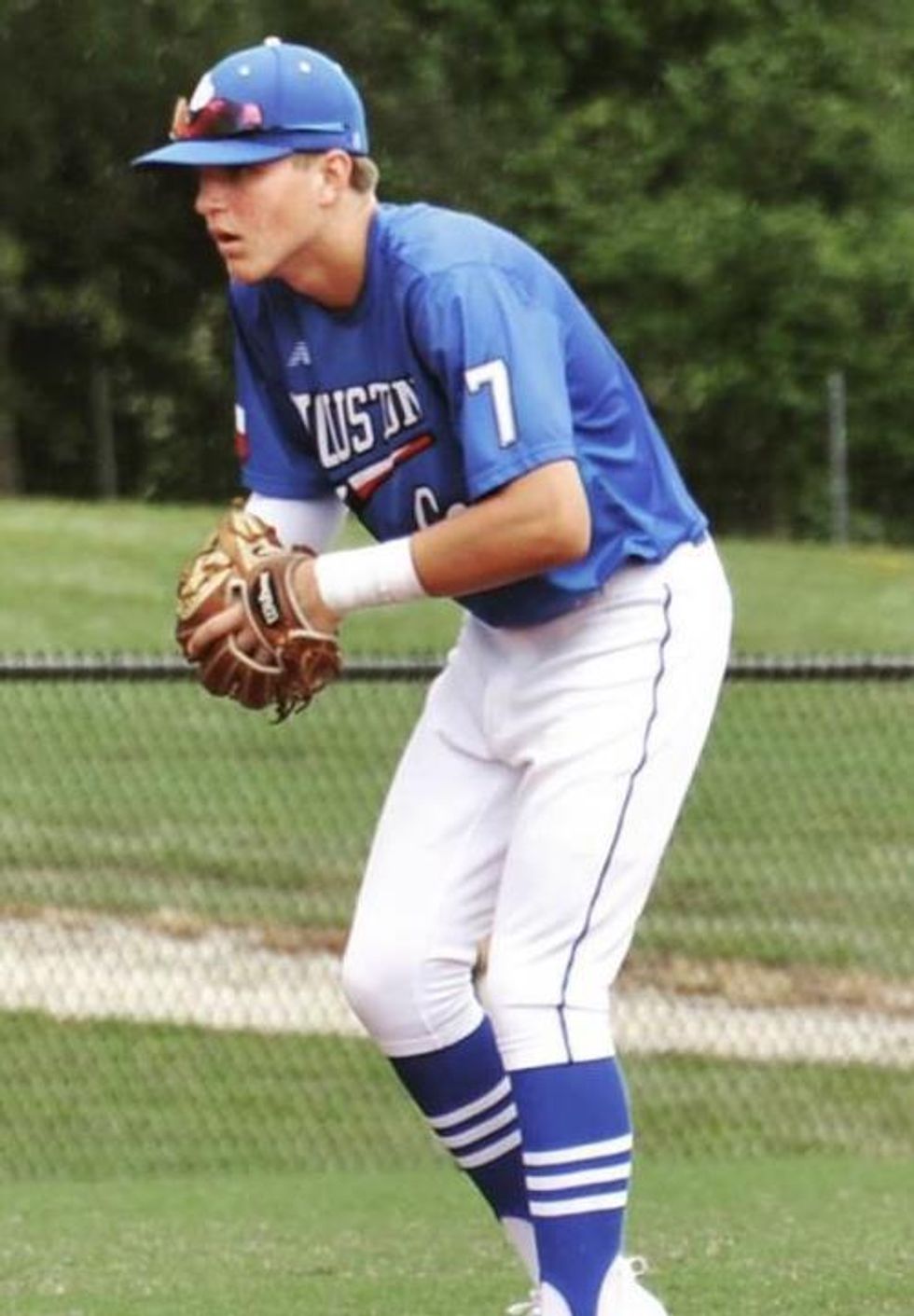 Friendswood junior Collin Goolsby.Courtesy of Collin Goolsby social media
>> Collin Goolsby, Friendswood, baseball
Goolsby came up clutch in helping the Mustangs sweep Crosby in their Class 5A regional quarterfinals last weekend. In the decisive 4-1 Game 2 win, Goolsby went 2-for-3 with a triple and two RBIs to pace Friendswood. The night before, Goolsby was even more electric at the plate in a 12-0 Game 1 win, going 2-for-4 with a home run and four RBIs. The junior is a Houston Baptist University commit.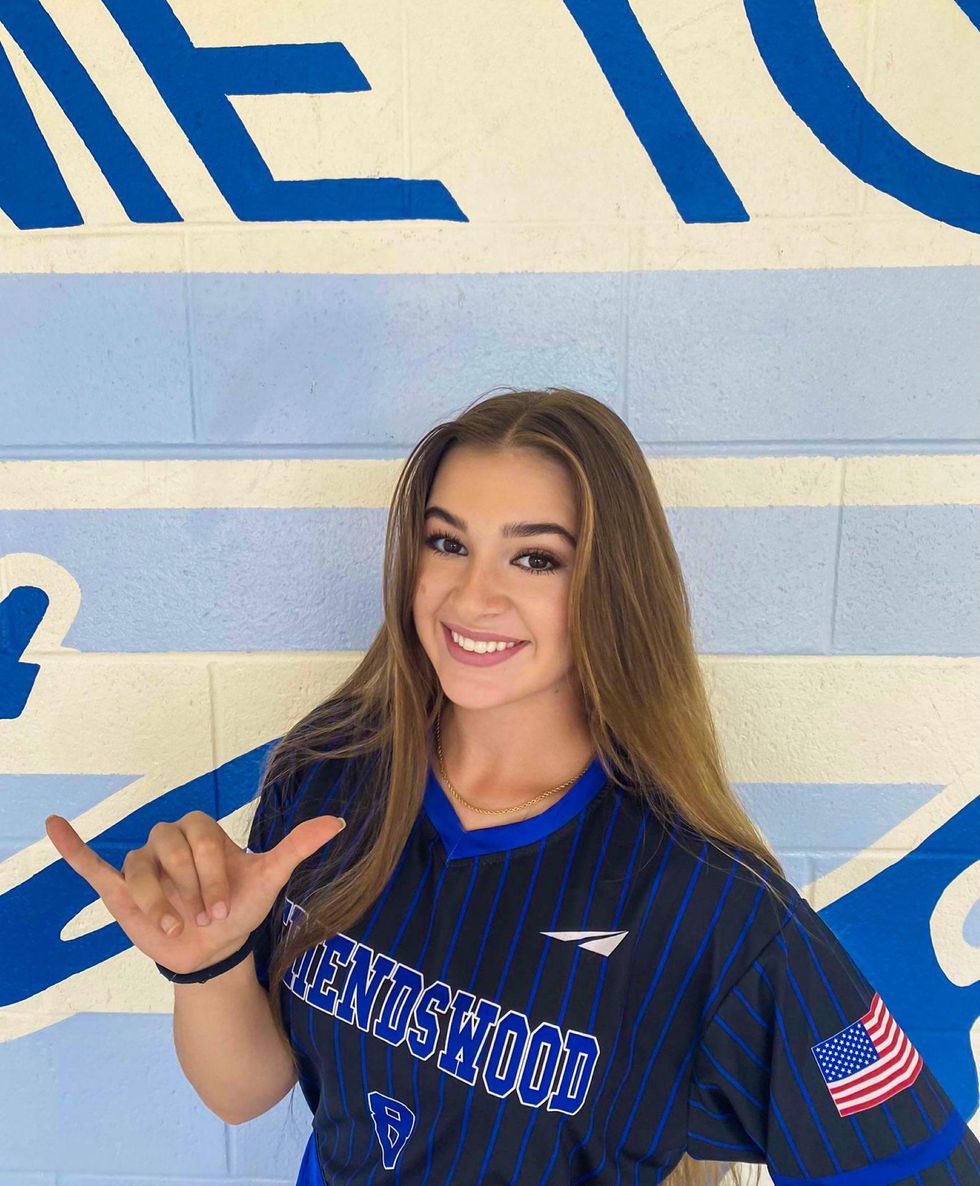 Friendswood sophomore Baileigh Burtis.Courtesy of Baileigh Burtis social media
>> Baileigh Burtis, Friendswood, softball
Burtis had an outstanding sophomore campaign, helping lead the Mustangs all the way to the regional semifinals before falling to No. 1 state-ranked Lake Creek last week. Burtis hit .413 with 32 RBIs and three home runs. She led the team in hits with 52 and had a .456 on-base percentage. Burtis and Friendswood will be a premier threat once again in Region III-5A next season. The Mustangs only graduate two seniors.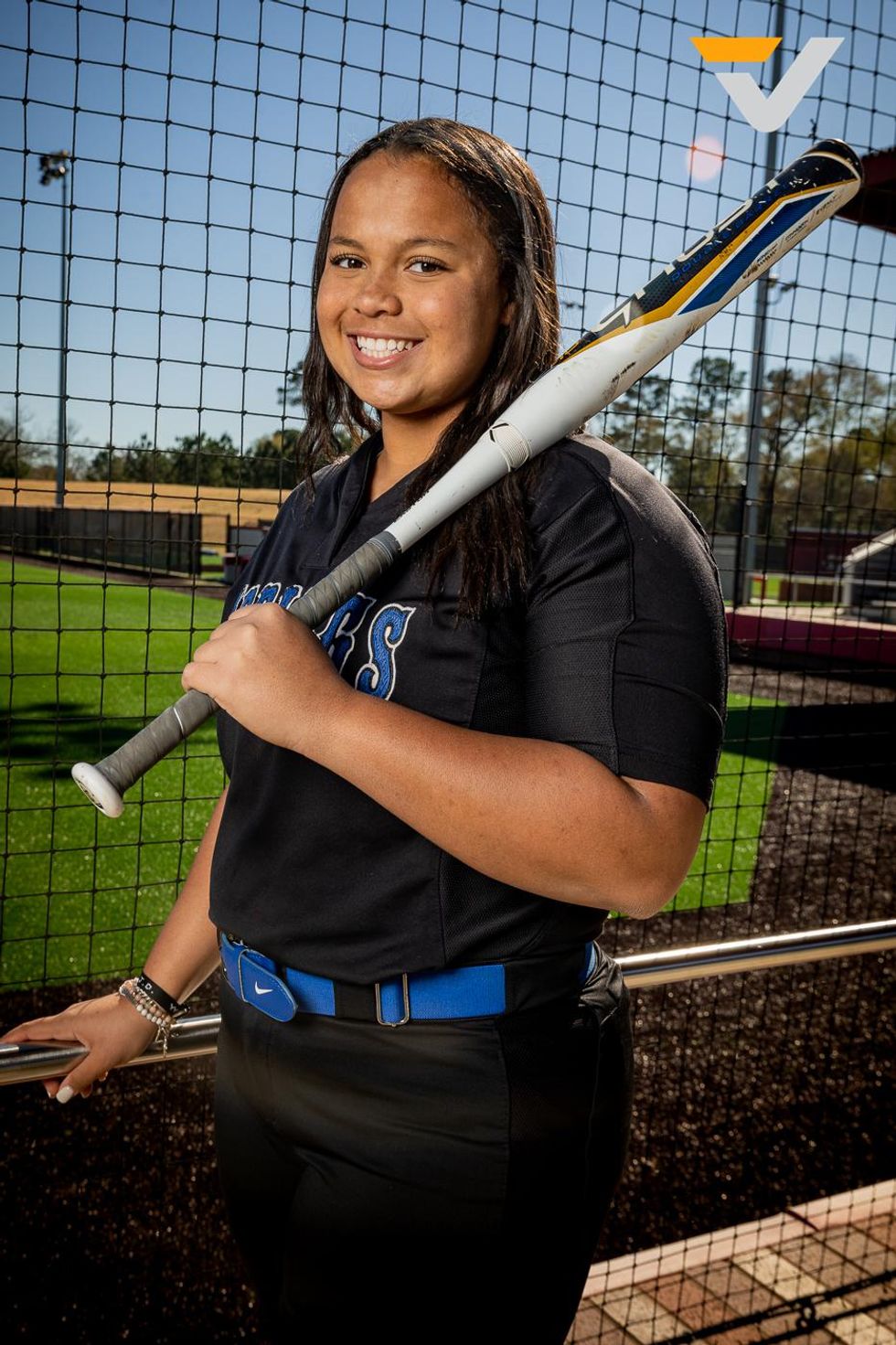 Clear Springs junior Anna SolesVYPE Media
>> Anna Soles, Clear Springs, softball
Soles was central to an impressive 2022 season for Clear Springs, which went 28-6, won the District 24-6A title and made it to the regional quarterfinals. Soles hit .417 with 29 RBIs and led the team in hits with 40. The junior had a .500 on-base percentage and as many walks as strikeouts (13). The Kansas commit was perhaps even more spectacular in the circle, going 7-2 with a 1.55 ERA and allowing 11 earned runs in 49 2/3 innings,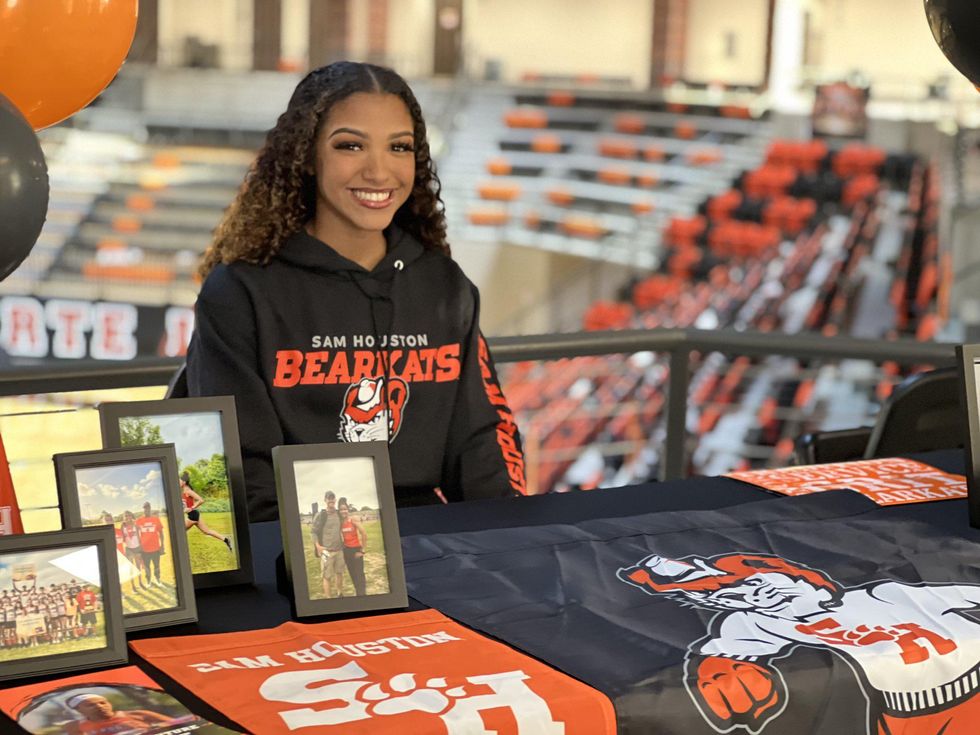 La Porte senior Naomi Green.Courtesy of Naomi Green social media
>> Naomi Green, La Porte, cross country/track and field
Green was a dominant force on the track and course in 2022, resulting in a scholarship to run for Sam Houston State University. In cross country last fall, Green finished second at the district championships and seventh at the regional championships to qualify for state. Her personal record in the 5000 meter run is 19:15.00. This spring, on the track, Green finished fifth in the 3200 meters run at the regional meet and 10th in the 1600 meter run at the regional meet. She has PR marks of 5:27.59 and 12:07.35 in the 1600 and 3200, respectively.
Our specialists recognize the importance of being able to maintain an active lifestyle and whether you're looking to address a joint injury, receive prompt treatment for a concussion, or simply improve your overall athletic performance, UTMB Health Orthopedics Sports Medicine is here to help.
Join the #VYPETEAM
Get up to date news from all over the country!