DUAL-SPORT ROYALTY; Klein Collins' Wyatt A Star in Football, Basketball
Dec 27, 2022
Bradley Collier (Vype)
In an era of sports specialization at the high school ranks, Klein Collins senior, Ethan Wyatt, isn't just a standout contributor for the Tigers' Varsity Football and Basketball teams. He's a star playmaker whether in sneakers or cleats.

The 6-foot-3, 189-pounder is an all-district performer on the basketball court, where he averaged 16.5 points, 5.6 rebounds, and 1.9 steals per game for the Tigers last season. And he's a three-star prospect and Division I-caliber receiver for the football team, totaling 446 yards and seven touchdowns on 21 catches through the first five games of this season.
"I've been doing this forever," Wyatt said. "We started playing both at the same time. I'm just used to it. I don't even know how I do it. I'm just used to it "
"We" is Wyatt and his twin brother, Eli, a cornerback on the Tigers' football team and point guard on the basketball team. They started playing basketball when they were three years old. They started football when they were five. Wyatt's favorite basketball memory?
"Probably my freshman year when I got moved up to varsity," he said. "My coach trusted me. I started n the middle of the season and went from there, scoring like 20 points every game."
And his favorite football memory?
"My sophomore year, against Tomball Memorial, my first catch was unbelievable," he said. "I got my first offer off that game."
Wyatt, who admires NFL WR DeAndre Hopkins and the Los Angeles Lakers LeBron James, said football helps with his aggressiveness on the basketball court. Basketball helps with conditioning and training as he heads into football off-season in the spring. But it's football that has won Wyatt's heart.
"Football, I love playing with my team," he said."I've been playing with my brother since I was little. We both liked the sport ever since we touched the ball. It'll always be fun."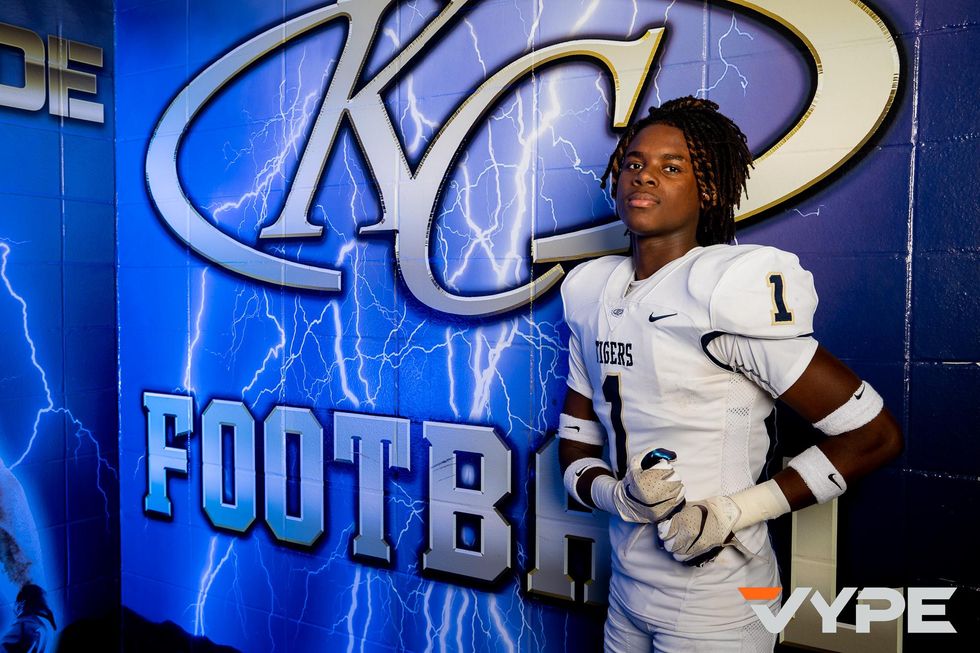 Ethan's twin brother, Eli Wyatt
It's the sport he's looking to play at the next level. Wyatt currently holds offers from Marshall, Tulsa, Kansas, and Texas Southern.
"I'm leaning towards football right now," Wyatt said. "I'm looking for a school that can take me to the next level right away. I feel I can get there."
Five years from now, Wyatt sees himself playing in the NFL. For now, though, he's riding out his senior season at Collins and enjoying playing with Eli one last year.
"He helps me a lot," Wyatt said of Eli. "We go outside every day, one-on-one. Argue with each other, fight. It's a big help. We're always there for each other, and it's always going to stay like that."