VYPE DFW Recruit of the Week: Ben Abeldt
Apr 26, 2021
Kevin Bartram (Buzzphotos.com) - provided by Coach Brooke Court
The McKinney Boyd Broncos have been working all season to be at the top of their performance. With big wins over the likes of Allen, McKinney, Rockwall and more this season, the Broncos currently sit at the first place spot in their district ahead of programs like Prosper and Denton Guyer. One of their top athletes, TCU commit, Ben Abeldt has played a major role in the Broncos' success this season.
Season in focus
The junior has been proficient at first base, pitching, and outfield for McKinney Boyd. On top of his defensive excellence, Abeldt is also consistent at the plate. Two weeks ago, Abeldt pitched a no-hitter with 10 strikeouts and only two walks in seven innings pitched. Abeldt also helped lead the Broncos to a 5-0 shutout over Denton Guyer earlier this season as well as a no-hitter against District rival Denton Braswell earlier this season.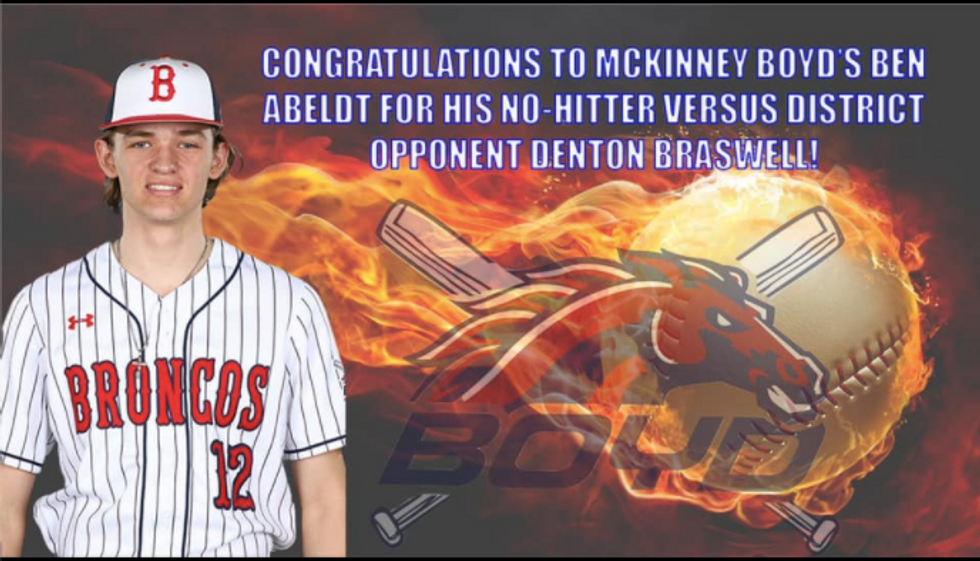 Photo Courtesy of McKinney Boyd baseball coach Brooke Court.
VYPEDFW was able to catch up with the Horned Frog commit for a quick interview. When asked what his goal for the season was, Abeldt said "To put my team in the best situation possible to win games." Boyd fans can argue that that's exactly what he has been doing all season. After a shortened season last year, Abeldt's approach to this season was to continue to stay focused on the things that he could control.
When asked what the secret to his success this year has been, Abeldt answered "Being aggressive. Attacking the strike zone." As far as a full team's success as they inch towards playoffs? To sum it up in one word, it comes down to: Teamwork. "Staying together," said Abeldt. "Making routine plays.
Plans for the future
Although the junior doesn't know what he wants to major in in college yet, he knows exactly why he decided to commit to TCU baseball. "The coaching and the program are exceptional," said Abeldt. "It also puts me in a good spot to win ball games." Abeldt announced his commitment to TCU in November of 2019 and has continued to remain committed to the program.
Interview
What has been your favorite memory playing with McKinney Boyd so far?
"John Poe hitting a walk-off single in the 9th and dog-piling him."

Who is your favorite baseball team?
"Texas Rangers!"
Who do you compare your playing style to or look up to as an athlete?
"Randy Johnson."
If you could go to dinner with one person (dead or alive) who would it be? What would you talk about?
"Ted Williams. How different baseball was back then."
True