Bridgeland reaching new heights in 2022
Apr 27, 2022
Courtesy of Bridgeland softball social media
Bridgeland's softball team is hitting its stride.

That's great for the Bears. Not so great for everyone else.
Last week, Bridgeland secured its first district title since the program opened in 2017. The Bears finished a tough District 16-6A at 13-1.
"It was definitely a surreal moment," junior Haylie Stum said. "From August to now, we definitely try to outwork everybody. Having that pay off and reaping the benefits of that resilience is indescribable."
But Bridgeland has its sights set on something much greater, a mission ignited by last year's surprising run to the regional semifinals.
"This year, they understand how good they are," coach Candi Weige said. "Our three seniors (Shelby Frazier, Makenzi Jenkins and Kyleigh Gulledge) set the bar, not to just be district champs but let's go all the way. These girls want to see competition and they want to see greatness."
The Bears begin that journey to state at 6:30 p.m. Thursday at Klein High School for a best-of-three bi-district playoff series against Klein.
Bridgeland is 26-5 overall. The Bears are ranked No. 19 in Class 6A in the state by the Texas Girls Coaches Association. They are ranked No. 5 in the Greater Houston area.
Weige, in her 13th year as a coach, has established a family-oriented program. She smiles when players say the key to this season's success is team chemistry.
Weige is a woman of faith. She wants a program of morals and ethics. She wants her girls to feel loved and empowered while leading a structured life and holding each other accountable.
"Sometimes families fight, sometimes families argue, sometimes families have to be transparent," Weige said. "Sometimes they get to celebrate and love. All those things that get to happen in a family environment, I feel I get to portray to these girls."
The accountability and structure comes in the Bears' play. All Weige asks of her players is to perform with heart and effort.
"Those are two things I can't coach," Weige said. "So, I want them to dig down deep into a place where they know they're trying to benefit other people other than themselves. I want the girls to understand it's a larger view and a different lens than myself and what I can do."
Understood.
Players watch film on their own. They study stats to determine areas they can improve upon.
The Bears learned from last year's struggles. They no longer have the deer-in-the-headlights look to them. They have embraced filling the shoes of six graduated seniors and employing their own leadership.
"It's very easy to coach a team that wants to be there," Weige said. "Their expectations for each other have been rising every single day."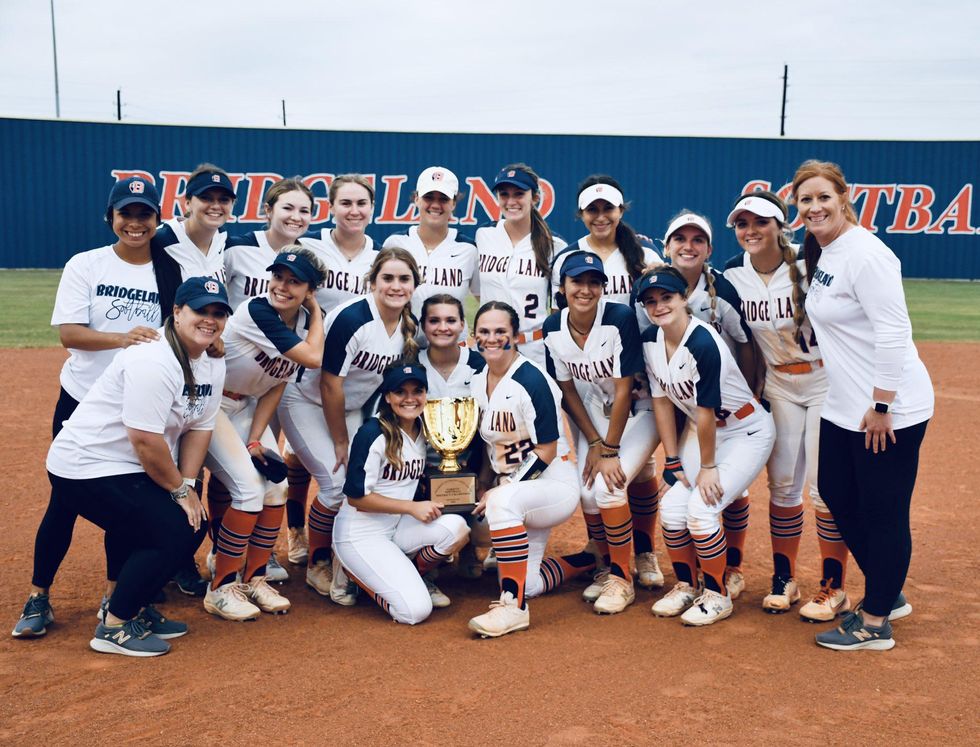 The Bridgeland Bears.Courtesy of Bridgeland softball social media
They're also immensely talented.
Junior Lilli Piersons is hitting .448 with 23 RBIs and a team-best seven home runs. She can hit to either side of the field and has a knack for making the right adjustments at the plate at the right time.
The Allen sisters, junior Trinity and sophomore Chayne, bring their own spark to the lineup. Trinity (.380, 32 RBIs, four home runs) brings offensive punch, a power hitter who has become just as strong of a situational hitter. Chayne (.318, 24 RBIs, three home runs, 22 walks, 21 stolen bases) is new to the leadoff role and brings energy, power and speed, relying on raw athleticism and strength as she gets acquainted with the varsity game.
Stum (a team-best .486 hitter with 29 RBIs and four home runs) is the prototypical Bear: selfless, versatile and potent. She went from playing pitcher only, to right field, to right field and pitching, and now batting cleanup and pitching.
"I could not be more proud of her," Weige said. "She's trying to fill shoes of graduated seniors and doing a phenomenal job at it. She's more confident, and it's triggered her for the better in a positive way."
Stum is one of four lively arms for Bridgeland. Sophomore Sydney Jackson (11-3, 2.83 ERA) and Jenkins (9-1, 2.73 ERA) handle most of the work in the circle, but Stum and junior Ellen Shull can also eat up quality innings with strikeouts and impressive command.
The Bears have the personnel to align their defense to whoever is pitching.
"We're a very flexible program," Weige said. "Last year, everybody had their role and knew it. This year, we have people wearing all different types of hats. Haylie, Trinity, Shelby. They can play anywhere you need and thrive."
Stum likes to talk about mental growth. It's indicative of the maturity of the program. In her case, for instance, she likes to "prove them wrong," a saying she adopted during the pandemic in her freshman season as she tried to find her role in the program.
"Owning that doubt is present motivates me to go the hardest I can and try and best myself every time I step on the field to try and combat that," Stum said. "I think that's what has helped me feel comfortable in those high-pressure situations and actually love the pressure of that."
Since then, Stum has been an integral part of 55 wins and just 16 losses.
"Having a hand in a blossoming program means more than just softball," Stum said. "It means building a culture and setting a standard for future athletes and students. It's definitely a huge responsibility, and, boy, has it come with its obstacles. However, I wouldn't trade any bump in the road for anything.
"Playing for something bigger than yourself has changed me as an athlete and as a person."
Music to her coach's ears.
True