Westfield looks to continue District 16-6A dominance
Aug 24, 2019
DISTRICT 16-6A
District Rankings
Westfield
Eisenhower
Spring
Davis
Nimitz
Dekaney
MacArthur
Aldine
…
VYPE is offering fans the opportunity to purchase a copy of the magazine and have it delivered to you, instead of waiting to find it in stores.
CLICK HERE TO ORDER - 2019 VYPE Houston Football Preview Magazine
---
PRESEASON AWARDS
MVP
Jayvon Davis, Nimitz
…
OFFENSIVE MVP
Sevan Guidry, Eisenhower
…
DEFENSIVE MVP
Dyllon Peavy, Westfield
…
BREAKOUT PLAYER OF THE YEAR
Var'keyes Gumms, Dekaney
…
SLEEPER TEAM
Nimitz
…
THE PROSPECTUS
There have been some interesting story lines in this district over the past 12 months. Westfield reached the regional finals; Eisenhower recently reached the State 7- on-7 Tournament; Davis hired a big-name coach in Scott Joseph, from the famous Joseph coaching tree, and Nimitz has a talented youngster toting the rock. Not to mention that five teams were 4 -3 in district play, right behind 7-0 Westfield.
Westfield Mustangs
It is no shock that Westfield is the favorite to win this district. The power program reached its 11th Regional Final in the past 25 years. The Mustang calling card over the past few decades? Defense, defense and more defense. Coach Matt Meekins has another stable full of studs led by linebacker Dyllon Peavy, who is a tackling machine. Up front will be Tim Hardiman (Navy), William Hatter, Nick Booker, Leonard Cummings and Nicholas Brown, while Marcus Moore Jr. will patrol the secondary. The offense will have a new signal-caller who will have a weapon in WR Malachi Jones (786 yards) and Ashton Callaway. If RB Kendal Taylor is cleared to play after transferring from Klein Oak, the 'Stangs will be salty as usual.
…
Eisenhower Eagles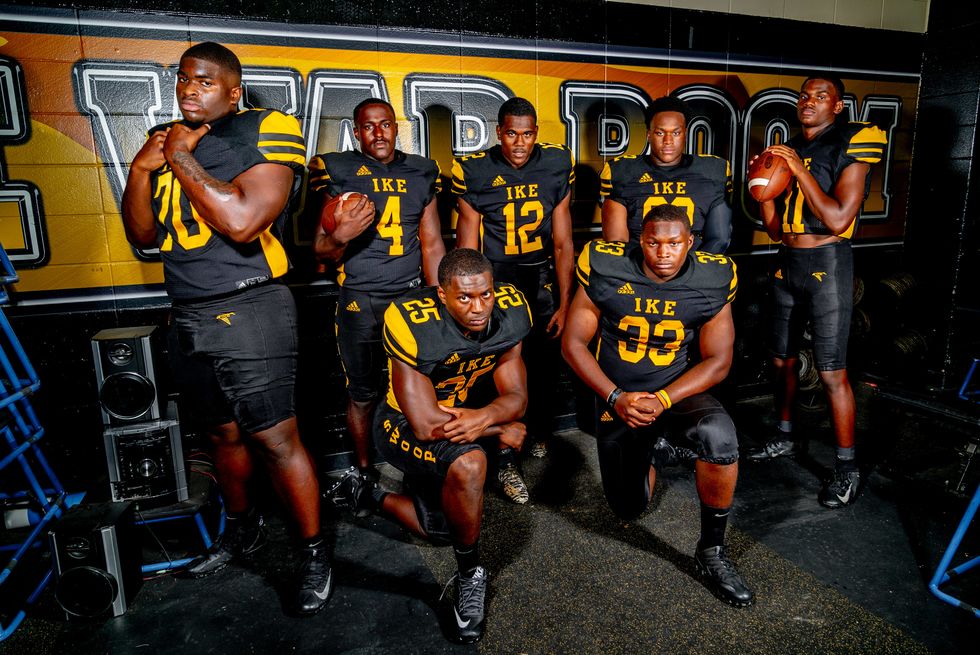 The Eagles
Coach Eric Jackson loves the direction his program is headed. The Eagles reached the first-round of the postseason and followed that up with a solid showing this summer in the 7on7 leagues. Eisenhower will be offensive, as the Eagles return eight starters on that side of the ball in 2019. RB Sevan Guidry, who is a workhorse back, can be penciled in for 1,300 yards right now after going over 1,000 last season. QB Christian Sims (1,120 yards and 13 TDs) and his WRs Anthony Isom and Ja'Marcus Martin got their timing down with some extra work the past few months. The OL will be the key to the Eagles' success with Treveon Newsome and LaTreal Adams in the trenches. The defense ranked second in district last year and willneed Damon Boswell (70 tackles and 10 sacks) and Dewayne Jackson (75 tackles) to lead the charge. With a go-to guy like Guidry, Ike could go a few rounds deep.

…
Spring Lions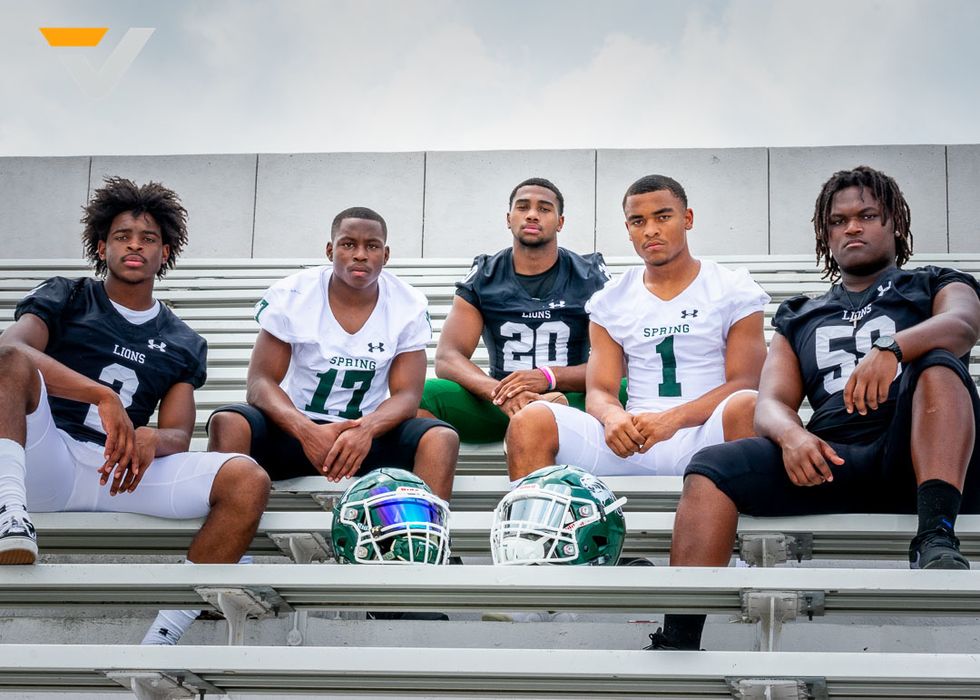 The Spring Lions
The Clifton McDowell-era is over at Spring. The Lion QB left a tremendous legacy on his way to UL-L as the District MVP last season. For the Spring Lions to roar, coach Trent Miller must have a new signal-caller emerge. That person could be Aldyn Bradley, who will have playmakers like RB Clyde Lacy and WRs Terrance Singleton and Bailee Davenport to share the load. The offensive line returns some experience to give the team some balance, including the talents of Nathaniel Deams-Lott. Defensively, Spring is led by linebacker Dallas Reid, who had over 100 tackles in 2018. Joe McNeese will anchor the line along with Nygzel Douglas, while the DB corps is led by Myron Carter and Bruce Davis. To hold on to a playoff spot, the Lions must have Bradley take a big leap and the defense to develop depth.

…
Davis Falcons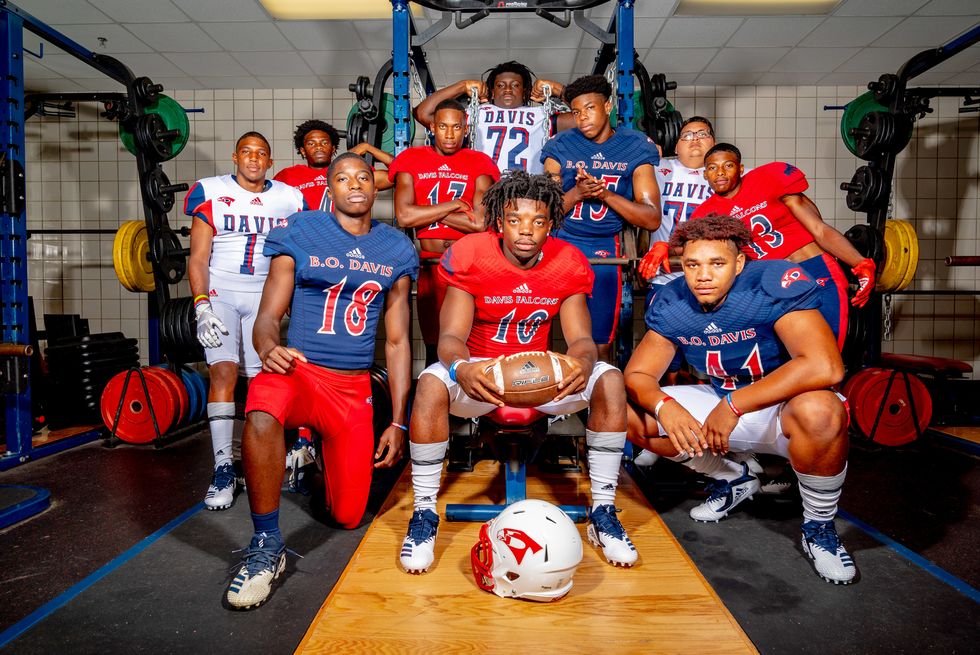 The Davis Falcons
No pressure here. Coach Scott Joseph takes over the nest at Aldine Davis with high expectations. The Falcons have always had some elite talent, while the name "Joseph" is synonymous with Texas High School football. His father is legendary coach Eddie Joseph. The offseason was tremendously competitive, and the Falcons made some strides in the weight room. Returning for Davis is RB DeMarcus Barlow, who also doubled as QB last season. Barlow was the best offensive player on the field during most games – rushing for 998 yards and passing for another 464 – and as he matures will only get better. He is a bona fide DI talent with his ability. The offensive line is humongous but must get more athletic. The QB spot is still open as a battle between Tylen Charles and Jah'Rell Stevens heats up deep into August. The defense will be inexperienced but some players to watch include Tremayne Evans (DB) and defensive ends Dylan Simon and Phillip Beavers. They better be, if Davis has plans on reaching the UIL postseason.

…
Nimitz Cougars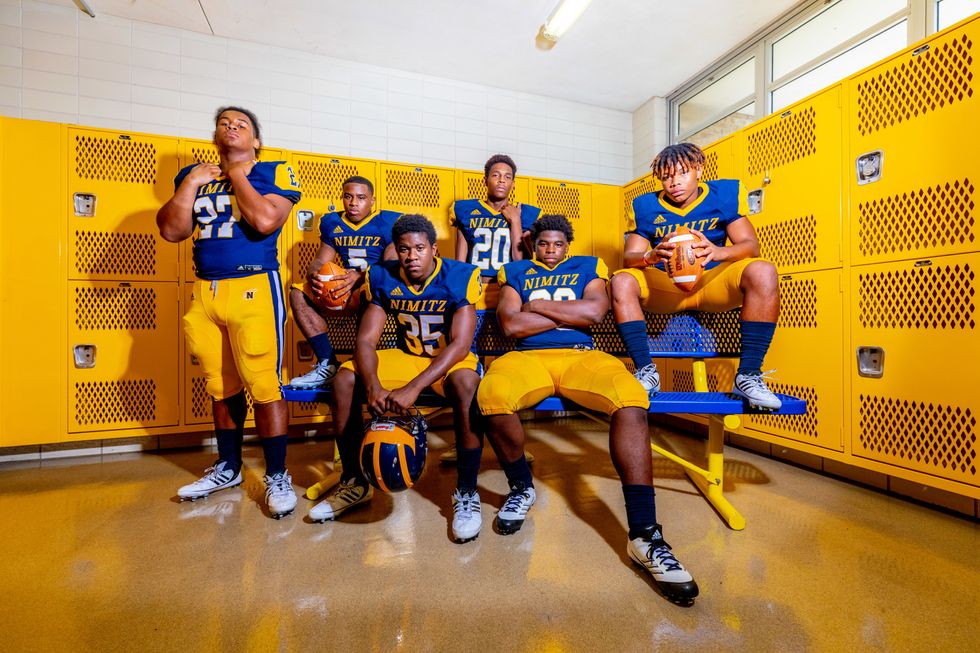 Nimitz
What will Jayvon Davis do for an encore? The District Offensive MVP led the district in scoring with 22touchdowns and rushed for over1,800 yards. The junior has tremendous wiggle and the ability to separate from defenders. Austin Remo also had a solid season at QB with nearly 1,500 yards passing in 2018. He will need to manage games and find his spots downfield. Playing a bigger role this year will be TE Ajani Batts, who is a bona fide college-bound talent. Batts is going to have to take over the receiving load from the graduated Karl Reynolds, who had over 850 yards through the air. While Nimitz had the second-best offense in the district last year, the defense ranked dead last. To get into the postseason, coach Richard Slater must get the defense to do their part to keep his Cougars in games.

…
Dekaney Wildcats
How about this for a stat? The Dekaney Wildcats have only reached the second round of the postseason once in school history. In 2011, the Wildcats caught fire on the back of RB Trey Williams and won a state title. A state title! Coach Anthony Williams would be happy with playoff appearance as his Wildcats missed the postseason a year ago. QB Daelyn Williams is not a huge athlete but has a big heart at 5-foot-9,160-pounds. He has a good football IQ and experience from a year ago. Junior Var'keyes Gumms is a big, athletic wideout who has offers from the likes of LSU, Texas and UH. Gumms will be the main target in 2019 through the air at the tight end position. Dylan Early is the stud on defense after registering 103 tackles a year ago, but when your DB has 100 tackles, that's a problem. He will need help up front in the trenches and that could come from Jeremiah Merritt and Kevon Garcia. The 'Cats have the talent; they just need to put it all together from the film room to the field.
…
MacArthur Generals
So how does Big Mac turn the corner? It's tough, but it's a volume game. Coach Wayne Crawford just needs more depth. The Generals have some solid first-teamers like QB Eric Delgado (586 yards), RB Darius Gatson, WR Taylor Eaton (348 yards) and OL De'Monta Missouria on offense, but is it enough? Don't forget about super-recruit Joshua Eaton – who entered the season having offers from Power 5 programs – in the defensive backfield and backers Bryan Razo (101 tackles) and Maurice Woods. But to compete in this district, it simply takes more bodies. Playing two-way athletes is not going to cut it against the likes of some of these football powers, but Crawford and his crew will continue to fight the good fight.
…
Aldine Mustangs
Dual-sport athlete Johnny Toups is up for any challenge. The star baseball player is also the QB1 for the football team. He will be challenged to lead a team that went1-9 a year ago, and who's top offense weapon Jacorey Howard (1,400 yards) is off to college. His top target will be Ja'Kobi Terry, a 6-foot-4 receiver, who had 277yards. Running backs David Lopez and Jordy Benavidez will try and move the chains to stay in games. The defense is the key to the season. The 'Stangs must become stingy.